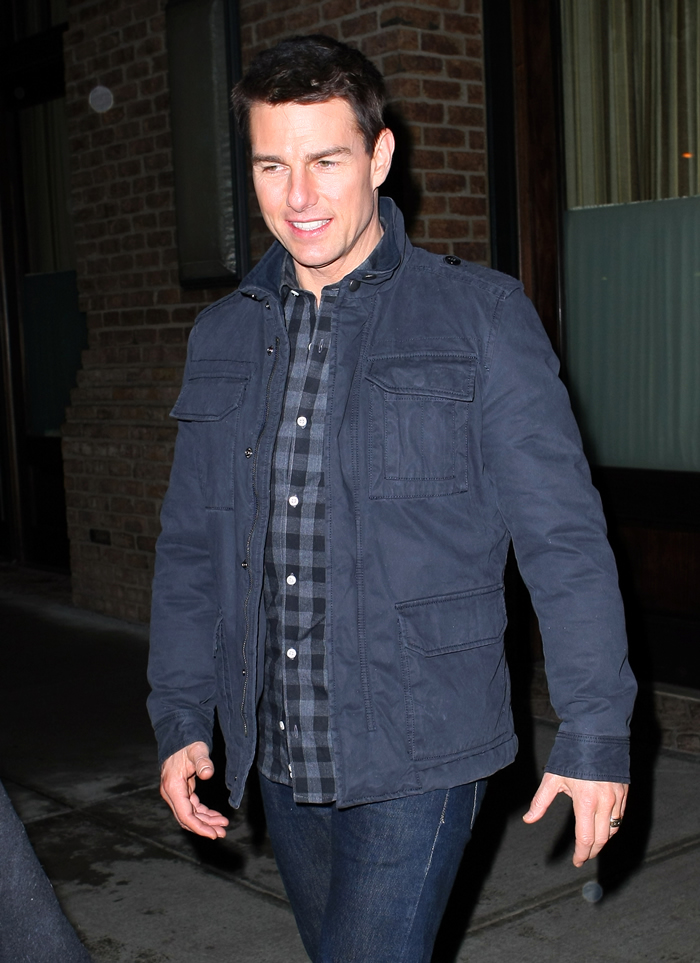 Here are even more photos of Tom Cruise papping himself with his family to promote MI4. The man is just … well, he doesn't stop. I realize that he's got a product to sell and has much at stake with this movie, and Kaiser described Tom's attitude well in terms of "hustle," but Tom really needs to take a break soon. I'm actually startng to worry about the little fella. It's simply not healthy to run this hard for so long.
Also, Tom should really think about disappearing for awhile after he finishes up this MI4 publicity blitz because the backlash is commencing in earnest and from more than just a gossip standpoint. Even Reuters has published an article (a really "amazing" one) entitled "The Curse of Being Tom Cruise" that includes much of what we've already discussed here including a bit about those paid fans in Mumbai. Overall, it's a pretty brutal take on Tom's public persona and concludes that Tom's fame is quickly approaching that of a reality star instead of an A-list movie actor.
Now Hollywood Reporter has jumped in with a piece dedicated solely to the topic of Tom's morphing face, which Kaiser, CB, and myself have already covered at great length. The HR article even discusses the Mail's piece about Tom's makeup fetish (which I referenced yesterday) and goes into detail about Tom's secret professional relationship with a famous Brazilian plastic surgeon:
Tom Cruise, 49, is looking eerily younger than ever. Which leads us to surmise that A. he's getting some help or B. he's got a scary portrait in his attic. The actor — who turns 50 on July 3, 2012, — has looked particularly fresh-faced as he promotes his new movie Mission: Impossible — Ghost Protocol

So what's his secret? According to the Brazilian mag EPOCA, Cruise has had meetings with world famous Brazilian plastic surgeon Dr. Ivo Pitanguy. Cruise even invited the good doctor to the 2009 Rio premiere of Knight and Day. And on that same trip, Cruise, wife Katie Holmes and daughter Suri, were photographed having a lunch at Pitanguy's private island in Brazil's Bay of Kings.

British tabs are already reporting that Cruise has become more concerned with his skin, even using his wife's creams. Since Dr. Pitanguy's skin care line, Beauty By Clinica Ivo Pitanguy, is also available at U.S department stores such as Berdorf Goodman, Cruise could indeed be slathering on his friend's pricey goop. The New York Times has already lauded Pitanguy's new "It" Cream, the Restoring Formula in his PreVious skin care line. The cost: $300 for 1.7 ounces.

Pitanguy is credited with triggering Brazil's obsession with plastic surgery. He's allegedly worked on Jacqueline Kennedy Onassis, Persian Empress Farah Diba, French president Francois Mitterrand and Frank Sinatra. A jet-setting multi-lingual Renaissance man, Ivo is also friends with Carla Bruni, the First Lady of France, Michael Caine and the late Salvador Dalí and Audrey Hepburn, The Times also profiled the good doctor, whose scapel has been said to be "guided by heaven."

Another aging celebrity we're keeping a close eye on is Rolling Stone Mick Jagger. Our sources say he's now using his girlfriend L'Wren Scott's magical skin potions from Dr. David Colbert, including Colbert's Intensify Facial Discs, Stimulating Serum, Nutrify and Protect Day Dream and Heal and Soothe Night Cream, available at Bergdorf Goodman, Neiman Marcus and on his website.

If Dr. Colbert's products can make a difference in Mick's 68-year-old weathered face, we're buying this stuff in bulk. And how many Frequent Flyer miles does it take to get to Brazil?
[From Hollywood Reporter]
A plastic surgeon who's allegedly "guided by Heaven" doesn't sound like he falls in line with the tenets of Scientology, right? Then again, the usual CO$ rules don't necessarily apply to Tom. But yes, I totally buy that Katie and Suri were wined and dined while Tom was nipped and tucked.
Tom also appeared on "Late Night with Jimmy Fallon" to talk more about the MI4 stunts. Fallon's praise was so effusive that I thought the poor guy was going to wet his pants in excitement, and when he called Tom a "manly man," you could visibly see Tom's feathers fluff right up. It was a lot like the final act of Black Swan. Anyway, Fallon totally beat Tom in a wreath-throwing contest too, and I bet it secretly killed Tom not to be the very best at something:
Meanwhile, here's a photo of Katie stepping out alone on Tuesday evening (even robots need some breathing room) to check out the Broadway production of The Cherry Orchard, which sort of irks me because I adore Anton Chekov and even chose my daughter's middle name based upon a character in that very play. Katie couldn't possibly understand.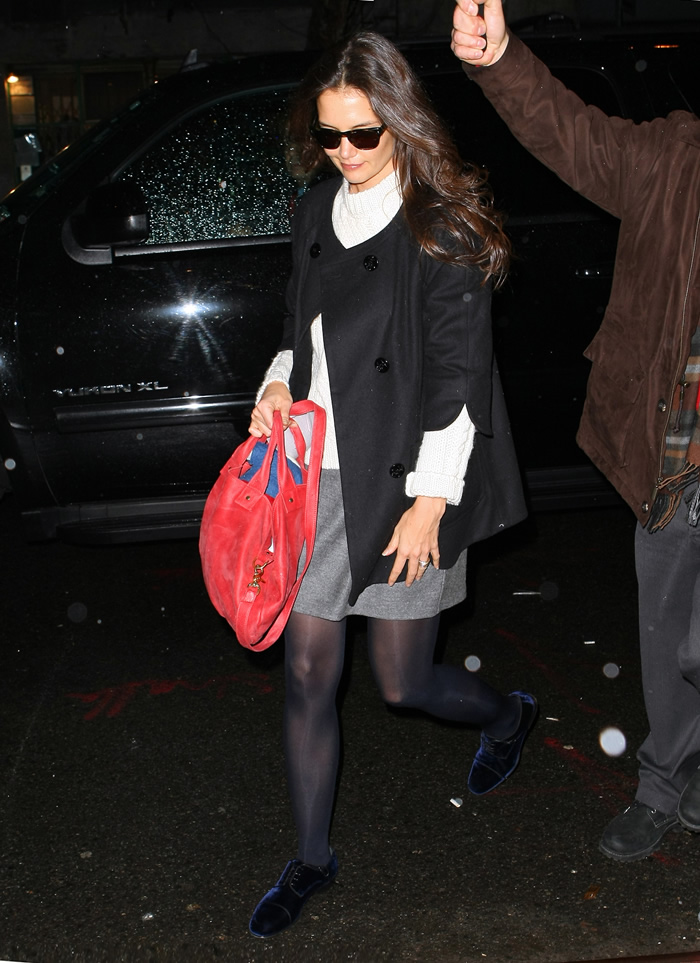 Later, Katie stepped out with Suri and Tom (photographed separately below) for yet another late night:
Suri, in an unusual gesture, seemed perfectly happy to interact with the paps: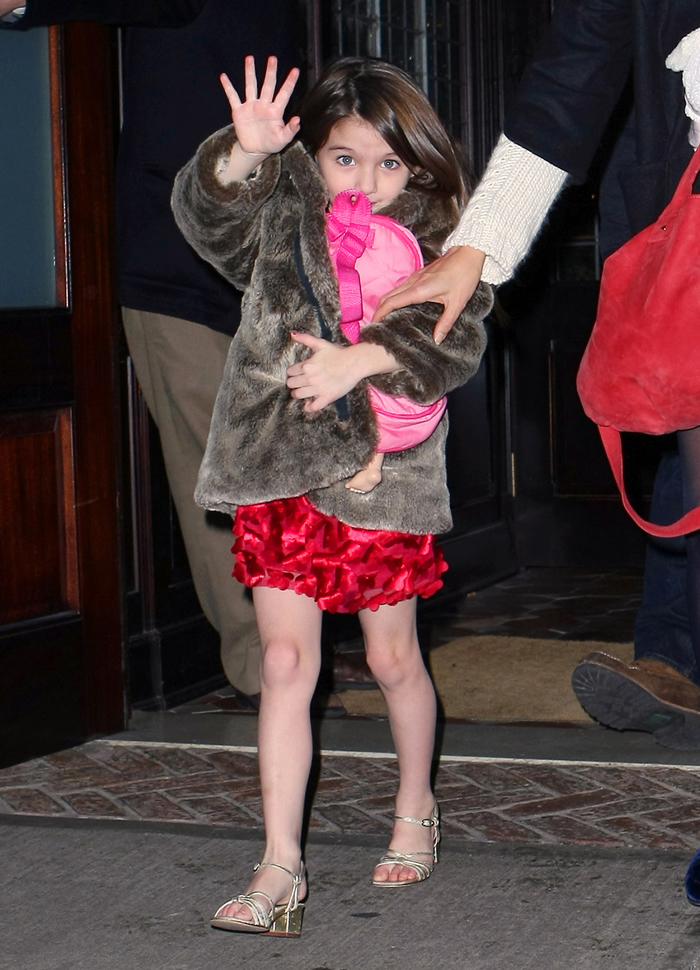 Finally, here's Tom walking by his lonesome behind Katie and Suri, which is strange because he usually likes to be front and center: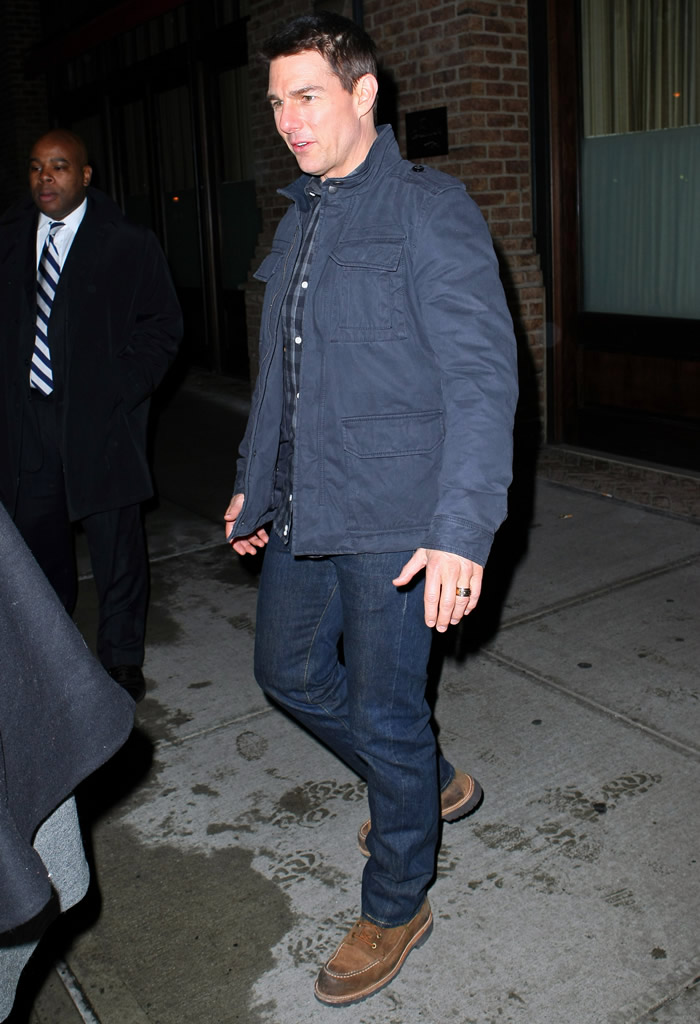 Photos courtesy of Fame