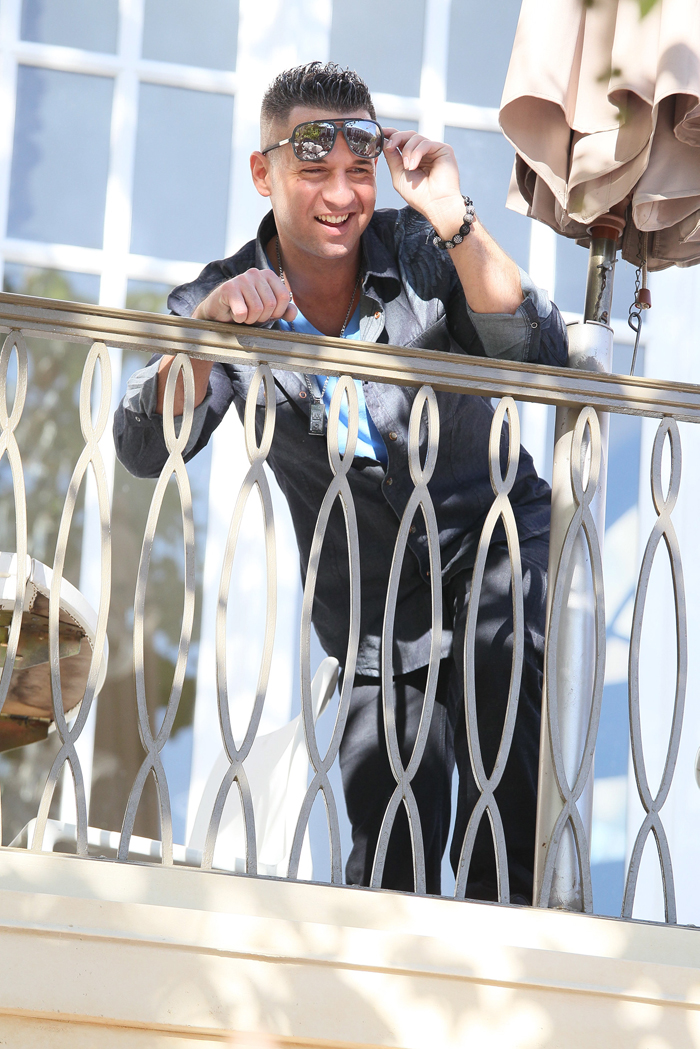 Ever since the fake-tanned cast of "Jersey Shore" hit the airwaves a few years ago, rumors have persisted that a certain cast member was knee deep in a cocaine addiction while everyone else pretended not to notice what was going on. At times, I thought the cokehead might have been Ronnie Ortiz-Magro, but his questionable behavoir was much more roid ragey than symptomatic of cocaine use. The more likely suspect has always been Mike "The Situation" Sorrentino, who has quickly blown all his money and steadily devolved from smooth player to paranoid old man as the show has progressed. Now TMZ has sort of confirmed these suspicions by breaking the story that Sitch is in rehab for substance abuse:
"The Situation" is in rehab for substance abuse … TMZ has learned.

Sources tell TMZ the "Jersey Shore" star — aka Mike Sorrentino — has checked into an inpatient treatment program.

A rep for the Situation just contacted TMZ to say they are not confirming that Mike is in rehab … just that he "has spent the past several weeks at an undisclosed location for much needed rest and recuperation after his extensive production and appearance schedule."

Like most of the 'JS' crew … Sorrentino's been on a non-stop party train since the show debuted on MTV 2 years ago — drinking and making paid appearances at nightclubs all over the world.

Sitch makes anywhere from 15K … up to a whopping 50k per nightclub appearance.
[From TMZ]
TMZ also follows up with an update about how Sitch was acting all paranoid on the second-to-last episode of Season 5 when the cast went camping together:
Multiple sources close to The Situation tell TMZ … the MTV star's hard-partying ways were worse than ever during the taping of the most recent season of "Jersey Shore" … and the signs were obvious during the episode when the gang went camping.

TMZ broke the story … Sitch recently checked into rehab for substance abuse after realizing his recreational habits had spun out of control.

Now, sources close to Sitch tell us … the reality star had been showing signs of substance abuse for a while … but "he was getting worse" as the season went on.

We're told … several people noticed he was "acting paranoid" on the set … and the unusual behavior was evident in certain Season 5 episodes that recently aired on MTV. During the ep when the gang goes camping, Sitch can be seen acting jittery, sweating profusely and just plain acting bizarre.
[From TMZ]
Eh. While it's true that the Sitch was acting bizarrely in the woods (he kept fearing that a bear would jump out of the woods and attack them), I think this was more of an illustration of the entire group being out of their comfort zone. None of them handled the camping situation very well at all. What makes me more suspicious about the Sitch being cokey are the moments when he truly does act paranoid — especially during a recent Season 5 episode where he ran around on the roof of their home with his wang hanging out for five full minutes while delivering a nonsensical, paranoid rant about how he's done nothing to be perceived as the bad guy. This is not to mention the Season 4 episodes where Sitch rammed his head into a concrete wall, had to wear a neck brace, and then (while his flatmates all left him alone while they went out to party) sadly sat around talking to himself about how someone has to be "the villain."
Of course, I pretty much believe that Sorrentino has hit rehab, and I think it has a lot to do with (and this is just my theory) a possible MTV ultimatum that he get his sh-t together before rejoining his castmates for the recently announced Season 6. By the way, it has been confirmed that the cast will shoot again this summer, and even a pregnant Snooki will return for more Seaside shambles. They must have waved a lot of money in her face too because she was insisting that she'd never be preggers in the group house. It's going to be a royal mess, but I'll probably watch it anyway. Meanwhile, Sitch is tweeting about how he's lifting all the weights to prepare for Season 6: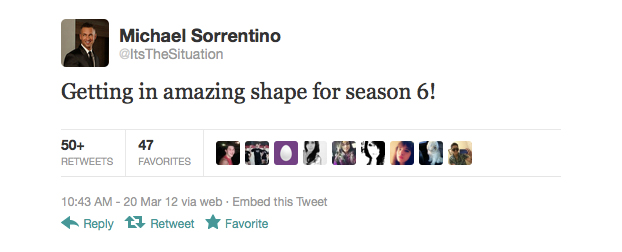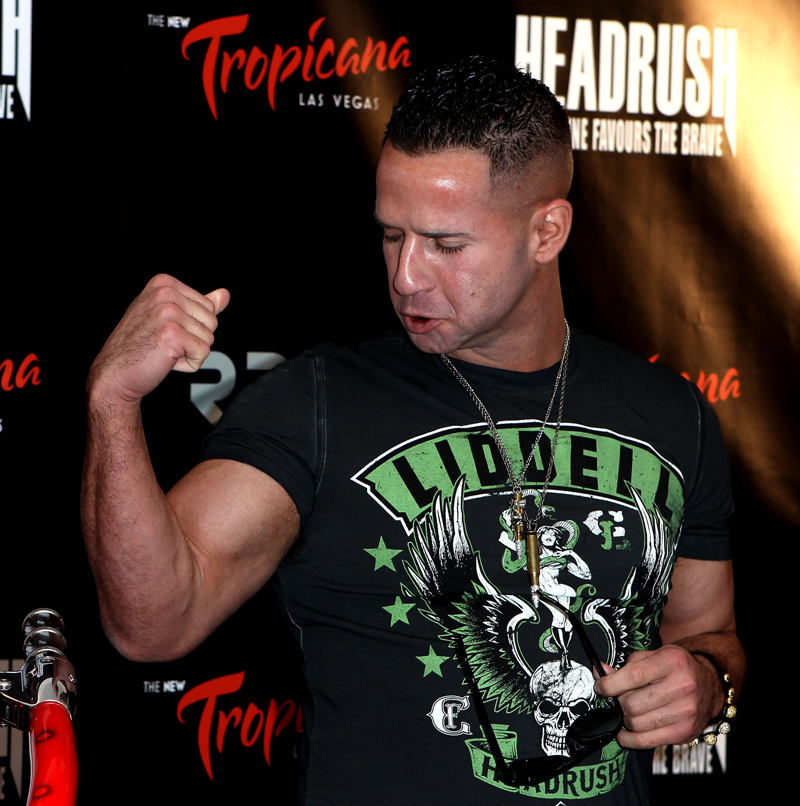 Also and in a more pointed response to questions of rehab, Sorrentino's rep has denied the rehab story but does admit that the Sitch "has spent the past several weeks at an undisclosed location for much needed rest and recuperation after his extensive production and appearance schedule." Sorrentino himself has taken to Twitter to tweet a blanket "Don't believe everything you read or hear" denial: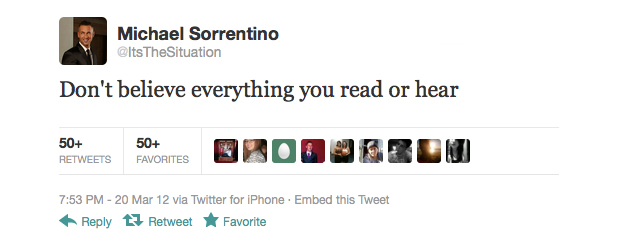 So is The Situation really in rehab, or is he telling the truth in that he's merely been spending all of his time in the gym "preparing" to look "good" for Season 6? Whatever the case, he hasn't shown up for MTV's Spring Break opening ceremonies with some of his other "Shore" castmates. In all fairness though, he may not have been invited.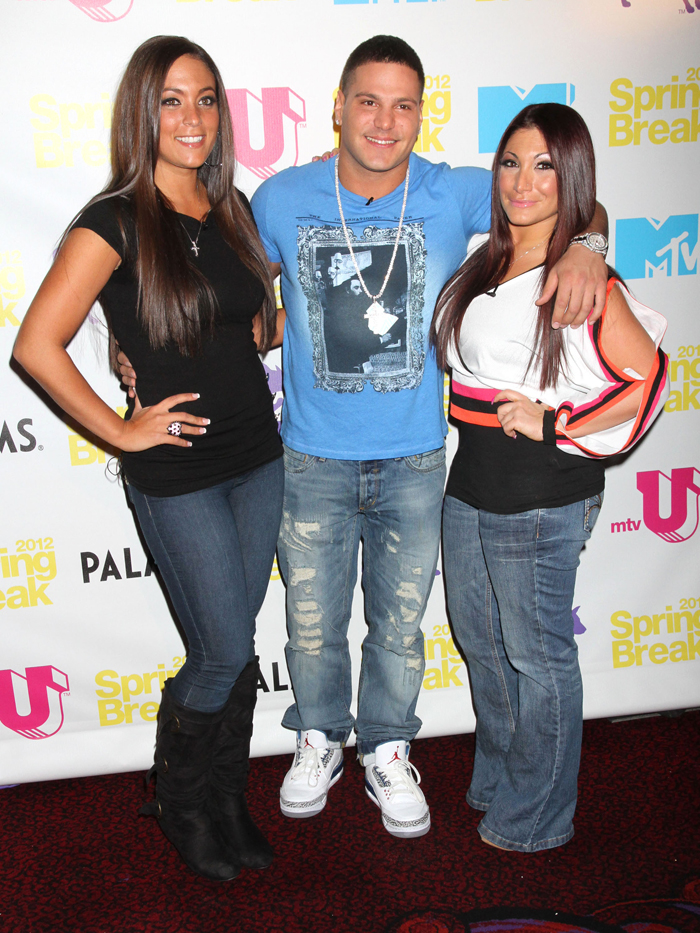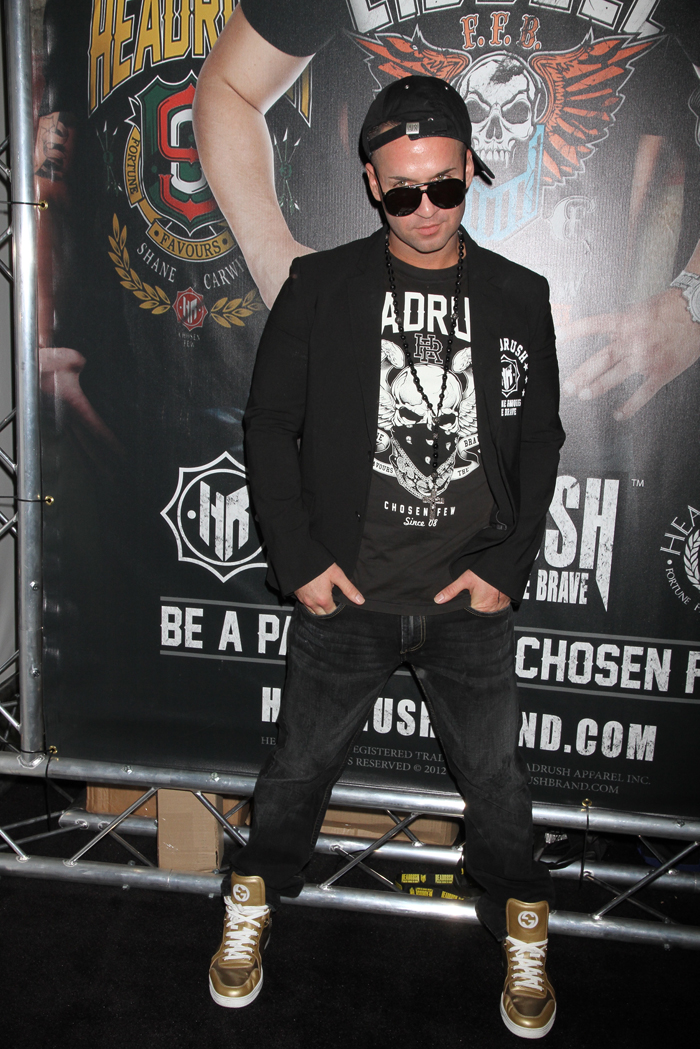 Photos courtesy of Fame/Flynet