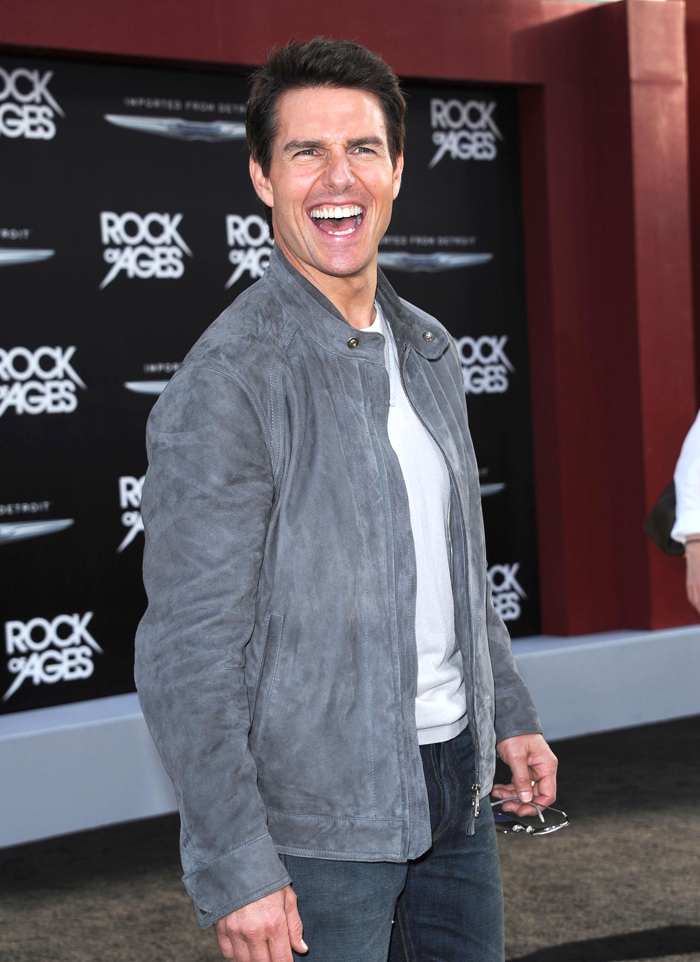 This week's tabloids have taken a new twist in the "Tom Cruise is spoiling the hell out of Suri" theme. Yes, he's still obviously ruining the poor child with by doing things like whisking her away to Disney World in a private jet and then granting her an evening in the non-purchasable Cinderella Castle Suite, but that's not the problem, according to Tom's team. The issue at hand? Tom just needs an image makeover, similar to the one he underwent for the MI4 promotional tour to ward off the 2005 crazy. See how well that particular makeover worked? Well, it actually did work (in a way) because MI4 made more than any of the previous movies in the installment. As a result, Tom has gained even more confidence than usual and believes his "wonderful Daddy" routine will work wonders in achieving his true goal of full legal custody of Suri.
I can see why Tom believes he would benefit from such an image overhaul because the crap that's come out lately has damaged his reputation even more than the aforementioned 2005 insanity. Thanks to the dissoluation of Tom's marriage to Katie Holmes, we've learned that Tom was verbally abusive to Katie, and she was so frightened of him (and the CO$) that she felt the need to use burner phones while organizing her divorce game plan. Katie also felt like she was in Rosemary's Baby while she was married to Tom because he belongs to a dangerous organization that the media is finally exposing as a cult. At this point, Tom's reputation is probably the lowest that it's ever been, and he's willing to flash that creepy smile of his as long as possible to make us forget.
However, I do doubt that any makeover could make us believe that Tom would be a better parent than Katie Holmes has been and will always be to Suri. We already know what happened to Nicole Kidman, and if that happens to Katie, the public (and the media) won't stand for it. Tom is trying very hard though, and this week's issue of In Touch lays on the scorn by bearing the (appropriately) revolting headline, "Forgetting Mommy Already?" Here's some relevant excerpts from the story: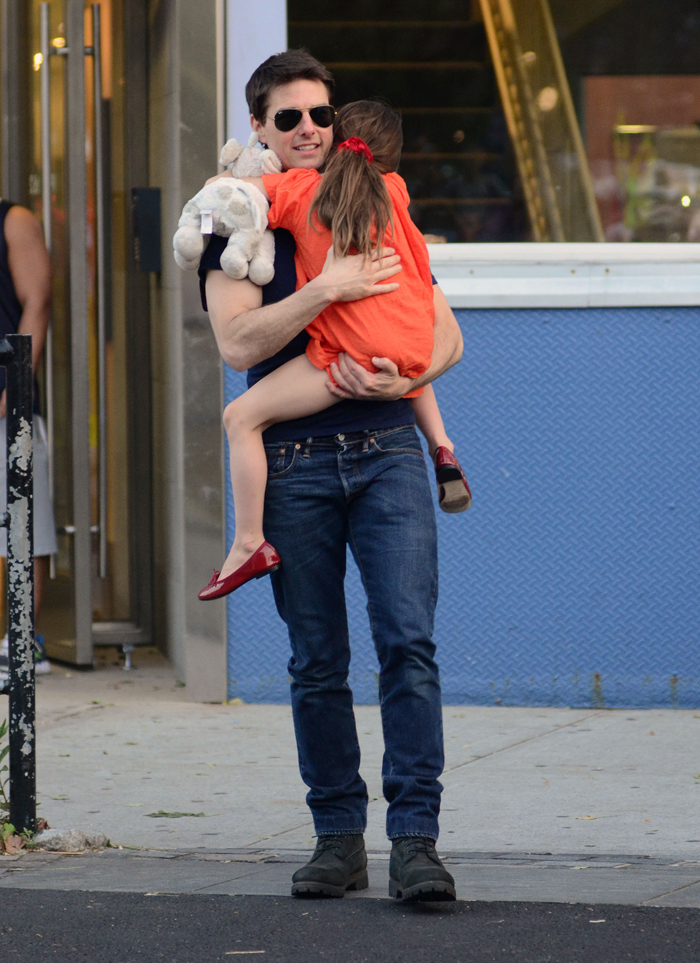 On the surface, Tom's behavior is similar to that of many divorced dads who, faced with limited time with their kids, yearn to be the "fun parent" (and in Tom's case, the one with millions of dollars at his disposal). "I saw him go into a store and come out with a huge bag of toys and treats for her," says another witness. "You could tell he was trying to make sure she stayed happy."

But according to sources, Suri's happiness isn't all that Tom wants.
Sources close to Katie fear that even though she got full custody in her July 9 settlement, Tom is out to steal more than the heart of a little girl who has already told her mother she'd rather live with Daddy. "Katie takes her to museums and zoos. Tom takes her to a theme park for a whole week," says a source close to the former couple. "He's not parenting her, he's entertaining her. And he's overdoing it."

It's all part of Tom's master plan, sources say: spoil his daugher rotten, get his own lavish home nearby and rehabilitate his public image so he can push for legal custody in the future.

First, in preparation for her future visits to his Beverly Hills mansion, an insider says, Tom has been making "special renovations to Suri's room" so that whenever she goes to her dad's house, the child will always feel like a princess.

Tom is also planning a complete overhaul of his public image, which includes taking a break from movies after his current crop of projects ends so he can spend more one-on-one time with Suri. "He needs to prove he's just as reliable as Katie," a confidante explains, "that spending time with his daughter as important to him as having a hit film."

"Tom is absolutely planning on going after custody of Suri in the future," says an insider. "His plan is to wait for now, and then fight for it down the line."

While Katie is upset that Tom undermines her attempts to give Suri rules and structure, she's determined to expose her daughter to modest new treats like playdates with kids who live in their building. And she "is not going to change a thing" about the way she's raising her daughter, says a source close to the actress.

"She's working hard to get Suri on the right path: school, friends, playdates, normalcy," says the source. "Then Tom comes in and changes all of that." No matter what Tom may try, the cources says, Katie will stay strong for Suri's sake. "She will always be the mother. She knows right from wrong. Hopefully one day Suri will recognize that."
[From In Touch, print edition, August 20, 2012]
This story makes a lot of sense and covers some ground that we've already theorized about here — particularly in regard to Tom playing the "full court press" not only in regards to winning over Suri but also in trying to convince the public (by way of graciously smiling at the paps and inviting tabloid reporters for a swim) that he's the best possible parent ever to Suri. The thing is — we've all watched for the past few years as Tom's been consistently absent from both Katie and Suri's lives while he's been actively playing the role of Mr. A+ list movie star. So it's going to be fairly impossible for Tom to convince the public that Suri should live with him on a full-time basis. Of course, that won't stop him from trying. And yes, he's probably already using CO$ slave labor to remodel Suri's Beverly Hills bedroom. Douche.
One part of the story that I don't buy is the bit about Suri allegedly telling Katie that "she'd rather live with Daddy." At least, I don't buy that it happened yet … although it seems forseeable after a few more years of Tom laying things on thick. What may have actually occurred is that Suri may have wondered aloud why she's not living with both Daddy and Mommy. Because kids do that during a divorce.
This week's Enquirer takes the same basic story (Tom spoiling the hell out of Suri) and adds an eyewitness statement that, during the Disney trip, "Suri was at the happiest place on earth, but at times she looked like the saddest little girl in the world. It was heartbreaking" The tabloid also talks to some "experts" who point out the obvious — that the drastically different parenting styles of Tom and Katie could "psychologically scar" Suri, and guess who will probably be responsible for most of the damage? Gollum.
Meanwhile, People has a bit of a throwaway story about how Katie and Tom "are talking" and trying to get along for Suri's sake. It further follows that Tom is "fine" with Katie's decision to enroll Suri in a private, non-CO$ school. This seems like some Cruise propaganda and an effort to convince the world that Tom only wants what is best for Suri and isn't some cult-driven freak. I think we know better than to fall for that one.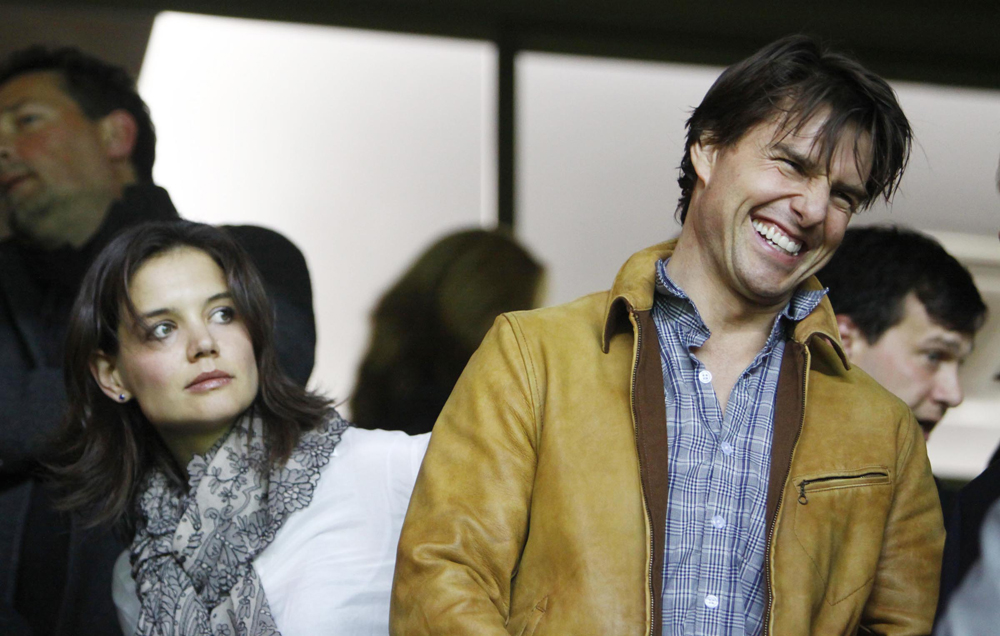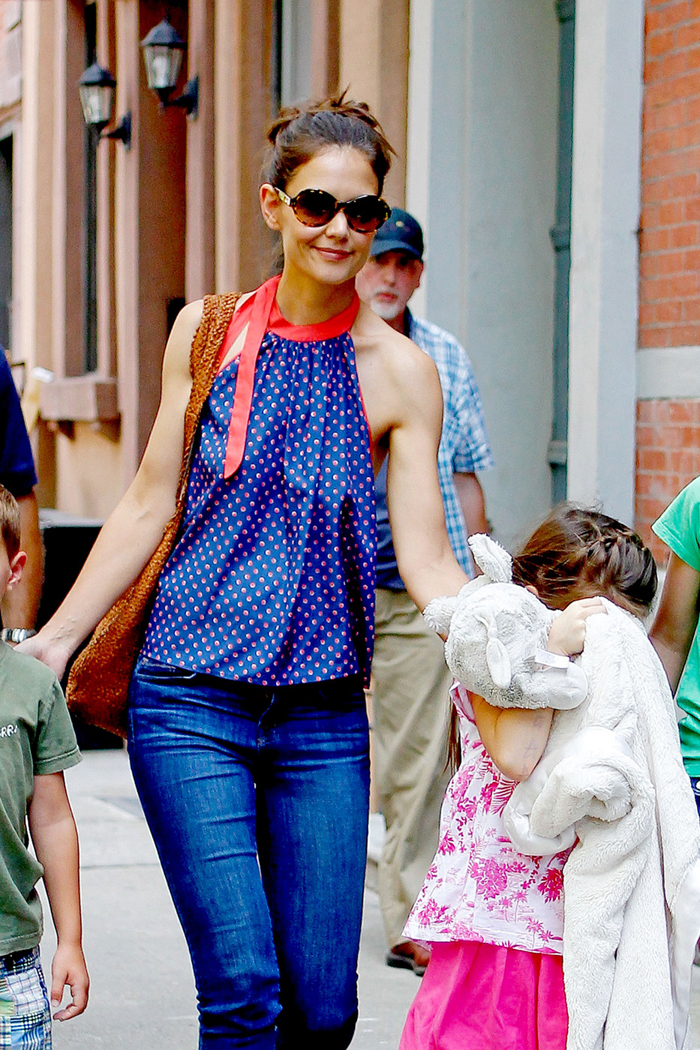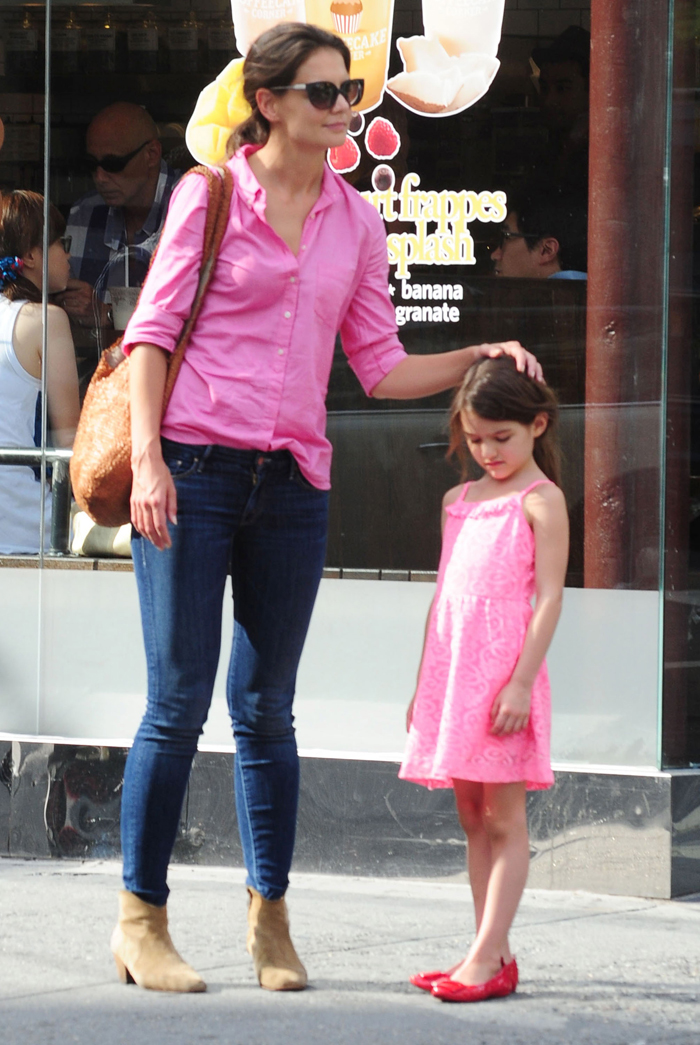 Photos courtesy of Fame/Flynet and Pacific Coast News