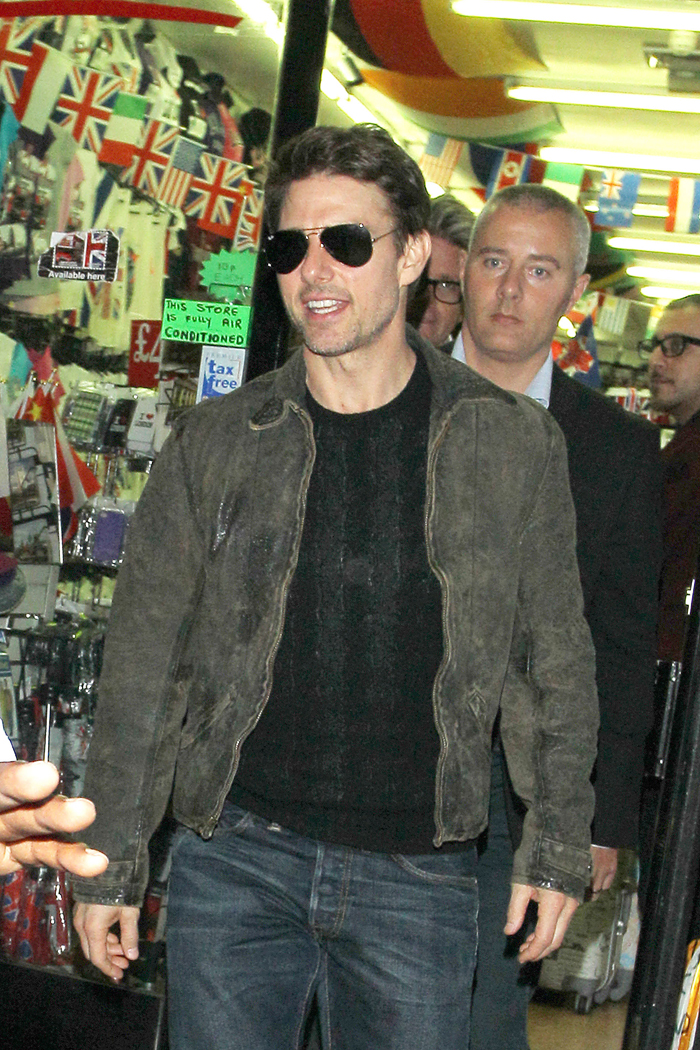 It's only been a few months since Katie Holmes filed for divorce from Tom Cruise, and their split was finalized about a week ago, which led to claims that Tom was drastically losing weight on the heartbreak diet. But happy, in-charge Tom is already back — did he ever really leave? Probably not. Tom is looking towards the future where he'll enjoy a rehabilitated public image, and he thinks finding the correct woman will be a huge step in that direction. In fact, In Touch says that Tom has already erased Katie from his mind other than the fact the must deal with her because of Suri. I believe that Tom could easily do that since I think their split resulted in more of a crushed-ego effect for him than a loss of love.
The question remains, however, who is interested in Tom? The Frisky has an amusing article about how Tom should "hire" his next wife after a very careful selection process, and they come up with the likes of Amber Heard (as the requisite up-and-comer) and Paz de la Huerta (who would be suitable as a Narconon spokesperson). But both Amber (with her bisexual ways) and Paz (for everything) are much too controversial. And all of the other up-and-coming female actresses are either taken or way too smart to jump into bed with Scientology. Fox News spoke to an "expert" that thinks Tom should stop dating celebrities, but Tom's ego would never let him do that. So who is left? As Kaiser suggested, Jennifer Love Hewitt would totally go there if Tom went and picked up one of her favorite rings from Tiffany's. I also think someone like Rose McGowan (she works steadily and hasn't been scandalous in several years) would be an option, but she grew up in a cult and may be wary of CO$.
The issue (beyond the basic Scientology concern) is that Tom is clearly unable to form real relationships with people beyond displaying an over-the-top enthusiasm. All human feelings have been audited out of him, and he bloody loves it but must inherently want to fill the void. That's part of why he's so obsessed with working all the time — it's the only opportunity he has to put on a different mask and sort of act like a person. Here's a story from this week's In Touch about how Tom is seeking to fill the void by making goo-goo eyes at randoms: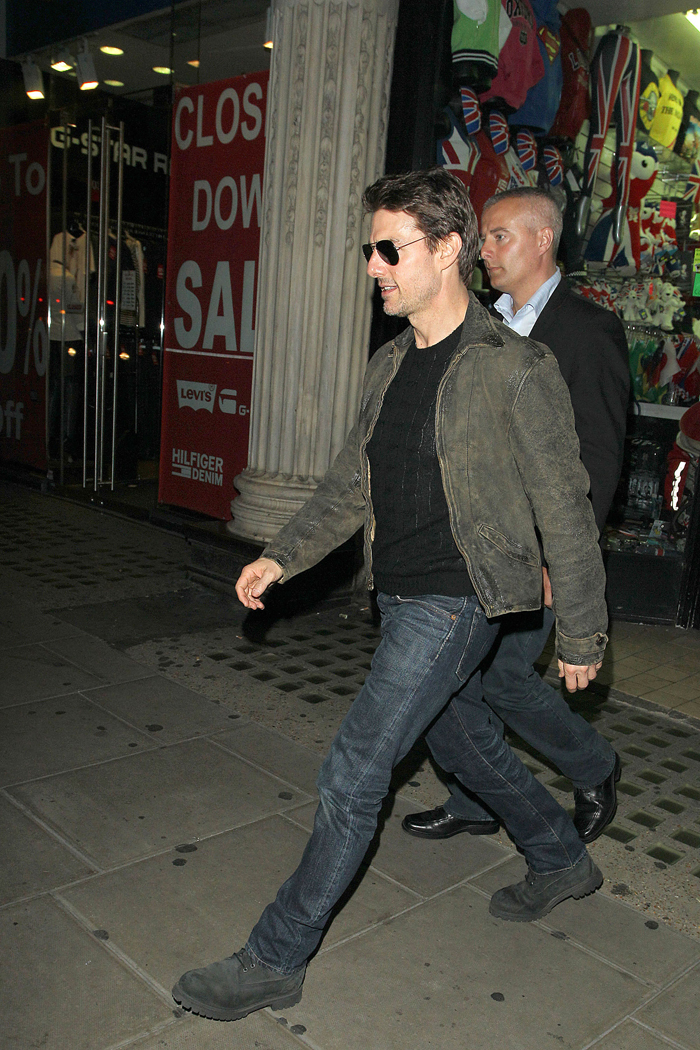 "He's never dated a non-actress," an insider notes. "I see him with someone new on the scene."

The ink on his divorce decree is barely dry. So a patron at Wolfgang Puck's restaurant was surprised to see Tom Cruise aggressively checking out a brunette during a recent business dinner. "She was gorgeous," the eyewitness tells In Touch, "and Tom definitely noticed. When she walked by, he gave her a megawatt smile and maintained intense eye contact." Even after the woman rejoined her party, "He seemed pretty distracted!"

Eyeing other women already? That's a lightning-quick turnaround from Tom's alleged heartbreak after Katie Holmes, 33, filed for divorce, but it fits his pattern: "When a relationship is over, he just emotionally wipes the woman out," a source says. "If it weren't for Suri, the'd never think about Katie again."

Accordng to Tom's attorney, "The only relationships Tom is focused on now are with his children. He's concentrating on his family and his work." But in fact, the 50-year-old is back on the market. "He's already looking for the next Mrs. Cruise," says another source. "He's not ready to date in public, but he's asked friends to set him up with girls."

Scientology expert Rick Ross speculates that Tom might have learned his lesson about dating outside the church. "He split with Katie and Nicole Kidman because of Scientology," Ross notes. "This time, he'll likely pick someone with deep roots in the organization. Tom will have access to a lot of information about any girl that catches his eye."

And Tom, who cares very much what the public thinks of him and is aware he has an image problem, undoubtedly hopes that a suitable red carpet partner will catch his eye soon. "He has about three months before he has to promote his next movie," says an insider. "I'd be very surprised if he doesn't have a new woman in his life by then."
[From In Touch, print edition, September 20, 2012]
Ladies (and gents), what would you do if you spied Tom Cruise flashing his pearly whites at you at a restaurant? I'd order a very stiff cocktail and try not to laugh. Seriously though, I think Tom should go for a fellow Scientologist too and stop trying to recruit Catholic girls for his cause. There's always the rumor that he'll start dating Yolanda Pecoraro again, whom he casually dated immediately before starting up with Katie.
There's also a story in this week's Enquirer about how Katie's been furiously shopping up a storm lately and has hit up Barney's in a major way. Supposedly, she's spent $15,000 on shoes (Louboutins) and also bought a bunch of cocktail dresses and power suits because "she wants to show the world who she really is – a beautiful, confident and talented woman balancing single motherhood and a thriving career." The Mail, which seems to have forgotten their recent attack on the fug booties, celebrates this shopping spree by showing a photo of Katie and Suri at Chelsea Piers on Tuesday. Naturally, Katie is wearing the maligned pair of booties, which the article describes as "stylish heeled boots." Ooops. Interestingly enough, the Enquirer also writes that Katie has recently spent $10,000 on lingerie — although I don't see her jumping into a relationship anytime soon. I'd love to speculate on what possible candidates Katie may have in mind, but I'm drawing a blank on anyone in the entertainment business. Katie just keeps to herself so much, and it's hard to know who her "type" is these days. I think she'd actually enjoy going for a successful businessman who is off the radar.
This week's Star has a rather obnoxious cover story that compares the lives of Suri and Shiloh Jolie-Pitt. Their "expert" seems to believe that both young girls will need serious therapy in adulthood because both sets of parents are too permissive. As in, Brad and Angelina do nothing to rein in Shiloh's love of dead bugs and her tomboy tendencies. As for Suri, the article blames Katie's alleged ongoing permissive attitude towards Suri's love for candy and says that Suri has her very own credit card just for that purpose. In addition, the story states that "Katie has gone out of her way to indulge Suri's fantasies," and that means Katie has "spent money on high-end furniture and had an interior designer decorate a room just for Suri's imaginary friends" in their new apartment. Eh, I'm not buying it. This sort of feels like a plant from Tom's team as sort of a "Hey! I'm not the only one guilty of spoiling!" It just doesn't sound like Katie, who is steadfastly teaching Suri how to enjoy civilian pleasures, you know? Besides, I imagine that the third bedroom is a guest room, not a "don't sleep on top of my imaginary friends" room.
I want to see Katie's new clothes from that shopping spree. Do you think she'll pull off anything like this?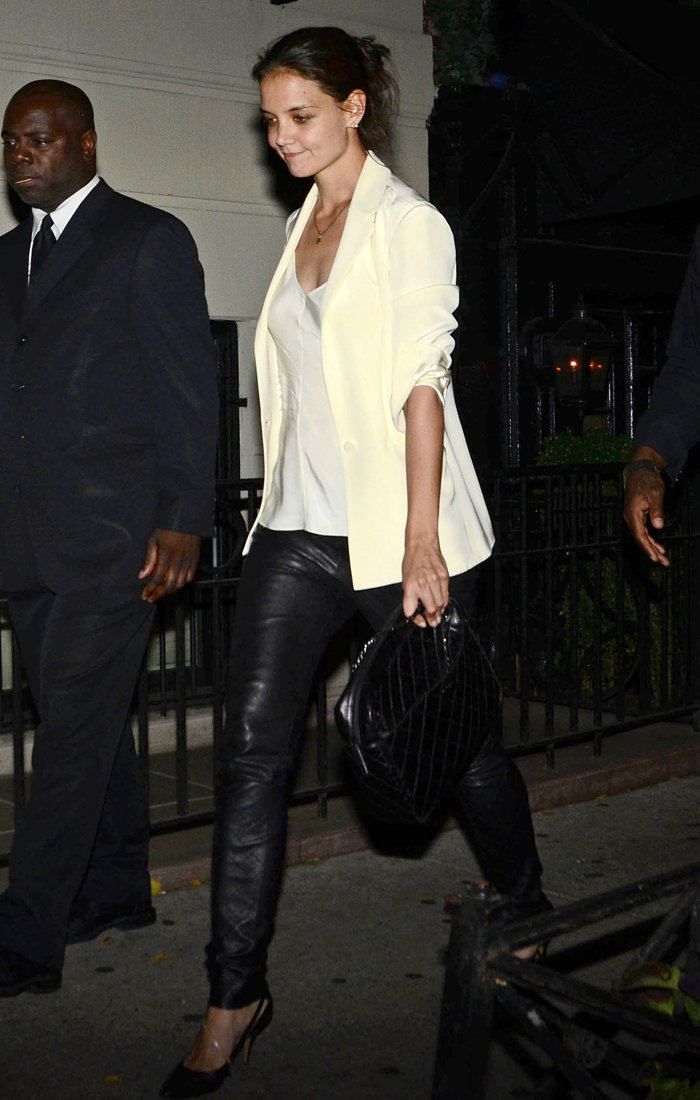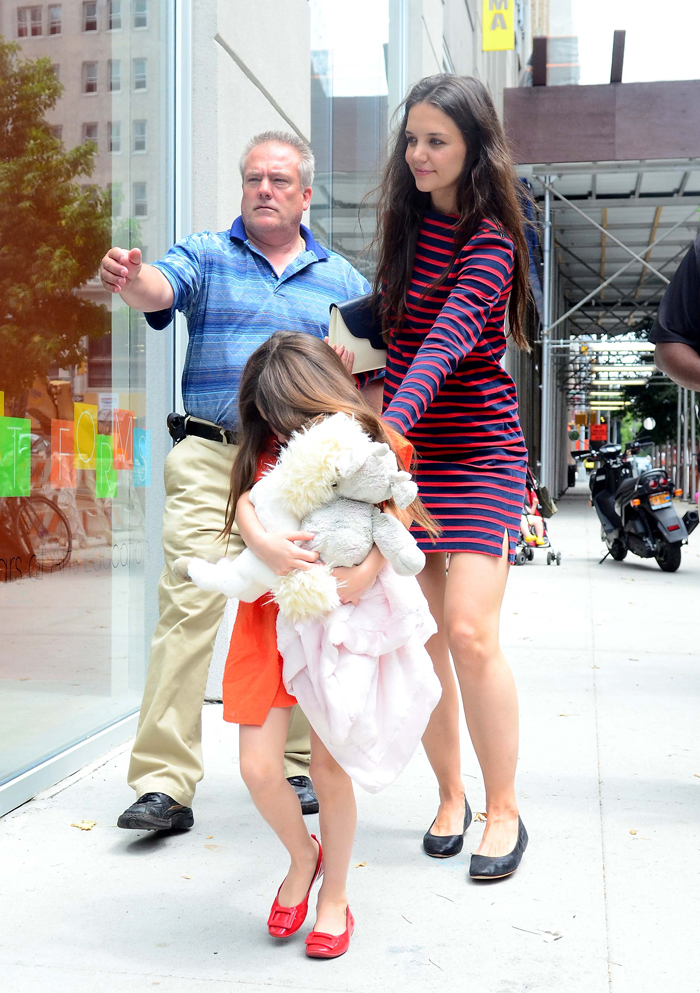 Photos courtesy of Fame/Flynet and WENN