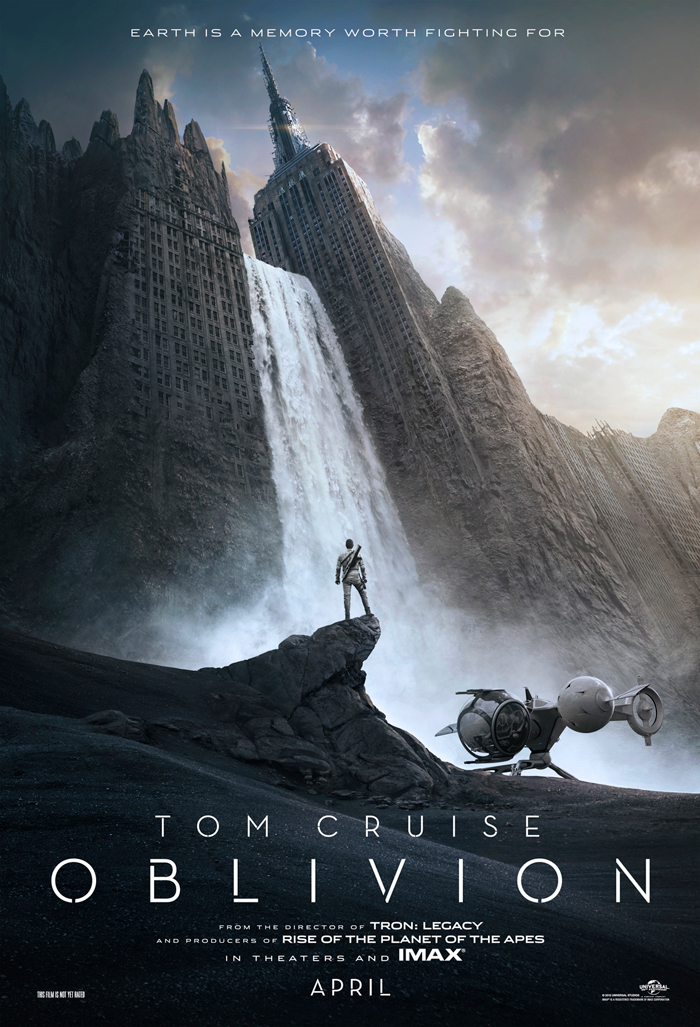 Here's the new poster for Oblivion starring Tom Cruise. We give Tom a lot of crap about Scientology for good reason because it's a terribly abusive cult that continues to make hasty slave labor out of many of its members (and their children). However, there's also a lighter side of Tom's devotion to the E-meter, which involves making fun of the whole Xenu thing. "Praise Xenu!" rolls so easily off the tongue, you know? However and according to the (not-so) ancient tomes of L. Ron Hubbard, Xenu is actually supposed to be the bad guy in Scientology. According to the (formerly top-secret) scripture of OT Level III, Xenu was the galactic overlord who (with the help of psychiatrists, naturally) rounded up billions of his own "people" (to us, "aliens") and relocated them to Earth. Then he lowered their drugged-up bodies to the bases of various volcanoes and blew up the volcanoes, which caused all of the aliens' souls ("thetans") to float around in a disembodied state until they found bodies to possess. And getting rid of these thetans is the ultimate aim of auditing. Yes, it's so stupid.
Interestingly enough, Tom is now focusing on alien invasions (which he's already done before with War of the Worlds) in two of his upcoming movies. I'm not talking about his ridiculous turn as Jack Reacher unless, of course, Cruise will surprise us all by playing an alien life form that invades Reacher's body and causes him to shrink in size (which, in Hollywood, is ultimately possible). Nope, I'm referring to his two other movies in production. The one that he's filming right now (while ignoring Suri in a physical sense) is All You Need Is Kill, where he looks like he's about to crap his pants as a robot on lifts while fighting off an alien race, dying in battle, and being forced to relive his demise in a strange version of Groundhog Day. Then there's Tom's movie in post-production, Oblivion, which is the one he was filming in July at the Empire State Building and filming in Iceland while Katie was filing for divorce. Here's the official synopsis for Oblivion and the trailer (complete with Morgan Freeman and his voice) below:
Jack Harper (Cruise) is one of the last few drone repairmen stationed on Earth. Part of a massive operation to extract vital resources after decades of war with a terrifying threat known as the Scavs, Jack's mission is nearly complete.

Living in and patrolling the breathtaking skies from thousands of feet above, his soaring existence is brought crashing down when he rescues a beautiful stranger from a downed spacecraft. Her arrival triggers a chain of events that forces him to question everything he knows and puts the fate of humanity in his hands.
[From IMDb]
Tom in handcuffs = so not hot. Obviously, this is yet another Tom Cruise action flick with crazy stunts in manner of the Mission: Impossible franchise. There are also shades of The Matrix and Avatar involved, and his character's love interest, Olga Kurylenko, is quite lovely (and Tom's team even tried to make it happen between Tom and Olga after Katie filed for divorce). This is a big-budget, heavy-CGI film that will probably make a ton of money in spite of the fact that Tom Cruise is the star. Beyond the whole sci-fi kick that Tom has embarked upon, doesn't anyone find it amusing how he's focusing on more alien invasion flicks in his upcoming projects? Don't even think for a second that Tom isn't trying to send subliminal Scientology messages out to all of the non-believing wogs out here in the real world.
Here are some photos of Tom at the Manchester Derby on Sunday in England. Tom probably wanted to ride horsies so badly, but sadly, there are no horsies involved in the Manchester Derby (just really strapping soccer/footie players). As always, Tom's lifts took center stage. God, his bunions must be massive.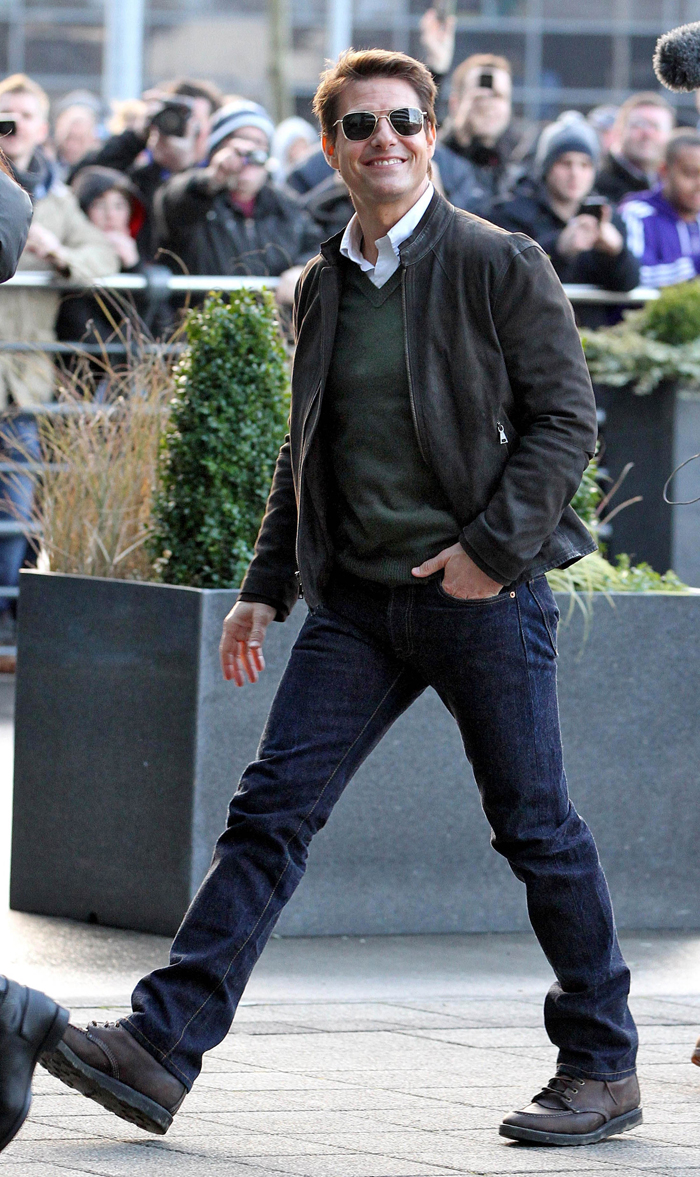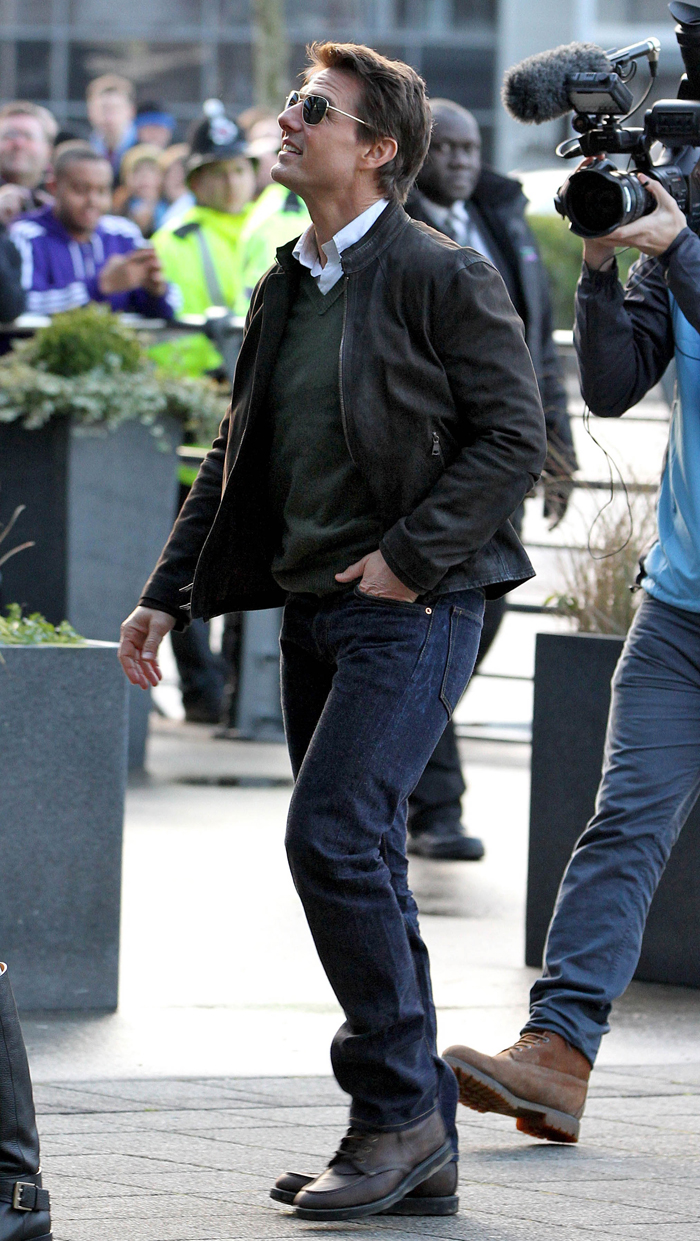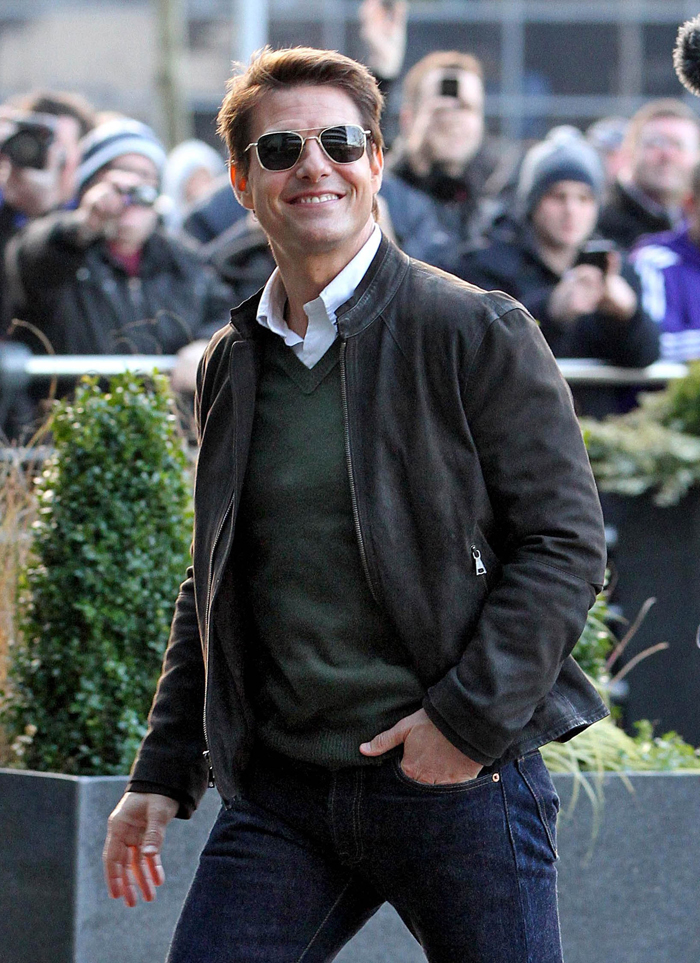 Movie poster courtesy of IGN; photos courtesy of Fame/Flynet