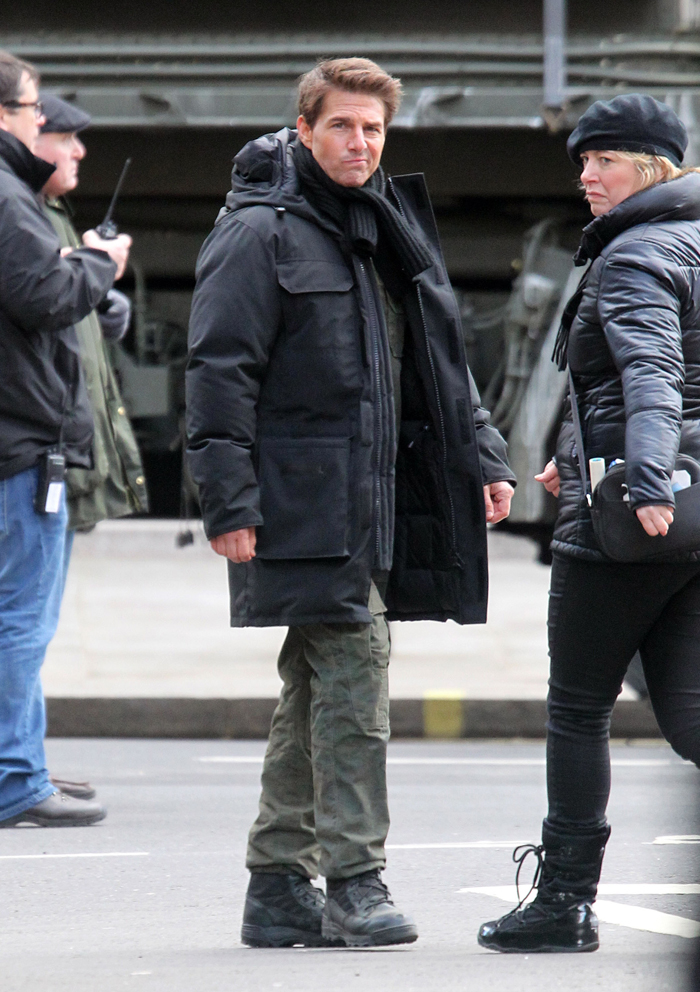 Here are some photos of Tom Cruise on the set of All You Need Is Kill, and I really like this shot of Tom's sheepish face as he's caught wearing the most obvious lifts in existence. Also and at first glance, I was wondering why it these set pictures looked like reshoots for the scenes shot in London's Trafalgar Square over Thanksgiving weekend. Then I remembered that this movie is supposed to be like Groundhog Day with an alien-invasion twist. That is, Tom plays a solder who is killed in battle and trapped in a time loop, wherein he is forced to relive the circumstances surrounding his death until he can figure out how to survive in battle against the aliens.
Of course, this movie's theme sounds an awful lot like Tom's other upcoming alien-invasion flick (Xenu much, Tom?), Oblivion, which has already arrived with a ridiculous trailer that involves Tom's character being tasked with "the fate of humanity in his hands." But in that particular movie, there can't possibly be anything nearly as hilarious as what we've seen so far from All You Need, which has already bestowed us with a film still of Tom wearing a robot suit and crapping in his pants.
In this movie, Emily Blunt plays a highly decorated U.S. special forces soldier, and in a somewhat shocking move, Emily was photographed holding a gun to Tom's head while the cameras rolled. Her character, Rita, is also supposed to be caught up in the same time loop as Tom's so I am assuming that she's helping the loop close yet another cycle during this part of the story. But I could be wrong.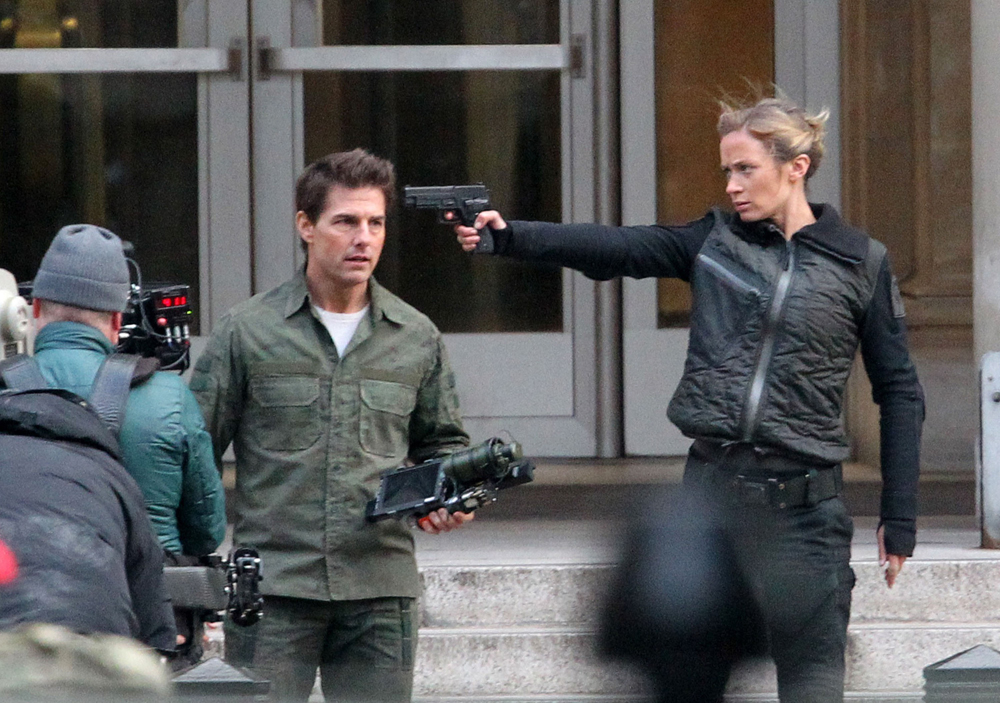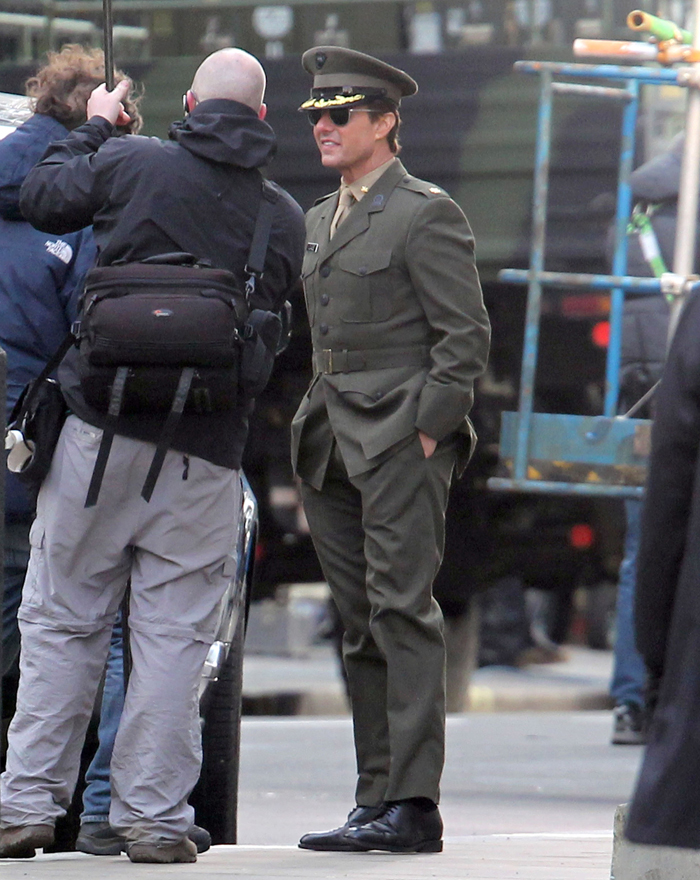 Now for the amusing part of this story, which is about as likely as Brad Pitt boning that soldier/actress on the set of World War Z. According to the Mail, Tom has yet another mystery lady (see below), this time a blonde, on his current film set. The Mail even has a slightly different picture of what they claim is Tom going in for a smooch, but I think this lady is probably merely a production assistant or some sort of Scientology chick. Whatever the case, she's definitely not Tom's type because really doesn't look like a 20-something girl that is into dirty dancing at clubs. Oh, that wacky Tom and his many mystery ladies.
Incidentally, Katie Holmes might have actually scored herself a real mystery man, according to Page Six. Katie was spotted bowling and enjoying some beers with a guy in Hell's Kitchen. While the two supposedly looked like "just friends," I'm rooting for Katie to score. God knows she's overdue by several years on that end, and I do believe this story for one reason only: Katie was wearing "floral overalls." She would totally do that.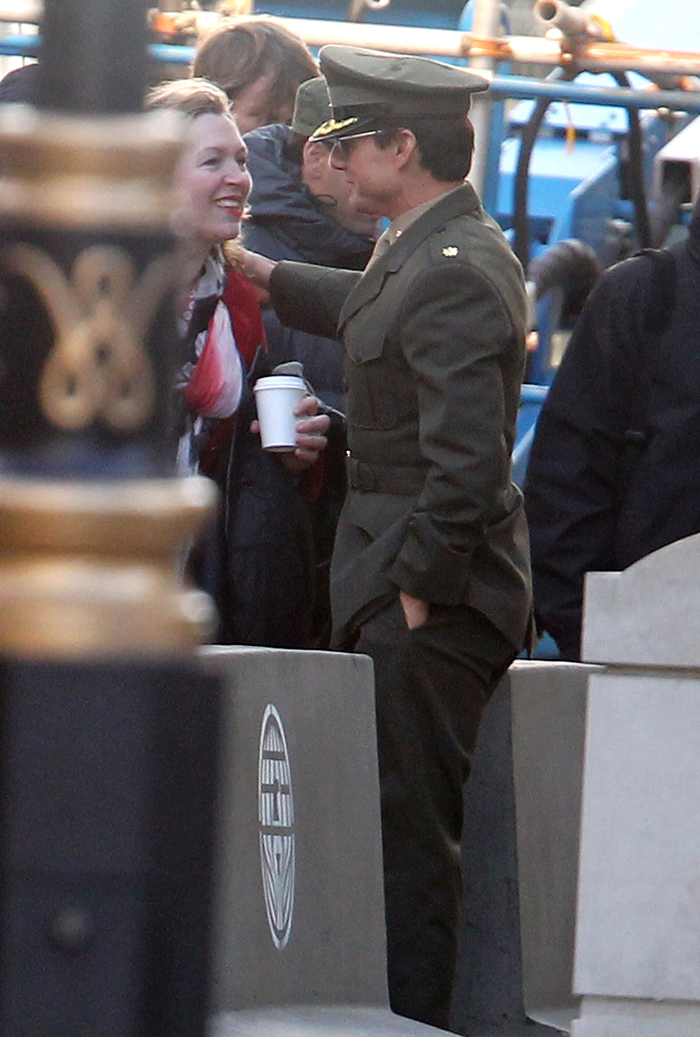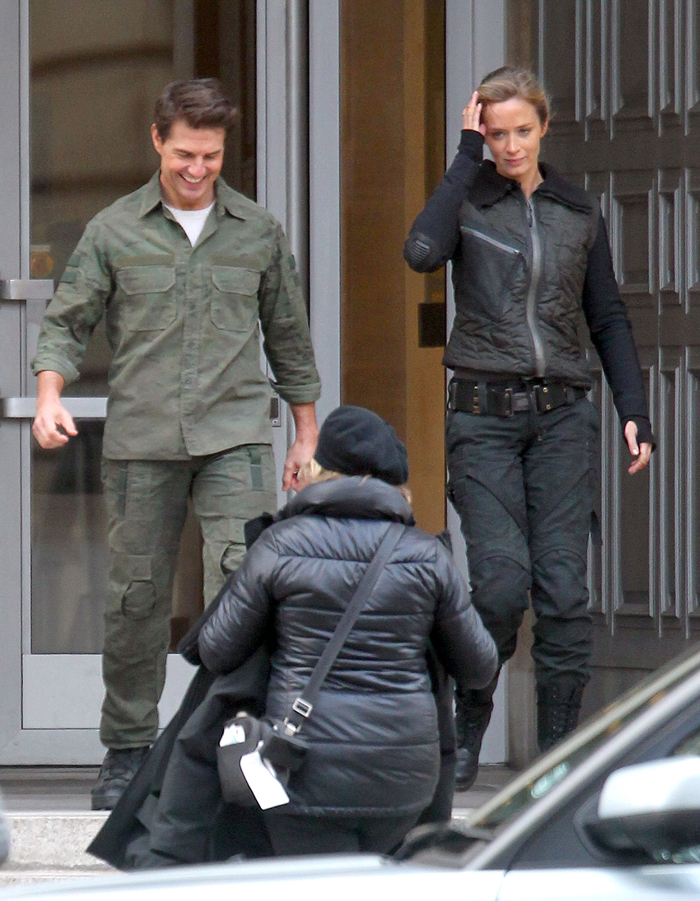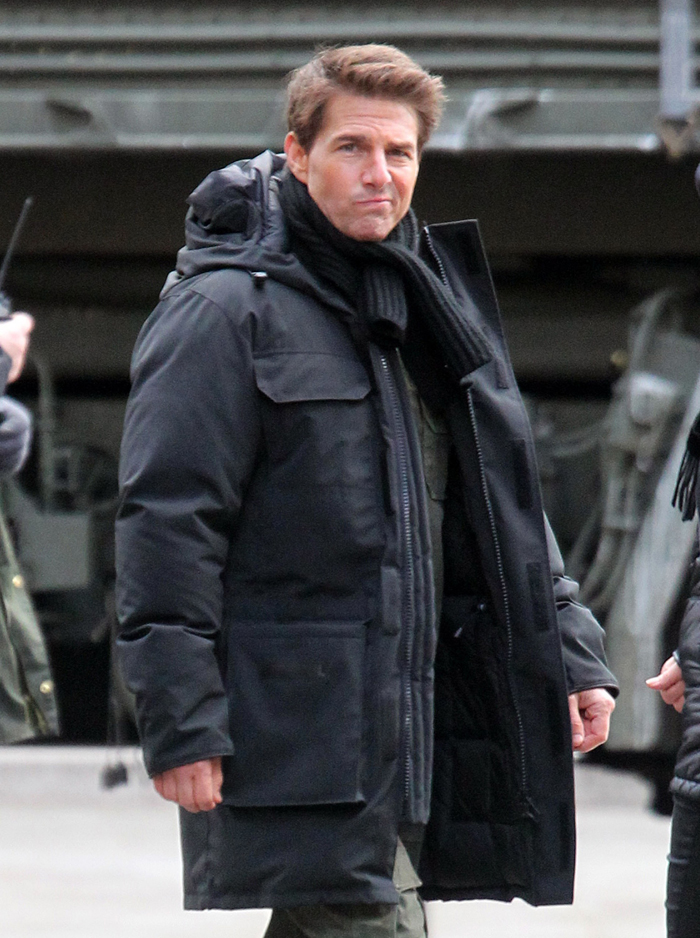 Photos courtesy of Fame/Flynet and WENN