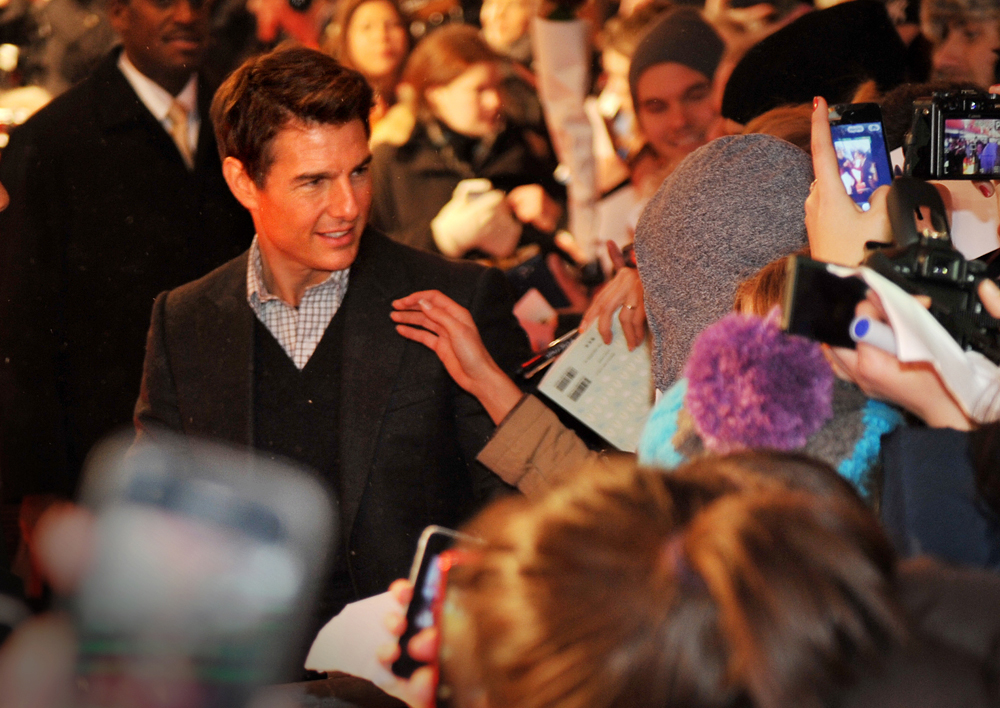 Here are some photos of Tom Cruise at the Swedish premiere of Jack Reacher, which is initially indistinguishable from the UK premiere for two reasons: (1) Tom is sporting his mighty lifts and not putting any other thought into his sartorial getup; and (2) Rosamund Pike is wearing an equally disastrous yellow dress (see photos here). However, this latest premiere is reason for a few giggles because the Case of Tom's Mystery Ladies has been reopened, and Tom has been photographed "enthusiastically greeting" a very attractive brunette who was "waiting for him in the cold dressed in nothing but a short skirt with tights and a green jacket." According to the Mail, there was no PDA between the two, but they did head off to the nearest nightclub together. Rowrr.
Certainly, Tom is enjoying himself in Europe and especially in London where he is filming All You Need Is Kill, but his presence hasn't exactly helped the "church" of Scientology. According to Tony Ortega's blog, the recent UK census has revealed an alarmingly small number of British citizens who claim to be Scientologists. In 2011, there were only 2418 people who were willing to admit that they are indeed members of the CO$ (as opposed tot he 100,000+ members that David Miscavige has recently claimed). Not only is the actual number of self-proclaimed Scientologists quite amusing, but it's far less than the number of British citizens (out of a nation of 56.1 million people) claiming to be Jedi Masters (176,632) and less than half the the number claiming to belong to the Heavy Metal (6,242) religion. Buh bye, CO$.
Oh, and here's well-timed update, which is that most (but not all of) Tom's "hired help" may very well be slave labor, but Tom actually does hire some (presumed) civilians to help him fulfill very important missions. That is, he and Katie Holmes (according to Radar Online) did employ a secular (non-CO$) employment agency to find a groundskeeper for their Los Angeles-based mansion a few years ago. The catch? The candidates all had to truck themselves down to the Celebrity Centre for a "personality test," which is actually the intro to Scientology. Here are the details: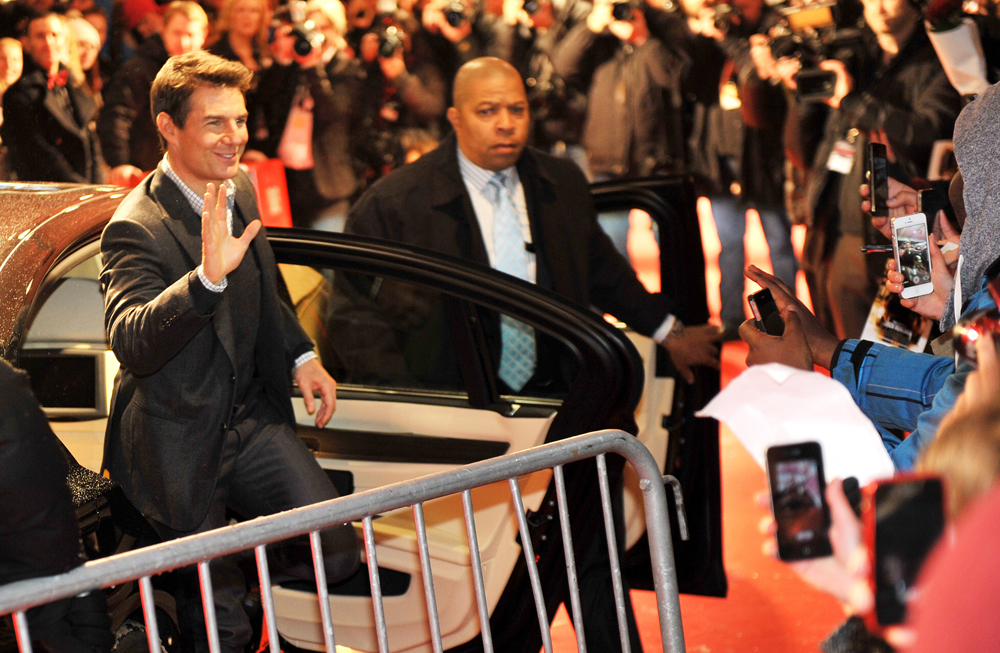 When Tom Cruise and his then-wife Katie Holmes were looking to hire a new estate manager for their swanky Bel Air mansion, prospective staffers had to undergo rigorous testing at the Scientology Celebrity Center in Los Angeles, a source tells RadarOnline.com exclusively.

"Tom and Katie were looking to hire a new estate manager a few years back," the source tells Radar. "They were using a high end Los Angeles employment agency that a lot of A-list celebrities use to hire staff. After going through the first round of interviews with the agency, applicants then had to take a multiple choice test at the Scientology Celebrity Center. The majority of the potential hires weren't Scientologists, but it was testing only and didn't involve any auditing.

"The test took an entire afternoon and included questions such as 'if you saw a car stuck on the train tracks with people inside, and a train approaching, what would you do?' The questions were just odd to say the least. Another section of the test dealt with math questions. It was a very rigorous, stressful and grueling test.

"If an applicant passed the test they were then introduced to Tom's mom and sisters who work for him," the source says. "It was only after gaining the approval of Tom's family applicants finally got to meet with Tom and Katie, and that was scheduled for a different time and day. It was a very methodical and controlled process. The entire vetting process took well over a month-and-a-half and was extremely secretive. It was like applicants were applying to work for the President of the United States, it was that intense! Background checks, references, no stone was left unturned. The pay for the estate manager of the Bel Air mansion was $90k with full medical benefits."
[From Radar Online]
Sure, the candidates weren't "required" to be Scientologists, but these "full medical benefits" = a sh-tload of auditing sessions. This groundskeeper position was actually a CO$ recruiting tool. Everyone knows that you can't work for Tom without being a member of the cult.
We're not fooled, Tom. Just go ahead and play that game where you pretend to be above papping yourself with your youngest daughter in an effort to curb the countdown. You see, Tom has realized that we're all keeping track of what he does as compared to what he pretends to do for the paps. So now he's hiding, and the rest of us are … victorious!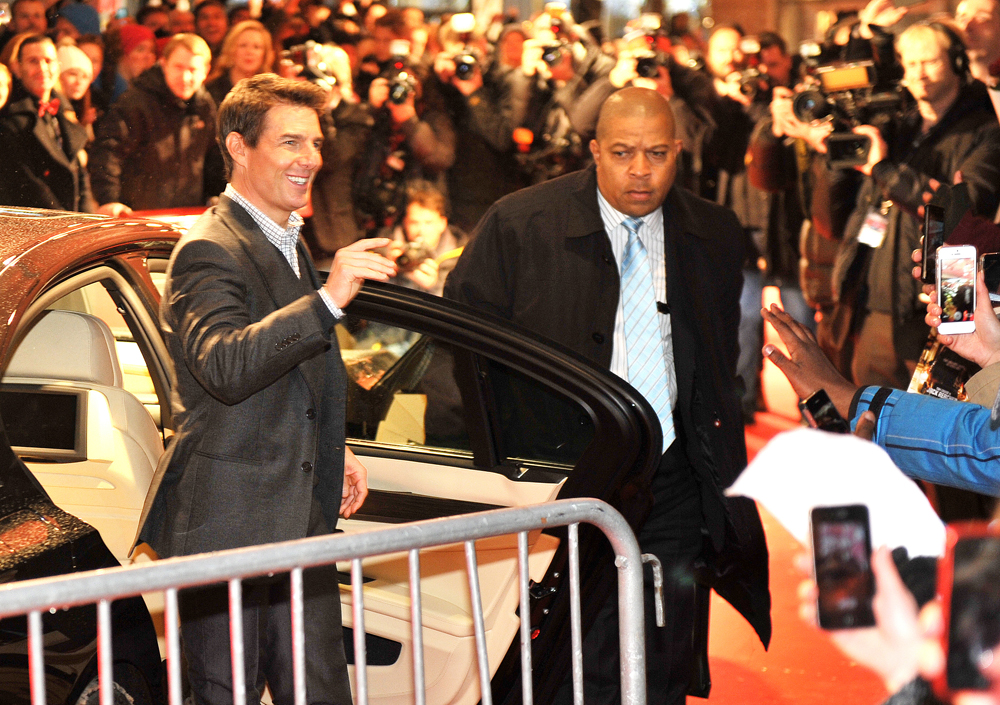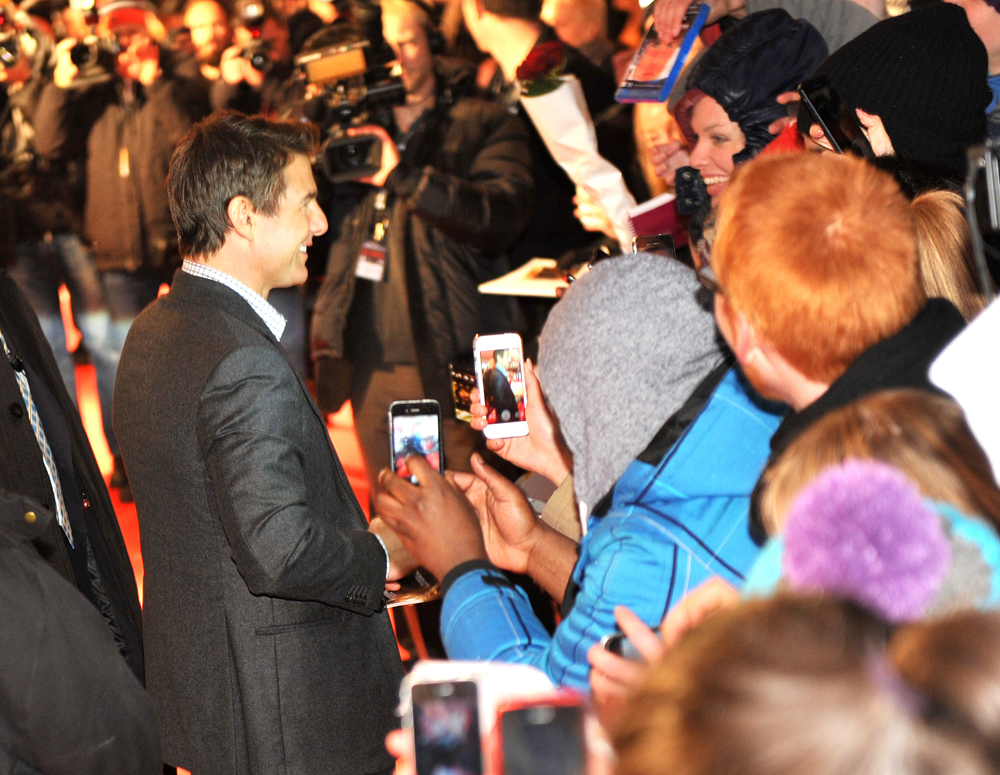 Photos courtesy of WENN