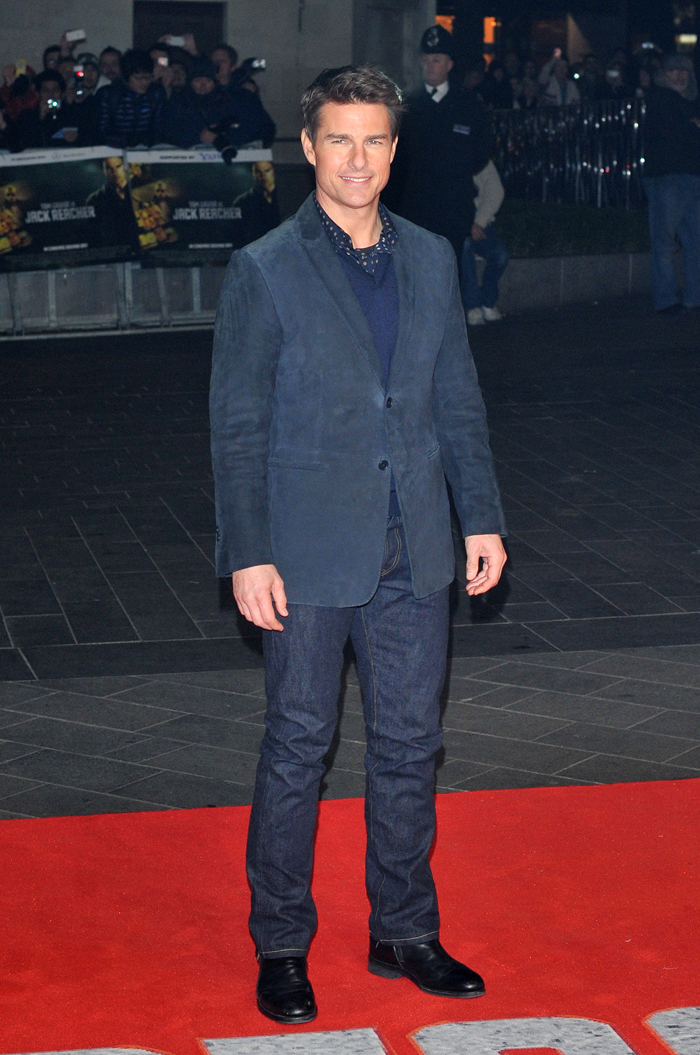 Here are some photos of Tom Cruise at the London premiere of Jack Reacher, and of course he's wearing his lifts. Why wouldn't he? This time around, it's even more important that Tom look fake-tall because he's playing a 6'5″ brick sh-thouse in the movie. But still, there's nothing new about these stylish high heels (or him getting lazy with blue jeans at a premiere), so let's just take a good look at Tom's face. We can do that, right? Because about a year ago, Tom walked many red carpets for Misson: Impossible 4 while looking like he had the best plastic surgeon ever. Here, Tom looks like he's skipped his pre-red carpet botoxing sessions in an effort to milk his lonely and miserable post-divorce persona. Instead of 'tox, Tom is wearing an ungodly amount of makeup for the cameras. Foundation city, people.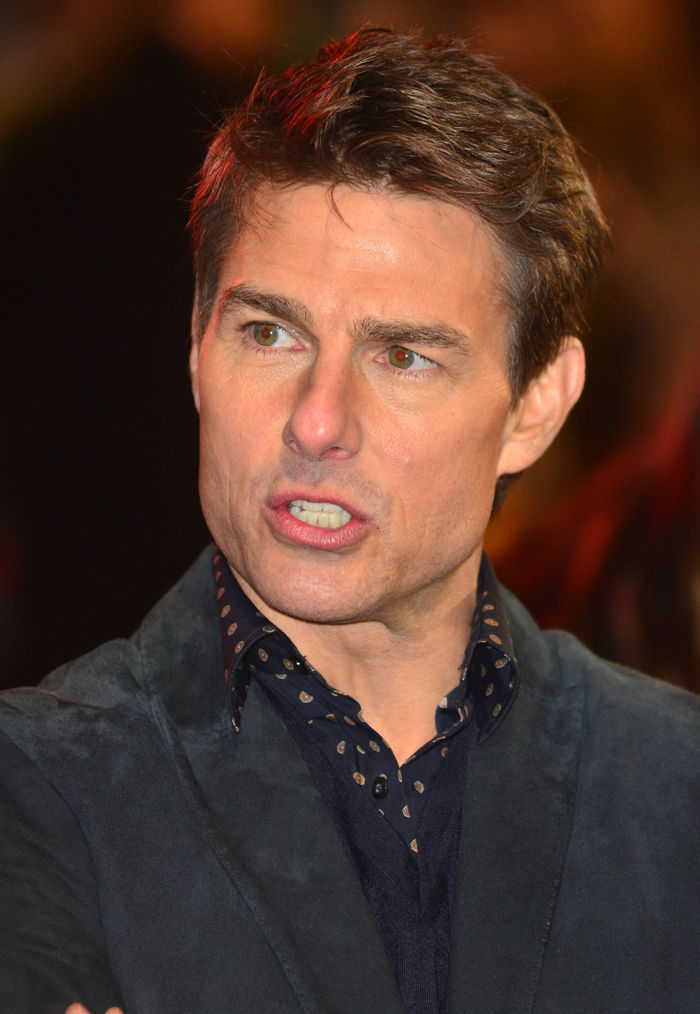 Before we get to the rest of the red carpet appearances, here's a quick update on Tom's upcoming holiday situation with Suri. Of course, Tom was presumed to have spent Thanksgiving with Suri in London (after a 17 week absence in her life) even though he was on the All You Need Is Kill set all weekend long, but now Tom's putting it out there (via People) that he'll be spending Christmas with all of his children. That is, Bella, Connor, and Suri as well? That's what Tom's camp wants us to believe: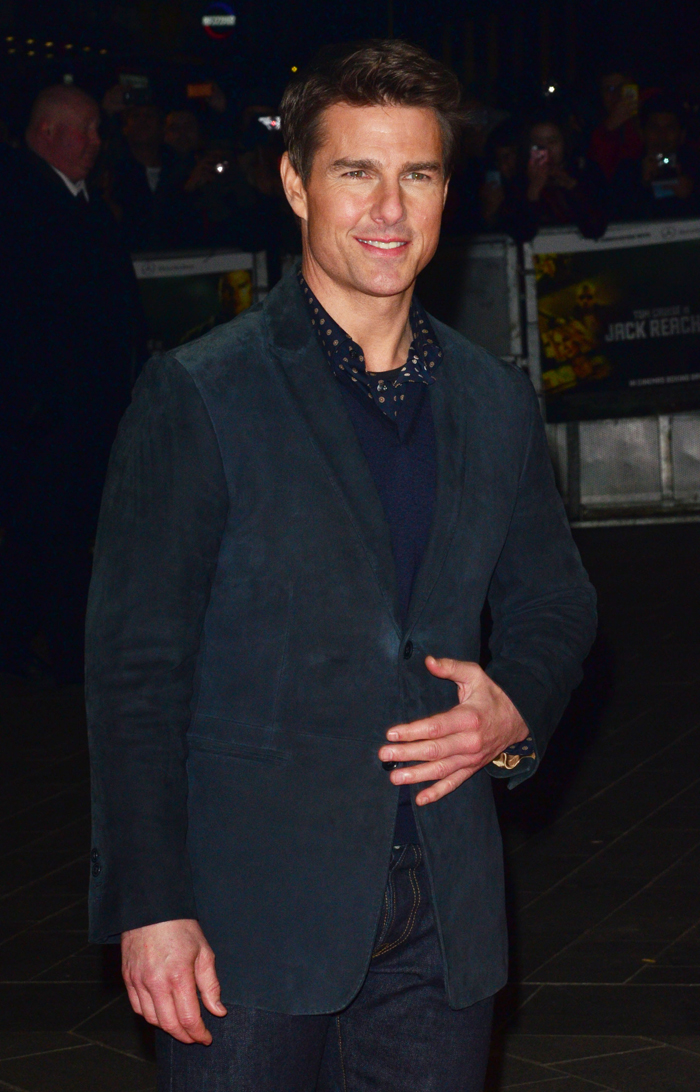 It's shaping up to be a very merry Christmas for Tom Cruise.

Looking upbeat and winter-warm in a navy sweater and jeans at the London premiere of his new crime thriller Jack Reacher on Monday, the actor, 50, spoke to reporters for the first time since his split from Katie Holmes.

"We have got lots of very special things planned [for the holidays]," said Cruise. He added that he plans to spend Christmas with his kids Bella, 20, Connor, 17, and Suri, 6. "We are all going to be together. I am looking forward to it."

Based in London since August while he shoots the sci-fi action film All You Need Is Kill, Cruise says he feels right at home across the pond.

"I love it here," he tells PEOPLE. "I have made so many films here and I have worked with so many of the actors here. It is a wonderful place to live."

Make that live and work. "I am shooting a film over here … seven days a week. But I feel great," he added. "It doesn't take up all my time, but I have a very busy schedule and I like it that way."
[From People]
Naturally, I don't buy this pro-Tom story because with most divorces, parents alternate holidays with children. Like, Tom would get Thanksgiving this year and Katie would take Christmas, and then next year they'd swap schedules. Also, the Mail quoted a source saying that Suri would be with Katie for the winter holiday break including Christmas. Of course, now that Tom strategically managed to (allegedly) see Suri a few weeks ago without grinning for the paps, now he can also just lie about seeing her whenever he feels like lying about it. So we'll see what happens.
Now let's move onto the little bit of fashion present on this chilly London red carpet. Tom's leading ladies have been wearing a lot of yellow this year (see Julianne Hough in chartreuse for the RoA premiere), and Rosamund Pike is following this ill-advised trend.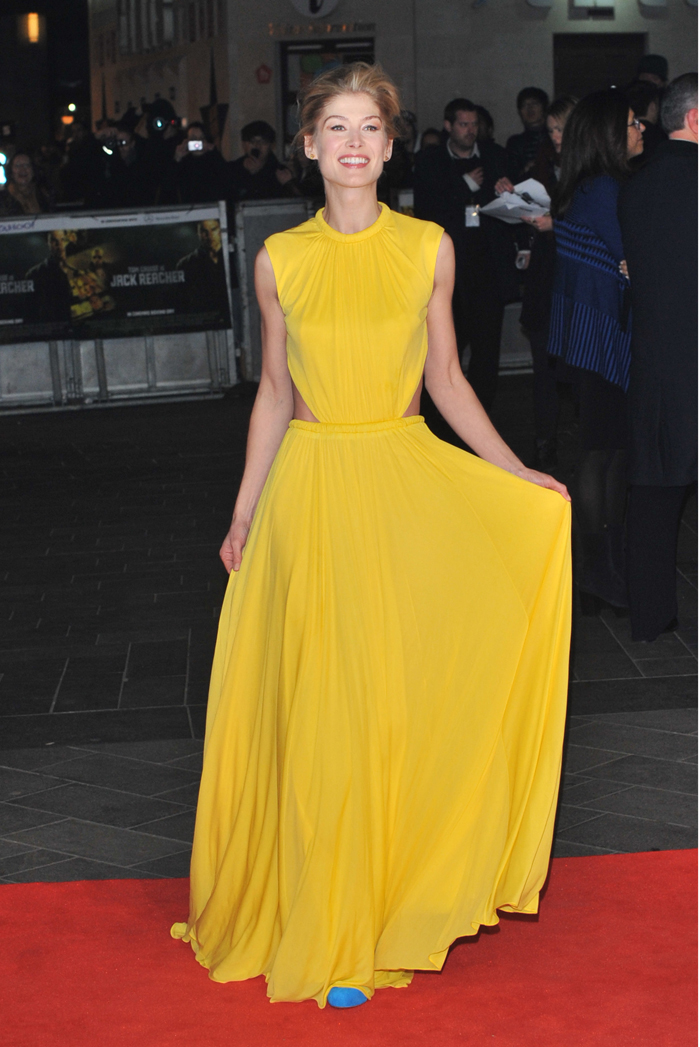 Actually, I've got nothing against yellow on the red carpet and thoroughly enjoyed Kristen Stewart's chrome yellow for BD2 Madrid premiere last month. Here, Rosamund goes with canary yellow in a full-length, backless Alexander McQueen gown that has an awkward cut-out effect from the front view, which exposes her prominent rib cage for all to see. Are those blue shoes peeping out from below the gown? Yes, but again, the color choices are not really the problem here — the shape and cut of this dress are both so awkward, and I swear it looks (from the back view) like this gown has a drawstring waist. Rosamund is looking kind of tweaked, but I do like her hair.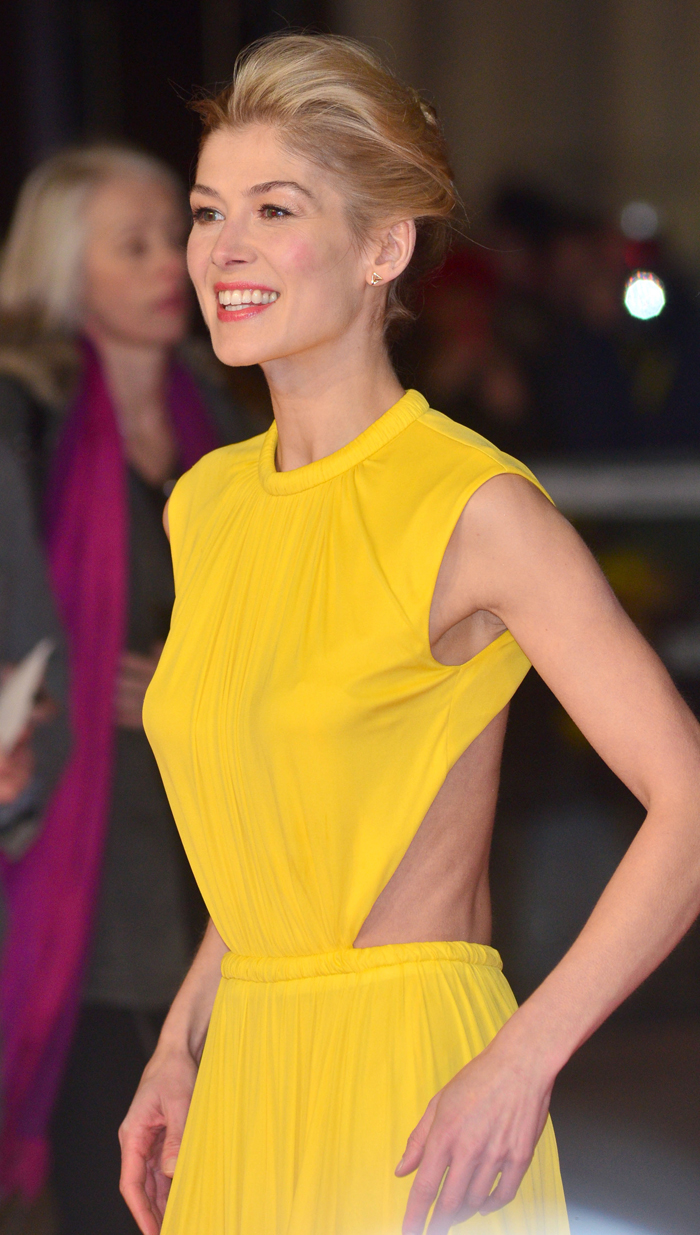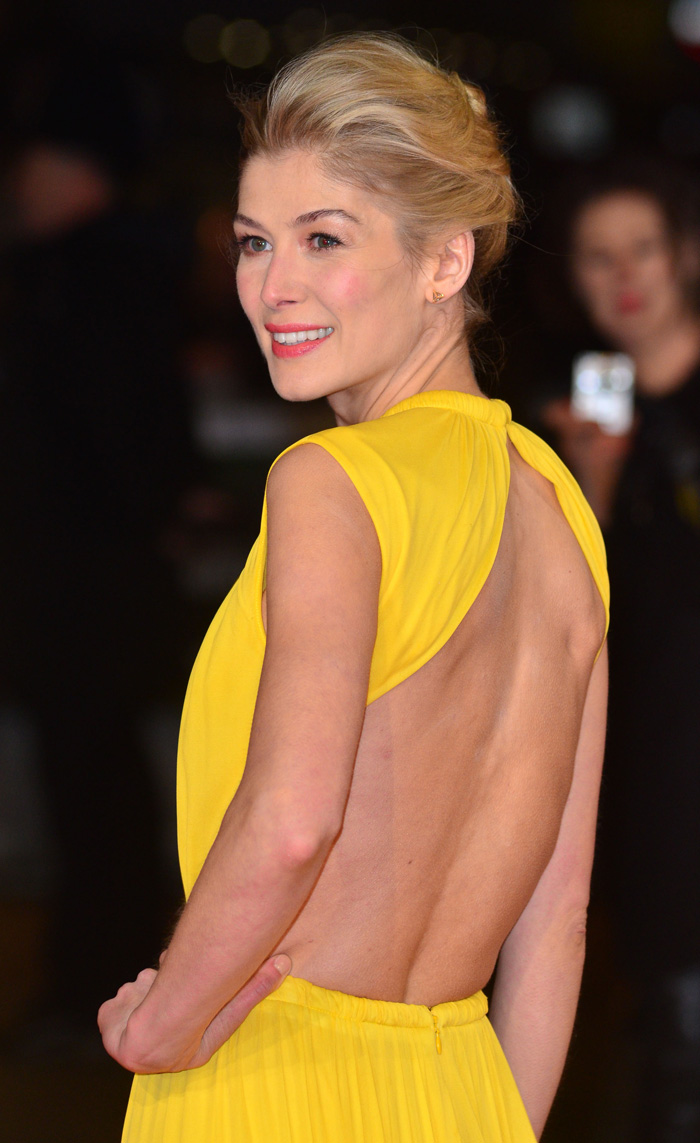 Robert Duvall is in this movie as well, but I'm not mad at that. He deserves a big-budget paycheck too.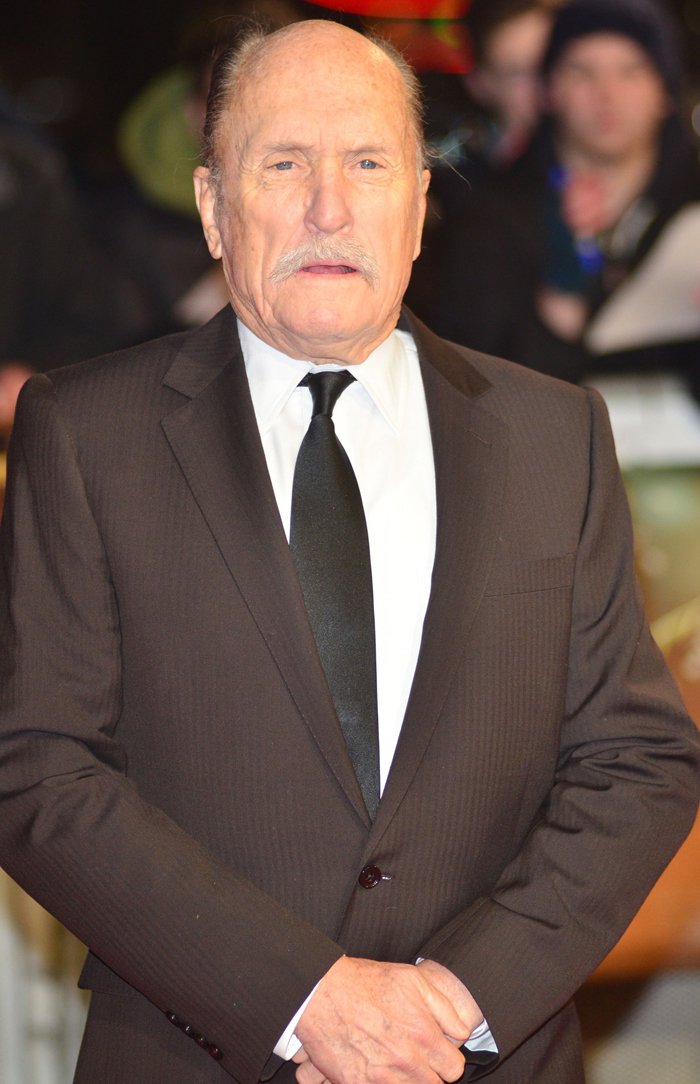 Now it's time for more gratuitous, insincere Tom Cruise photos, which are some of my very favorite things ever.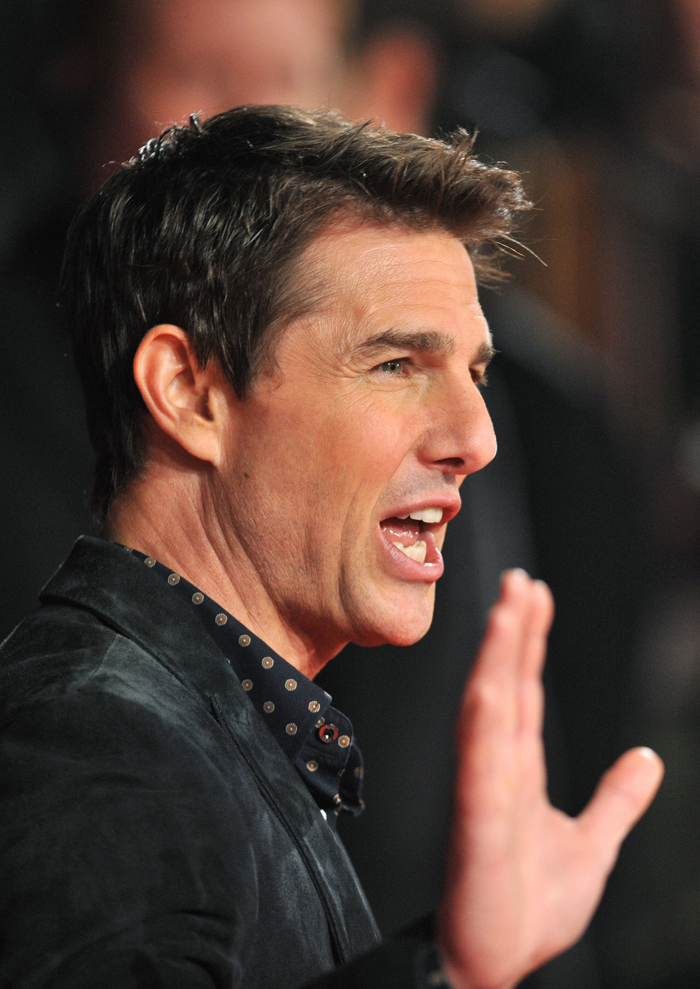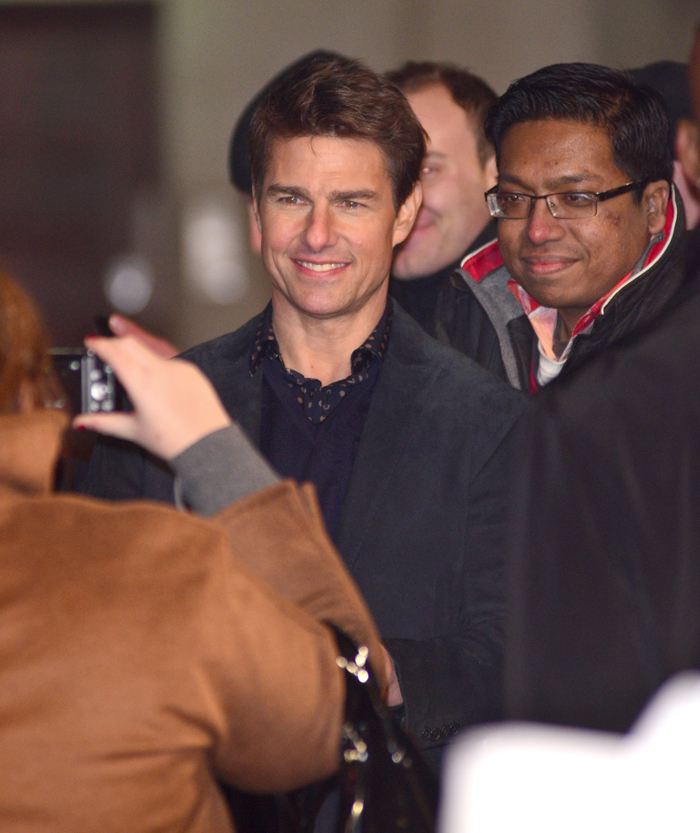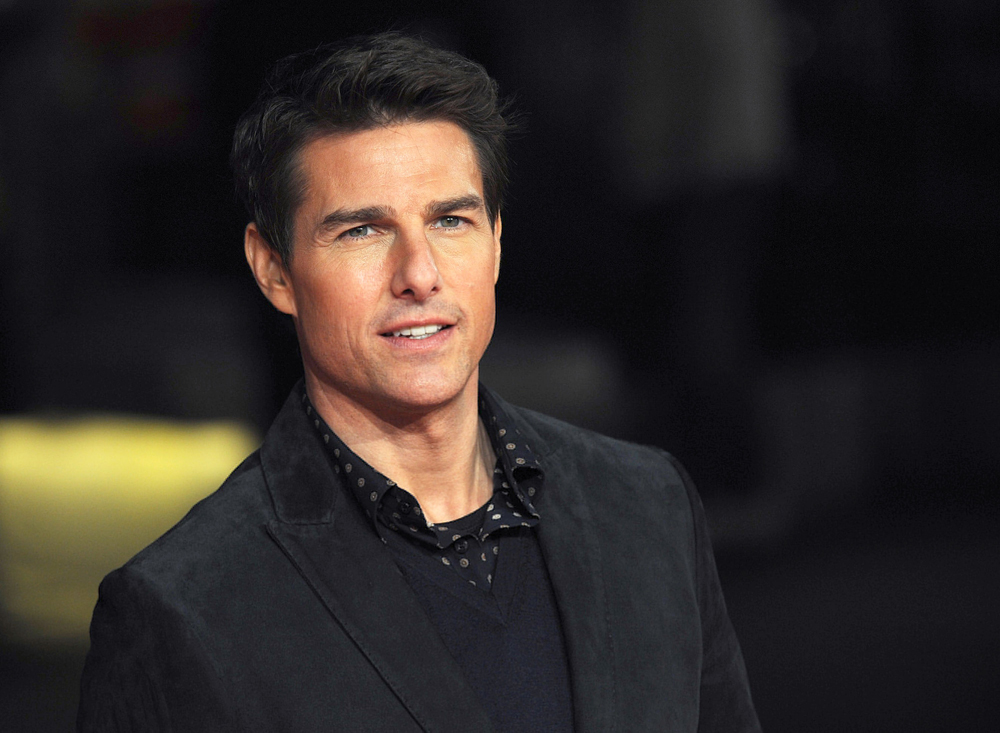 Photos courtesy of Fame/Flynet and WENN