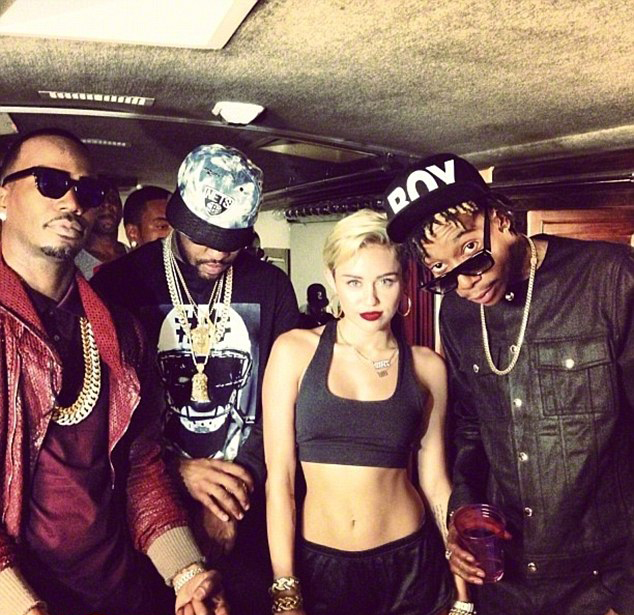 The current Miley Cyrus VMA controversy isn't over by a long shot. By now, we've all seen several instant replays of Miley twerking it up against Robin Thicke's groin like a pitchy stripper while rumors of fallout continue to circle. Seriously though, it will all blow over, and just in case anyone wondered whether Miley's little act at the VMAs has caused the music industry to take her less seriously, here she is posing with Wiz Khalifa yesterday. Miley will be fine. Better than fine. Her stunt helped her meet her attention-grabbing goals, and she certainly isn't done yet.
As a side note, some gossip blogs are quoting a story about how Miley has denied being on drugs during the VMAs and how she only wanted people to think she was high. The tale further quotes Miley as saying, "Did people really think I was seriously twerking on Robin Thicke. Eww, he's like 36 or something that's totally gross." This story is false and comes from a parody blog, so as funny as it is (even with a follow-up story abut how Robin's "achy, breaky heart" will never recover), it isn't worth taking seriously.
What is true? Well Page Six claims that Miley skipped her VMA afterparty that she was supposed to host with Pharrell and gross Terry Richardson in favor of getting straight to work. Miley is doing a basketball-themed music video for Mike WiLL Made It's "23". Instagram photos from the set show Miley sitting atop a basketball hoop in a tight, Jordan-emblazoned oufit. This is the song where Miley is supposed to "rap" in the background.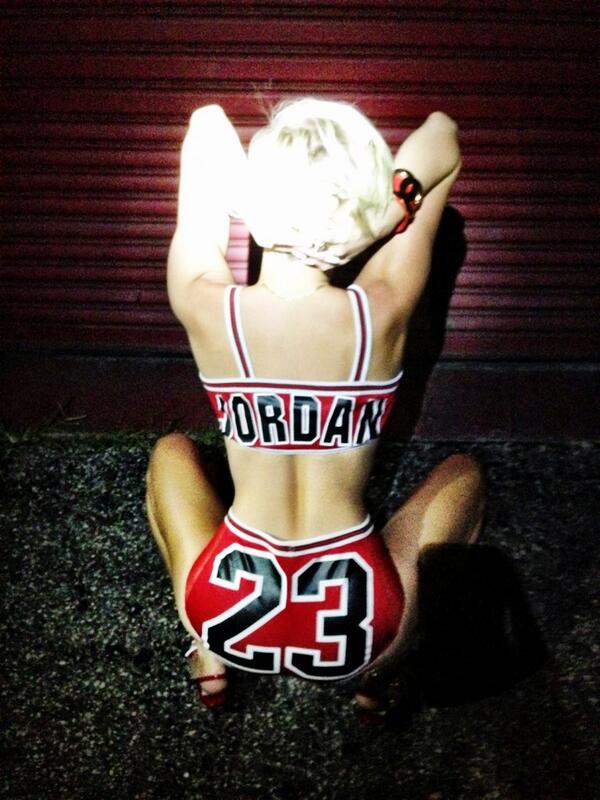 This basketball hoop perch seems a bit dangerous, no?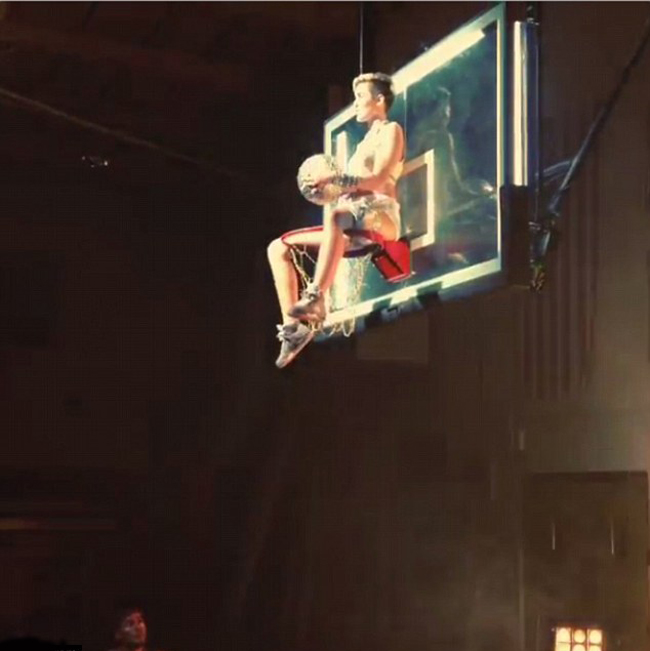 Now back to the ongoing VMA discussion. Miley's still receiving a lot of criticism, and even her good friend Kelly Osbourne is telling her to stop sticking out her "f—ing tongue," which seems a little bit harsh coming from a girl whose father made millions from this album cover. Support is also still trickling in Miley's direction in the form of former Mousketeer Justin Timberlake, who thinks Miley's performance was cool: "I just think it's the VMAs. It's not like she did it at the Grammys. Let her do her thing, you know? I actually thought all the bears were really cool." Oh, and remember how Billy Ray supposedly tweeted his aquiescience to Miley's performance? Well, he that tweet didn't mean what we think it meant. Billy Ray was actually tweeting his support not for Miley but for Syria. Also, he serves on the board of the Parents Television Counsel, which is all riled up at MTV now because of Miley:
MTV ruffled quite a few feathers with the 2013 edition of the VMAs, which elicited a host of sarcastic fan tweets and a hilarious freeze-frame of Will Smith's family gazing in horror at Lady Gaga. But the network is also facing more serious criticism from the Parents Television Council, a non-profit organization that battles explicit TV programming. Oddly, the father of chief offender Miley Cyrus, singer-songwriter Billy Ray, serves on the council's advisory board.

The council took issue with the network for branding the show with a TV-14 rating, which suggests the content is appropriate for viewers as young as 14. While also criticizing the network for airing condom ads, the PTC focused their attack on Miley Cyrus' controversial performance. Wearing a flesh-colored bikini, Cyrus romped across the stage, mining sex acts and engaging in the suggestive dance known as "twerking" with stage partner Robin Thicke.

Dan Isett, a PTC spokesman, spoke out in a press release. "This much is absolutely clear: MTV marketed adults-only material to children while falsely manipulating the content rating to make parents think the content was safe for their children," he said. "MTV continues to sexually exploit young women by promoting acts that incorporate 'twerking' in a nude-colored bikini. How is this image of former child star Miley Cyrus appropriate for 14-year-olds?"

Last night, the elder Cyrus tweeted, "Thanking God for so many blessings tonight. Continue to pray for world peace. More love . . . less hate." The New York Times theorized that the tweet might have been a response to the media backlash, but Cyrus has cleared up the confusion in a follow-up tweet: "FYI "Love Not Hate" Late last night I was watching devastating news out of Syria," he wrote. "Chemical weapons used on innocent children is unacceptable!"
[From Rolling Stone]
Seriously, parents are really riled up about Miley grinding on a cable show performance that aired after 8pm in every time zone? I don't understand that at all. Miley's act wasn't any more risque than what pop stars have done for generations — what stands out is the fact that Miley was trying so hard to be sexy that she forgot why she was there. She could have pulled off the act if she had demonstrated some actual singing talent, but she was pretty much screeching instead.
Anyway, MTV isn't the only offender here. My 12-year-old daughter used to love "Hannah Montana," and I didn't let her watch the live production of the VMAs (because … it's the VMAs), but on Monday evening, I figured she should probably see Miley's display of grossness while I was sitting there because she was bound to see it eventually. To my dismay, she sort of shrugged her shoulders and said, "Momma, I saw this on the [local] news while you were cooking spaghetti." (Yes, that disturbed me because news channels are airing this stuff without discrimination during the dinner hour, which is ridic.) She also asked what was wrong with Miley, and I told her, "Miley just wants attention," and my daughter thought that was sad.
As for Billy Ray, he still insists to ET Online that "[Miley's] still my little girl and I'm still her Dad regardless how this circus we call show business plays out. I love her unconditionally and that will never change." Aww, he's a dad, and he's torn. It's nice to not see him pulling a Jon Voight here in regard to his daughter, but we know that Billy Ray definitely has some reservations, and Miley has put him in an awkward position.
To add insult to non-injury, semi-noted feminist scholar Camille Paglia has weighed in on Miley's performance by saying that the problem wasn't Miley's scantily-clad behavior at all, but that "[T]he real scandal was how atrocious Cyrus' performance was in artistic terms. She was clumsy, flat-footed and cringingly unsexy, an effect heightened by her manic grin." And that, my friends, is the most accurate thing that Camille has said in years.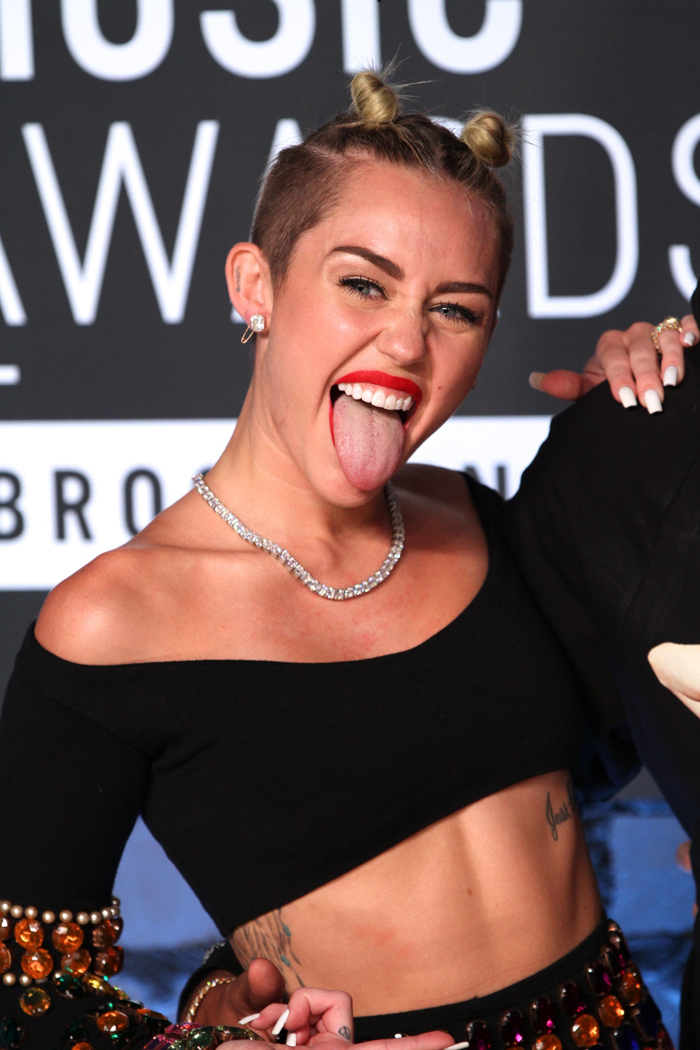 Photos courtesy of Instagram and WENN