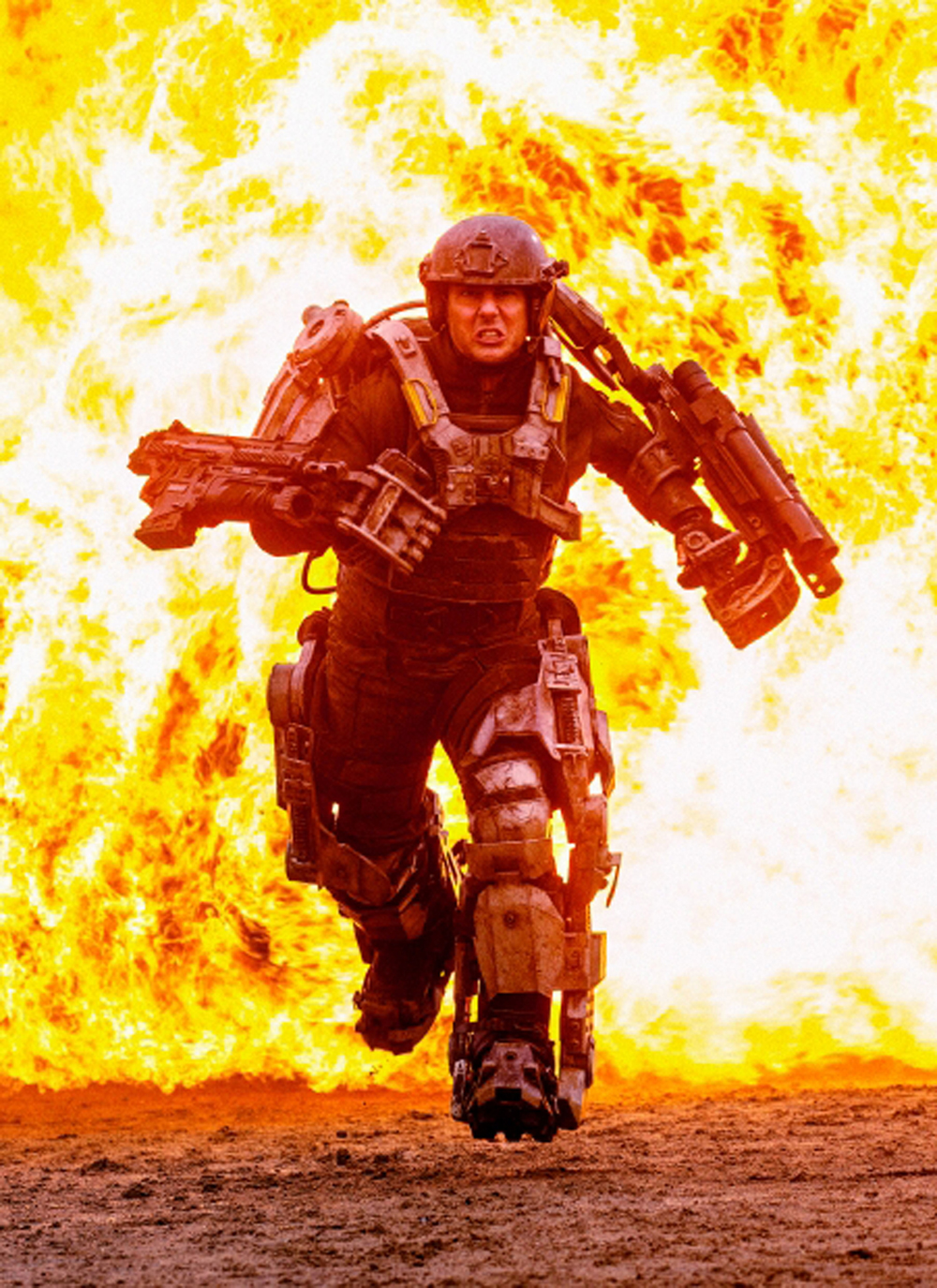 I really wanted to use this movie still from Edge of Tomorrow for this story. The photo is insane, and so is Tom Cruise. We continue the saga of Tom's no-good $50 million lawsuit against Bauer media for its (by now) 13-month-old "abandoned by daddy" story. Clearly Tom seems obsessed with taking down the tabloids even though he uses them for his own devices.
Tom keeps arguing about what a wonderful father he is (after not visiting Suri for over 100 days). He maintains that storytime on the phone is good enough to create a wonderful parent-child bond. He also admits to skipping scheduled Suri visits for Scientology events. All of this stuff is coming out via discovery even though Tom took such great care to shush Katie Holmes by giving her a quickie divorce. He didn't want this stuff coming out ever. Tom's a fool. He couldn't handle himself during the deposition, and the jury trial will be a real sh-tshow. Plus … all three major tabloids (The Enquirer, Star, and In Touch) rehash the depo this week.
Nice work, Tom.
Things are getting even weirder with statements made by Tom's lawyer, Bert Fields. Mr. Fields has the CO$ kool-aid running through his blood. The guy defends John Travolta against masseuses. Fields argues that Bauer's alleged former ties with Nazism lead the publisher to persecute Scientologists just like the Jews during WWII. It's worth noting that Scientology holds a revisionist version of Nazi history. CO$ actually believes the Holocaust was planned and executed by psychiatrists.
My position here is that Bauer may indeed have had past connections with the Nazi party as many other companies (like say, Hugo Boss) did. I won't argue that point. BUT now I'm starting to feel like this "abandoned by daddy" lawsuit really isn't about Suri at all. This lawsuit is actually Tom crusading for Scientology and using Suri to justify going after the tabloids. Here are the details from Radar:
Tom Cruise has been blasted for having an "inability to perceive any boundaries to logic or taste" after his legal team compared Jewish and gay journalists to cotton-picking slaves working on a plantation.

In documents obtained exclusively by RadarOnline.com, it's revealed that lawyers for Cruise, 51, made the jaw-dropping statement following a deposition by the Editor-in-Chief of In Touch and Life & Style, Dan Wakeford, who said that claims by the Hollywood star that Bauer has an anti-Semitic and Nazist corporate culture were "ludicrous," because several staff members are Jewish and/or gay.

Cruise's attorneys responded to to the magazine boss' position by likening it to "a plantation owner claiming, 'I'm no racist'" even though everyone "picking my cotton is black."

Lawyers for the German-based publisher cited the quote in a November 12 filing as an alleged example of Top Gun star Cruse's "inability to perceive any boundaries to logic or taste." They also claimed Cruise has "trivialized" the Holocaust, the mass murder or genocide of approximately six million Jews during World War II, with his argument that Bauer is pro-Nazi and anti-Scientology.

"By doing so, Cruise trivializes the Holocaust as he attempts to draw entirely unfounded analogies between the most serious of historical events and current entertainment news coverage about his divorce that only briefly touches on his Scientology religion," Bauer wrote as part of its bid to have a District Court judge issue a protective order against Cruise, who they argue is on a campaign to "harass, oppress and annoy."

Cruise's lawyers did not return Radar's request for comment asking them to explain the context of the racially charged plantation remark.

As Radar first revealed, Cruise has accused Bauer of having a "long and disgraceful record of religious hatred any bigotry" and a "fawning admirer of Hitler and the Nazis."

"Bauer may disguise its present attacks [on Cruise] as mere tabloid-style gossip," the Oscar-nominee's long-time lawyer Bert Fields wrote in a 2012 letter to Bauer.

"But it's really a continuation of the same pattern of bigotry the company espoused under Hitler. Only now, it's focused on Scientologists rather than Jews and it's been reformatted to make money from young Americans, while indoctrinating them with Bauer's current messages of hate."

Cruise and his legal team have attempted to prove their position about Bauer during 13 months of litigation. But according to the publishing house, they've blatantly ignored what little evidence has been unearthed from thousands of documents and nine depositions of Bauer witnesses.

"Cruise ignores Wakeford's repeated testimony explaining that the Bauer family is 'not involved on a day-to-day basis of the magazines, per se,'" lawyers told the Los Angeles court. Nor does Cruise explain — because he cannot — why he studiously avoided asking questions of the nine Bauer witnesses that would have revealed whether the imagined pro-Nazi culture actually existed.

"Tellingly, in his zeal to ascribe the reporting at issue to an anti-Scientology bias emanating from Germany, Cruise dismisses the indisputable fact that a broad swath of the media coverage of his divorce during the same time period was nearly identical to that of the Bauer Defendants as indicating only that "Scientology is a target for widespread discrimination.'"

In its filing, Bauer reiterated that at the core of the libel action was Cruise's "repeated and extended absences" from his daughter Suri, seven, following his split from Holmes — and not his "offensive conspiratorial endeavor" of racism and bigotry.

"Recognizing that he has admitted as true the critical facts that informed the conclusions actually at issue in this action, Cruise attempts to divert attention to an irrelevant sideshow about a supposed 'corporate-wide [Bauer] culture of bigotry' driven by pro-Nazi/anti-semitic/anti-Scientology biases," the lawyers argued.
[From Radar Online]
It's interesting how Bert Fields analogizes Bauer's alleged anti-Scientology bias and slave labor on a plantation. That's actually really sad because the CO$ runs on the blood and sweat of Sea Org members. Tom reaps the benefits of slave labor in his own homes. What a joke.
One wonders who ever told Tom that this lawsuit would be a success instead of an absolute disaster. Bauer was supposed to roll over just like every other company or individual who has been litigated to death by Scientology. L. Ron Hubbard's motto was to attack, not to defend; to sue until the other side gives up or runs out of money. The CO$ did well with these harassing tactics for decades, but they've run out of luck in the internet age. This spells more bad news for Tom's image, which will only take him back to his 2005 level of crazy in the public's mindset. Let's relive some photos from that era, shall we?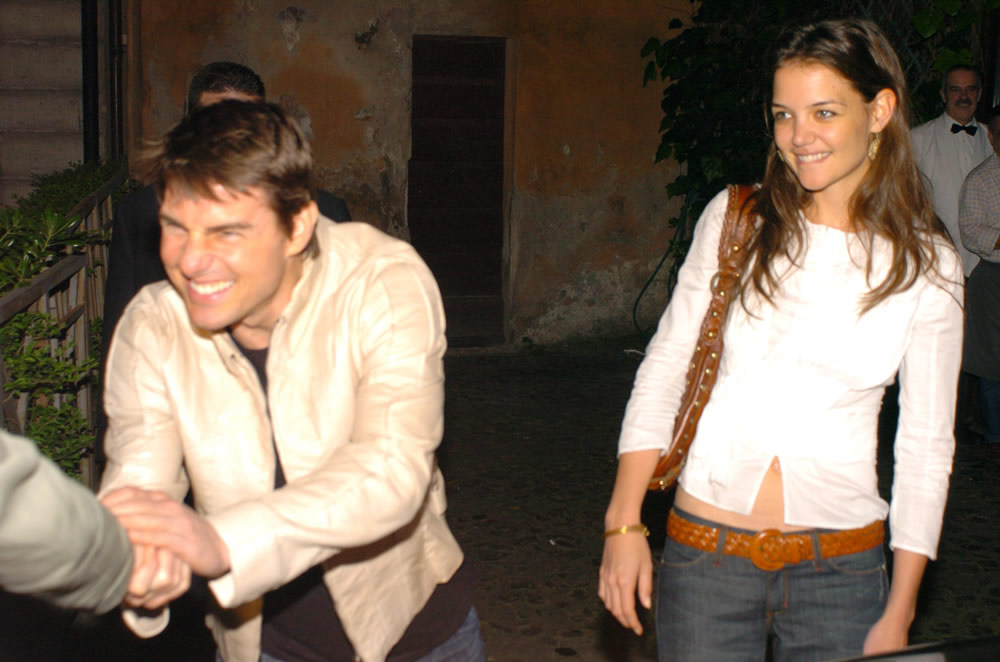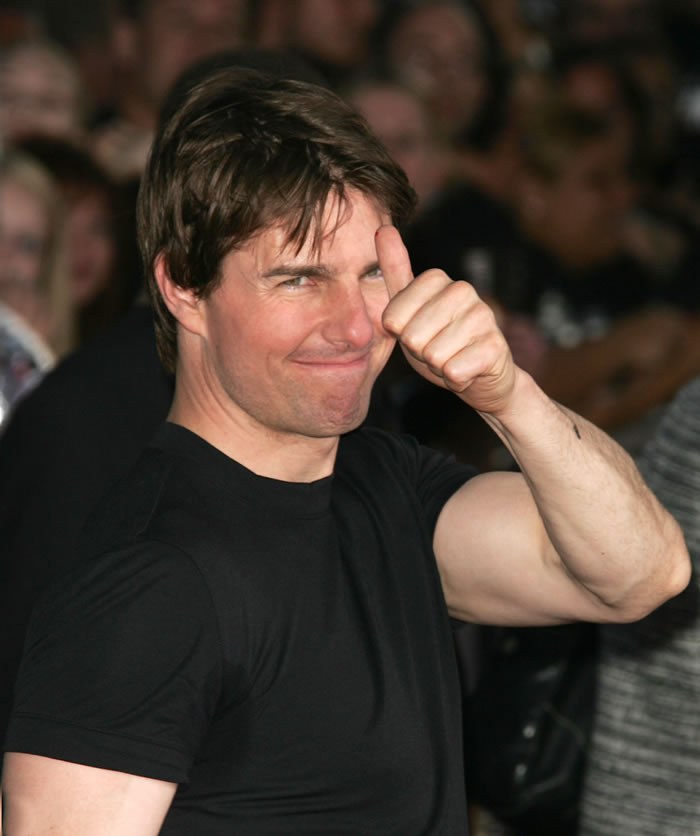 Photos courtesy of Fame/Flynet & WENN