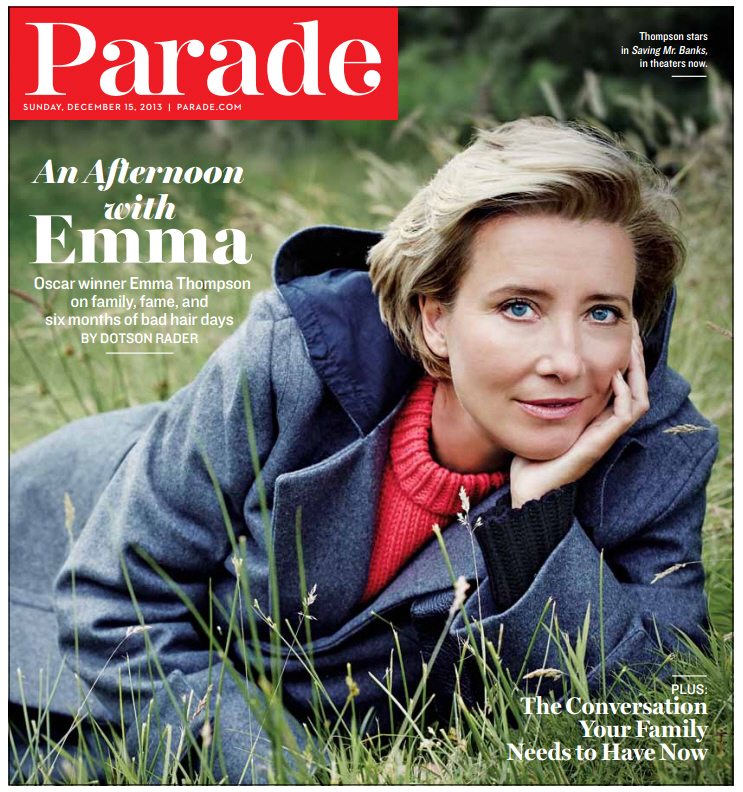 Holy crap, how incredible is this Parade cover? Emma Thompson looks like she's about 29 years old here. She should always be photographed this way, like a photographer just chanced upon her in a meadow. Anyway, Emma is having a great week – she's just received two huge nominations at the Golden Globes and SAGs, both for lead actress for her performance in Saving Mr. Banks. Emma also picked up Best Actress at the LA Film Critics Awards AND the National Board of Review. Which means that Cate Blanchett and Meryl Streep might need to take a seat because Emma is about to win her THIRD Oscar? How incredible would that be? Anyway, Emma has a charming new interview with Parade because everything that comes out of her mouth is charming. I love her.
On her prim and proper 60s look in Saving Mr. Banks, which required her to get her hair permed.
"It was a nightmare! People would bleat in the streets as I went by. I didn't have sex for six months!"

On working with Tom Hanks.
"…for a long time we'd looked for something to do together. [After reading the script] I rang Tom and said, 'This is great, because it's not a romance. It's about a battle that they both win and lose. It's perfect.'"

On her anger and depression when her first marriage to Kenneth Branagh ended in divorce.
"I don't feel anger or depression about it now. I think we place a lot of pressure on ourselves and our relationships.…Yes, it was very painful, but it was also something that happens between people a lot. Sometimes things go wrong and it doesn't last, and that seems to me perfectly reasonable."

On her dowdy appearance when she first started acting.
"I marched onto the Johnny Carson show [doing publicity for Howards End] wearing a shapeless dress and flat shoes. I looked like a geography teacher. In my 20s, I eschewed everything overtly female. I didn't have a handbag; I'd carry a plastic bag…It's only recently that I've even bothered with glamour because it seemed like a fun idea."

On the importance of her costume while playing Sybill in the Harry Potter films.
"I had great fun doing Sybill. The genius of that costume—the wig and the glasses—I mean, Barack Obama could have played her. I did a silly voice, but really it was that costume."

On why so many of her films touch on the subject of love.
"Partly because it's one of the major areas in which women are allowed to take part. It's not as if I've got the same kind of choices as Brad Pitt in filmmaking. But also because love is the only thing that matters. Not just romantic love…there's affection, Eros, family love…it's exactly what we're designed to do."
Emma's talked about her early, strident-feminist days and I believe her when she talks about eschewing glamour when she was younger. I would say that it's more of a British thing than a feminist thing, though – it's just something I've noticed about so many of the younger English actresses – it's like they don't want to be seen as "giving in" to glamour. They'd rather be "quirky" individuals, and it's only in their 30s and 40s that they really put some effort into doing the glamour thing.
I love this – "It's not as if I've got the same kind of choices as Brad Pitt in filmmaking…" Truth. And how sad is that? This quote made me tingly for another viewing of Love Actually though: "…because love is the only thing that matters." I need to watch Love Actually again.
As for the stuff about her marriage to Branagh – she's so classy. She would just hate it if anyone ever saw her as a victim. Bless her.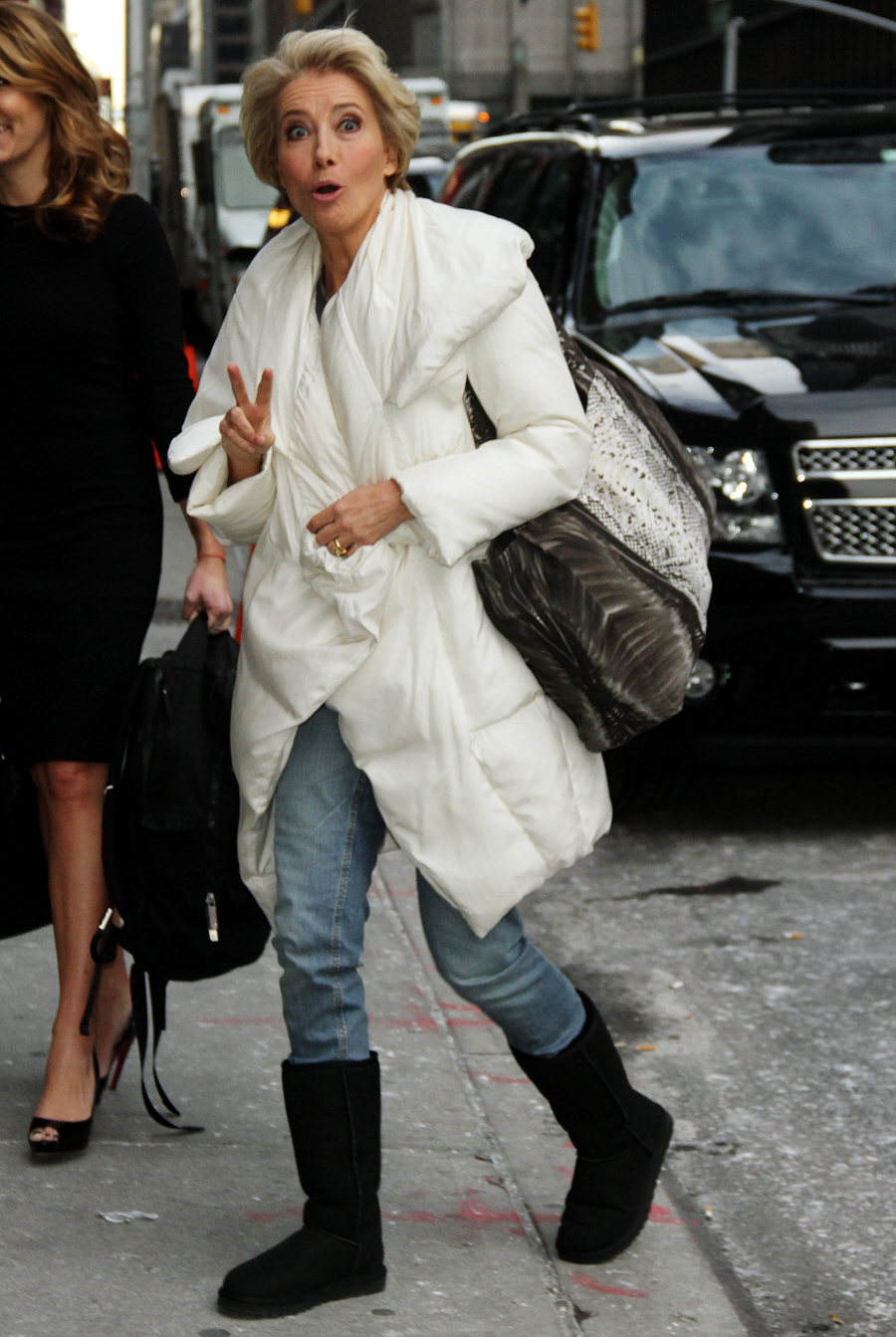 Photos courtesy of WENN.