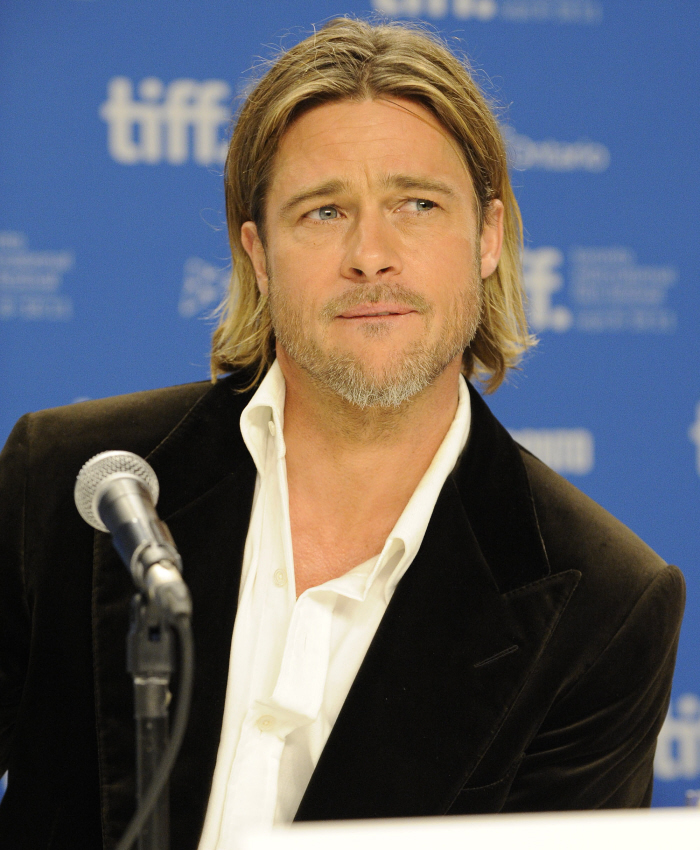 I promised you this interview in the post where I finally, at long last, pitted the boys against each other – go here to see my "Brad Pitt versus Justin Theroux: Battle of the Try-Hards" post. Anyway, it seems like today we're just going to be inundated with new Brad Pitt interviews. These are some excerpts from his cover interview in Sunday's Parade Magazine – by the way, Parade editors: don't excerpt your cover story over the course of a seven-page slideshow. It's ridiculously and unnecessarily time-consuming. Just put the s–t on one page. Anyway, you can read all of Parade's piece here – just go through the endless pages, for the love of God. The biggest, attention-gettingest quote is probably when Brad makes reference to his marriage to Jennifer Aniston – and he makes it sound like it was totally miserable.
Brad's 1990s: "I spent the '90s trying to hide out, trying to duck the full celebrity cacophony. I started to get sick of myself sitting on a couch, holding a joint, hiding out. It started feeling pathetic. It became very clear to me that I was intent on trying to find a movie about an interesting life, but I wasn't living an interesting life myself," he continues. "I think that my marriage [to actress Jennifer Aniston] had something to do with it. Trying to pretend the marriage was something that it wasn't."

How he changed: "I put much more emphasis on being a satisfied man. I'm satisfied with making true choices and finding the woman I love, Angie, and building a family that I love so much. A family is a risky venture, because the greater the love, the greater the loss. … That's the trade-off. But I'll take it all."

On Angelina: "One of the greatest, smartest things I ever did was give my kids Angie as their mom," he tells Parade. "She is such a great mom. Oh, man, I'm so happy to have her."

On the rumors: "I mean, how many stories have you read that aren't true, stories about me and Angie being married or fighting or splitting up? And when we don't split up, there's a whole new round that we've made up and we're back together again!" he says. "We'll get married when everyone can. We're not splitting up. And we don't have a seventh child yet."

on gay marriage: "Can you believe that we're still fighting for equality in America? To be against marriage for everyone is utter discrimination. I feel strongly about that because if equality of marriage doesn't happen now, the next generation will have to deal with it. It is an amazing thing that New York has finally gotten same-sex marriage. But the real problem is that the federal government hides behind states on this issue. It is blatant, ugly bigotry, and the federal government shouldn't be doing that. You're denying some Americans the right that all Americans have, to live their lives as they choose. What are you so afraid of? That's my question. Gay people getting married? What is so scary about that? It's complicated. You grow up in a religion like that and you try to pray the gay away. I feel sadness for people like that. This is where people start short-circuiting—instead of being brave and questioning their beliefs, they are afraid and feel that they have to defend them."

Brad on religion: "I don't mind a world with religion in it. There are some beautiful tenets within all religions. What I get hot about is when they start dictating how other people must live. People suffer because of it. They are spreading misery. My family is all devout Christians… We don't see eye to eye on this one, yet at the end of the day we love each other, we're still family."

Brad on adopting babies: "When Angie and I first met, we came together quite quickly and we decided we were adopting. Now the rules are that because we are not married, I can't adopt. Angie adopts. We decided we were adopting a daughter. We were going to do it right out of the gate. We were not going to mess around. Angie said, 'No shopping [for kids].' I thought that was astute and beautifully put. It took the pressure off of adoption and brought a magic to it. We had set our parameters—we had room in our family if anyone needed a home. We got the call, and that's our eldest daughter, Zahara… You get an attachment to people and places that you see. If you see suffering when you're there, then you've made a connection to those people and you have to act on it. Once you have an understanding of it then you have to try to help. I say to people, go travel the world. Open your eyes. See it."

ON NATURE VERSES NUTURE: "If you ask me about nature versus nurture, I'm going to say it is 80 percent nature, absolutely. You see [a child's character] six, maybe nine months in. Now, some of our kids need more nurturing than others. Some have more delicacy. They're all just unique individuals."

ON LEARNING FRENCH: "All our kids are speaking French, so now we have that second language infused into our home. Everyone is learning another language. I've got the Rosetta Stone for French sitting right on the table in the bedroom, and it's going to be loaded into my brain. I know there are certain synapses in my brain that just freeze dead at French, but I have to learn it because our kids are speaking it. [Laughs] Even the twins as babies were saying certain things in French."

ON FAME: "I don't read about Angie or me in the press. I don't see anything. I really don't want to know. I don't think the generation [of celebrities] preceding me had it as bad as I did. And I think the generation after me has it worse than that. I'm talking about the tabloid press. In the '90s it really shook me up. I couldn't believe that people would just make up stories. I would never think to do that. I mean, I went to journalism school. And there's a code of ethics to journalism. It's about being unbiased and not sensationalist and speculative. Now there's a cult of speculation. 'A close source says…' The thing that really amazed me was when someone would describe why I did something, or what I was feeling. I used to go mental over it and try to fight it. But it was a futile battle, so I just gave up on it."
There's so much more, about Make It Right NOLA and he talks at length about religion and faith too. But let's just get into the tabloidy stuff about his marriage to Aniston. He doesn't really blame Jennifer or say that it was her fault or anything – I actually like the way he made the point: "I wasn't living an interesting life myself. I think that my marriage had something to do with it. Trying to pretend the marriage was something that it wasn't." As in, they simply weren't right for each other as husband and wife, and he got sick of pretending that they had some kind of fairy tale. If he's accusing Jennifer of anything, it's that she was NOT sick of pretending they had a fairy-tale marriage.
Also – I really like what he said about Angelina. Brad rarely speaks of Angelina so effusively. But I would like for Brad to talk her up more as his partner, as his de facto wife instead of just as the mother of his kids.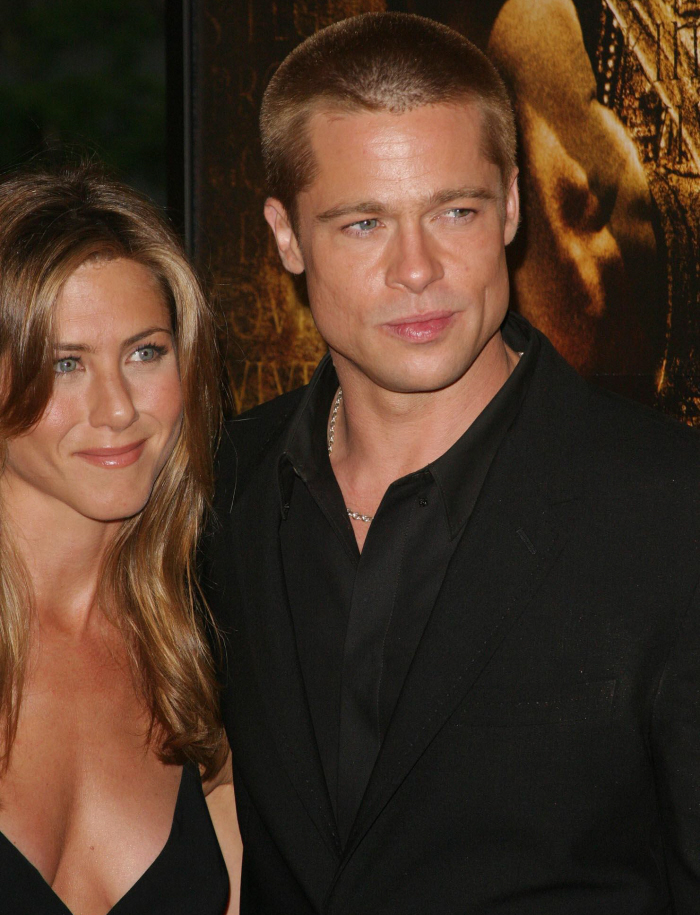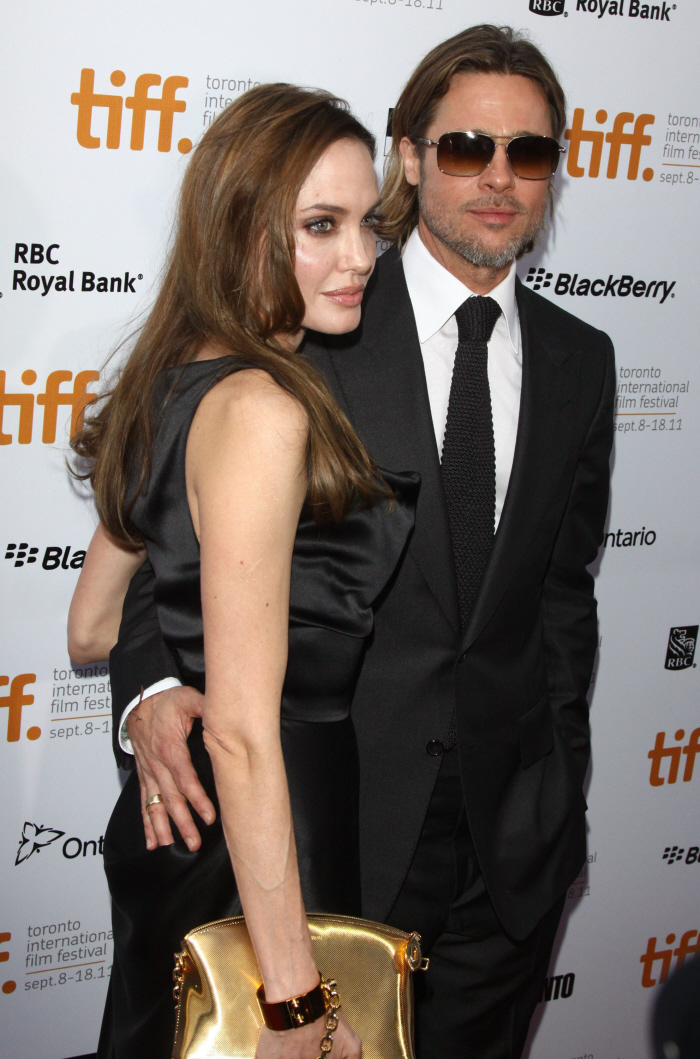 Photos courtesy of WENN.