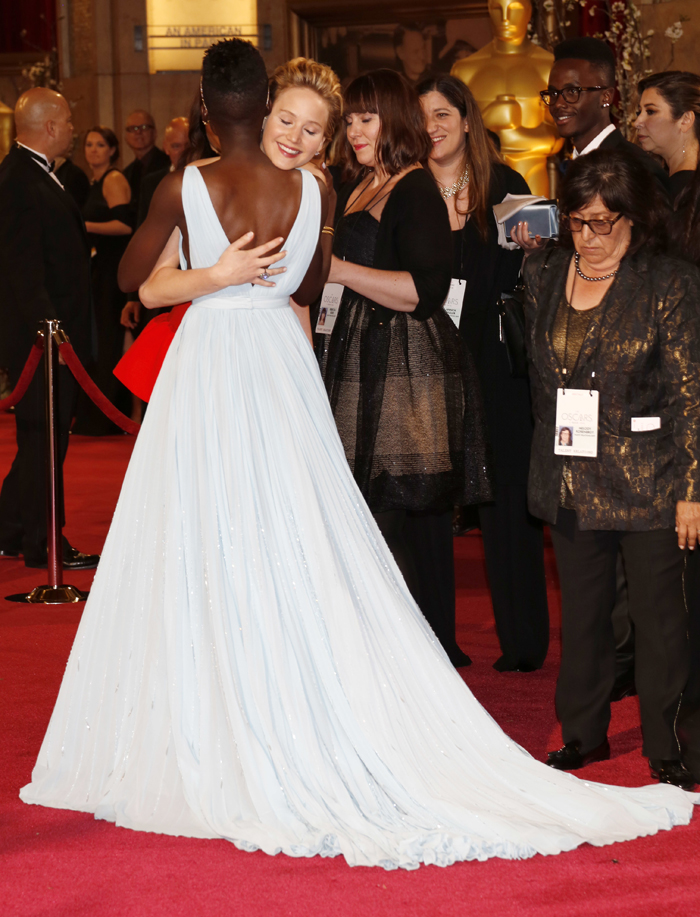 I've been forecasting this situation for months. Let's just say I was extremely happy to see Jennifer Lawrence lose the Best Supporting Actress Oscar to Lupita Nyong'o. For awhile, I wanted Lupita to win because I feared for Jennifer Lawrence if she won a second round. Then I watched 12 Years a Slave and realized that Lupita truly gave the most magnificent performance of those nominated. You guys know I love JLaw until the end of time, but this truly is Lupita's time. No one was happier for this outcome than Jennifer Lawrence herself.
The backlash against JLaw is already churning steadily, but it would have reached a fever pitch if she'd have taken home the Oscar this year. She knows. This is why she chose an understated dress after skipping much of awards season. She played the anti-game, and it worked out in her favor. JLaw is a smart cookie (who loves cookies) and anticipated the backlash half a year ago. She sat next to David Letterman and adorably told him that not everyone likes her. She knows this is part of being an "It Girl" and wishes women didn't take down women. Now JLaw's farting a sigh of relief because (as Radar says) she didn't want the same fate as Anne Hathaway:
Nobody likes to lose, but 'It Girl' Jennifer Lawrence was relieved she didn't win a second Academy Award on Sunday night for her role in American Hustle, a source exclusively tells RadarOnline.com, because the actress doesn't want to end up with the same backlash pal Anne Hathaway endured as her star skyrocketed!

According to a pal close to the Hunger Games star, after her big win (and tumble!) last year at the Oscars, J-Law became so in demand that before the awards this year she expressed her hope that the loses so she could avoid over-exposure.

"Jennifer said she was so relieved she didn't win because she didn't want to go through what Anne Hathaway experienced," the pal told Radar. "She's very aware that the backlash is already coming anyway."

"And it wasn't in a mean way, she was sort of joking because her and Anne are actually friends," the source added. "But she just knew that if she won the Oscar again it'd be like a target on her back."

Jennifer "certainly wasn't throwing shade, more so acknowledging the fact that it's the new standard of backlash…what Anne went through," the source told Radar.

"Jen was just so happy she didn't have to do any of the press. She just wanted to drink and celebrate!"

But the friend tells Radar that in his opinion people were "over" Hathaway after she co-hosted the Academy Awards in 2011 and then won the Best Performance by an Actress in a Supporting Role Oscar in 2013 for Les Miserables,.

"There's such thing as over-exposure and her name is Anne Hathaway," the insider told Radar.

As Radar reported earlier this year, Hathaway says she "took a beating" after her Oscar win, forcing her to take a break from movies and the public eye.

"All of the elements came together in that moment. I don't want to bring up a sore subject or anything 00 I think my publicist is probably like, 'No, no no' — but I had just taken a little bit of a beating from the Internet," she confessed.
[From Radar Online]
Is this any shade against Anne? I don't think so. Even Anne knows that Anne was too much during last awards season. If Jennifer would have won, I think the fallout would have been even worse than it was for Anne. JLaw wouldn't have been able to go away for a year like Anne did. Jennifer has too many filming commitments in the coming months, and Mockingjay: Part One will be out in the fall. JLaw dodged a very mean bullet. The thing is … we're still talking about her anyway. Success?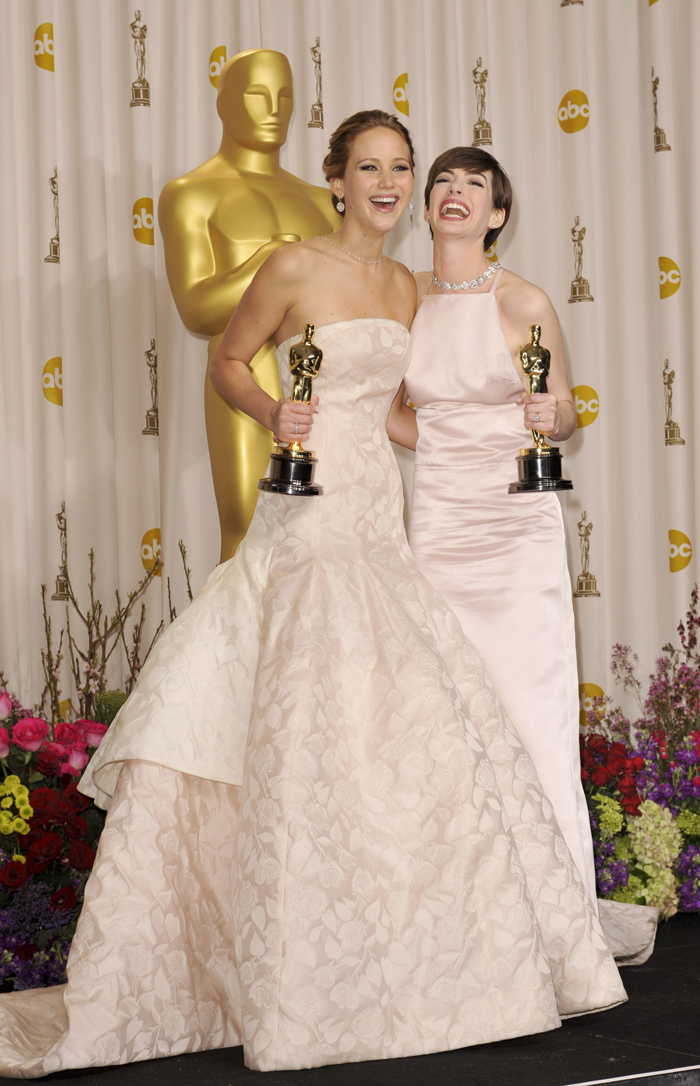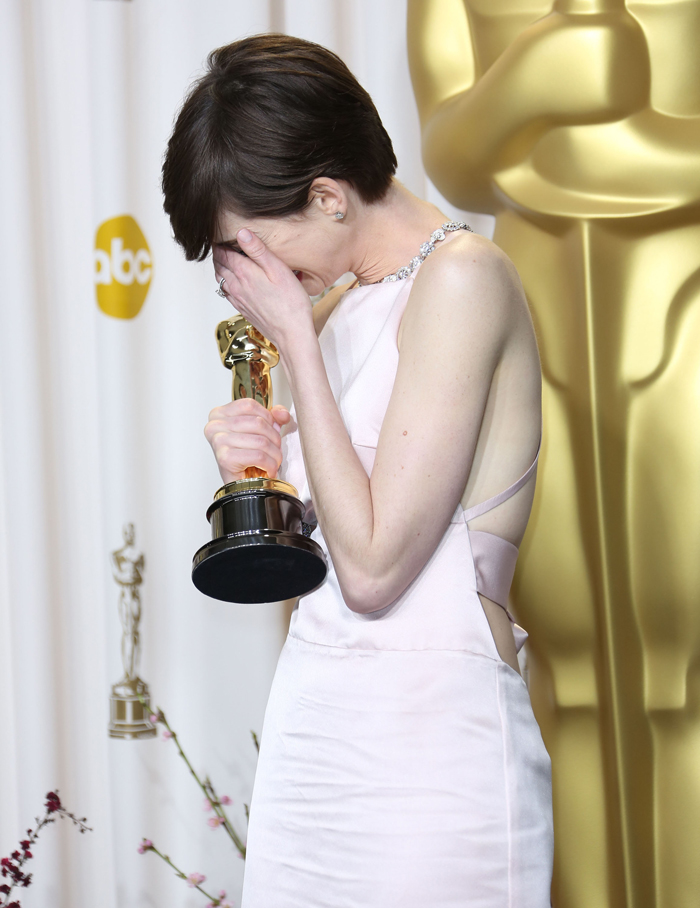 Photos courtesy of Fame/Flynet & WENN