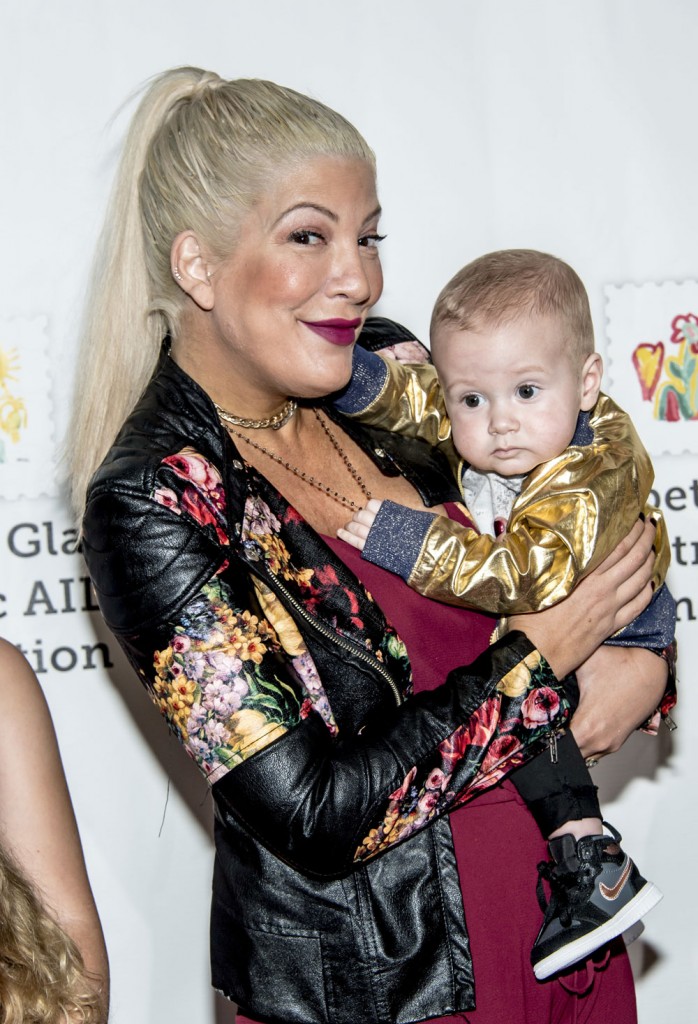 In March, cops were called twice in 24 hours to Tori Spelling's house for domestic incidents. Tori called the cops the first time, believing that there was a robbery in progress late at night. That was just Dean coming home and failing at sneaking in. The next morning, Dean called emergency services on Tori, claiming she was flipping out and aggressive. That call was characterized by dispatch as "female mental illness." A follow-up story in People quoted a source who claimed that Tori has "a ton of pressure and stress, with the kids, work and her marriage." The police were called again a couple of days later when paparazzi followed Tori and Dean to a diner, where they appeared to be arguing. Tori is angling for a reality show so it remains unclear what is staged for publicity and what is real, but she was obviously having marital problems. According to Tori though everything is great now, her family life is so "balanced" and she's supermom, basically. She gave an interview to US saying that she also wants a sixth baby (she and Dean have five kids under 12) but claiming that it would be too much for Dean. Tori, on the other hand steps up and does whatever that's needed, according to Tori.
She claims her life is balanced
"My husband and I have it so balanced. We really balance each other with getting it all done. We're kind of that rock for each other. I always feel you're not given more than you can handle."

"The more you put on my plate, the more creative I am, the more things get done," she said. "I could never be complacent having one child. I mean, God bless anyone that has one child. Children, whether you have six or one, it's great. But one child, I would be like, 'OK, but what's next?' It's my thing."

On rumors about her personal life
"It takes everything in you to not scream from the rooftops, 'It's not true!' But I've been in this business long enough to know that… it does eventually go away."

She wants a sixth baby
"You know, I do, I like even numbers, they keep asking, they all want one more because they want a little baby sister now. But I can't imagine dad being sane if we have one more. It would push dad over the edge. He's doing the best he can!"

Everything is amazing
"It's going amazing. You know, we had four kind of back-to-back. I was pregnant for years, and then there was a little break, so now that we have started over basically, Dean always says we got [them all out] of diapers, all of them self-sufficient, and then started all over again with Beau/ But Beau is going to be the happiest, well-adjusted baby ever because he has four doting brothers and sisters…

"It's amazing to watch your other kids take care of your youngest kid, it's unbelievable. It's a built-in playdate I always say! We have a big family playdate 24/7."
[From two stories on US Magazine]
Read Tori's quotes about taking care of their kids. She claims that she is able to do whatever is required, but that Dean would go crazy if they had a sixth kid. "He's doing the best he can," while "the more you put on my plate, the more creative I am, the more things get done." They are not totally balanced with a perfect life, she feels like she's doing all the work while Dean isn't pulling his weight and is holding her back from having another baby. Remember when he wanted to have a vasectomy after the fourth one and she cried poor? She's not too poor to hold lavish parties for her kids and go on long European family vacations.
This baby's expression says it all
photos credit: WENN and Instagram/Tori Spelling