Ariana Grande was supposed to be the musical guest on SNL's season premiere over the weekend, but as Kaiser mentioned Kanye filled in and he was a MAGA mess. Ariana has been taking a mental health break following the sudden death of her ex boyfriend, Mac Miller, about three weeks ago. I can't imagine what she's been going through, and she's hinted on Twitter that she's having a tough time. Honestly I'm surprised that she's still with Pete Davidson. They moved so quickly that I thought they would have flamed out by now. They've gotten umpteen tattoos for each other and most recently adopted a pet pig, after which Pete commemorated the event with yet another tattoo. They're still together and Ariana was even backstage at SNL despite dropping out of performing. Pete addressed their relationship during a Q&A on Weekend Update with Colin Jost. (Sidenote: Jost could have done a similar interview talking about his relationship with Scarlett Johansson, but there's not as much interest in them.) Pete had a lot of the same talking points that we've heard from him – that Ariana is too good for him, that he's OK with her earning more money and that it feels unreal. Then he made an awful joke about getting her pregnant without her permission.
"I got engaged and no one could believe it. I can't believe it," Davidson remarked. "I get it, she's the No. 1 pop star in the world and I'm that guy from SNL that everyone thinks is in desperate need for new blood."

"Do you remember when that whole city pretended that kid was Batman because he was sick? That's what this feels like," he added.

Davidson went on to reveal that he's totally in favor of the pair getting a prenup before tying the knot.

"Obviously I wanted one, you know, so God forbid we split up and then she takes half my sneakers," he joked. "No look, I'm totally comfortable being with a successful woman, I think it's dope. I live at her place."

"The man doesn't always have to be the breadwinner in a relationship," Jost remarked.

"God— right, Colin. He does not," Davidson replied, before announcing that he's come up with a way to make sure Grande has a reason to stay with him for life.

"Last night I switched her birth control with Tic Tacs," he said. "I believe in us and all, but I just want to make sure that she can't go anywhere."
I hope he was serious about the prenup but that birth control joke was awful. When I covered the story about Ian Somerhalder throwing away Nikki Reed's birth control pills without her permission so many of you schooled me that this was called reproductive coercion and is a common abuser tactic. This is a bad joke that Pete probably didn't even write, but did anyone on the SNL staff speak out that it should be cut?
Meanwhile Ariana has been Instagramming about her mental health and she posted a couple of quotes to her stories. I really like this quote by F. Scott Fitzgerald as the fall is my favorite season.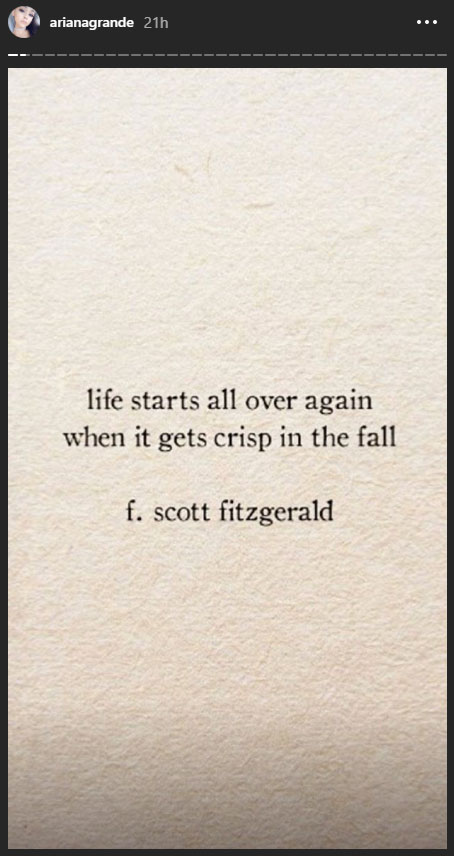 Their pig is so cute!