I can't believe that Modern Family is ending and that it's been on for 11 years! I haven't watched it regularly in a while, but it was a show that I didn't miss during the first few years of its run. The cast and crew had their wrap party last week and posted pics and videos on social media. Sarah Hyland posted a picture of herself with her TV-sister, Ariel Winter, on Instagram along with a really sweet note about how much she loves her Modern Family family. Both Sarah and Ariel wore black dresses; Ariel's was see-through. Of course, the trolls came for Ariel. Sarah wasn't having it:
Fans and critics flocked to the comments section to share their opinions of the cast's outfits. But when one troll criticized Winter by writing, "What was she thinking …. seriously," Hyland made it known that she will not put up with any negative comments about her friend.

The "Met At a Party" singer clapped back at the social media troll and wrote, "That she's a sexy and confident woman. Everyone that is making a negative comment about my sister can back the f–k up because I WILL NOT tolerate it."

And that wasn't the only comment Hyland responded to. When another critic wrote, "What's up with Ariel Winters outfit tho?" Hyland said, "You that she's 🔥?? I KNOW."

While there were plenty of trolls stirring the pot, there were also many positive comments. A fan wrote, "Need Ariel's dress" and Hyland responded, "same." Another repeated what many fans were saying (and thinking) by writing, "Ariel looks 🔥🔥😍😍😍."

Hyland's fiancé, Wells Adams, wrote, "You ladies both look 🔥!!!" and the Modern Family star responded to her future husband with a bunch of kissy face emojis.
This isn't the first time that people have criticized Ariel for what she's wearing or her appearance, which makes this upsetting to read. Sarah has also spoken about living with kidney dysplasia and how that impacts her body and her struggle to accept it. I'm not surprised that she defended Ariel. As long as there is social media, there will be trolls. Good for Sarah for stepping in, but wouldn't it be great if she didn't need to?
Other cast and crew posted fun pictures, too:
Aubrey Anderson-Emmons, who plays Lily, shared a sweet post from inside the giant closet that was the entrance to the party, in a nod to Pritchett's Closets & Blinds, the business started by Jay:
Jesse Tyler Ferguson posted some fun pictures in his Instagram story, as did Sofia Vergara.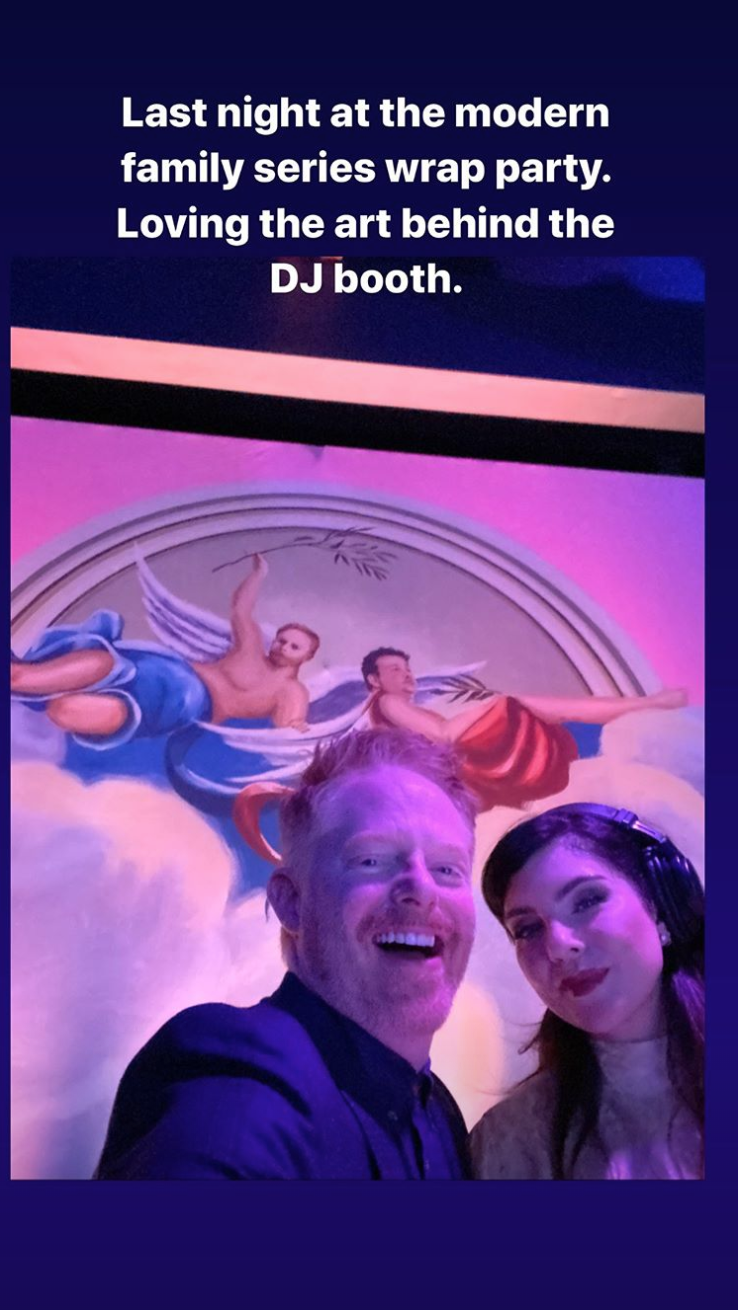 . The last episode of Modern Family airs on April 8th. [via SOW]