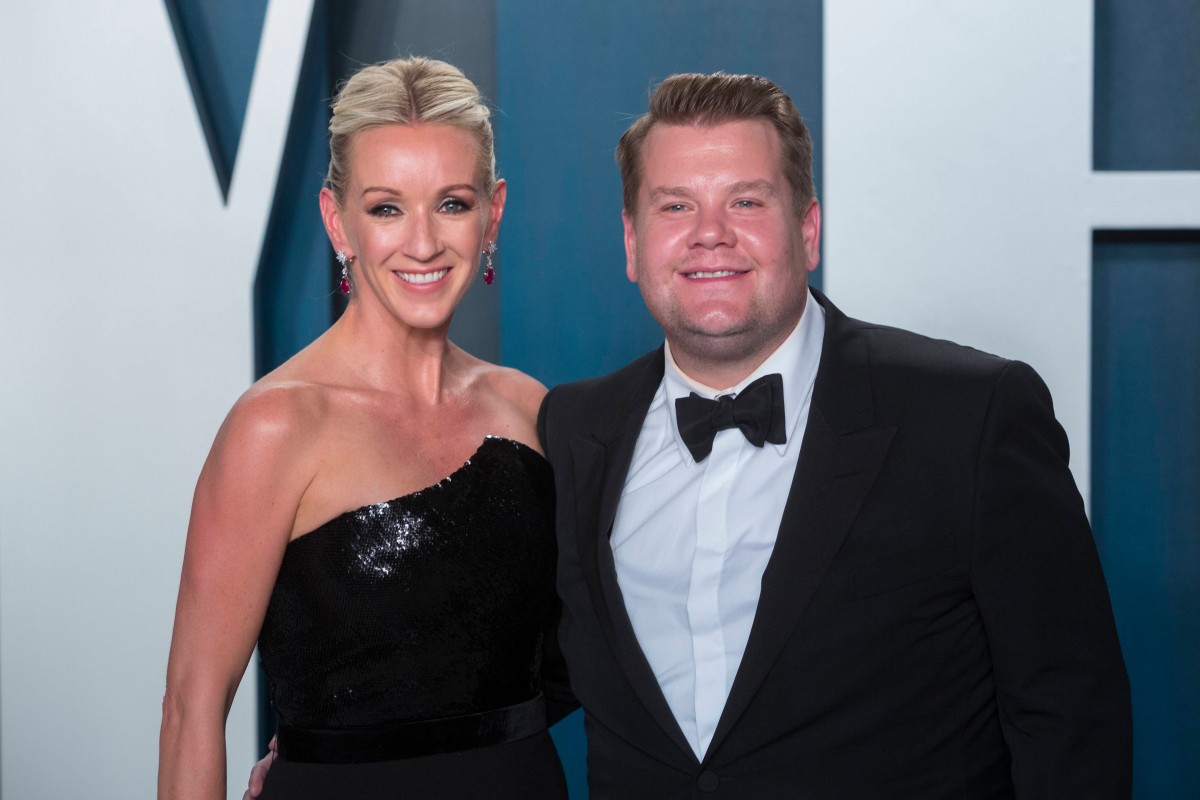 Three years ago, DJ Khaled signed with Weight Watchers and increased their stock price almost immediately. He did lose weight on the plan. A similar stock hike happened of course when Oprah got a share of the company and became a spokesperson in 2015. So does James Corden have the celebrity and clout to help Weight Watchers sign up more members and increase their stock value? More than that, will it work for him? They'll definitely get more members because they're giving away 100,000 memberships as part of their deal with him. I believe it's their "three month free" deal, which ends today. James made the announcement on YouTube, explaining that he was sick of making weight loss resolutions he never kept. He contacted Weight Watchers and is now their new spokesperson. I'm going to use part of People's writeup and the video is below.
On Friday, Corden, 42, announced that he would be embarking on a health and weight loss journey as a new partner with WW (formerly Weight Watchers) as he is "fed up" with repeatedly going on diets that never work.

"I've realized that every year for the past decade — probably even 15 years — on January 1 I've told myself and anyone that would listen that this is it, this is the year, I'm going on a diet, I'm going to lose a load of weight," he explained in a clip announcing his WW partnership.

"I'm fed up with the way I look, I'm fed up with being unhealthy, with 'this is the year I'm doing it,'" he continued. "Because of that, over Christmas, I've eaten everything that's in the fridge because in my head in January I'm starting this diet and it'll be a success. And as you can see it hasn't."

The late-night host said going through the same thought process is "starting to get [him] down in a way."

"I've never been able to stick to anything like that. I've spent a long time accepting that this is my body and that's it. But I really am sick and tired of just doing the same thing every year," he shared.

Corden went on to share that he reached out to WW as their regimen is "more about wellness, and health and feeling better, rather than just trying to lose a load of weight" and is urging others to try the new myWW+ program with him.

"I want to change the way that I live. I want to be better for my children and for my family," he shared in a press release. "I don't want to wake up tired, or feel embarrassed when I'm chasing my son on the soccer field and out of breath after three minutes. The weight is not the issue, it's the wellness of it I am ready to tackle. I'm going to take this year and work towards getting healthy."
Doesn't everyone eat a lot over Christmas? It must be nice to be a celebrity. You get paid to use services that other people pay for, plus you get a team of experts to help you with it. I imagine that Weight Watchers has nutritionists, dieticians and personal trainers assigned to Corden to make sure he's successful. My pre-vaccine weight loss plan includes wearing jeans out of the house so I can't keep fooling myself that I haven't gone up a size. (Thanks to whomever gave me that tip in the comments!) I'm also only going to make one loaf of bread at a time from now on, because, like Oprah, I f'cking love bread. All that said, Weight Watchers is the most legit and least gimmicky paid weight loss plan. As I often mention, I lost weight on the old WW version about ten years ago. I then transitioned to MyFitnessPal, which is a free app that helps you count calories. If you're looking to lose weight in the new year, I highly recommend using it along with a food scale. I think Weight Watchers is pretty decent too and it's especially good for people who want a community and tips to help change their lifestyle. I highly disagree with weight loss programs that require giving up entire food groups or buying special food.
As for Corden, doesn't it feel like he's due for an Ellen-type reckoning? I've heard he's kind of an a-hole behind the scenes, but so far that hasn't reached critical mass.
Here's James' announcement for Weight Watchers.

At least he wears a mask when he goes out to dinner at Nobu during a pandemic.