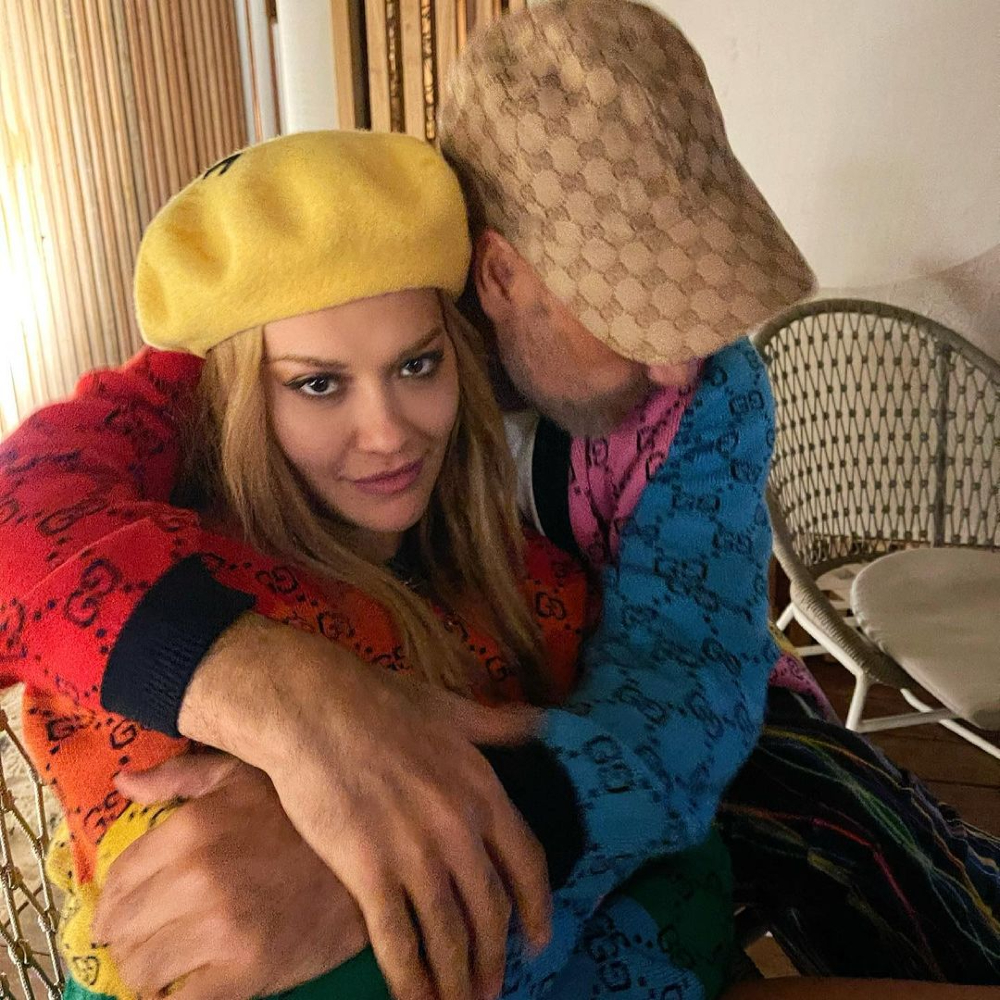 File this one under Things That Make You Go Huh? Rumor has it that singer Rita Ora and Director/Writer/Actor Taika Waititi are an item. How did this happen? It seems to be location based. Taika is currently in Australia filming his next project, Thor: Love and Thunder. He's been photographed all over Oz with Russell Crowe, Chris Hemsworth and Matt Damon at sports arenas, various beaches and bike paths. However, Taika recently popped up in the shot above on Rita's Instagram in a photoset that she captioned, "Good times, memories, random things on my phone and the ones I love..❤️," which got everyone scratching their heads. Rita happens to be in Sydney currently to film The Voice. Now we're hearing that not only have they been dating since March, she may have scored herself a cameo in the Thor film.
Rita Ora sent fans into a frenzy last week when she shared an incredibly cosy snap with Thor director Taika Waititi.

And now it has been reported that the two stars have been 'dating for over a month' while the singer has been in Sydney filming The Voice.

According to The Sun, Rita, 30, and Taika, 45, have made no secret they are together among their famous friends and things could be getting serious.

'They've been a couple since early March but kept things low key. However, all their friends know about the relationship. They're really into each other,' a source told the publication.

The rumoured couple were spotted exiting a private jet with Chris Hemsworth, his wife Elsa and Matt Damon in Sydney recently, following a trip to the Gold Coast.

The Hollywood movie hunks are staying Down Under to shoot scenes for Taika's Thor Love and Thunder film in addition to Russell Crowe, who was seen on a bike ride with Rita last week.

A listener of the Who? Weekly podcast fuelled further romance speculation as they reported seeing the couple kissing inside a restaurant.

Curious fans took to social media to question whether Rita, who split from French director Romain Gavras earlier this year, will have a cameo in his film.

A twitter user said: 'When taika waititi sneaks rita ora into the first thor movie thus making rita the first pop girlie in the mcu yup!

'(please don't correct me if im wrong I have seen maybe 5 marvel movies I don't care)'. (sic)

A second added: 'You being a Thor or nah @ritaora?'

A third Thor fan wrote: 'Idris Elba is on Rita Ora's Instagram (I make no apologies, I love her problematic a**) so does that mean he's in the next Thor?'
I don't love this. Rita seems messy. She's constantly stepping in trouble in her career. She was awful about breaking quarantine for her birthday and lying to cover it up. And she has a history of being messy in her dating life. Taika is a little harder to figure out. When news of his divorce hit, it appeared that his much younger assistant was the reason. But then it came out that he and his wife, Chelsea Winstanley, had been separated for two years by the time he was first seen with his assistant. Still, he'd met the assistant before the split and no one has ever confirmed when the relationship started. Either way, it seems he's sticking to 30-year-olds for the time being. And he seems to be looking for a good time, which I guess Rita is, because she's hanging out with the whole cast of Thor, it seems. The article quoted someone saying that Idris Elba showed up on Rita's IG. I went through all her posts in the last month and found no Idris. I'm not saying she doesn't show up in Thor, I'm sure she does, I'm just bummed I didn't get a shot of Idris.
As I said, this isn't my favorite pairing, but I don't expect it to last past either's filming schedule. I'm sure Rita would love to ride Taika's coattails right into a cinematic career, but I won't bank on it. As for her finagling a scene in Thor, Taika's a pretty smart filmmaker. If he finds a way to cleverly insert her into the film, he will. She won't hurt anything.
I'll admit, I am a lot more invested in Idris possibly being in the area to film Thor than whether these two are going anywhere.
Photo credit: Instagram