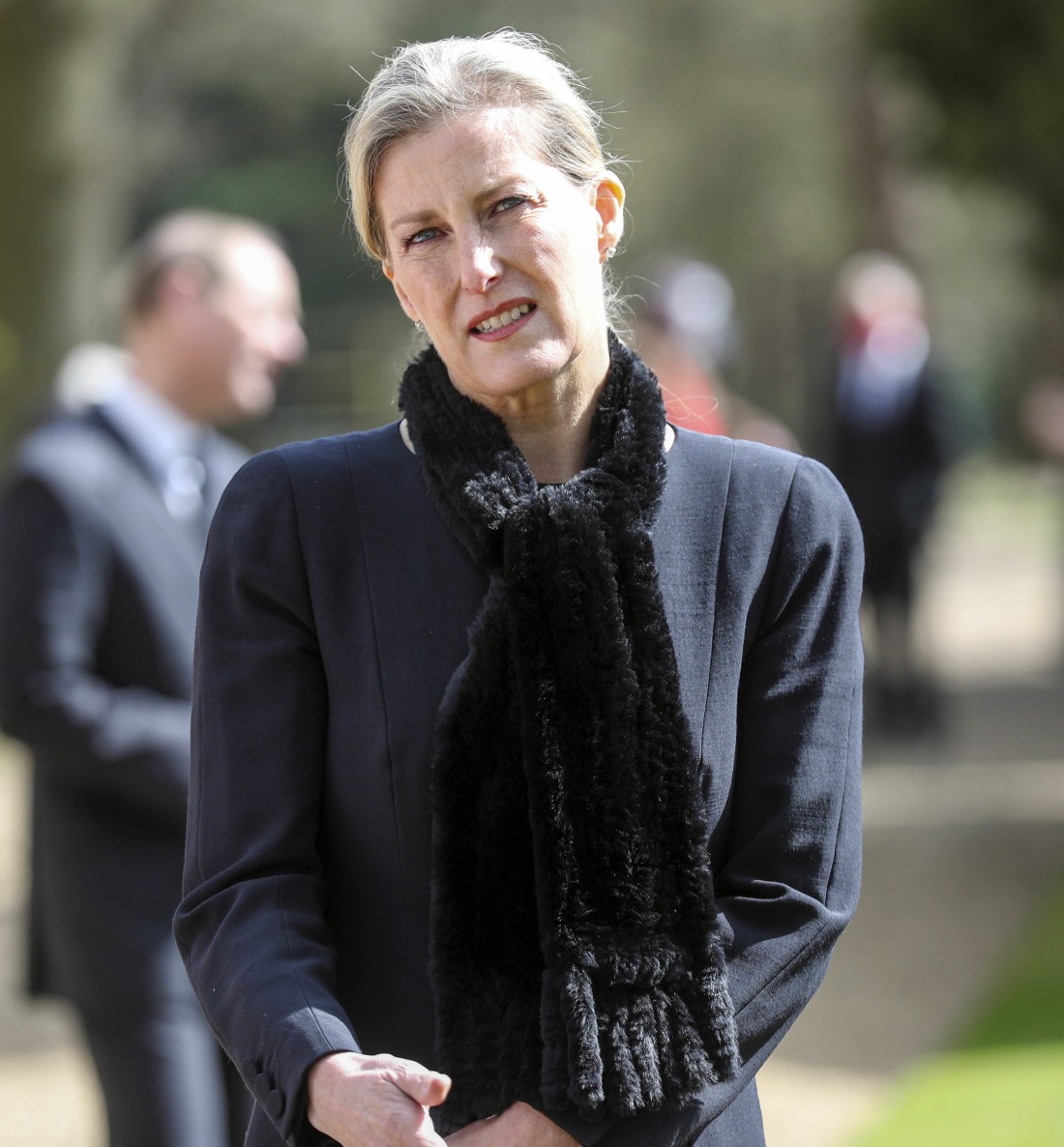 Remember when the Duchess of Cambridge repeatedly exploited the murder of Sarah Everard to make herself look like a "royal revolutionary"? That was completely reprehensible and it felt like a brave new world of how low royal PR would sink. I bring this up because I've noticed something very curious about the Earl and Countess of Wessex: they're rebranding themselves on the back of Prince Philip's death. They're using Philip's death to remind people that they exist, to remind people of how close they are to the Queen, and to try to force Prince Charles to keep them around whenever the Queen passes. It's *really* obvious. There was Edward & Sophie's joint interview with the Telegraph (the infamous "Oprah who?" interview), there was Edward's interview with CNN, and now Sophie is chatting with BBC Radio 5. She spoke at length about Philip, his funeral and her grief and… it's like she and Edward are doing a Grief Tour, honestly. Some highlights:
Losing Philip: His death "left a giant-sized hole in our lives. I think unfortunately the pandemic has slightly skewed things, inasmuch as it's hard to spend as much time with the Queen as we would like to. We've been trying to, but of course it's still not that easy. I think the whole grieving process is probably likely for us to take a lot longer."

Covid is still messing things up: "Of course, the normal way of things isn't normal yet, so we're not necessarily doing the things that we would normally have done with him. It may be the same for many other families out there. Because if you're not living with somebody, 24/7, the immediate loss isn't necessarily felt in the same way, as if somebody was in the house with you all the time. So if they were normally at a slight distance, living down the road, whether it be 15 minutes, or 1,500 miles, it's only when you would do the normal things that you would have done with them, and you suddenly realize that they are not there, that you really start to have an 'Oh my goodness' moment."

Taking that photo of Philip & the Queen in Scotland: "We were lucky enough to go to Scotland for half-term, and I don't know if you remember the photograph that I took," she said. Pausing to collect herself amid the emotion of recalling the moment, Sophie said she was pregnant with Louise when she took the picture. "Just to be there, in that place, was an 'Oh my God' moment," she said, her voice cracking as she fought back tears. "Um, so I think they'll come and go, but you have to let them come, and let them go."

She's still worked up: "But just talking to you now, it's a bit of an 'Oh my goodness' moment, which you don't necessarily expect, and you don't expect them to come. And I had the same when I lost my mother. You know, I'd be fine, absolutely fine, fine, fine. And then something happened, or you'd hear a piece of music, or you'd do something, and suddenly you would, you know, get taken off at the knees. So there'll be lots of moments like that. But it's good to remember."
She then proceeded to tell a long-winded story about how her daughter, Lady Louise, has taken up carriage-driving, which was one of Philip's hobbies, and how Philip encouraged Louise and all of that. Like, I think the grief is real. I think she's mourning. But I also think the Wessexes believe this is their moment to go on some kind of national press tour to talk about Philip and talk about how close they are to the Queen and, you know, remind people that they exist. They're definitely making a play here. And she has some sort of thing with "oh my God moments" or "oh my goodness moments." Someone tell her about Oprah Who coining the phrase "aha-moment" please.
"It's only when you do the normal things that you would have done with them and you suddenly realise that they're not there."

Sophie, Countess of Wessex becomes emotional as she tells @TVNaga01 of her grief for the Duke of Edinburgh.

📲 https://t.co/s0rf9TmmhV pic.twitter.com/ypenDgOcAq

— BBC Radio 5 Live (@bbc5live) June 16, 2021
Some photos of the Countess of Wessex at Royal Ascot this week:
Photos courtesy of Avalon Red, Getty.