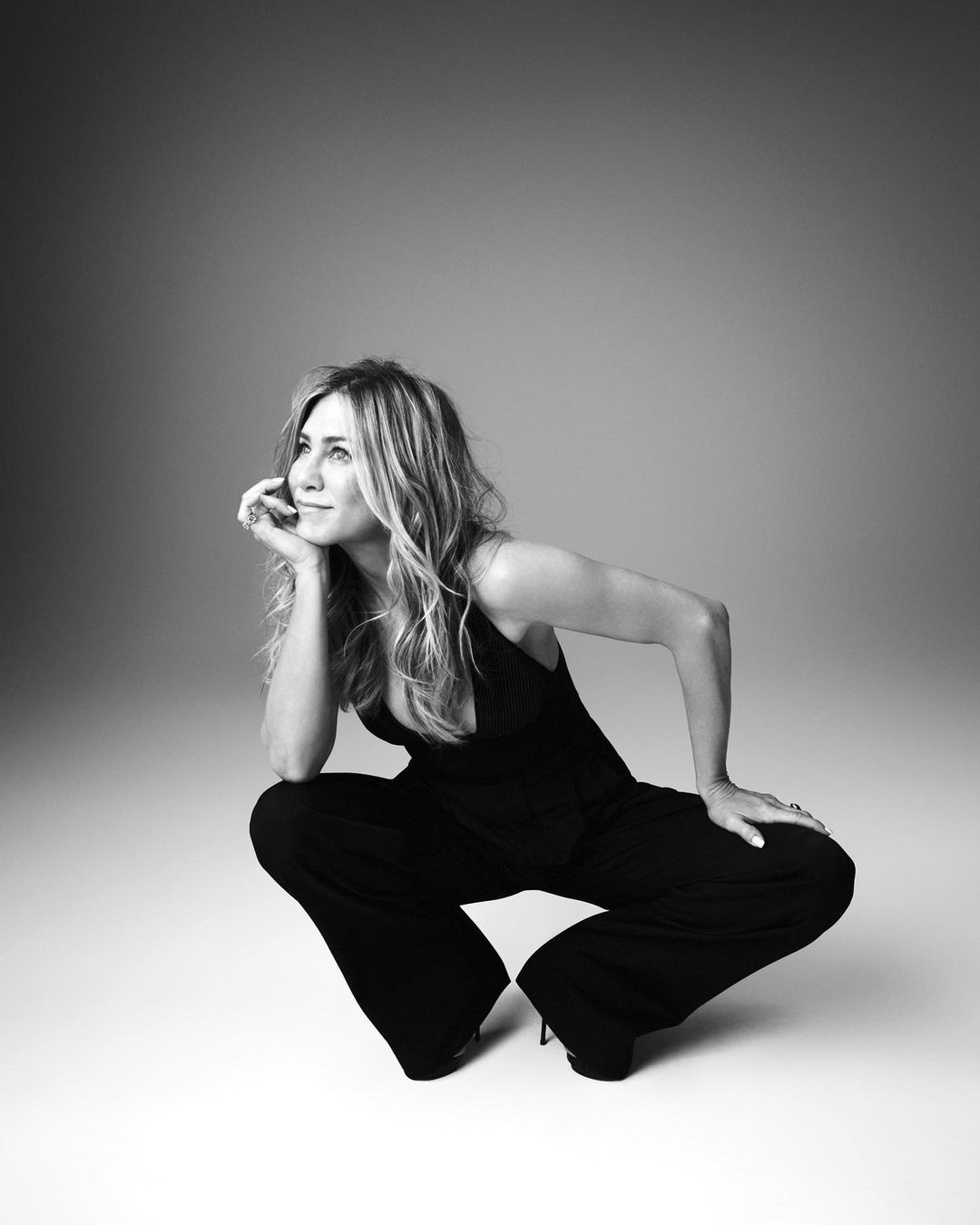 Jennifer Aniston is known for many things: being Rachel from Friends, eating chicken salads, faking a marriage to a man who wears skinny jeans and, of course, her hair. Her hair has been a topic of conversation for three f–king decades. She's probably turned down millions of dollars in hair-care product endorsements over the years. At one point, nearly a decade ago, she did invest in an MIT-created haircare line, although I'm not sure what ever became of it. So she's taking a mulligan, and yet there's a throwback element to it. She is launching a new haircare line which she's named LolaVie. Long-time Aniston-watchers might remember that she also named her first fragrance LolaVie, only she ended up needing to rename it because of a trademark issue. Now she works with Elizabeth Arden on a fragrance line, although I have no idea what's happening with that. Do people want to smell like Aniston? No, we want her hair secrets. So she's giving us hair products at long last. Some highlights from this lengthy People Magazine interview, which is entirely about HAIR.
Her first LolaVie product is a Glossing Detangler: "I've been working on this for quite a long time. I got the bug [to go] behind the curtain and figure out development of hair products years ago." To embark on this journey, Aniston enlisted the help of Amy Sachs and Joel Ronkin, who developed some of her fragrances. Now, they're her LolaVie co-founders. "When they moved on to create their own business, it was like a match made in heaven," she says of her now co-founders.

Why "LolaVie": "When I [arrived] and bought my very first car, a used car, somebody said to me, 'What did you name it?' And I looked at them and I went, 'Is that something you do?' And they were like, 'Uh, yeah!' So I named my car Lola on the spot. Maybe it's because I love that song [Sarah Vaughan's "Whatever Lola Wants"]. Then every time I'd come over, they'd be like, 'Lola's here'. So it just kind of became a name that I was called whenever I showed up [somewhere]."

The product: It's a cruelty-free, vegan formula that's packed with naturally-derived ingredients (key among them is repairing chia seed) and created without gluten, parabens, preservatives, phthalates, silicones and sulfates.

Having wavy hair: It's the perfect product for the star, who describes her head full of waves as having "300 personalities…There's not one strand that's doing the same thing. And it's just always been a challenge for me, ever since I was a kid. Well, actually, I feel like [this is] punishment, because I had this incredible head of hair that was long and straight and down to my waist. And I always wanted to cut it, but my mom never let me. She said, 'When you're 13, you can do whatever you want.' And that was the biggest mistake I ever made because I cut it all off. I think I might've hit the Dorothy Hamill!"

After that, her hair changed: "It's always been a problem growing it and keeping it healthy. So, it's been my thorn, for sure, which is why this all feels very organic for me to face a hair product head on and go, 'Let's make something great.'"

She loves blowouts: "I just love a good blowout. Hairstyles have never been my thing. I just want to feel good in my skin at the end of the day, no matter what I am wearing."
This interview reminded me of something I hadn't thought about in years, which is that something similar happened to my hair around the same age. I used to have jet-black, pin-straight hair and I wore it LONG when I was a kid. Then around the age of 12/13, I got a big haircut and suddenly my hair really changed. It got lighter, the texture was different, and it wasn't pin-straight anymore. I don't think it was about the haircut, but it must be something that happens to a lot of girls around that age. Just a dramatic hair change. Anyway, Jennifer's insistence on naming sh-t "LolaVie" is pretty funny to me. Other than that, it sounds like a good product and I'm glad she's finally doing something about the decades-long interest in her hair.
Photos courtesy of Instagram.