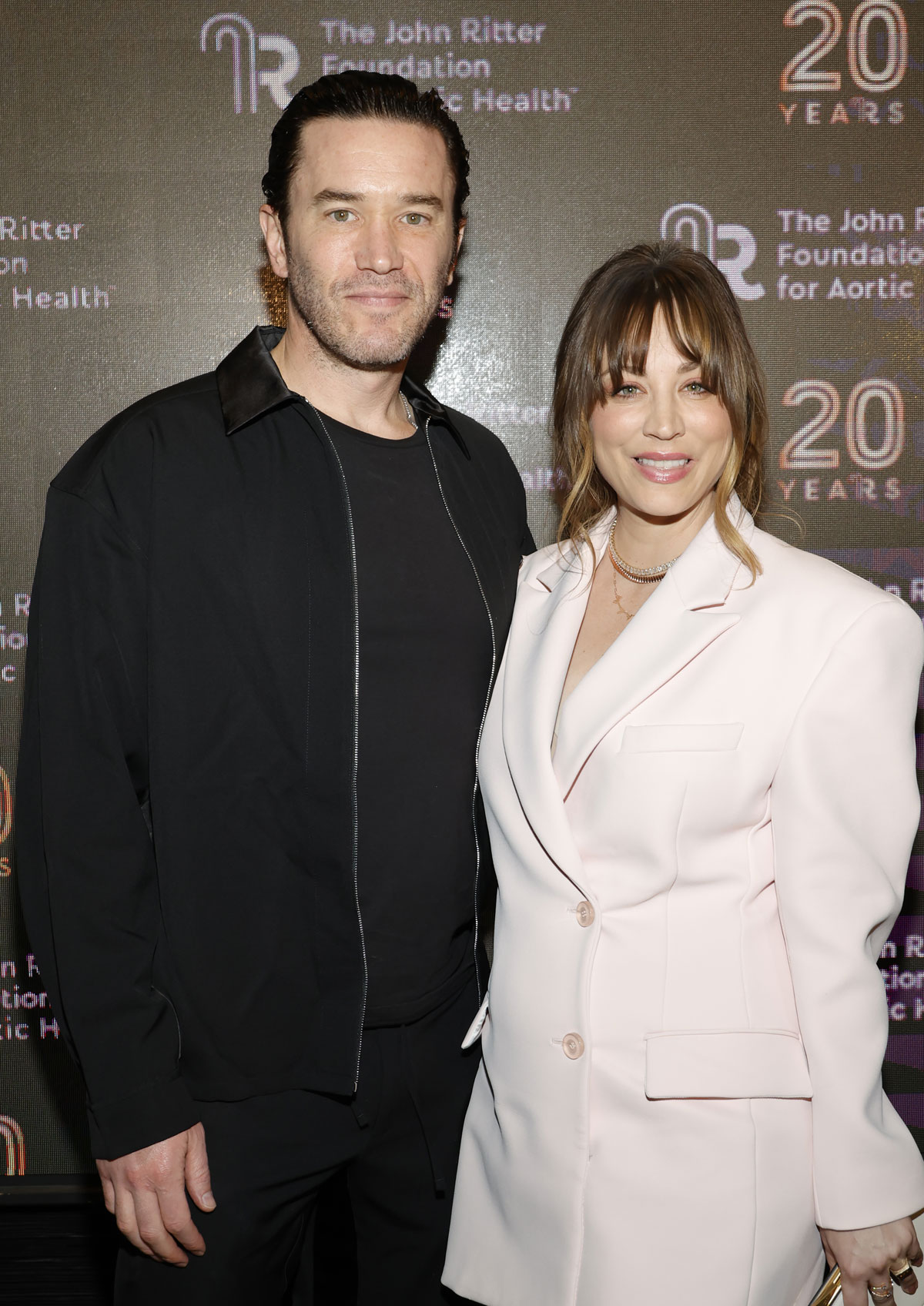 Kaley Cuoco and Tom Pelphrey just welcomed their baby daughter on March 30 and celebrated their one year anniversary a couple of weeks ago. They're loving new parenthood, which is clear from their posts about their daughter. Tom gushed about Matilda and Kaley to E! News and now it's Kaley's turn to gush about Tom. Kaley talked to People at an event last weekend about how natural and hands-on Tom is as a dad.
Kaley Cuoco is loving every moment spent watching Tom Pelphrey be a dad to their newborn daughter Matilda.

The actress, 37, chatted with PEOPLE at the Rock4EB event in Malibu, California, on Saturday evening — which benefits the fight to find a cure for the rare skin condition epidermolysis bullosa.

When asked to describe what has surprised her most about seeing her boyfriend in his new role as a father, Cuoco said, "I cannot believe how natural he is, how much he loves it."

"I mean, when we were in the hospital, he did everything — every diaper, he's the swaddle king," she continued. "All the nurses said, 'Oh my God, you're the best guy swaddler we've ever seen.' "

Noting that Pelphrey, 40, "just loves" Matilda, Cuoco added, "She looks exactly like him. And he has a very distinct voice, so when he talks to her, she's like 360. Her head turns around, and she's like, 'I know that voice.' It's very sweet."

Calling herself "kind of a stay-at-home mom," Cuoco told PEOPLE on Saturday, "Tom's working and I'm chilling and playing with the baby."

"I never thought I would have kids, so this is very special," she added. "Neither of us thought we would be here."

Though she noted that there are "so many things people tell you," and that she was told to "read books" before welcoming her daughter, Cuoco admitted, "I didn't read s—."

"Tom and I are very natural and we kind of go with the flow," she said. "We found that [Matilda] really tells us what she wants when she wants it, and we're not stuck on any weird schedule."

The Flight Attendant star also detailed that Matilda is a lover of people and animals alike. "We have friends over every day that hold her and feed her, and so she's never weirded out by a stranger," she said. "The day we brought her home, we have five dogs, and we let those dogs bark and lick her and run all over the place, and she has never even flinched at the sound of a dog."
By Kaley and Tom's own account, it sounds like he was super nervous and trying to prep and plan before the baby came, and ended up getting the hang of it and feeling comfortable really quickly. Which is the most any of us can hope for, but it probably doesn't happen that way for everyone. Anyway, I'm glad Tom is an involved dad and seems as devoted to Kaley and their daughter as she is to him. Kaley is clearly someone who loves love, so it's good she has a partner that seems to match her in that regard. It seems like they're all on the same page and just chilling right now, but the dog thing might be a little too relaxed. I think it's great they're socializing the baby with people and I know Kaley and Tom love their dogs, but I cringed at the thought of the dogs licking the baby. Hopefully it was her just her foot and not her face. Kaley said she's being "kind of a stay-at-home mom" right now while Tom works, but she's clearly still on maternity leave since she just had the baby not even six weeks ago. Her Peacock series with Chris Messina is premiering on June 8, so we'll probably see her again soon.
photos via Instagram and credit: Faye's Vision/Cover Images