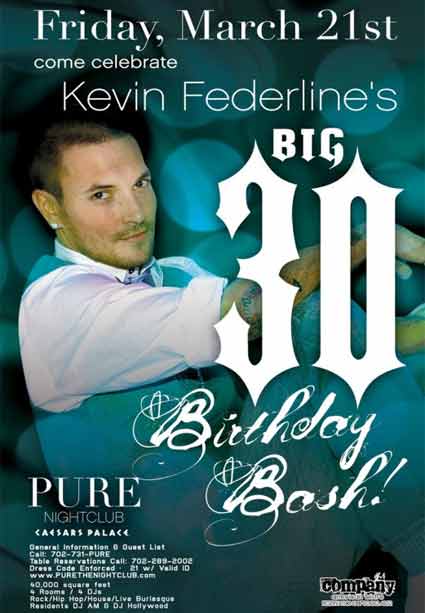 Kevin Federline is being paid a whopping $175,000 to show up at his 30th birthday party at Pure nightclub in Vegas. The guy doesn't need to get a real job, because he makes more than most of the world does in a couple years by just showing up for one night, making his squinty "I'm taking a shit" face and drinking out of his pimp cup. He doesn't even have to rap, and will probably just get on the mic to thank everyone for coming.
Multiple sources tell PageSix.com that former Mr. Britney Spears is being paid at least six figures to host his 30th birthday party at the Las Vegas hotspot on March 21. (Check out the invite, above!) One insider says he will make about $175,000.

"Kevin is a big spender, and a draw for the crowds. So the money he gets is nothing compared to the money they make," the source tells PageSix.com.

The big payday is particularly interesting considering that earlier this week, Britney's lawyer argued that the pop star shouldn't have to pay for Kevin's legal fees because he has more money than he claims.

The family insider tells us that Kevin is planning on spending a few days in Las Vegas, which might give his ex-wife a chance to spend some quality time with their kids.
[From Page Six]
The FedEx owes around 1/2 a million in lawyers fees for his legal team that tries to bill as much as possible while fighting his neverending custody battle with his ex, Britney Spears. Britney is obligated to pay K-Fed's legal bills, but her team is arguing that he can afford to foot a portion of the bill, given how large he lives.
While Federline is in Vegas Britney will get to see her toddler sons in supervised visits. Federline is said to have been instrumental in working to ensure that she had visitation rights restored once her father stepped in as conservator.