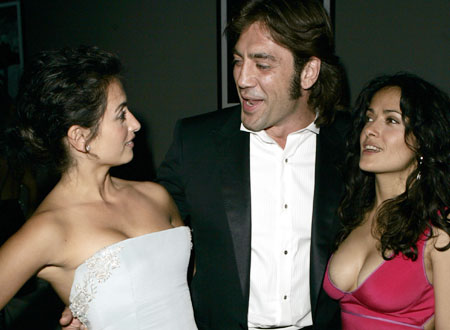 The National Enquirer is set to report that Javier Bardem, 39, proposed to Penelope Cruz after she won his mom Pilar's approval. Bardem's mom, who accompanied him to the Oscars and was seen with Penelope afterwards, is said to have urged her son to ask the Spanish beauty, who turns 34 this month, to marry him. These two are rumored to be having a wedding later this year.
Sources told the National Enquirer that he popped the question after mum Pilar urged him to take the relationship to the next level.

A friend said: "Pilar took her son aside and told him, 'What's the matter with you? She's perfect! You love her, she loves you. Get married.'"

The couple began dating last summer after hooking up on the set of Woody Allen's Vicky Cristina Barcelona in Spain.

The wedding is rumoured to be taking place later this year.
[From Digitalspy.co.uk]
I love these two together and I hope this news is true. They don't need to get married or to make it official, but weddings are really romantic to me despite the coin toss odds of the relationship lasting.
Bardem and Cruz will appear together in a film version of the Broadway musical Nine. Judi Dench and Nicole Kidman are said to be in talks to join the cast. It starts filming in September, which is a few months after Kidman is due to have her baby.