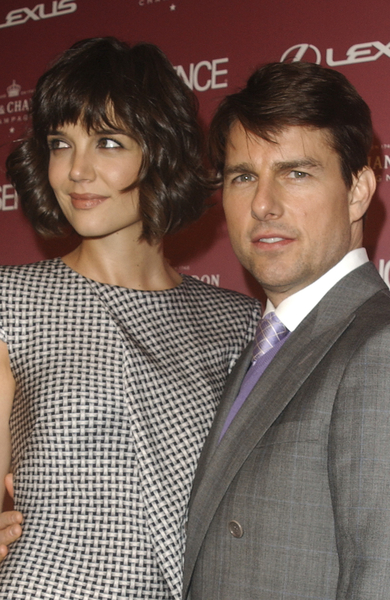 In effort to combat the rumors swirling about an impending divorce, Tom Cruise and Katie Holmes shared a very public make out session. Suri Cruise was unfortunately being held by Katie at the time. Isn't that child abuse?
"The fabulous Katie Holmes and Tom Cruise are on their way to a split and a trail separation? They are all set to battle for Suri? Forget it. The couple that used to make out in public in front of cameras while giggling and acting so much in love are back at it, though this time it took a long range lens from the sky to catch the couple kissing."
During Suri's second birthday party the crazy couch jumper and his brainwashed bride took time to show their unrequited love for each other. They were surrounded by hundreds of balloons and a giant chalk drawing that read "Happy B-Day Suri." Coincidently enough hundreds of paparazzi, including a chopper, were also there to capture the moment. As Tom and Katie shared an inappropriately long and slobbery kiss the cameras snapped away. It was a blatant move to prove the separation rumors wrong.
Connor and Isabel were also let out of their respective underground kennels to attend the party for Suri. The kids joined a swarm of Scientologist "friends" in wishing the heir of Cruise a happy birthday. Everyone was holding what appeared to be a white fedora with green ribbon accented with daisies. Most of the ladies also carried around a ring of daisies that I am guessing was going to be used in some sort of Coneheads-like mating ritual for the adults.
I was so happy for Katie when I read that she finally wised up. Alas, rumors are no match for "The Tom." I am guessing he put the kibosh on any of her feeble attempts of freedom. I feel like I should bake a cake with a file in it and send it to her.
Check out the photos on D-Listed and I'm Not Obsessed.