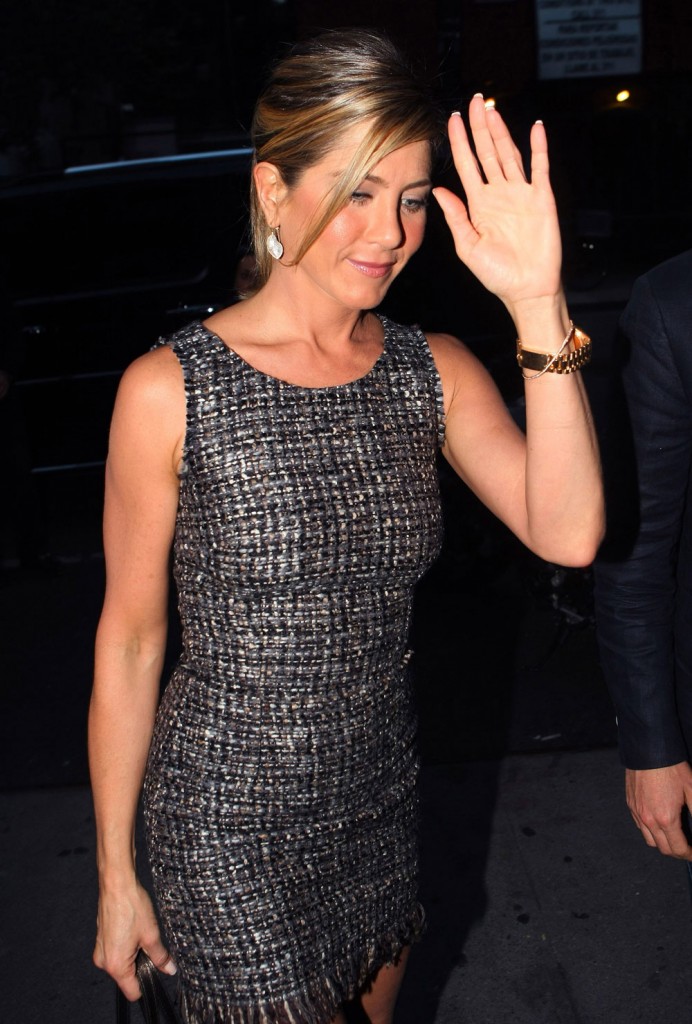 There's been a lot of speculation over the state of Jennifer Aniston's career and what she's can do now that The Switch has so spectacularly failed. The celebrity pundits are all chiming in, and there's a particularly good overview of Aniston's career from an ESPN analyst who compares her latest moves to aging sports stars ready to retire. Many people, including that ESPN analyst Bill Simmons, are saying that she's a television actress who lucked out by getting so famously dumped and subsequently pitied by the media. That whole triangle allowed her to spin a limited acting range into a mediocre but well paid film career that's just about to peter out, they claim, unless she pulls a rabbit out of her hat. I never really felt that way until seeing Aniston in her latest series of interviews. She was so painfully uninteresting and one dimensional that I found myself agreeing with the critics.
Here's some of what Simmons has to say about Aniston. I love his analysis and wish more sports guys would give us their take on the celebrity gossip:
That's seven years, 11 movies, eight clunkers, one above-average (for her) performance and only two solid box-office successes. Two for 11? Certainly nothing to put her on par with Sandra Bullock, Julia Roberts or Reese Witherspoon. The other "Friends" stars faded into B- and C-list obscurity (or in Matt LeBlanc's case, F-list), so why didn't she?

The short answer: Because of the Angelina/Brad/Jennifer love triangle, which is like Brett Favre's comeback/retirement/comeback routine multiplied by 10, but has been cruising along for twice as long. The saga evolved in various forms: the betrayal itself; the aftermath, when Aniston licked her wounds as "Brangelina" took off; her futile search for a bounce-back boyfriend; the Brangelina clan expanding; everyone feeling worse and worse for Aniston, with her finally admitting that she was still bummed out; the Brangelina clan expanding again; Aniston's weird dalliance with the much younger John Mayer, which ended when he talked out of school about her; the Brangelina clan expanding again; Aniston approaching her 40th birthday and wanting a baby; the Brangelina clan producing twins; Aniston hitting 40 with no baby or husband; Aniston passing 40 with no baby or husband; and now we're here.

People can't get enough of this stuff. Us Weekly throws Aniston on its cover every few weeks — and if they can work Angelina into the split-cover, even better — just because Aniston resonates with women like no other celebrity. No matter how wealthy or famous or good-looking she is, the nuts and bolts of Aniston's "tragic" story could have happened to anyone: She lost her scummy husband to a seductive co-worker. Maybe it was the worst thing that ever happened to her personally, but professionally? Godsend. She became America's adorable little victim for seven years until Bullock finally pushed her aside. People don't read Us Weekly to see pictures of happily married couples. They read for drama. Tragedy. Betrayal. Acrimony. They read to see someone's life spinning out of control, or to compare two people wearing the same dress, or to see someone taking out the garbage who's "just like us."

Aniston's life resonates with that demographic better than anyone. Now she's 41, still hunting for a man, her ovaries rumbling like Earl Campbell, but we're all a little confused because … I mean, how could Jennifer Aniston, of all people, not find a man? How could someone that attractive need a friend to set her up on dates? What the hell is going on here? Is she secretly super-annoying? Is she terrible in bed? Does she have bad breath or bad hygiene? Are her standards simply too high? Does she still pine for Pitt and any potential mate can sense it?

You're not going to believe this, but I have a theory …

I think it's all a farce. I think she gravitates toward guys who could never be a potential husband (seriously, John Mayer?) and FWBs (friends with benefits) over actually finding herself the right match. And here's why: The longer this drags on, the longer she stays on the A list. Staying single, ending up with the wrong guys, pining for a baby but never having one … career move, career move, career move. Keeps her on magazine covers. Keeps people saying "I feel bad for Aniston, Brangelina really screwed her over; her life's never been the same." Keeps a built-in publicity buzz for every crappy movie she promotes. Really, it's genius.

Swinging this around to sports (and thank God, you were getting nervous): The Aniston dynamic resembles a great athlete who couldn't win a ring in his prime, but now time is running out and he only has a couple more chances. In sports, we love when this happens! I don't remember the intimate details of Joe Montana's last few seasons (or Isiah Thomas, Scottie Pippen, Keith Hernandez, whomever), but I remember everything about Karl Malone's last few seasons. And Barkley. And Elway. And Marino. And Elgin Baylor. And Ray Bourque. And Gary Payton. And now, LaDainian Tomlinson and Steve Nash. The last stage of their careers became compelling simply because they wanted a ring and we wanted them to win one.

Aniston transferred that same dynamic to the Hollywood world. Say she remarried in 2006 to one of those Rande Gerber-type rich guys who owns cool bars that are in hip hotels. And let's say they had a kid in 2008. And another one this year. By 2010, would anyone care about Jennifer Aniston? NO!!!!!!!! Only if she was making good movies. Which, obviously, she doesn't want to do. She's happy being a likable celebrity with decent comic timing who plays herself in every movie (with only her hairstyle and co-star changing). I think that's intentional, too. She could have taken more acting chances — remember how good she was in "Office Space," or as the sexually frustrated wife in "She's The One" — but seems much more interested in protecting her brand. You can't differentiate between Aniston when she's being interviewed, acting in a movie or staring at you on a magazine cover anymore. It's all the same. That's the way she wants it.

I say she's much smarter than we think. Unlike with sports, she knows it's better for her career if she never gets that ring. She will continue dating co-stars, bad-boy musicians and people with lousy hair for the foreseeable future. You watch. So feel sorry for Steve Nash, but don't feel sorry for Jennifer Aniston. She's laughing all the way to the bank.
[From ESPN]
I doubt Aniston is single on purpose or is somehow sabotaging her love life for the sake of her career. She just has spectacularly bad taste in men. I also don\t know if Aniston is protecting her brand like Simmons claims or if she's just doing what she knows time and again without changing. She is a creature of extreme routine and just like she can't switch her lunch from a salad with chicken every day she's not comfortable playing anyone other than Rachel. That's who she is and she'll continue to play that role as long as she can get paid for it. That time is running out though, as we saw from the box office performance of The Switch, The Bounty Hunter, and Love Happens. Aniston will next appear in the Adam Sandler movie Just Go With It, and she's also working on Horrible Bosses, where she plays an oversexed dentist. She may have that last chance career comeback Simmons writes about, and/or she may find "everlasting love with an adult stable male" as she once joked about looking for as a film project to mirror her ideal life. With Aniston, is there any separating the two?
Thanks to Kerry for the tip!
Photos are from 8/19/10. Credit: Fame Pictures