Olivia Munn is an unfunny moron, but is Jon Stewart sexist for hiring her?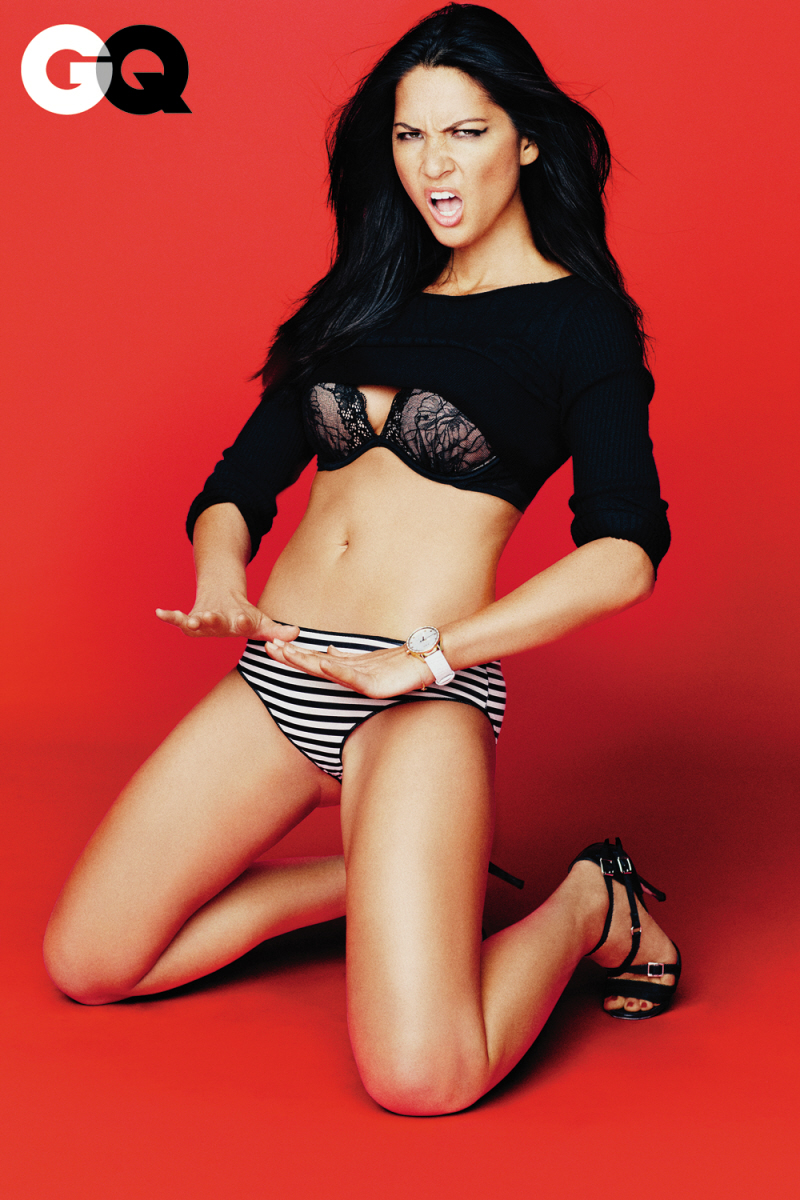 Earlier this summer, Jezebel ran a story that cherry-picked a few quotes here and there, basically saying that these quotes were "proof" of The Daily Show's "woman problem." Basically, Jezebel's Irin Carmon was calling Jon Stewart specifically and The Daily Show generally sexist because female "correspondents" have a short shelf life on TDS. While it would be nice to see more women on TDS, I don't think Jon Stewart is sexist in any way shape or form. Just my opinion. Anyway, the story came just as TDS had hired – on a trial basis – a new girl, Olivia Munn. Munn is an actress, "comedienne" and "personality" who is very popular with some dudes because she is seen as "hot." Mainly her "hotness" comes from the fact that she has never met a camera she couldn't strip for. Such it is with her new GQ profile, which just came out. Before I even looked at the photos, I skimmed this brief interview, and I was kind of disgusted:
Before this summer, Olivia Munn was best known as co-host of G4′s Attack of the Show!, a gig that demanded a knowledge of gaming nerdery and a willingness to tongue-bathe an iPhone. But now Munn will appear both on NBC's Perfect Couples and as the newest correspondent on The Daily Show.

The latter prompted some—including this writer—to wonder whether she'd proven her comedic chops to be TDS-ready, igniting a heated women-in-comedy debate, with Munn as the central talking point. (Her reaction: "I took a nap.")

So how did she win over America's boyfriend? In part, with a Holocaust quip.

"When we met, Jon mentioned being Jewish, and I asked, 'The Holocaust—did it really happen?' " she recalls. "I mean, clearly it happened, but that's my sense of humor, and it showed I could joke in that Daily Show way."

Now that she's moved on to political satire, does this mean the chocolate-pudding jumps are over? Munn concedes: "If someone got all the chocolate pudding in L.A., I might still dip a toe in." Angelenos, quick, get ye to a Safeway.
[From GQ]
Now THIS makes me think that Jon Stewart is sexist. Because he would hire this girl who seems to think she's "funny" if she says something inappropriate while taking off her top. Also: that has to be the worst Holocaust joke ever. Need a good Holocaust joke? Call Ricky Gervais. Olivia reminds me of both Jenny McCarthy and Sarah Silverman – but only the worst parts. This is how McCarthy got her start – she would take off her clothes and make fart jokes. That's "funny" right? And Sarah Silverman because SS thinks that making awkward, ill-timed, "political" jokes equals hilarity. So why did Jon hire her? Is this affirmative action for unfunny morons who happen to be women? There are some truly talented female comedians out there, and it sucks that they're not getting this job because Olivia's got her tits out.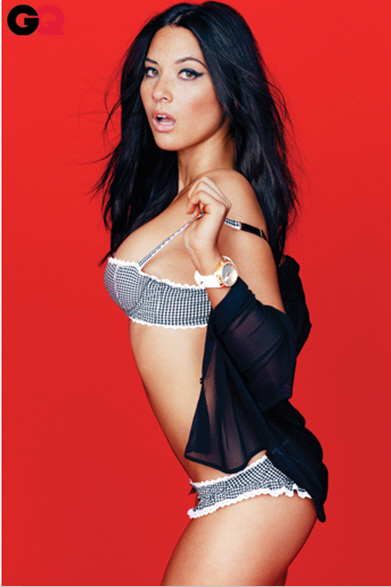 GQ photos courtesy of GQ.

Written by Kaiser

Posted in Jon Stewart, Olivia Munn

- Zach Galifianakis is awesome [Buzzfeed]
- Prince at the Billboard Music Awards [D-Listed]
- Bieber's Billboard look [Go Fug Yourself]
- Married to Medicine recap [Reality Tea]
- Celebrity first marriages [Pajiba]
- The last Mad Men baffled a lot of people [Lainey]
- Karolina Kurkova's crazy hot dress [Moe Jackson]
- Jennifer Garner on set [Popsugar]
- Kitten vs. Lizard [CDAN]
- Doetzen Kroes' great butt [Celebslam]
- Shameless star Jeremy Allen White [OMG Blog]
- RIP Ray Manzarek [Bossip]
69 Responses to "Olivia Munn is an unfunny moron, but is Jon Stewart sexist for hiring her?"