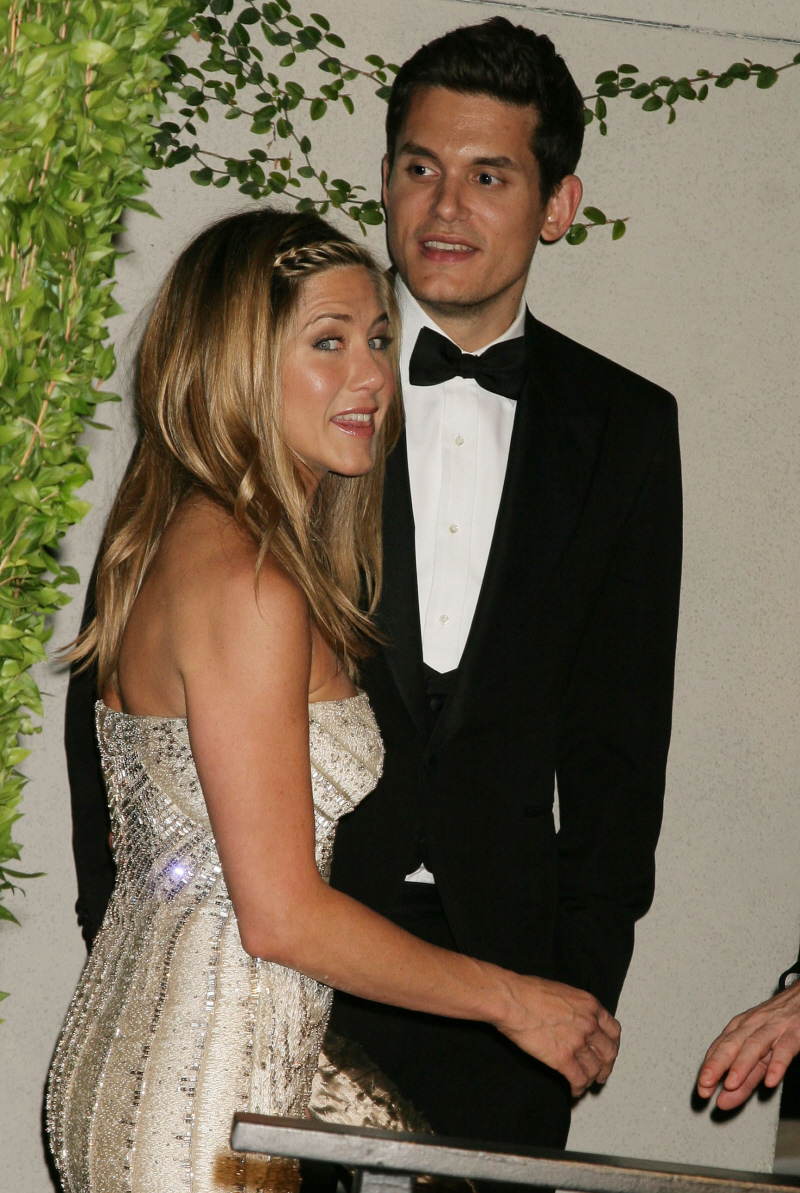 Over the past month, there's been a steady stream of reports that John Mayer and Jennifer Aniston have been seeing each other once again. Third time's the charm? Eh. Who even knows what "time" this really is? My suspicion is that they've been f-ck buddies for a while now, probably since their last breakup. Anyway, the rumors exist, and a few weeks ago when HuffPo reported them, John Mayer got his racist douche panties in a twist and sent out this "clever" rant against HuffPo, while not really denying that Aniston was all up on his KKK dong. Of course, there was some evidence that Aniston was offended too – a "friend" of Aniston's gave an interview where there were claims that Mayer was/is a basket-case, a closet case and that he's bad in bed.
Anyway, everything seemed to die down in Mayer-Aniston-ville for a few weeks, as Jennifer went a series of very public dates with people like Harry Morton (Lindsay Lohan's ex), Josh Hopkins (Courteney Cox's costar) and Chris Gartin (one of Aniston's friend's ex-husband). CB theorized – and I believe CB was correct – that Aniston was going on this series of public dates because she was trying to divert attention away from being back in DoucheTown with Mayer. Now Radar is giving us some more interesting evidence to back this up – apparently, Mayer and Aniston were together quite openly in Atlanta over the weekend:
Jennifer Aniston is in Atlanta shooting her next movie Wanderlust and RadarOnline.com has learned that she wandered right on over to Aaron's Amphitheatre in nearby Lakewood, Georgia Wednesday night to catch John Mayer's show.

Jen was in work-out clothes and had a baseball cap pulled low over her face when she visited with John backstage after his performance, a source tells RadarOnline.com. "She looked gorgeous and seemed to be really enjoying herself. She and John laughed a lot."

Afterward, Jen and John and several people connected with his tour all went back to her hotel, The Ritz-Carlton, where he rented a private suite for an impromptu party.

John moved on to his next tour stop, Tampa, Florida, the next day. Jen is in Atlanta for several more weeks filming Wanderlust with Paul Rudd.

Before heading south, Aniston was spotted out on dates in L.A. with Cougar Town costar Josh Hopkins (Jen is making an appearance on her friend Courteney Cox's sitcom) and with the much younger restaurant owner Harry Morton, who once dated Lindsay Lohan.

But sightings of Aniston and Mayer — despite their best efforts to keep them on the down low — continue to surface. Mayer even took another website to task last month for reporting that he and Aniston has been seen together but he didn't deny that they had been.

Could the third time be the charm for this pair? We'll be watching.
[From Radar]
Perhaps they were just discussing the sex tape he and Aniston made that he lost, allegedly? Or perhaps they're just still in f-ck buddy mode. Or perhaps Aniston went back to Mayer YET AGAIN and she knows how it looks, so she's playing the media? Eh. I really and truly don't know, because Radar's "source" sounds just like a Huvane plant – you can always tell because the "source" says that Aniston is "gorgeous" within five words. So basically, I have no idea what Aniston and her team are trying to do. I guess they're trying to make her look like a free and easy spirit who is content to juggle multiple men? Like she's Kate Hudson. Sure. Whatever.
Header: Mayer & Aniston at the 2009 Oscars. Credit: WENN.