Opening festival at Cannes, including Cate Blanchett & Natalie Portman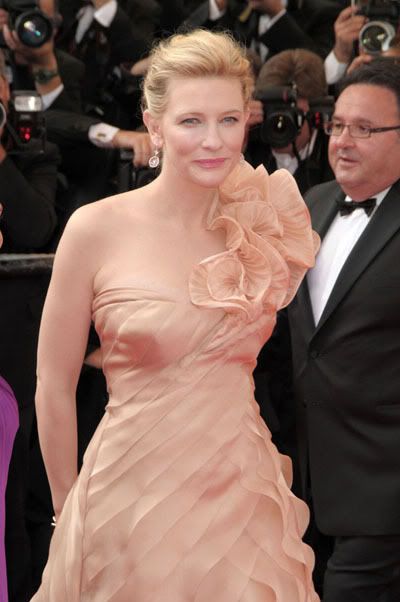 The stars were out for the opening festival at the Cannes film festival, and they sure were gorgeous. The first film to open the 12 day film festival on the Riveria is Blindness. The film by Brazilian director Fernando Meirelles is based on a 1955 novel in which an entire city goes blind after an epidemic. Julianne Moore plays one of the few people who is unaffected and retains her sight. She tries to hide it from the rest of the city as society breaks down from the effects of the change. Blindness also stars Mark Ruffalo, Danny Glover, and Gael García Bernal.
The 9 person jury at Cannes includes Natalie Portman and is headed by Sean Penn. Penn didn't miss a chance to rip on US President George Bush while talking to the press at the event. It's likely that he was asked directly about it, and he is quoted by Reuters as saying "When somebody operates without a brain and without a heart, they kill hundreds of thousands of people around the world." I dislike Bush as much as the next person, but there are much better ways of phrasing that. It's lame to personally attack someone in such a blunt way when you can state more compelling reasons for disliking the guy. Bush definitely has a heart and a brain, he just choses when to use them. When it involves money, they're easily switched off and immune to suffering, death and general havok-wrecking. Reuters notes that Penn then smoked a cigarette "in defiance of French anti-smoking laws." You would think he would be afraid of setting that ridiculous hair on fire.
Shown at the opening ceremony at Cannes are Cate Blanchett, Natalie Portman, Eva Longoria (who's still looking pregnant to me), Rachida Brakni, Aishwarya Rai, Gillian Anderson, Sean Penn (the hair!), Julianne Moore, Gael García Bernal, Mischa Barton, Danny Glover, and Bar Rafaeli.
Written by Celebitchy

Posted in Aishwarya Rai, Bar Rafaeli, Cannes, Cate Blanchett, Danny Glover, Eva Longoria, Gael Garcia Bernal, Gillian Anderson, Mischa Barton, Rachida Brakni, Sean Penn

- Zach Galifianakis is awesome [Buzzfeed]
- Prince at the Billboard Music Awards [D-Listed]
- Bieber's Billboard look [Go Fug Yourself]
- Married to Medicine recap [Reality Tea]
- Celebrity first marriages [Pajiba]
- The last Mad Men baffled a lot of people [Lainey]
- Karolina Kurkova's crazy hot dress [Moe Jackson]
- Jennifer Garner on set [Popsugar]
- Kitten vs. Lizard [CDAN]
- Doetzen Kroes' great butt [Celebslam]
- Shameless star Jeremy Allen White [OMG Blog]
- RIP Ray Manzarek [Bossip]
Pages: 1 2 3 4 5 6 7 8 9 10 11 12 13 14 15 16
17 Responses to "Opening festival at Cannes, including Cate Blanchett & Natalie Portman"