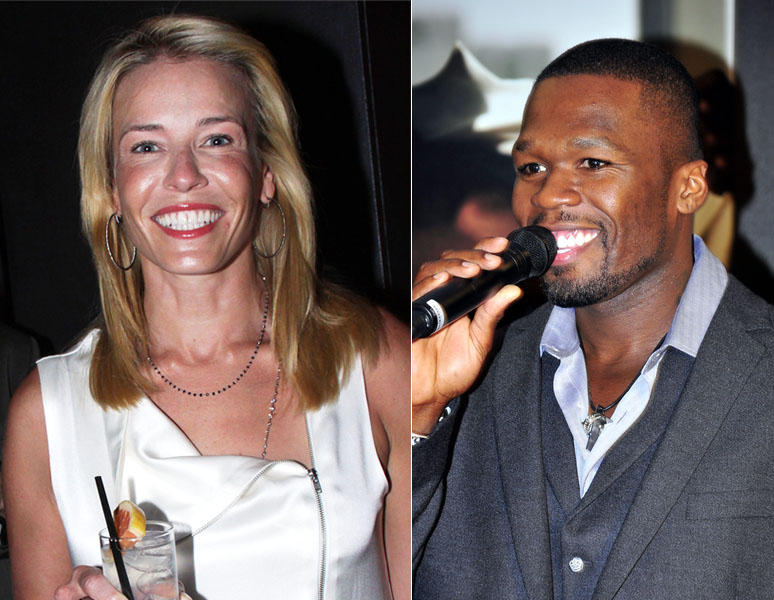 Chelsea Handler, supposedly 35, is single again, having broken up with her boyfriend, the CEO of Comcast, right after she signed a three year, eight figure contract with E! (which is owned by Comcast). She's since dated and broken up with a guy who works on Animal Planet. The acerbic comedian was spotted out on a date in New Orleans with none other than prolific foot-in-mouth twitterer, 50 Cent. TMZ has a photo of those two and it definitely looks like a date. What's more is that 50 did an impromptu rap that night all about getting laid, with lines like "you can feel every inch" and "your sex drive can match my sex drive."
50 Cent and Chelsea Handler went to a bar in New Orleans last night … and by the way they got up close and personal with each other, they gave some serious credibility to those dating rumors.

TMZ has obtained a photo of the two of them at the Blue Nile jazz bar in New Orleans — and one spy inside the joint tells us they were getting very hot and heavy with each other.

But before 50 got cozy with Chelsea, dude knocked out a live freestyle set with a local band at the club.

Check out the verse 50 busted out that night … it seems to be directed toward a special lady friend.
[From TMZ]
There are plenty of celebrities I don't want to imagine having sex, with Jennifer Aniston and John Mayer immediately coming to mind. 50 Cent and Chelsea Handler are up at the top of the list now, though, and I'm grimacing as I write this. I dislike both of them, but they make sense in a way. Chelsea is a racist (although I'm sure she'll use the "I have black boyfriends" excuse now) 50 Cent is a homophobe, and they both love dogs. I'm still making that "yuck" face, particularly in light of the topics that 50 has been tweeting about lately. Let's hope these two either break up or try to keep their relationship quiet. Given Chelsea's history, she'll be making lame stereotypical jokes about 50 in no time. He'll probably be flattered.