Poor Jessica Simpson's fat and lonely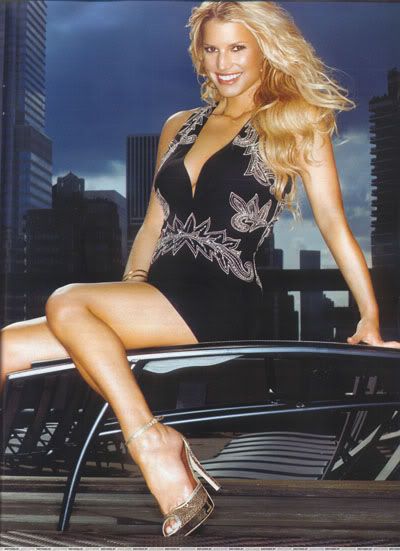 Jessica Simpson still looks pretty good when she's not wearing ill-advised black sack dresses. Star Magazine claims she's gained 20 pounds, though, and even fan site Sweetkisses.net says she's sporting a fuller figure. She still looks gorgeous and what's wrong with a starlet who's a size 8?
While The National Ledger claims Star Magazine says that Jessica is dating newly single Scrubs star Zach Braff and that she's seen him on both the East and West coast, The Scoop reports that the same article has Jessica fending off his advances:
The recently divorced "Newlyweds" star seemed "put off" by the advances of the "Scrubs" star at a recent event at the Pink Elephant in the Hamptons, according to the new issue of The Star. "He was flirting up a storm and being very aggressive," a source told the tab. "You could tell it grossed out Jess and her friends. He was like a horny schoolboy."
In fact, none of the string of hotties the former "Newlyweds" star has been linked with is panning out. She "blindsided" her "Employee of the Month" co-star, Dane Cook, by calling him on June 22 and saying they should go their separate ways, according to the Star. Spokespeople for the two have denied that they were ever an item, but gossips insist that they've secretly dated. And Simpson's fling with Maroon 5 singer Adam Levine has apparently flopped.
"Jessica is lonely and needy," a source tells Star. "She's having a hard time dealing with the fact that [ex-husband] Nick [Lachey] is in love [with MTV's Vanessa Minnillo]."
It's too bad that she's single and lonely, but she let Nick slip through her fingers and maybe she'll be more mature about her relationships in the future.
In the August UK edition of Ok! Magazine, Jessica says she loves her curves and that she enjoys eating. She also says that she does Pilates to stay in shape and that she doesn't want to bulk up like former wrestling star Chyna. (That's a myth since weight training helps you stay slender and toned, and is a more effective way to shape your body than aerobics.)
Here is Jessica in Ok! and in an ad for her handbag and shoe line. [via]
Written by Celebitchy

Posted in Emotional, Hookups, Jessica Simpson, Weight gain

- Harry Styles & Kimberly Stewart going strong [Lainey]
- Demi Moore's new man is gross [D-Listed]
- Fug or fab: Emma Stone [Go Fug Yourself]
- Arrest warrant issued for Jenelle Evans [Reality Tea]
- Only God Forgives review [Pajiba]
- Hugh Jackman, scooter master [Buzzfeed]
- Who does Drew Barrymore call her sister? [Evil Beet]
- Cannes couples past and present [Popsugar]
- Arrested Development supercut [CDAN]
- Lea Michele's see through skirt [Celebslam]
- Cheating wife's lover escapes out of window [Movin925]
- Joe Francis is crazy [Starcasm]
4 Responses to "Poor Jessica Simpson's fat and lonely"