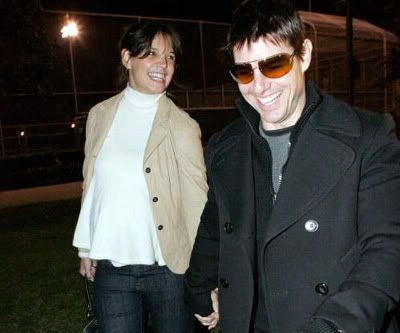 Suri was said to have attended the birthday party of Jada Pinkett and Will Smith's son, Jaden, but there are no pictures and the wording of the description given by the supposed eyewitness is suspect. They use the same description of the baby that we've heard before "dark, curly hair," "no physical deformities," and "looks like Tom." It could be because that's how the baby actually looks, or because someone is feeding these lines to the press.
Does this sound true to you?
According to the eyewitness: "Suri is a beautiful baby. She had no deformities that I could see! She has a gorgeous head full of dark, curly hair, and she resembles both parents, though she looks slightly more like Tom."
Tom and Katie Holmes appeared relaxed at the party, which was held at a roller-skating rink.
Adds the snitch: "Sadly, they did not attempt to roller-skate."
Meanwhile Katie and Tom are said to have "comforted accident victims" when they stopped to check on a couple after they were involved in a crash:
Tom Cruise and Katie Holmes helped comfort a pair of shaken accident victims Saturday night, PEOPLE has learned.
A rep for the couple confirms that Cruise, 44, and Holmes, 27, were on their way home from the airport after a trip to Salt Lake City, Utah, for an exhibition soccer game (their friend David Beckham and his team, Real Madrid, beat Real Salt Lake 2-0), when they saw a couple on L.A.'s 101 Freeway who had apparently just been in a car accident.
The engaged pair and parents to 4-month-old daughter Suri checked to make sure the passengers, Jon Henningsen and his wife, were not seriously injured, then waited with them until the police and fire department arrived on the scene.
I don't believe any of this. What's wrong with me? Everything about Tom and Katie seems like it's fake to me and I have trouble buying this story.
The person who posted this story on Oh No They Didn't, Chung Chung, says "I call bullshit," and that he/she remembers a similar story coming out about Tom helping an accident victim about ten years ago. If it was Matthew McConaughey, I would say it's true, but Tom Cruise and Katie Holmes? I doubt it.