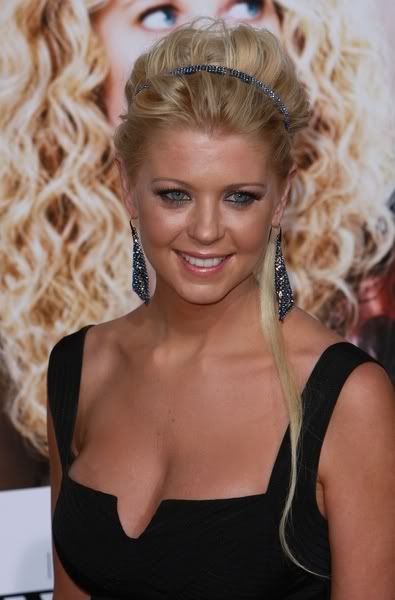 I don't really know how this happened, but shocking recent pictures of Tara Reid have emerged. Shocking because she's so thin? No. So bloated in the face? So very clearly on eight kinds of drugs? Nope. Shocking because she looks decent. Non-totally-freak show ugly. Dare I say even almost normal?
Tara showed up to the premiere of The Women on Thursday evening looking most presentable. I forgot what a pretty girl she can be if only she tries a little. Now I sound like my mother. Next I'll be screaming at Tara to put down the damn Rolos while tears actually well from my eyes. Anyways, Tara was looking quite nice. You can tell her inner whore was just aching to burst out – quite literally. He nipples were barely restrained. Still, considering they were barely restrained, they were still tucked properly in their respective places (or so I assume).
And the fact that she's gotten a decent amount of press for simply showing up and not looking like absolute trash… well things are really looking up for Tara.
Here's Tara at the LA premiere of "The Women" at Mann's Village Theater on Thursday. Images thanks to WENN and PR Photos.