This weekend's Saturday Night Live hosted by Miley Cyrus included a few very mild barbs aimed toward Lindsay Lohan's latest foibles. Compared to the stuff that late night talk show hosts, comics, bloggers, judges, prosecutors, random preteens on Twitter and anyone who has ever "worked" with her says about her, it was very minor. During Miley's opening skiton SNL she sang "I never stole a necklace or got a DUI .. never cheated on wife like that golfer guy … so what if you can see a little boob from the side … I'm sorry if I'm not perfect." Instead of "I never," Miley could have substituted "I haven't yet" for accuracy. Miley also made an appearance as Lindsay on the Charlie Sheen spoof show "Duh, Winning!" That's at about 1:00 to go in the video above. (Only plays for US visitors.) She joked "My new movie Herbie opened 68 months ago and the Los Angeles Court House just gave me my own parking spot. Winning! Duh!" She also grabbed some "baby urine" from Sheen, presumably for help with an upcoming drug test.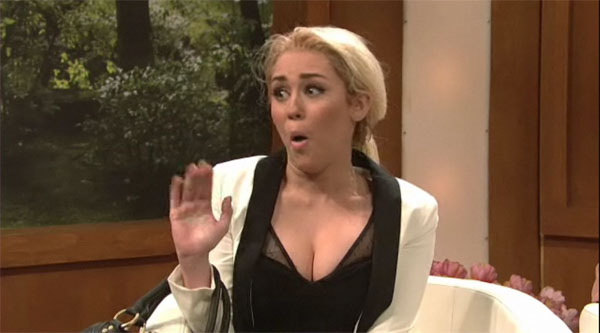 That was enough to upset Lindsay, who hosted Saturday Night three times between 2004 and 2006. (Which apparently never prepared her to graciously accept her status as a punchline staple). According to TMZ, which has been running stories from the Lohan camp for weeks, Lindsay considers creator Lorne Michaels "a mentor and father figure" and has "fired off an [email] to… Michaels – explaining she was disappointed with him for allowing Miley Cyrus to take digs at her on the show. [She] felt betrayed that he would let Miley mock her on TV [and] sent an email to let him know she was upset."
Meanwhile the case of the purloined necklace is still happening. The jeweler has sold a copy of the surveillance tape showing Lindsay in the store to Entertainment Tonight, and they insist that the public release of the tape does not violate the law and will only help their case. Lindsay's people of course insist that the tape vindicates her and that she was either loaned the necklace or forgot she was wearing it.
Only that latest excuse doesn't hold water when you view the tape. ET had on famed lawyer Marcia Clarke, (you can view Marcia's analysis here) who reviewed the tape and noted that Lindsay touched her neck repeatedly after she put the necklace on along with her own necklace. According to Clarke, that is a strong indicator of intent and the fact that Lindsay was conscious of the necklace being there. Clarke says that Lindsay should try to use the same excuse she gave at the beginning of this debacle – that the necklace was lent to her, a claim that the jeweler strongly denies and that isn't supported by the tape. As Clarke explains, if Lindsay was loaned the necklace, she would have been shown on tape filling out paperwork, and it would have been wrapped up prior to handing it over. As it is, it looks like she intentionally stole it. For a probation violation like this one, Clarke says that you don't need proof beyond a reasonable doubt and you don't get a jury trial. "All you need is a preponderance of evidence. That means that she could get jail time even if this case never goes to trial." Clarke thinks Lindsay might squeeze through however.
Some light jokes on Saturday Night Live are the least of Lindsay's problems. How is she going to handle the jeers and catcalls she's sure to get from the other women in jail? Is she going to cry and talk about how upset she is when she gets teased by the corrections officers? "You hurt my feeeelings! I'm innocent! Don't you know that I'm a celebrity?"
Update: here's a clip of the surveillance video as shown on ET. From what I can tell it doesn't show much except for in the preview that follows. Warning: this will launch sound about :38 seconds after the video starts playing. Mute it if you want to make sure that the sound doesn't play.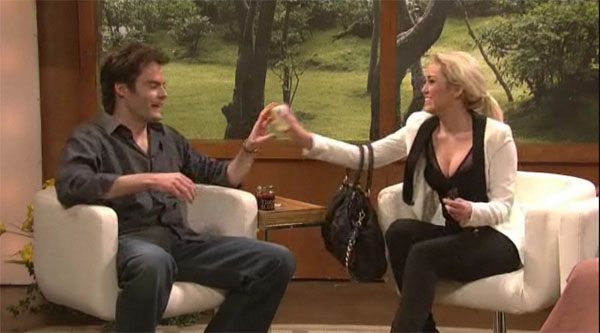 Lindsay is shown on 2/24/11 with her "mom" Dina visiting a lawyer she used to work with. Credit: MAC/Fame.