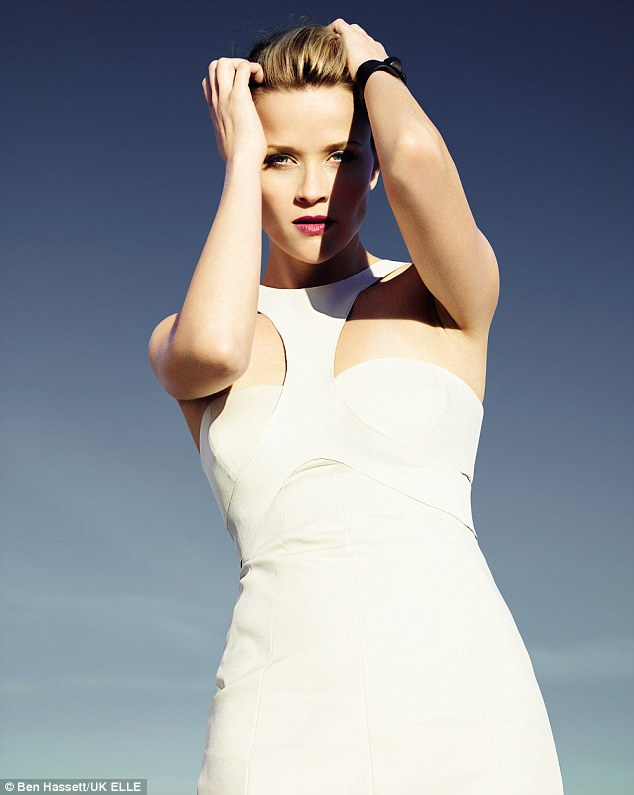 I already had a preview of Reese Witherspoon's Elle UK cover last week, but now we have some additional images from the cover shoot, as well as some additional quotes. It's like what CB was talking about yesterday – Reese is shilling her wedding story and photos because she really wants Water for Elephants to be a big hit. She needs a hit, and she needs to keep being one of the top-grossing women in Hollywood. I don't really know why she feels like she needs this all so badly, but she does, and she's being really obvious about it. I tend to forgive Reese for the most part, though. I think because I buy her celebrity persona for the most part – she fronts (and actively cultivates) an image of herself that is anal-retentive, un-Hollywood, down-to-earth, and boring-mom. I genuinely think that's who she is in real life, and I think that this shilling game is kind of new to her. Anyway, here are some additional highlights from Reese's Elle interview:
Reese Witherspoon is candid about the entertainment industry, from rejection ("They can really kick ya, you know?") to the pressure to always look perfect.

"I feel for these women," she says. "The guys get dressed and it's no big deal, and they're there because they've given a great performance. For every woman it's, 'What is she wearing?' And, 'But did she wear that to the last awards show?' And, 'What will she wear to the next awards show?' And none of it is about her performance or how hard she worked—and those are the women who did extraordinary work."

"I'm not going to lie, it's fun to watch. But at a certain point, I go, 'Wait, strip it all down.' These girls—I shouldn't say girls, these women—worked really hard, really hard, and now it's reduced to … 'She looks frumpy.' How hard we are on people who are just doing their best. When we start measuring women on their appearance … We're just too hard on each other. Women need to be more supportive of each other, stop tearing each other apart. There's plenty of room for all of us. There's plenty of men for all of us. There's plenty of jobs. There's plenty of room! I really believe it. Another actress out there has a number-one movie? They're going to make more movies about women. A female writer sells a script? They're going to look at another script from another woman. The better one woman does, the better all women do."

Miss Witherspoon is starring in a new film, released at the end of this month, called Water For Elephants, in which she plays glamorous circus star Marlena Rosenbluth alongside Robert Pattinson, who plays circus vet Jacob Jankowski. But she said that her life as an actress is not glamorous, especially when she works hard to juggle her career and motherhood.

She said: "There's this fallacy that we can have it all. I get it often, 'Oh, you have it all' – and I don't. It's hard. And there are times I take two years off and I don't work. And there are times I go to work and I feel sick because I can't see my kids for five days. And it's real hard to go. Work is important to me. The kids are important to me. My relationship's important to me. But all three can't be functioning at 100 per cent at all times.'
[From The Mail & Fashion Etc.]
Do I really think Reese is the pragmatic feminist that she seems to be selling in this interview? Eh. I think she wants to see more female-dominated stories in Hollywood, and I think she wants more women to work in Hollywood, but I suspect all of this Ra-Ra-Sisterhood stuff is more about Reese in particular wanting to work and Reese in particular wanting better scripts. All of the half-decent romantic comedy scripts are going to other actresses! Wah, feminism!!!
By the way, here's Reese's Hello! cover this week – I like this shot so much more than the People cover.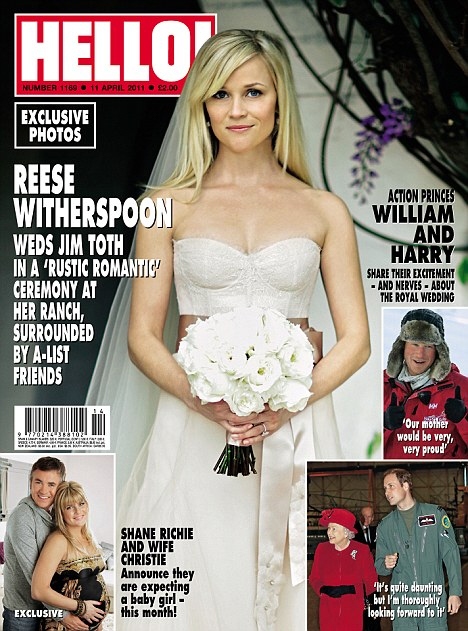 More shots from Elle UK: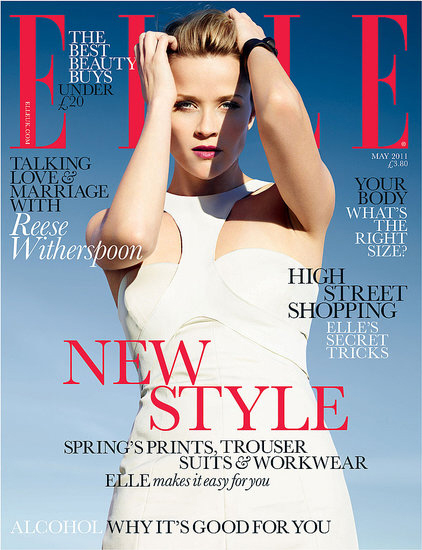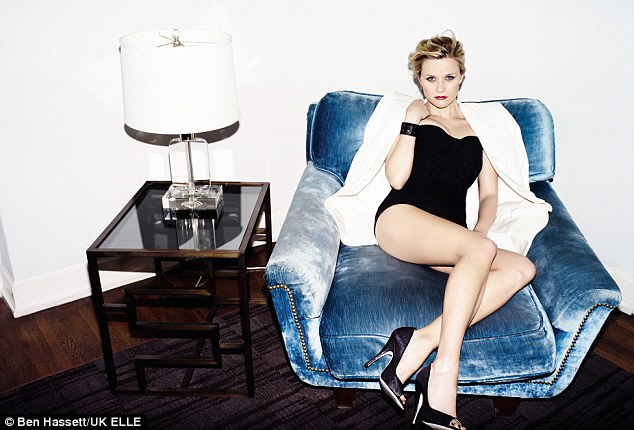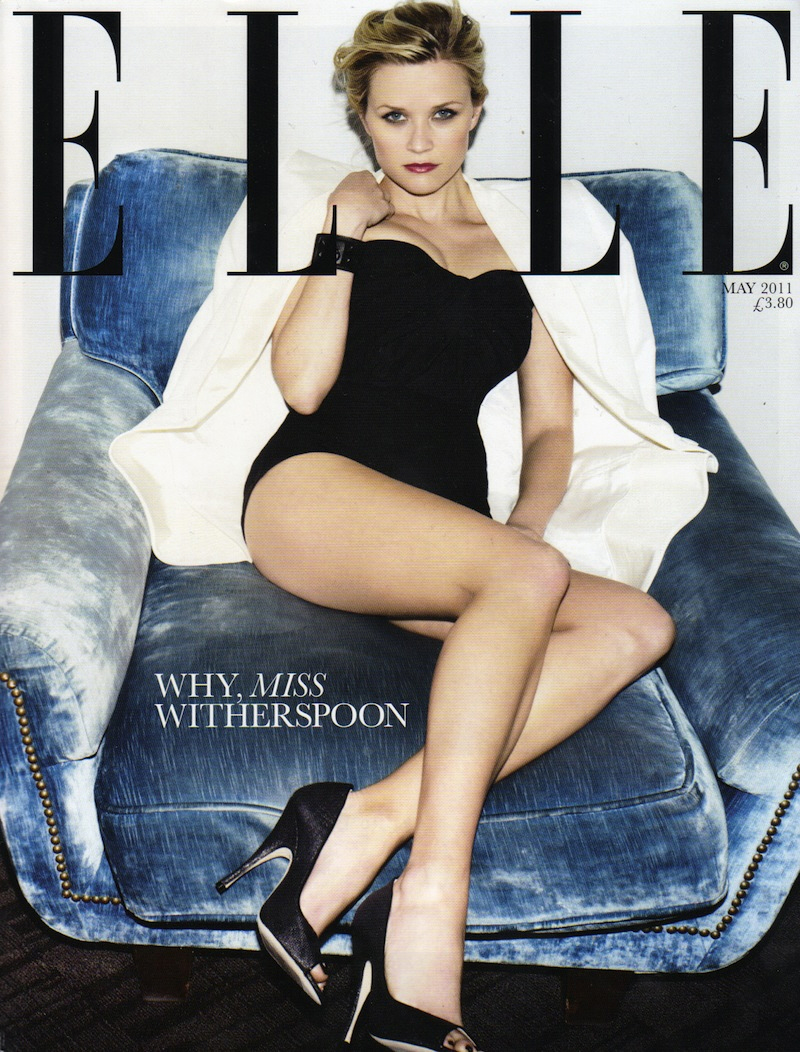 Photos courtesy of The Mail.