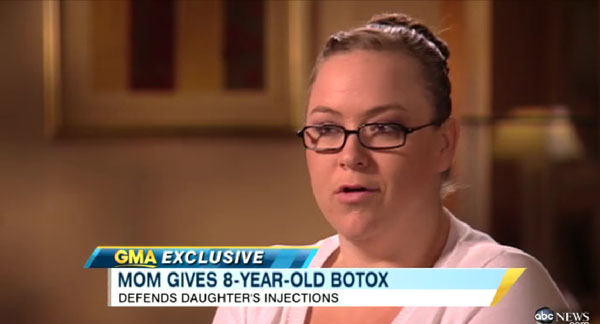 First of all, I saw the poor eight year-old with this stupid whackjob of a mother trying to speak in an interview. She couldn't move anything but her mouth so I believe that her mom did give her Botox for whatever reason. According to Radar, it probably wasn't for beauty pageants though, because no one can find any record of the daughter competing in anything. What's more is that her idiot mom has also been lying about her name, where she lives and trying to hide the fact that she has another daughter.
As we heard on Monday, the woman has had her daughter removed from her home by child welfare services. Radar has the detail that the little girl is being cared for by relatives, so that's good news in this otherwise sad story about a grifter exploiting her daughter: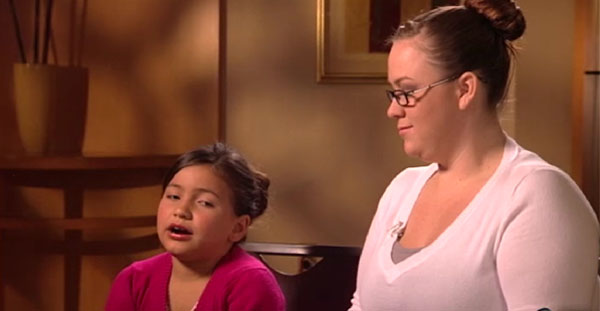 In a bizarre turn of events, Kerry Campbell may have lied about giving her 8-year-old daughter Botox in a desperate attempt to get publicity.

Campbell became an instant lightning rod when she went on national television recently and said she injected her young daughter to give her an edge in pageant competitions.

"It's beginning to look like Kerry's claims about giving her daughter Botox injections looks like a hoax, and that Kerry is making the entire thing up for publicity. Kerry is obsessed with reality television, and wants to become famous. Child Protective Services are conducting an investigation about the Botox claims, and at this point, there is absolutely no evidence that Kerry injected Britney with Botox," our insider tells RadarOnline.com.

Britney was removed from Kerry's house over the weekend, as RadarOnline.com previously reported. Kerry said she was injecting Britney with Botox to help with her pageant career. "Investigators and social workers have been unable to prove that Britney has ever been in any beauty pageants. Britney is now being cared for by relatives, and is doing well," the source says.

If Kerry made up the entire story, "she will be in some serious trouble as far as custody goes of her daughter, Britney. If she didn't actually inject Britney with Botox, that is going to open another element to the investigation. If the mom is so obsessed with becoming famous, and putting her daughter out there like that, her motives and intentions are going to be very closely examined," the informant stated.

There is a possibility that Kerry doesn't live in San Francisco, but in Southern California and goes by a different name, and could have another daughter.

"CPS is trying to just establish basic facts about the case, where does Kerry live, and it appears that she has several other aliases, and she could have another younger child, another daughter. It's very difficult to get a straight answer from her," the source tells us.
[From Radar]
Well I hope this is true and that the Botox pictures are somehow faked, but I'm thinking that it's hard to fake the frozen look that little child had on her face. Hopefully the creepy detail about the "virgin waxes" this creature also allegedly gives her daughter is false too.
What I want to know is how this woman can call herself an aesthetician when she has a mustache like that. She can score Botox without a problem but she can't manage to wax her hairlip. (Surgiwax for the win!)
Update: According to a sworn declaration, this woman claims she was was paid by British tabloid The Sun to make up this whole story about giving her daughter Botox and "virgin waxes," and when she was approached by American media she continued to lie in order to get paid for her photos and interviews. She claims that a medical source has certified that her daughter, who has never competed in any beauty pageants, is Botox free.