BFFs Jennifer Aniston & Courteney Cox breakup, CC is the new Brad Pitt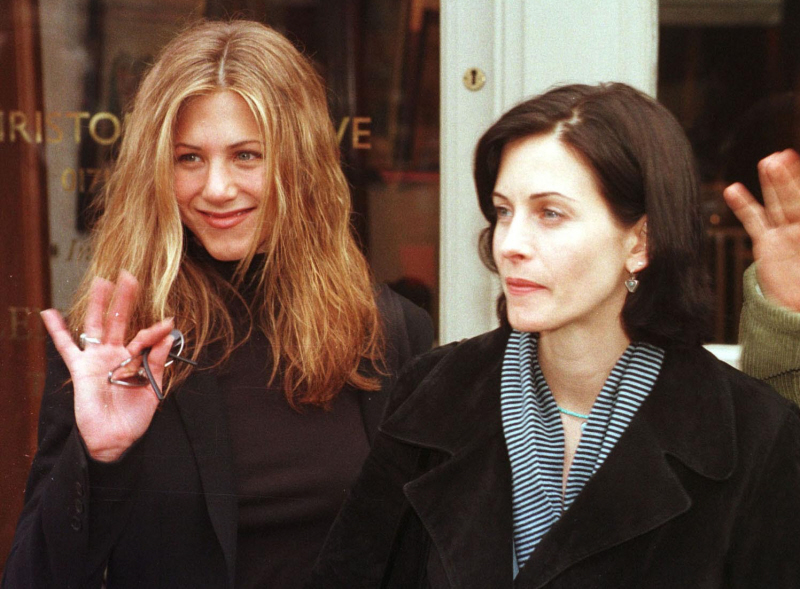 I've been wondering about this for a while, so it's nice to see the tabloids pick up on it – according to Us Weekly, Jennifer Aniston is in the midst of another breakup! OMG, POOR JEN. This time, however, a dong is not involved… unless it's Courteney Cox with a… nevermind. Yes, Court and Jen have split up, and they've managed to keep their split quiet for a year! Right around the time when Courteney and David Arquette were "having problems" and CC was "boning the hell out of" another man, Brian Van Holt. So, obviously, Aniston felt like CC was "cheating" on her, and so Aniston called up Vanity Fair and was like, "Hey, I feel like taking off my clothes and crying!" Just kidding. Here's what really went down:
The Breakup, starring Jennifer Aniston and . . . Courteney Cox? Although the actresses have been best friends through thick and thin since the 1994 debut of, er, Friends on NBC, they haven't been photographed together in nearly a year.

"There's tension" between Aniston, 42, and Cox, 46, one source confirms in the new Us Weekly, out now.

What could possibly threaten such a close-knit friendship? Cox's trial separation from hubby David Arquette as she hangs with sexy Cougar Town costars Brian Van Holt and Josh Hopkins.

"Jen thinks Courteney is acting callous by running around with this guy but refusing to file divorce papers," an Aniston source says. "Like she's playing mind games with David."

(Cox and Arquette announced their trial split in September 2010 after 11 years of marriage.)

Cox's post-separation antics with her costar even reminded Aniston of her own marital heartache with ex Brad Pitt, who took up with Angelina Jolie weeks after their 2005 split.

"She hates watching Courteney do the same thing," the source says.
[From Us Weekly]
You know what? I'll buy that CC and Aniston have broken up – they really haven't been doing much together lately – but I doubt this is the reason. After all, David kind of threw Aniston under the bus in several of his interviews with Howard Stern – something about Aniston being a harbinger of marriage doom, if I remember correctly. Why would Aniston take David's side? That being said, I'm on David's side, and I think CC has issues. I can't believe Aniston and I might agree on something.
Oh, and remember this story? CC was pissed that Aniston was spending so much time with Chelsea Handler. Chelsea is, in CC's opinion, trailer trash, and CC tried to get Aniston to dump the Chelsea friendship. That I would buy. The print edition also points to CC's ongoing friendship (with benefits?) with Josh Hopkins, her CougarTown costar. Us Weekly notes that Josh and Aniston had a three-and-a-half month fling, that she wanted more and he didn't, and then he was indiscreet about their relationship (to put it lightly). CC apparently didn't care, and maintained a flirtatious friendship with Josh.
By the way, I know no one seems to be interested in Aniston's latest romance/fauxmance with Justin Theroux, but I'm still enchanted by the PR shenanigans. The last time I wrote about Aniston's bizarre "Are they dating?" BS (here), it barely got any comments and the general reaction to the whole thing seems rather "meh". Anyway, I just wanted to point out that despite denying that she and Theroux are dating to Us Weekly, this "romance" is still getting pushed in People Magazine and many, many other outlets:
They've only been dating a few weeks, but things appear to be heating up between Jennifer Aniston and her new man, actor and screenwriter Justin Theroux.

On May 27, Jennifer threw a small get-together for close pals, including Chelsea Handler and Courteney Cox, to introduce them to her guy. "They all had a great time and enjoyed Justin's company," a source tells PEOPLE.

As for the new couple – who first became friendly on the Georgia set of Wanderlust last fall – "they're doing great." Adds the source: "He's edgier than the guys Jen usually dates. She really likes him!"
[From People]
So, we've gone from denial to an established couple, at least according to the Bible of established celebrity gossip. Makes me wonder why her Machiavellian publicist even bothered with the vehement denial to Us Weekly. It just makes Aniston and her publicist look ridiculous.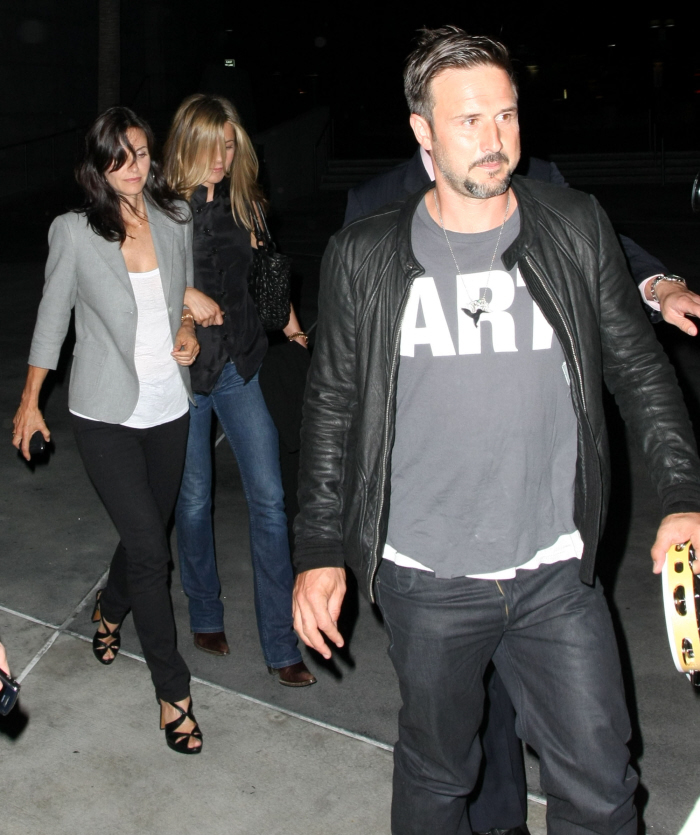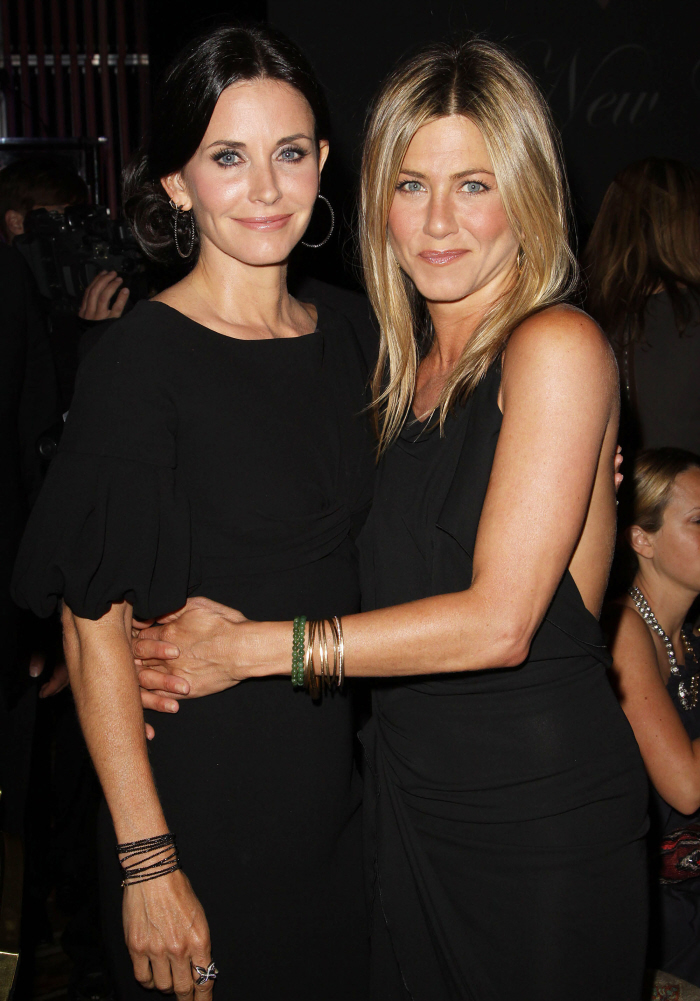 Photos courtesy of WENN.

Written by Kaiser

Posted in Breakups, Courteney Cox, Jennifer Aniston

- Mariah Carey lip synced on American Idol [CDAN]
- Colin Firth is looking good [Lainey Gossip]
- Internet celebrity charged with murder! [D-Listed]
- What is Paz Vega wearing? [Go Fug Yourself]
- New bachelors on The Bachelorette [Reality Tea]
- Goodbye to The Office [Pajiba]
- Bachelor Sean's fiance cheats on him [Evil Beet]
- Britney Spears out with her man [Popsugar]
- Nina Dobrev works it [Popoholic]
- Cindy Crawford needs to lay off the 'tox [Celebslam]
- Who said it: Carrie Bradshaw or The Dalai Lama? [Buzzfeed]
61 Responses to "BFFs Jennifer Aniston & Courteney Cox breakup, CC is the new Brad Pitt"