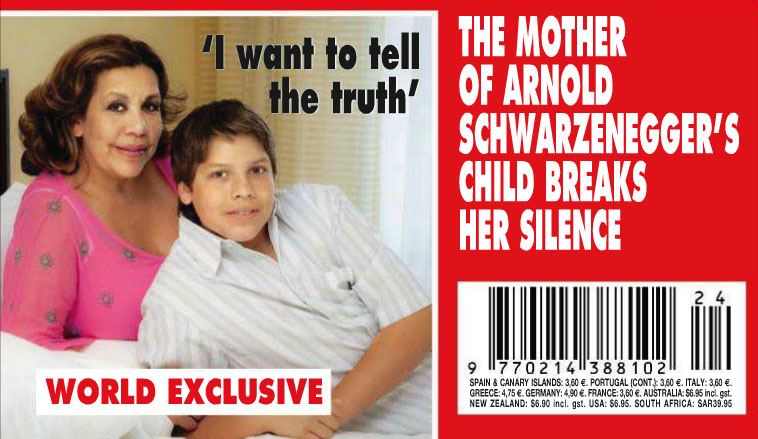 Do you know how major TV networks swear they don't pay for interviews with suspected murderers but then end up paying "licensing fees" for pictures of the victim, supplied to them by the suspect's family? That's just what came to mind when I read this report in TMZ that Arnold Schwarzenegger's mistress, Mildred Baena, said she wasn't paid for her "interview" with Hello! and just wanted to set the record straight and go back to living a peaceful life. I'm not comparing her to murderesses or anything, I'm just saying this is total bullsh*t, just like her claim that she never told Arnold that the doppleganger son of hers was his. I'm thinking they paid her at least $200k for those photos. There were four posed photos of Mildred with Arnold's 13 year-old son, Joseph (they had a wardrobe change for one) and another candid photo of them out together. The paparazzi have no pictures of her so those must have been worth a bundle.
Arnold Schwarzenegger's baby mama Mildred Baena claims she did NOT make one single cent for the tell-all interview she gave to Hello! Magazine … insisting it wasn't about the money.

Mildred's lawyer tells us, "Mildred was tired of people selling their lies to the media or claiming to speak for her when they do not … She gave the interview in order to set the record straight once and for all."

Her lawyer adds, "All she wanted to do was put the lies and rumors to rest. And we believe that she has done that through this interview."

As for how the interview ended up with Hello! Magazine — we're told it was delivered to the magazine by a freelance reporter … who has a personal relationship with Baena's lawyer.
[From TMZ]
As for the interview itself, there isn't much in there that we didn't cover yesterday. There was one sketchy quote she gave that I'd like to mention. She said that when people told her that her son looked like Arnold, she sometimes claimed that the boy was the son of one of Arnold's friends from Germany. (Arnold is from Austria, not Germany, by the way.) That's ridiculous, considering that Joseph himself didn't know that Arnold was his dad until just a year ago, when his grandmother told him. (If Baena's story is to be believed.) Here's what she said "As Joseph matured, I found myself staring at Arnold more and more. People would tease me about how much they looked alike, but I said Arnold had a friend who would come over from Germany and he was the father." So she told random "people" that the father was someone other than her ex husband, but she didn't bother informing her son of this fact, and according to the ex husband she didn't tell him about it either, and he assumed he was the father up until this point. This lady's statements are not adding up.