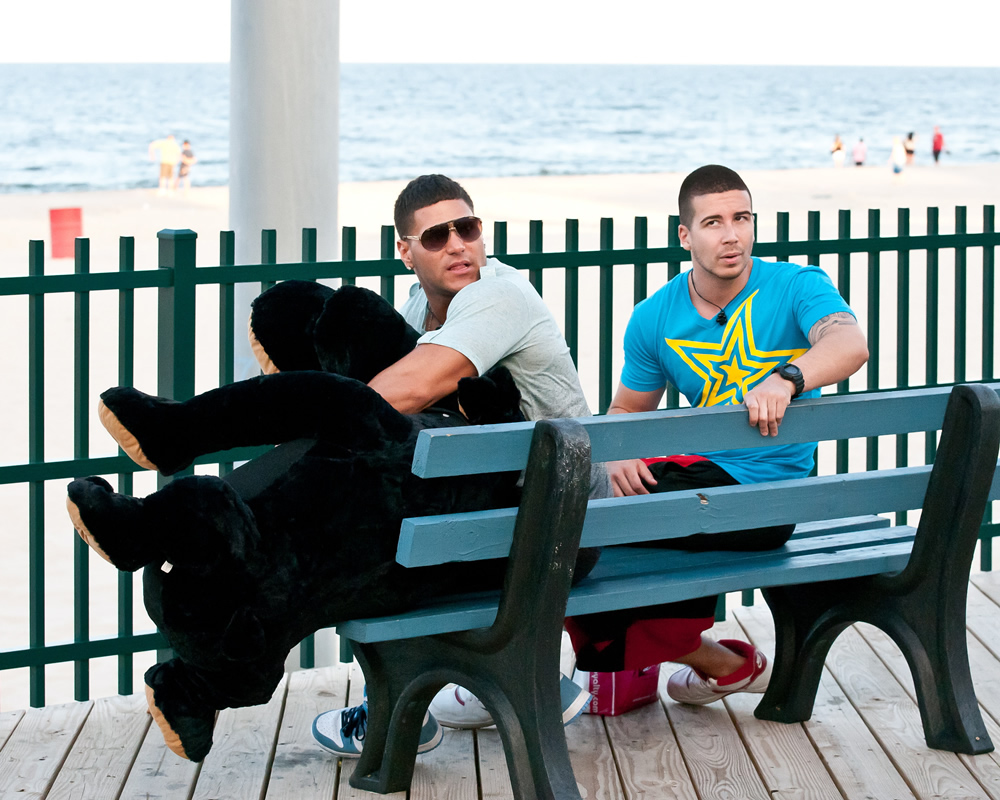 "Jersey Shore" rages on, yet we are powerless to stop either its very existence or the theatrics that flow forth. In addition, I'd also like to point out that a great deal, perhaps even the majority, of the (partially contrived) drama from the cast comes from the male side of things. Sure, Snooki crashed into a police car and sent two officers to hospital in Italy, but it was those dirty boys who were throwing elbows and other body parts while smacking each other around in the otherwise lovely streets of Florence.
As we noted last week, the castmates have finally returned from terrorizing Italy and brought their gym/tan/laundry routine back to Seaside Heights, New Jersey for the duration of season 5 filming. Naturally, things have not stayed peaceful for more than a few moments. Vinny Guadagnino has reportedly had enough and fled the group house, and likely instigator Ronnie Ortiz-Magro could not be reached for comment:
Vinny Guadagnino has bailed on the "Jersey Shore" house and the show once again — but this time, we're told it's for good.

Sources directly connected to the cast tell TMZ … Vinny bolted from the house late last night after getting into an argument with another cast member. We're told Vinny was feeling "burned out" and went back home to Staten Island. We have confirmed that he is at his house in Staten Island right now.

Vinny threatened to leave a few days ago, after he complained of "being homesick." We're told the cast was able to talk him into coming back, but that didn't last long.

Sources connected with the show say Vinny has been a pain in the ass and no one will be getting on their knees, begging him to come back.

TMZ spoke with executive producer Sally Ann Salsano, who tells us, "We do not comment on the production of the show."
[From TMZ]
Sure, MTV never comments on these incidents, but they sure as hell make sure that the stories get planted in the press, don't they? MTV saying, "No comment," is akin to, "Yeah, it totally happened, but you have to tune in to watch it!" Sigh. It's just as well if Vinny fled the coup because his number, like most of the other castmates, would've been up at the end of the season when MTV puts up its want ad for cheaper drunk tarts.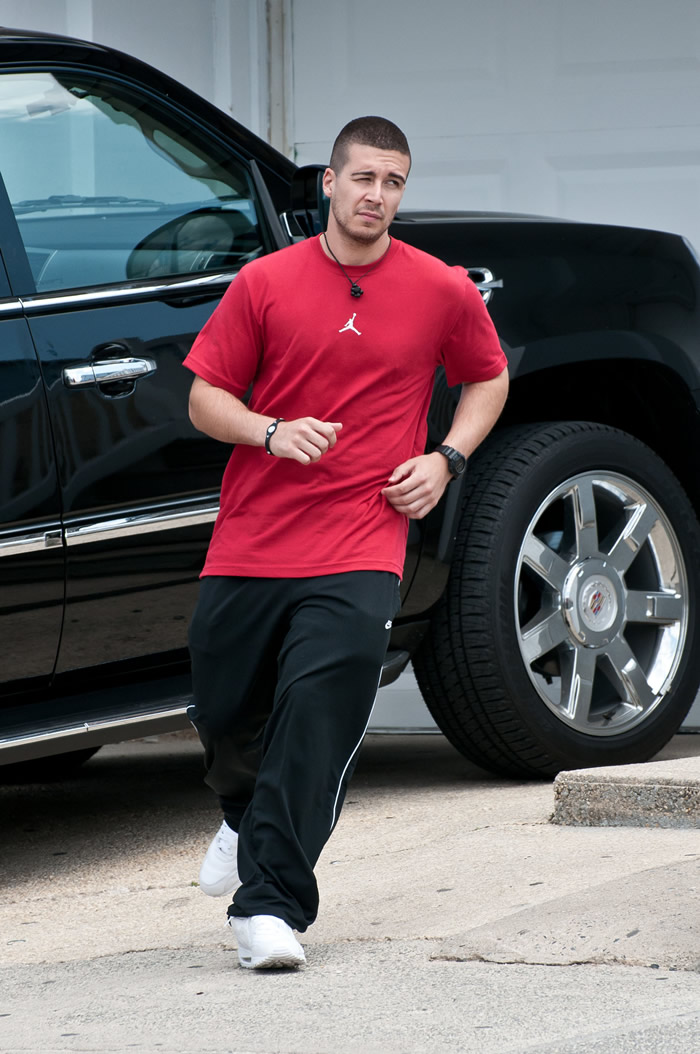 In other Jersey Shore news, Paul "Pauly D" DelVecchio has been sued for $4 million dollars in a trademark infringement suit. Apparently, there was already a preexisting "DJ Paulie" who can no longer get hired because "Jersey Shore" has taken over internet search engines. Sounds rough.
Paul Lis of South Windsor, Conn., said he spent 40 years building up a reputation as the region's "DJ Paulie" before DelVecchio began calling himself "DJ Pauly D" on television. Suddenly, Lis found himself eclipsed by the overnight success of the MTV show and DelVecchio, the Rhode Island native who famously brought a suitcase of hair gel to the first season of filming to keep his locks vertically coiffed.

"He formally trademarked the name 'DJ Paulie' and then came the 'Jersey Shore' which basically wiped him off the face of the map," attorney Jose M. Rojas told NewsCore.

The lawsuit alleges that MTV itself flooded the internet with so much "Jersey Shore" content that it was virtually impossible to find Lis' information or advertise on his website.

Rojas said he sent a cease-and-desist letter to the network last March asking them to stop promoting DelVecchio as "DJ Pauly D." But MTV did not comply with the request — or even respond to it, Rojas said.

Meanwhile, DelVecchio applied for a slew of US patents attempting to copyright his own moniker. In the applications, DelVecchio claimed his business was substantially different from Lis', and that the chance of anyone mixing up the two was remote. But all were denied, according to the complaint.

The lawsuit, filed in US District Court in Hartford, asked for $4 million from MTV, DelVecchio and a host of his other employers, including The Palms Las Vegas, which pays him to be the official DJ of their pool.

Rojas said the damages figure included "quantifiable and intangible" harm that Lis has suffered.

"The reality television show [follows] a group of young adults pursuing a debauched lifestyle suggestive of loose morals, violence, intoxication and liberal profanity — the exact opposite of the reputation the Plaintiff, 'DJ Paulie' that[sic] he had spent decades cultivating," the lawsuit alleged.
[From NY Post]
Yeah, MTV's gonna end up paying on this one. First off, the real "DJ Paulie" already had his moniker trademarked, and some executive should've verified the availability of all of the castmates' respective nicknames beforehand because, really, it's not that hard to do. Secondly, it's rather difficult to argue that one DJ's business is "substantially different" enough from another DJ's way of spinning records. Thirdly, who really cares? Just lift up your shirt already, Mike.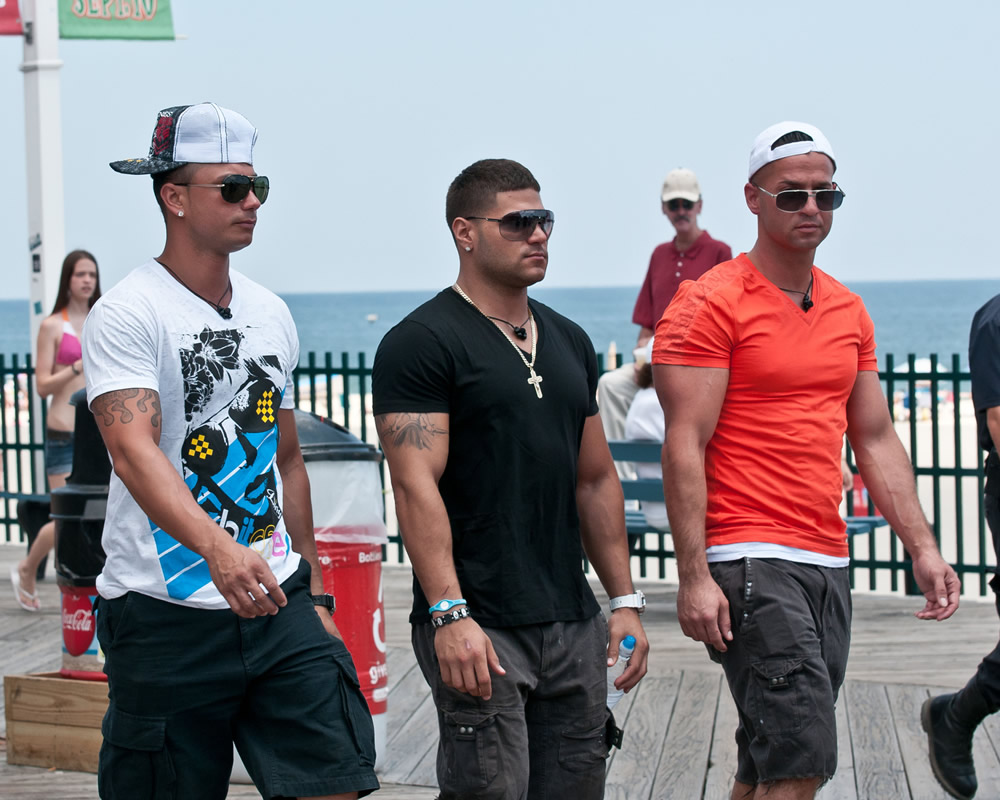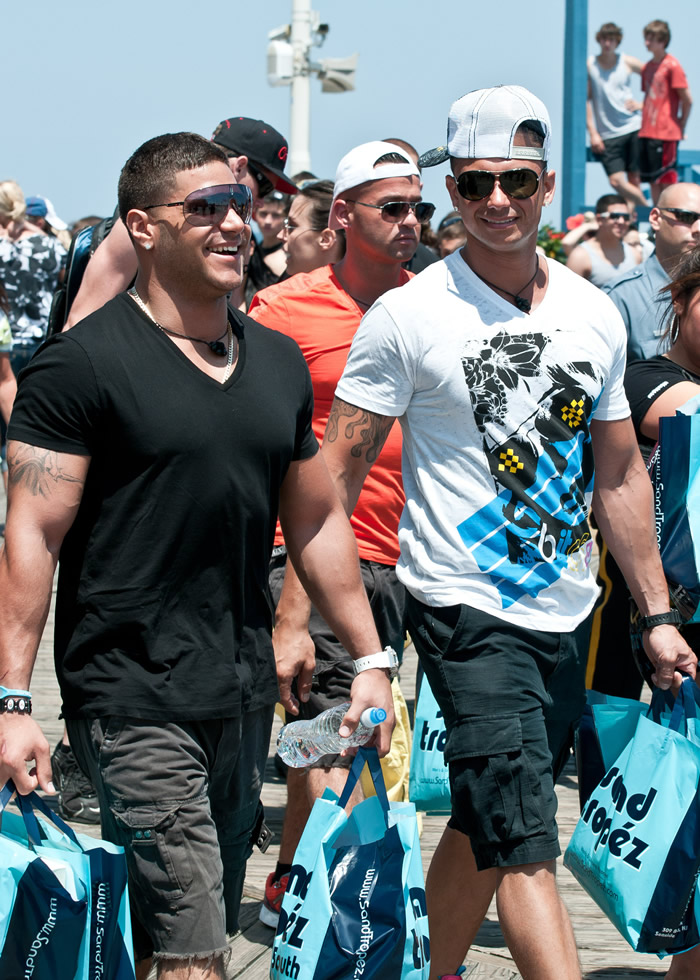 Photos of the "Jersey Shore" boys on 7/1/11 courtesy of WENN