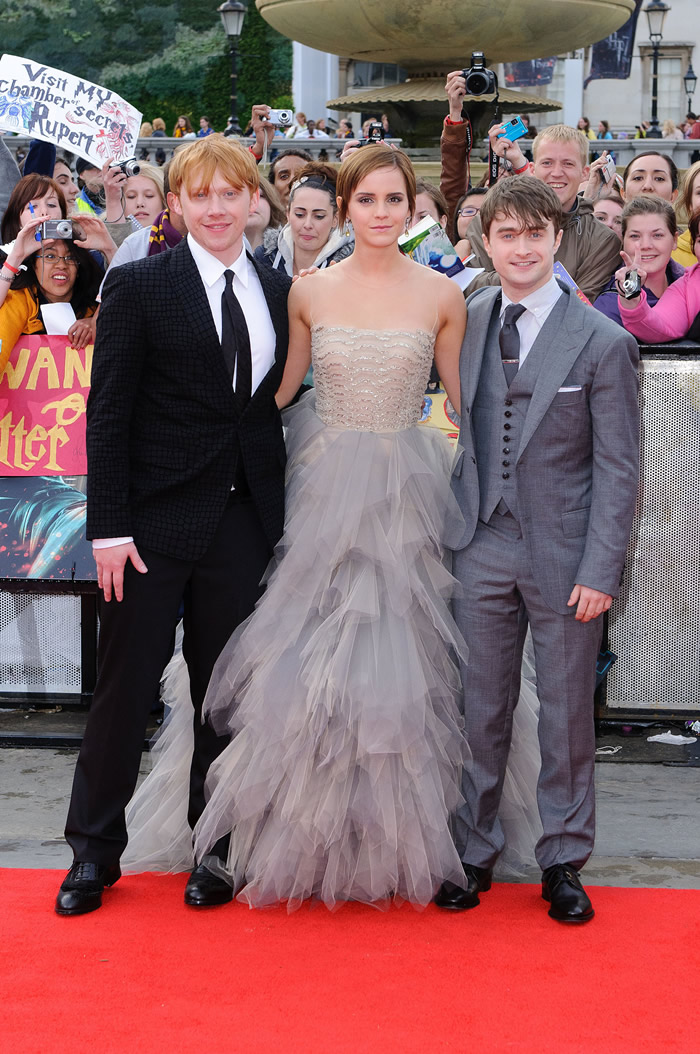 The publicity machine is in full drive for Harry Potter and the Deathly Hallows — Part 2, which comes out this weekend in the U.S., and it's rather bittersweet to witness this last mutual go-round from Daniel Radcliffe, Emma Watson, and Rupert Grint as they embark on the final leg of this decade-long journey. Even though I'm not much of a Potter head myself, it still makes me a bit misty eyed to witness these three actors and good friends as they kick off the last installment of the franchise and, in the process, bid it farewell too. Naturally, I'm going to issue a mild SPOILER ALERT for those of you who are planning to see the movie but haven't yet read the book, but here's a few choice bits from Rupert and Emma in a discussion with Movieline:
Everyone Calls Rupert By His Wizard Name: Not once, but twice, press conference attendees referred to Rupert Grint as "Ron." Thankfully, he didn't seem to mind the slips of the tongue all that much. "I've always felt this close connection to Ron, even before the films," he said. "After ten years, playing the same guy everyday, you naturally just morph into him. We have become this kind of 'Ronpert' kind of thing. I think there will always be a bit of Ron in me for the rest of my life."

Rupert And Emma Did Not Want Kiss Each Other: The big kiss between Ron and Hermione is handled with a deft touch in The Deathly Hallows, something made all the more impressive because of the reluctance of the two stars involved. "I've known Emma so long, we were dreading this scene," Rupert Grint said. "We wanted people to think that we actually wanted to kiss each other, because in reality we really didn't. It's a nice moment, hopefully people believe it."

Does Grint remember anything specific about the kiss? "I find it hard to recall anything about it, I think it's been erased from my mind."

Emma Watson On Getting Noticed Everywhere: Being a main character in one of the biggest film franchises in history has its obvious pluses, but also some minuses. "It was when I was in a shanty town in Bangladesh, and a boy stopped me in the street and said, 'You're the girl from Harry Potter!'" Emma Watson said at the press conference, recalling the strangest place she's ever been recognized. "There's nowhere in the world that I can go — almost, it feels — that isn't somehow touched by this film franchise. It's absolutely amazing. It reaches the farthest corners of the Earth, the least expected places. So, that was a real — I was like, 'Wow, I really can't go anywhere! Wonderful!'"

Watson is able to handle such scrutiny, however, because it's been there most of her life. "I feel fortunate in that I've never really known what it's like to have total freedom and anonymity. It's not as though I had it, and all of a sudden it got taken away from me. It's something I grew up knowing, and there's a process that happened gradually. I've never known anything else. In a way, I guess that's a blessing."
[From Movieline]
Poor Rupert! He appears to have inadvertently likened the aftermath of kissing one of his best friends to PTSD, and Emma seems to agree wholeheartedly as well. Of course, these two undoubtedly dreaded filming that particular scene for quite some time, which made it worse in their own heads than the actual experience could have been all by itself.
Now onto a closely related topic — Emma Watson's own take on the final chapter of Potter and her future. I'm the first to admit that, if I had millions of dollars in the bank and exciting modelling/partying opportunities on the near horizon, I might have decided not to finish college either. Then again, I also wouldn't have made a big deal about the fame circus either as an explanation of why Emma doesn't date that many guys. That's just an embarrassing thing to discuss with a journalist, and I think Emma makes the mistake of attempting to publicly justify things that really need no explanation. Hence my reaction to part of Emma's chat with Hero Complex to promote the final movie. Here are the highlights of this SPOILERISH interview as well:
On Coping With The Final Film's Darker Tone: I felt there was a real change in tone, and it was definitely a big step up in terms of what I had to bring. I didn't prepare particularly differently. A lot more was asked of me than had ever been asked before. It was nice to feel challenged, and I had to step up and engage my brain and really think and put everything into it. I was able to focus on giving a really good performance because I wasn't in school.

On The Challenges Of A Decade-Long Role: I think there was a bunch of stuff I had to do that really pushed me. When Ron was left in my arms, when I was tortured by Bellatrix, a bunch of stunts I had to do. I had to jump off a building onto the back of a dragon, and there were shots that were very technical with lots of running. If I could do that stuff, hopefully I can do anything. It was very good training ground for anything that might get thrown at me. Nothing would shock me now.

On Wearing A Fat Suit For The Last Scene: It was really interesting and challenging. The thing that was hardest was trying to imagine that I had children that I was sending off to school. That was really strange. And it was weird that I was seeing these guys that I'd grown up with suddenly looking old. But it was fun. It felt nice to do that scene, but it really felt as if we had completed that journey fully as we possibly could. We had makeup on. I had, like, a little fat suit that changed my figure a little — it changed the shape of my body a little. And I had a wig and teeth in. It wasn't as scary as I thought it was going to be. I thought it was really going to freak me out.

On Possibly Returning To The Franchise Someday: Never say never. I would just have to see how I felt and where I was at the time. It's really difficult to say.
[From Hero Complex]
Perhaps I shouldn't place so much emphasis on Emma pointing out that she was able to give a marvelous performance in this particular Harry Potter movie because her mind was so unrestrained from academic concerns; but in light of the many times she's discussed leaving school, I cannot help but wonder if Emma's not merely planning to live out the next year modelling and having fun but also looking toward jump-starting a real grown-up acting career too. Emma's IMDb profile reveals that she has two non-Potter films in the can but no future projects in development.
Meanwhile, Emma's still on ongoing publicity duty but was snapped in a candid moment at London's Heathrow airport. I love this peacoat but am not crazy about the rest of the look.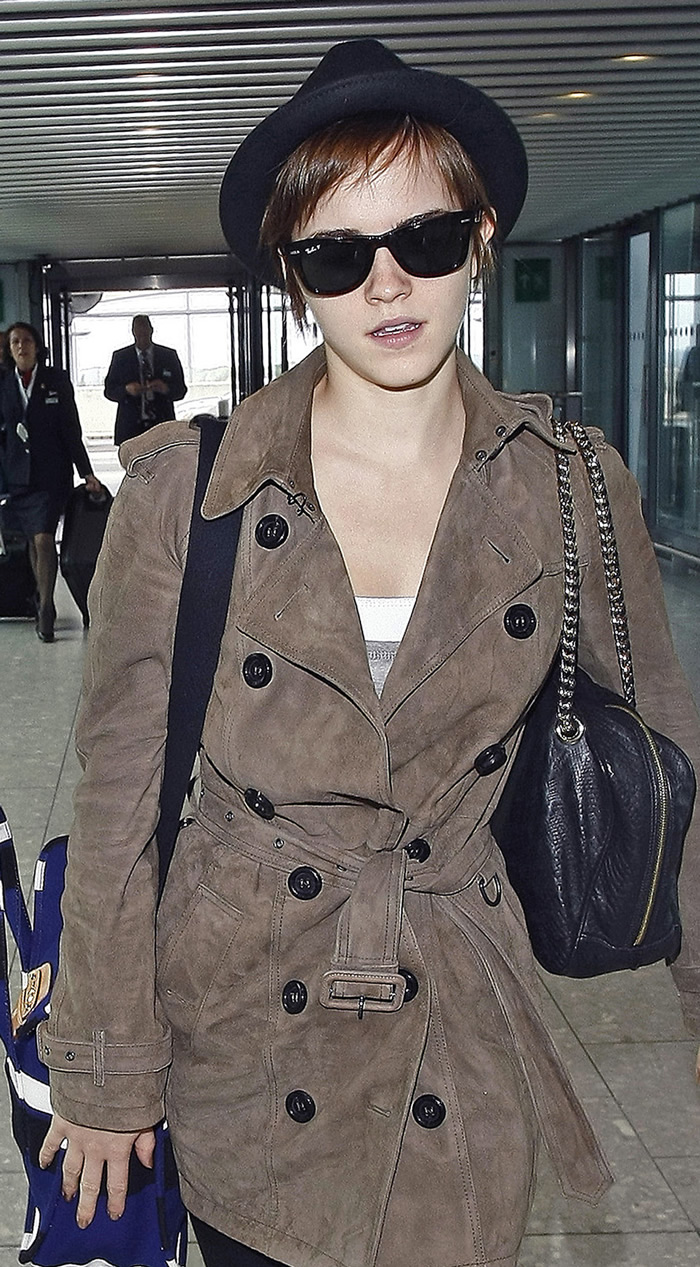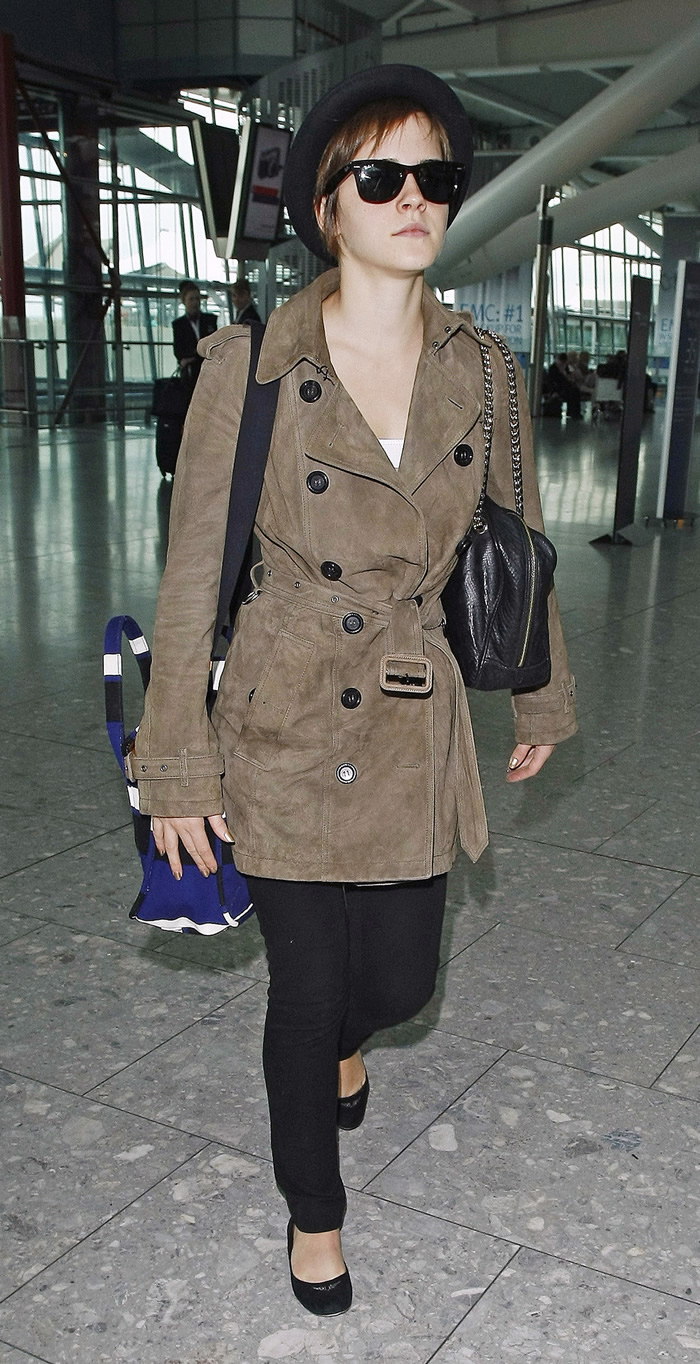 Photos courtesy of WENN