Liz Hurley & cat-faced Shane Warne are loved up & headed to South Africa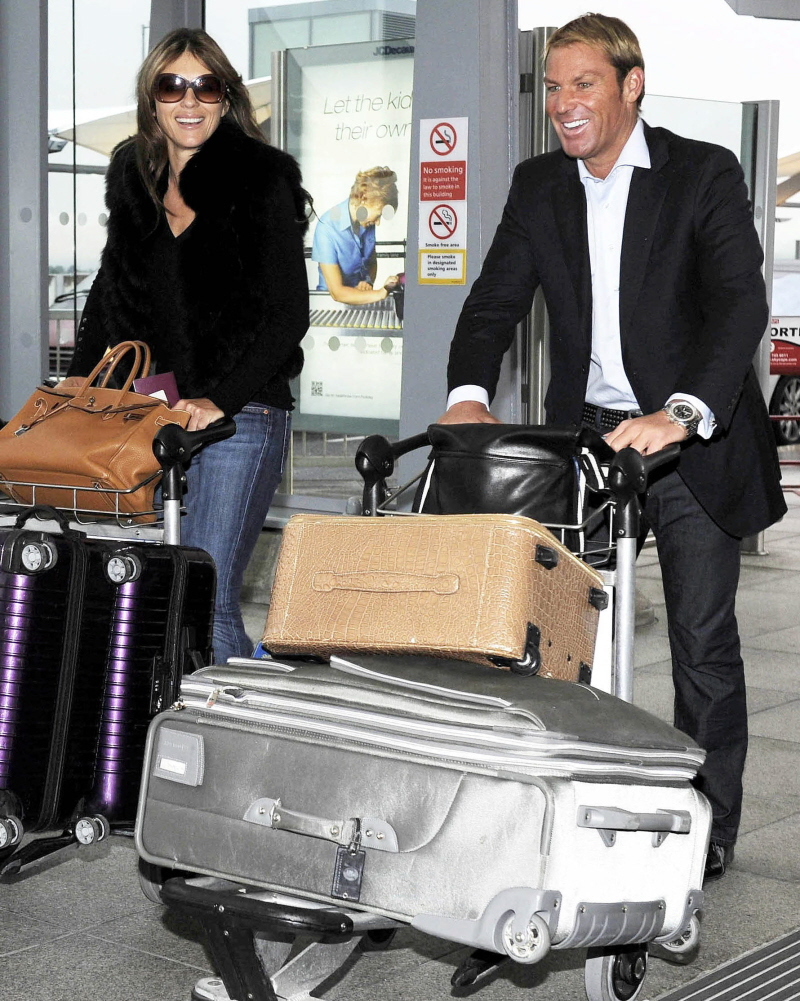 Elizabeth Hurley and Shane Warne are pretty much one of my favorite couples of the moment. They give me the same giggly, punch-drunk feeling that the ScarJo-Sean Penn pairing gave me – it's a combination of "WTF" and kitsch and camp and just pure hilarity. I mean, Liz was married to a nice guy – Arun Nayar – and then she screwed around on Arun with Shane, and then once she officially dumped Arun, Shane became her jumpoff boyfriend. Not content to just let that scandal brew, she took Shane on as a renovation project, putting him on a diet, and presumably forcing him to get a ton of plastic surgery, to the point where he looks… bizarre. And instead of being laughed out of town and/or splitting up, Liz and Shane seem stronger than ever. Liz seems to LIKE the way he looks now, and she even defends his new face on her Twitter. And Shane doesn't seem to be holding a grudge against Liz for the plastic surgery. It's just so… amazing.
So here are new photos of Liz and Shane going through the airport on the way to South Africa, where they will be attending Estee Lauder's Pink Illumination Ball. Look at how many suitcases they have! Liz needs lots of wardrobe choices, I guess. And she probably packed a trunk of suits and tuxedos for Shane too. I bet she gets final say on his wardrobe at this point. Their relationship is just so, so funny. I love them together. I hope they never breakup. LOOK AT HIS FACE. He's so happy to be traveling with his lady. He's so excited! Or maybe that's just the expression Liz demanded be permanently etched on his face.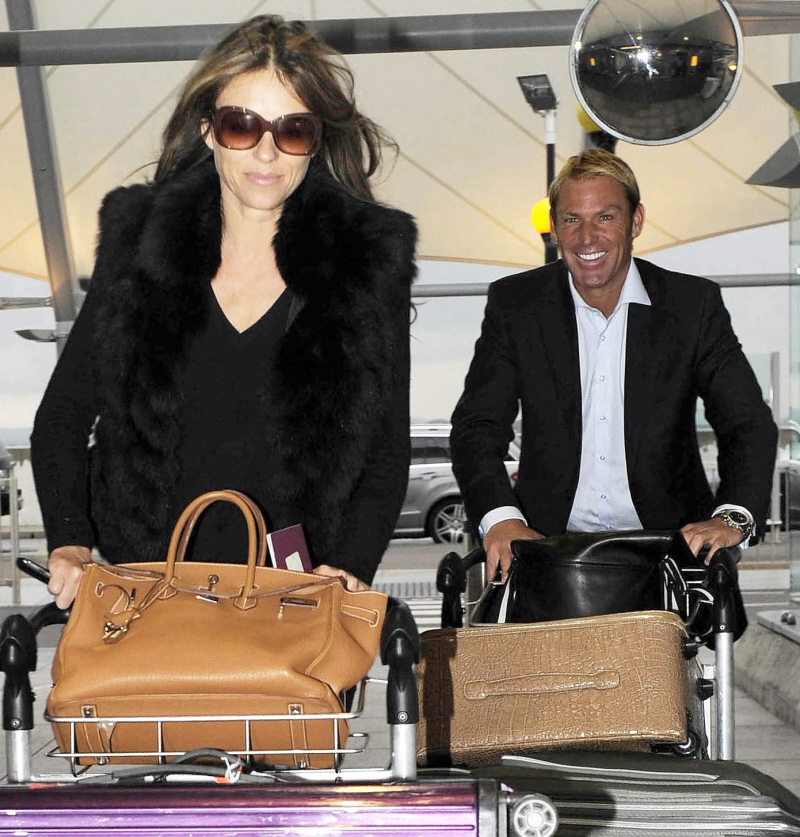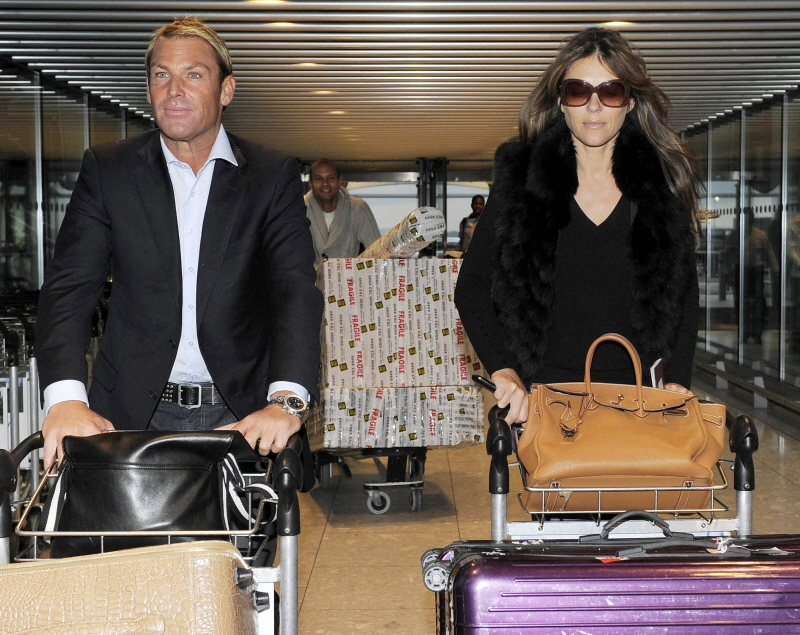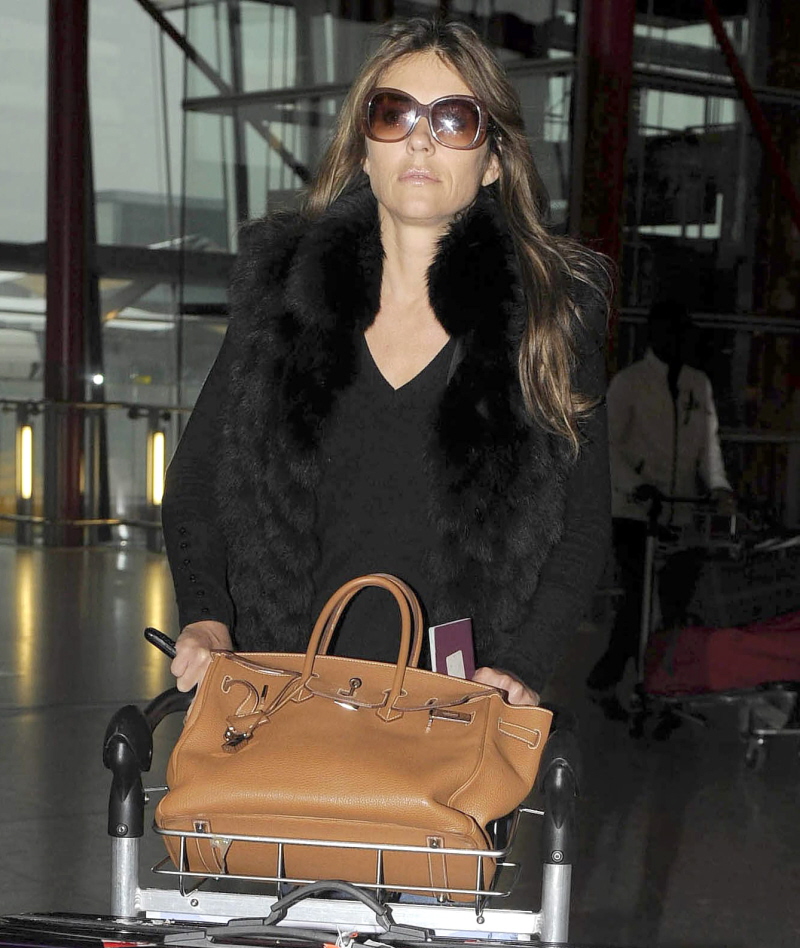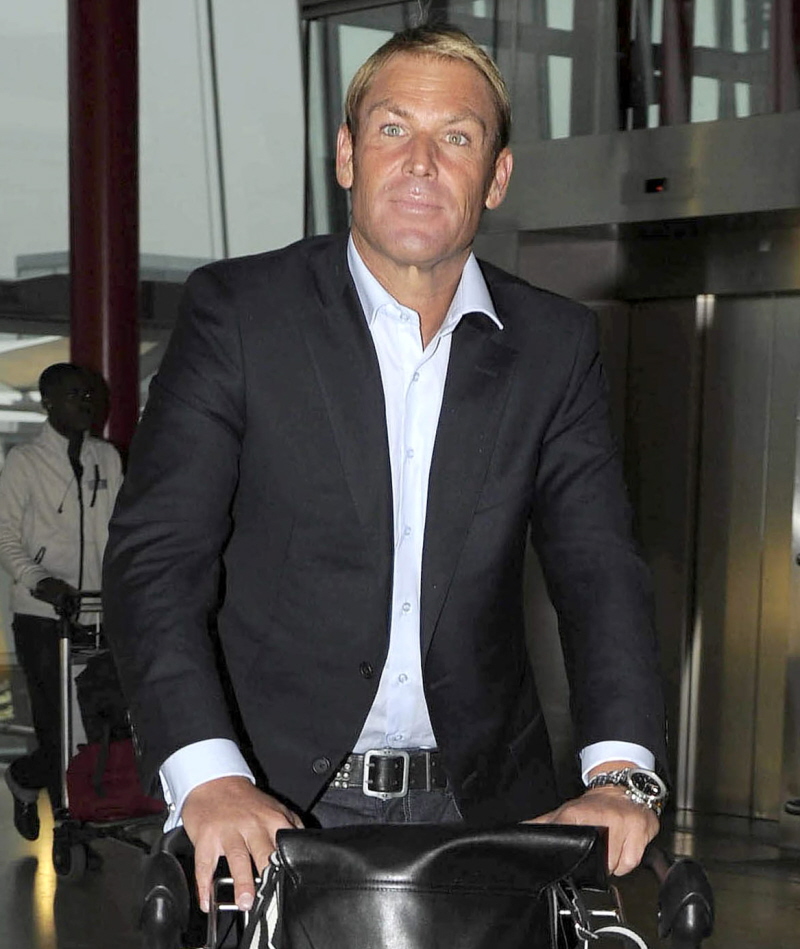 Photos courtesy of Fame.

Written by Kaiser

Posted in Elizabeth Hurley, Shane Warne

- Harry Styles & Kimberly Stewart going strong [Lainey]
- Demi Moore's new man is gross [D-Listed]
- Fug or fab: Emma Stone [Go Fug Yourself]
- Arrest warrant issued for Jenelle Evans [Reality Tea]
- Only God Forgives review [Pajiba]
- Hugh Jackman, scooter master [Buzzfeed]
- Who does Drew Barrymore call her sister? [Evil Beet]
- Cannes couples past and present [Popsugar]
- Arrested Development supercut [CDAN]
- Lea Michele's see through skirt [Celebslam]
- Cheating wife's lover escapes out of window [Movin925]
- Joe Francis is crazy [Starcasm]
78 Responses to "Liz Hurley & cat-faced Shane Warne are loved up & headed to South Africa"