Did Jesse James & Kat Von D split because he cheated on her?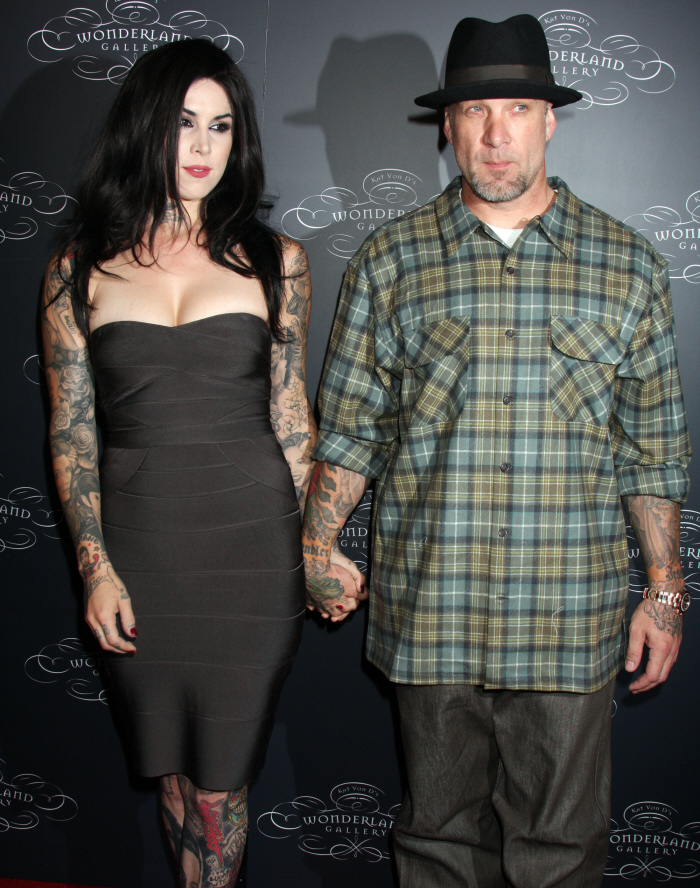 CB mentioned this in yesterday's post, but I thought it was worth another story. Radar has an exclusive report from an eyewitness who claims that he/she saw Jesse James and Kat Von D fighting… about another woman. Shocking, I know. But considering Kat's hissy fit and public "woe is me" act yesterday and today, I'm getting the feeling that another "Jesse James is a womanizing douche" storm is about to erupt. Let's face it – Kat Von D will never "pull a Bullock" and keep her mouth shut and encourage people to move on. Kat is going to milk whatever this is for as long as she can:
Jesse James and Kat Von D ended their engagement on Monday, and RadarOnline.com has exclusively learned the details of their blowout fight and the other woman that led to their breakup.

According to an eyewitness, Jesse and Kat had a verbal argument outside of her Los Angeles, Calif. home Monday afternoon about another woman before Kat finally told him to leave.

"They were outside and I could hear them fighting. Kat kept throwing some woman's name out and arguing about how she didn't like him living so far away," the source exclusively told RadarOnline.com.

"Jesse finally said, 'Fine, f**k you!' and sped away on his motorcycle. Kat sat in her Bentley with her head on the steering wheel for about three minutes before finally driving away."

As RadarOnline.com was first to report, Kat announced her split from Jesse on her Twitter account saying, "I am no longer w Jesse, and out of respect for him, his family and myself, thats all the info I'd like to share. Thanks for respecting that."

"It was clear from the tone of the conversation that Kat was accusing Jesse of something with this other woman," the eyewitness said.

"So it didn't surprise me when I heard they'd broken up."

Once a cheater, always a cheater? Jesse was caught being unfaithful with numerous women while married to Sandra Bullock, leading to their divorce on June 28, 2010. Just two months later Jesse was dating Kat and they became engaged on January 20, 2011, before calling it off seven months later on July 25, 2011.
[From Radar]
The problem, for Kat, is that no one really gives a crap if Jesse cheated on HER. We cared about Sandra Bullock because we were invested in her good-girl image. Plus, I think most people saw this coming, right? Jesse cheats on whoever he's with. He's That Guy. So… yeah, I'll believe this. I can't wait to hear more.
By the way, my theory is still that Jesse and Kat were done weeks ago – back in mid-June, there were some reports about their time apart, and their tweets seemed to indicate that they were in the midst of a breakup. If my theory is true and they were done more than a month ago, why announce it now? Is it just to promote Kat's show or whatever?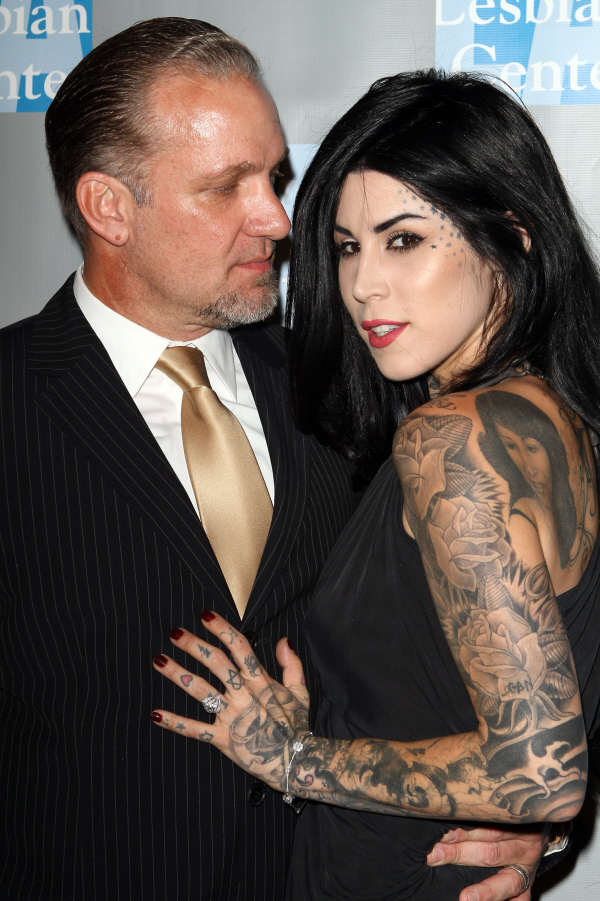 Photos courtesy of WENN.

Written by Kaiser

Posted in Jesse James, Kat Von D

- Harry Styles & Kimberly Stewart going strong [Lainey]
- Demi Moore's new man is gross [D-Listed]
- Fug or fab: Emma Stone [Go Fug Yourself]
- Arrest warrant issued for Jenelle Evans [Reality Tea]
- Only God Forgives review [Pajiba]
- Hugh Jackman, scooter master [Buzzfeed]
- Who does Drew Barrymore call her sister? [Evil Beet]
- Cannes couples past and present [Popsugar]
- Arrested Development supercut [CDAN]
- Lea Michele's see through skirt [Celebslam]
- Cheating wife's lover escapes out of window [Movin925]
- Joe Francis is crazy [Starcasm]
49 Responses to "Did Jesse James & Kat Von D split because he cheated on her?"