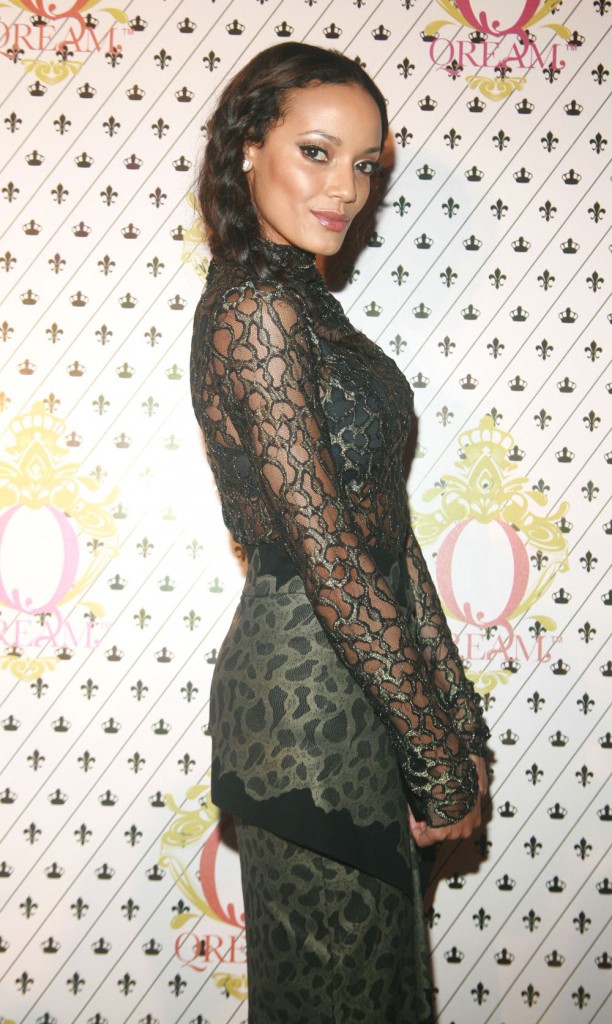 I've never heard an interview with model Selita Ebanks before. I know she was Kanye West's muse for a while (and she still might be), I know she's hooked up with some high profile guys including Gerard Butler (maybe), and Nick Cannon and I know her fashion is usually a miss. But other than that I don't really know much about her, except that she has a banging figure and is gorgeous. Well Popeater's Rob Shuter has a new interview with her, and all I could think after watching it was "what a bitch." She doesn't bother to be gracious at all when she volunteers that kissing Diddy (for Hawaii 5-O) wasn't that great. Then when Shuter asks her about kissing Nick Cannon and if he had a nice d*ck she just says "eh" like she's trying to be funny but really just can't be bothered giving a diplomatic response. Here's a link to the video.
So is that rude or was she just trying to be funny? If Shuter had asked first how it was to kiss Diddy and she said "eh" like that, I think it would be fine. As it is she just wants it to be known that it wasn't tolerable to have to kiss him for a scene. Have you ever heard an actor or actress say that? Usually they either compliment the person or say that it was awkward because of the cameras, they don't put down their co-star. Maybe Diddy hit on her though or was a jerk to her or something. As for an ex, wouldn't you say "no comment" or "it was nice while it lasted" or something? It just seems bitchy.
It turns out that Selita sounds even worse in the extended interview. The title of this article is: "Selita Ebanks Talks Nick Cannon's Tiny Male 'Talent,'" but they don't back it up with any quotes where she says anything like that. I don't think she actually called Nick's member small and it seems like the title for the article is based on her saying "eh" over and over again. The rest of the stuff she's quoted as saying sounds snotty.
Selita Ebanks Talks Nick Cannon's Tiny Male 'Talent'
Mariah Carey isn't known for keeping secrets but one thing she has managed to keep under wraps are the intimate details of her husband's privates — until now. Supermodel Selita Ebanks, who was engaged to the "America's Got Talent" host in 2007, visited my HDNet talk show "Naughty But Nice Rob" and told all.

"I mean I technically wore a ring but I don't think I was really engaged," Ebanks tells me of her relationship with Cannon. "I want a Prince. I want Prince Harry. Do you think the queen would accept me?"

And as far as kissing she gives Cannon a "meh" but was less enthusiastic about his other, most private asset giving it an even less passionate "meh."

Ebanks, who is now one of the top earning models in the industry, says she knew she was beautiful at just 6 years old. Sitting in front of her mother's vanity and catching a glimpse of herself she said, "Oh, I could make some money," and boy was she right. Now she's making millions, modeling Victoria Secret's signature Angel wings — which she says protect her.

"Well if you're an angel those other bitches don't mess with you," Ebanks dishes. "Behind the scenes you do hear snide remarks. I've heard girls literally talk about another girl in her face, and literally if she had claws she would be minced meat."

And although she says she doesn't judge other people, she does has some advice for larger ladies.

"Listen, I love voluptuous women, what bothers me is when they wear spandex. Don't wear spandex ladies if you are over size 16. Just because it comes in your size does not mean it's for you. As women we can wear whatever we want, be sexy but just know the difference, everything has a time and place."
[From Huffington Post]
Well, I guess I know I don't like her now. Nice that she's so concerned about how larger women look in spandex. Selita just wants to help people, she's not at all like those models she mentioned who snark on and attack each other.
(Note: The newest photo of Selita is the one above where she went back to her dark hair color. She looks ridiculous with this two tone hair, below.)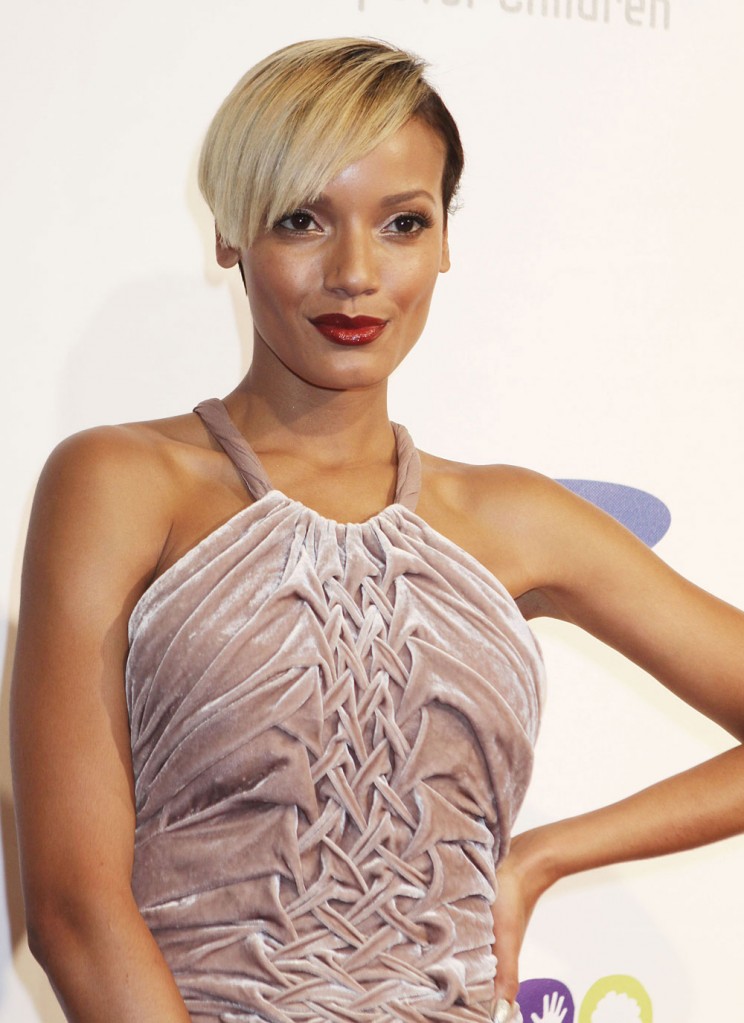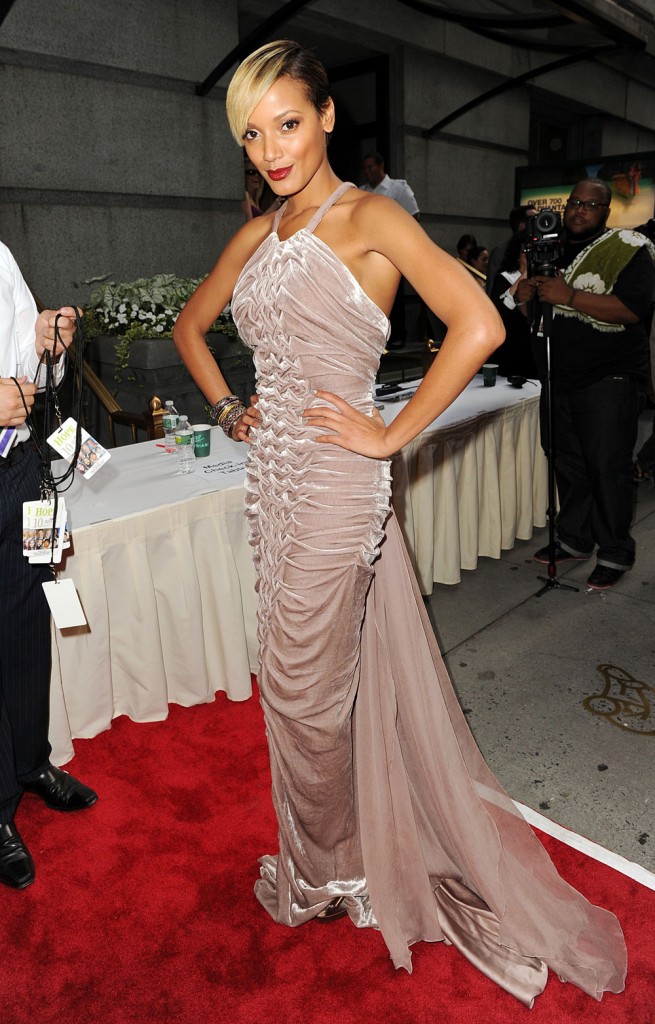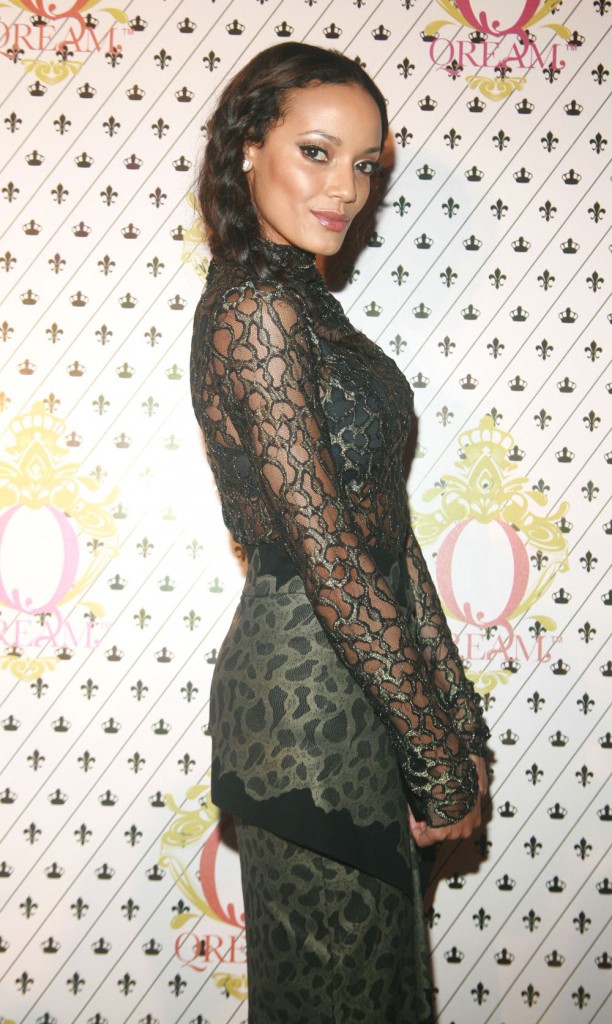 photo credit: Diane Cohen and Juan Rico/Fame Pictures