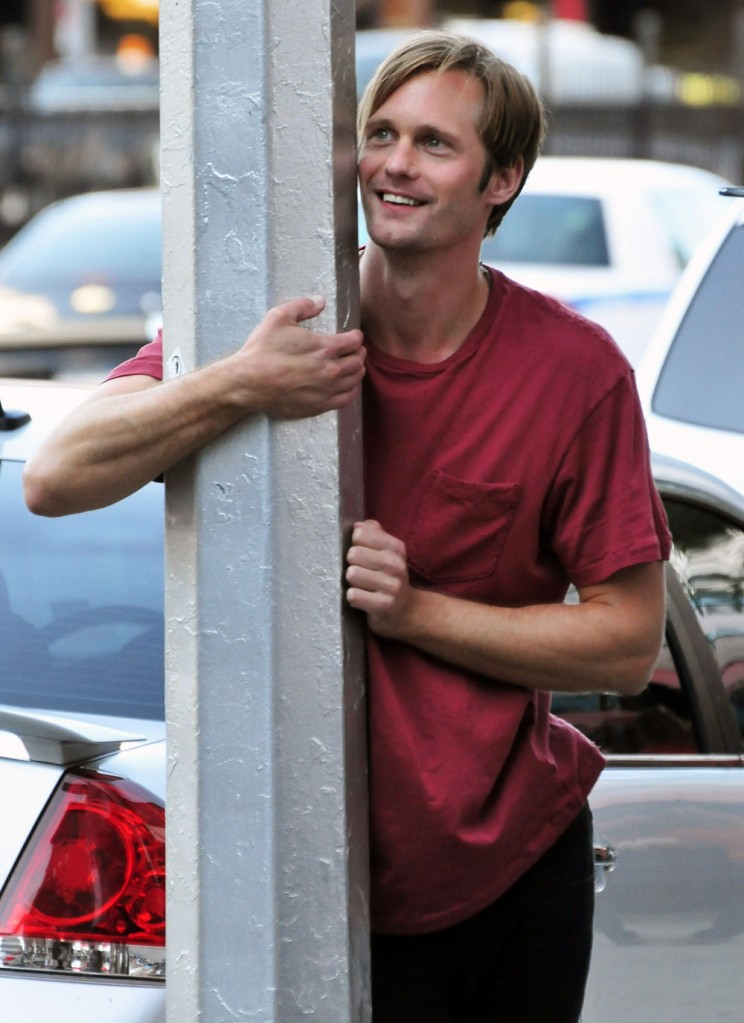 When Alex Skarsgard is out and about, he's usually dressed in clingy black and grey t-shirts and working the hell out of a pair of jeans. He has a casual uniform, and it really works for him, so it's cute to see him dressed in character in this dorky loose red pocked T with some skinny jeans and Chucks. Alex is in New York city filming What Maisie Knew, where he plays the stepfather to a little girl caught in a custody battle between her parents, played by Julianne Moore and Steve Coogan. We've already seen some photos of him looking very engaged with his child co-stars in the film, and here he is playing what looks like a game of hide and seek. I would assume that they're just filming his part and will add in scenes from his little co-star later. Either that or his character is interacting with someone who is watching from a window nearby. He's just adorable and I love his facial expresssions.
Spoilers for past True Bloods
As we've seen on True Blood, Alex is a talented actor. I like him when he's being compelled by the witches and I think he's convincing as both conniving ruthless Eric and hapless "hold me" Eric. Many of you disagree and want powerful Eric back. True Blood is getting very good in my opinion. I'm not even as annoyed by all the side plotlines as I used to be. I actually loved the way they wrapped up that issue with Arlene's baby (mostly because the guy who plays Lafayette, Nelsan Ellis, is also an incredible actor) and find the werewolf stuff promising. I absolutely love Jessica and Jason together, and only wish that scene with them in the pickup would have last much longer. They're way hotter together than Sookie and Eric. In terms of what I'm not enjoying, that Sookie threesome dream was pretty stupid. Ball does way too many dream sequences, and I remember finding the dream sequences in Six Feet Under to be asinine as well. There are only three more episodes of True Blood left this season, but we can be assured that there will be more to come since the show been renewed.
In terms of Alex's other projects, that dumb-looking movie he did with his gratefully now ex-girlfriend, Kate Bosworth, Straw Dogs, is coming out on September 16th. Everyone will be watching to see how Kate and Alex handle the press circuit and red carpet. There's some controversy over the fact that Alex's character is being billed as sexy in the promotion for the film. Here's a link to a story that explains why.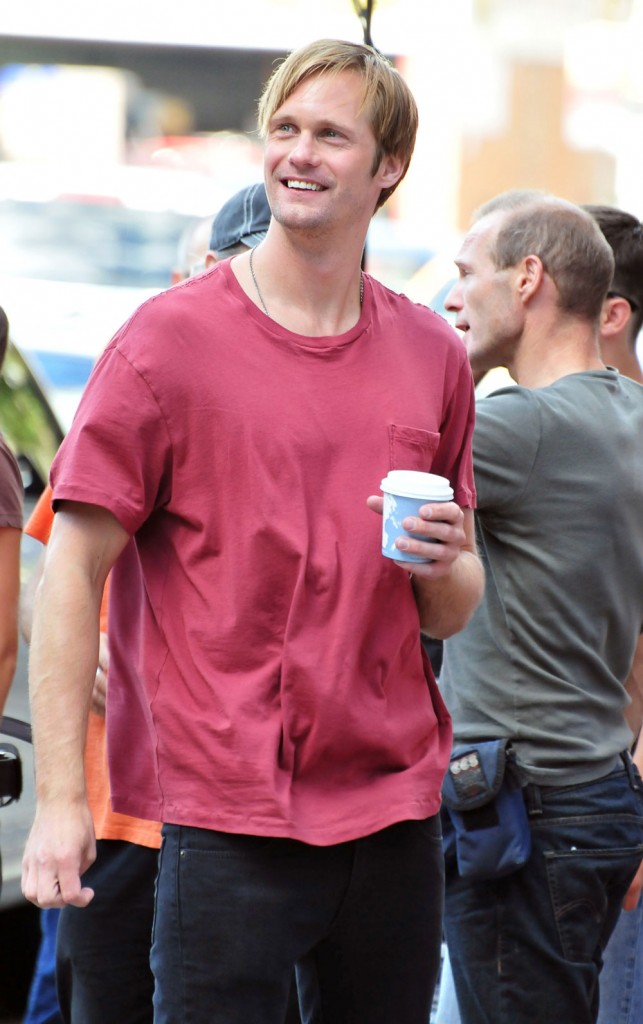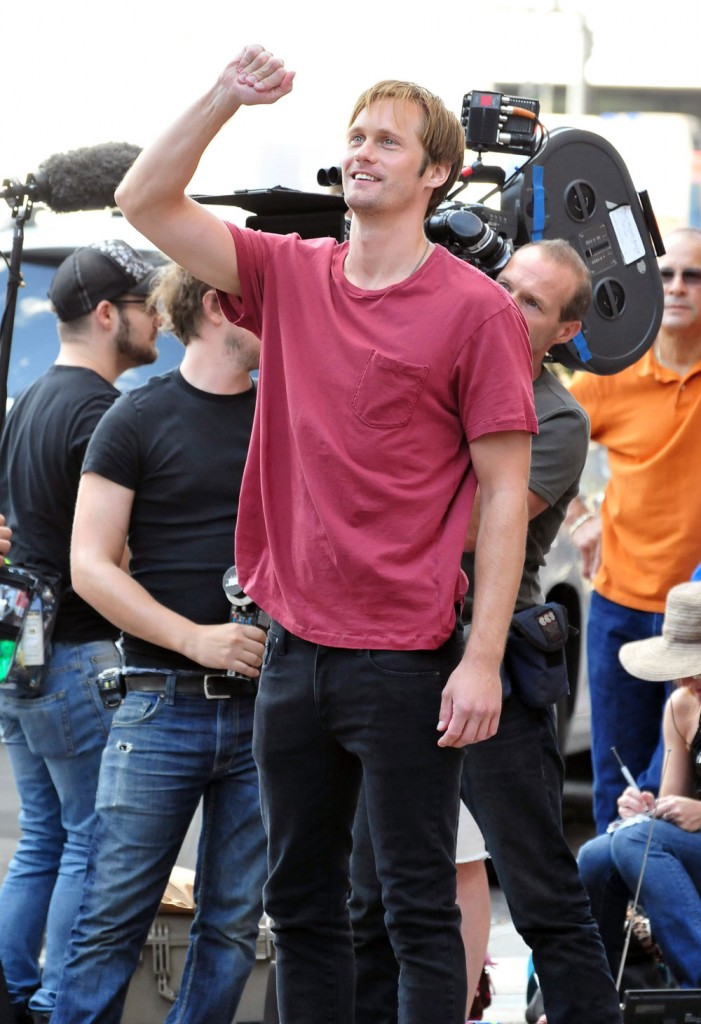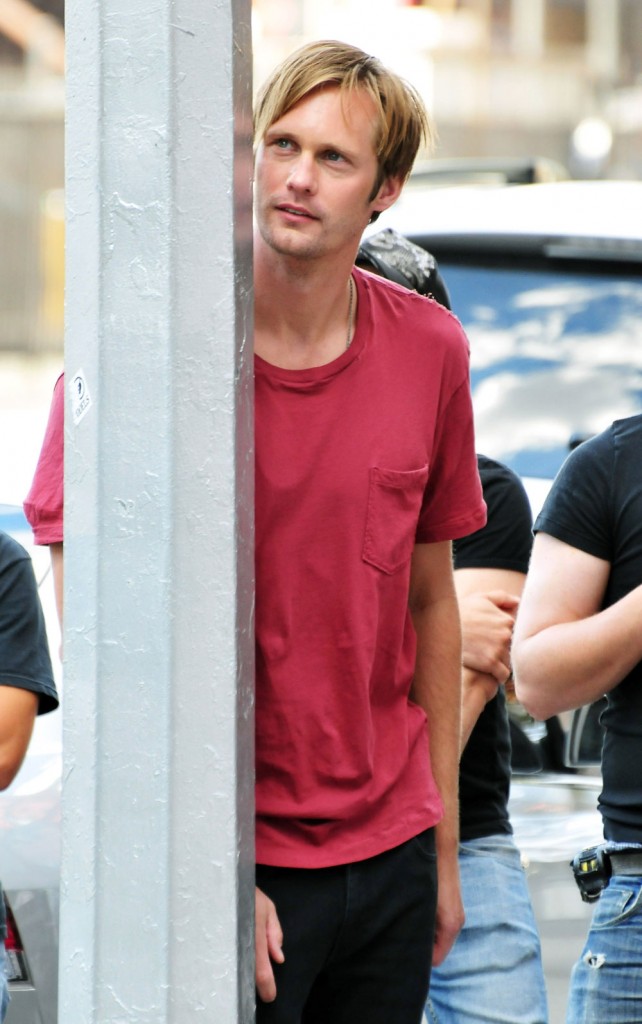 photo credit: Girlie/Fame Pictures