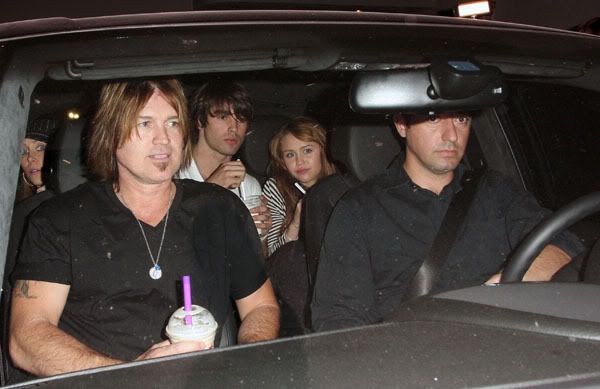 Miley and Justin out getting shakes with her family on 10/14/08. Credit: Bauergriffin
Yesterday we published photos of Miley Cyrus' supposedly sober 20 year-old boyfriend, Justin Gaston, partying it up with some guy friends in a half shirt and shirtless. He looked drunk, and you would hope he was to be acting like that, but he was only seen with a glass of Mountain Dew and supposedly doesn't drink. Maybe he's just high on all the hormones and stupidity coursing through his young veins.
This week's National Enquirer says that Justin is over Miley's house that she shares with her family several nights out of the week and is practically living there. The 15 year-old is allowed to have her older model boyfriend in her room, but the two are supposed to keep the door open. As if they don't sneak into each other's rooms in the middle of the night:
The boyfriend of 15 year-old Miley Cyrus has moved in with her, the Enquirer has learned.

Miley's dad Billy Ray approves of the shocking living arrangement because he thinks Miley's beau, 20 year-old Justin Gaston, is a great match for his superstar daughter, say sources close to the family.

But don't worry, Billy Ray hasn't lost his mind – he keeps a close eye on his daughter, and she's not allowed to close the door to her bedroom when Justin is with her.

"Justin is the guy Miley's parents see her settling down with a few years down the line," an insider told the Enquirer.

"He's handsome, talented, clean-living, goes to church and knows his Bible – a real catch…"

Justin is also keeping an apartment, but has spent most nights in the Cyrus house.
[From The National Enquirer, print edition, November 3, 2008]
That's just a recipe for disaster right there. 15 year-old kids know how to sneak around their house so they don't make noise and you can bet these two are visiting each other in the middle of the night. How stupid can Billy Ray Cyrus be? The Enquirer also says that Billy Ray is the one who met Justin first and that he was so impressed with the kid he introduced him to Miley.
There's another story in Star, which likes to stretch the truth to the breaking point, that Miley wants her own apartment for her 16th birthday next month. That's probably not true, and if Miley has her older boyfriend right at home with her she doesn't have to go through the trouble of convincing her parents to let her move out.
Miley played coy when asked by Ryan Seacrest on his radio show about Justin. She said "He's been a really great friend. There's a lot going on, everyone started judging us as soon as we started hanging out. I've learned not to judge and just go into our friendship with an open mind and not worry about the age and everything. Our families are like, whatever happens happens, no matter what he's a great friend."
Maybe their families are a tad too laid back about it. When a 20 year-old is involved with a 15 year-old some kind of judging can often help avoid future problems.