Olivia Munn defends herself: "You can be pretty, smart and funny!"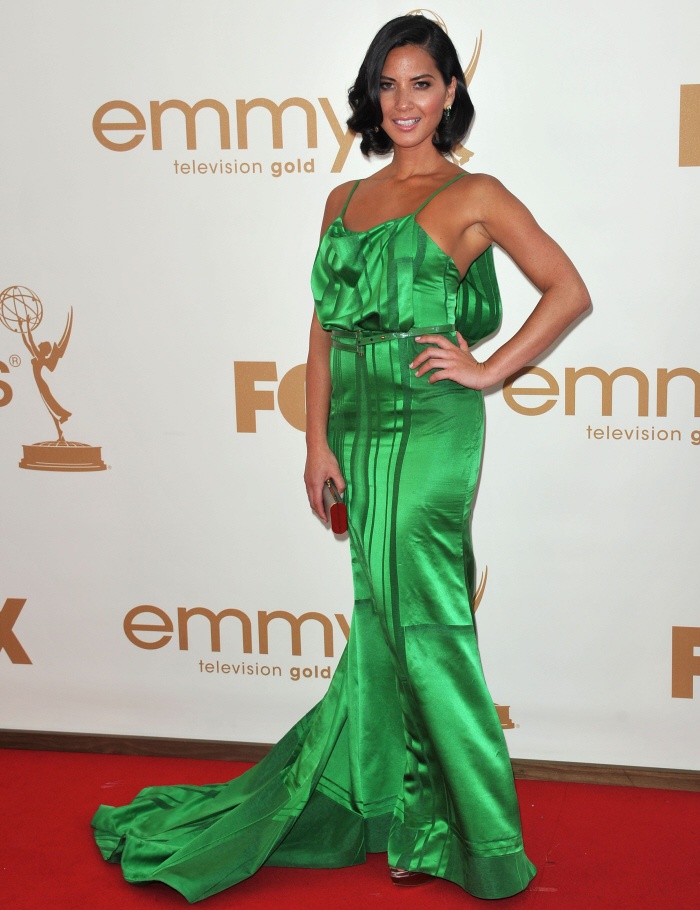 These are photos of Olivia Munn at the Emmys (in green) and at a pre-Emmy party (in purple). The green is particularly bad, right? I feel like the dress isn't cut properly, it's much too neon and "LOOK AT ME!" and then there's the problem with Olivia's skin. She's half-Asian, right? And her normal skin color is probably a pale mocha, a light olive complexion. So why does she consistently fake-bake until her skin looks radioactive orange? Fake-bake fail.
Anyway, remember all of the controversy last year when Olivia was hired as a Daily Show "correspondent" and suddenly Jezebel was all "Dude, The Daily Show is sexist for hiring 'the hot girl who takes off her clothes' rather than a genuinely funny comedienne"? And Tina Fey stepped up and claimed that women would like and support Olivia if she wasn't hot, to which I said, "Really?" If Olivia wasn't "hot" no one would pay attention to her because she wouldn't exist as a celebrity, the way that unattractive, untalented, annoying famewhores are generally ignored. Being "hot" is all she has going for her, because she certainly isn't funny. Anyway, Olivia has a new interview in Deadline where she discusses all of the stuff that's gone down in the past few years. The full piece is here, and here are some highlights:
On Attack of the Show: "You know how people go on and do something and they want to be somewhere else? I didn't want to be somewhere else. I wanted to be at G4, doing what I was doing, and also be able to pursue acting and other creative outlets. I just wanted to make some other dreams come true. But I treated the audience like they were my friends, and I pushed the limit with my jokes, but I trusted the audience to be smart enough to know that I was joking and to pick up on what I was saying and what my intention was in telling that kind of joke in that particular moment. So whenever I did those things, it was with 100 percent dedication where the intention was to get a laugh. The only thing I look for when I'm doing something is, if I can make the camera guy laugh, or make the stage manager or the people who have been there all day long and they've heard it all and they're super tired — if I can make that person laugh during a scene, that's when I know I'm doing a good job."

How she ended up on The Daily Show: "I never auditioned for The Daily Show. I was on an NBC show at the time, but Jon [Stewart] had just seen something of mine from G4 on TV and thought I had a sense of humor and delivery and whatever it was he thought would fit in with The Daily Show. I brought my same enthusiasm and dedication and follow-through that I did on G4 and then to other projects. But it's not a traditional package, which is why I think it was hard for people in the beginning."

Her reaction to the backlash: "They said, 'Oh, she's the Maxim cover girl,' which I get. But I'm just like, I'm sorry — you can put yourself in a box, I just refuse to let you put me in one, too. My thing is, forget what my background is. They're trying to reduce it to, 'You can't be on the cover of Maxim and you can't be pretty and also be smart and funny. You're only getting by on your looks.' Tina Fey, who had her book come out recently and they did a 30 Rock episode about my hiring at The Daily Show, and she defends me on her book tour and says if I was overweight and had a mustache on the cover of Maxim, everybody [would be] saying, you go girl! But when I do it… I am who I am and I'm embracing everything that I am, and I'm not going to put on a turtleneck and hide away if I want to be smart and funny. You can be all of those things."

She thinks she's not being criticized anymore: "When that happened, [the critics] had pretty much no comment after The Daily Show put out a statement and rallied together behind Jon and behind me. My real question is, are you telling me that you're smart, funny, and ugly? Because clearly you can't be pretty, right? I'm guessing that whoever's criticizing me, you're saying that you're smart and funny but you can't be all of them. And then they're like, 'Well, you're using that.' No, I'm just being who I am and I'm actually comfortable with my sexuality, and if you put on a push-up bra or put on lip gloss, do not criticize me at all. Because who are you wearing those things for? Unless you're at home by yourself with your significant other. Who are you out in the world doing that for, who are you trying to impress? So people can not like me, that's fine. People can not think I'm funny, that's fine. But when you're trying to make a statement for women in general — I'm like, you know what? You don't speak for a lot of women I know, and you don't speak for me. It's just you and your narrow minded friends that can all have this opinion. At least preface it with that. Like, 'Hi — me and my friends are really narrow-minded and we don't like Olivia.' Great. But don't speak on behalf of all women.
[From Movieline]
Was anyone saying that women can't be funny, smart and pretty all at once? No, we weren't. That's just a hacky straw man argument. We were saying that Olivia Munn is not pretty, smart and funny all at once. Sure, she's "hot". But she's also absolutely terrible and unfunny on The Daily Show, and I don't really think she's that bright, honestly. Anyone who sleeps with Justin Timberlake and then leaks details of the affair, all while he's dating Jessica Biel… that's not "smart". My point? Olivia kind of sucks as a celebrity, and I look forward to seeing her continue to branch out in failed television shows and movie flops. Anything that keeps her off of The Daily Show.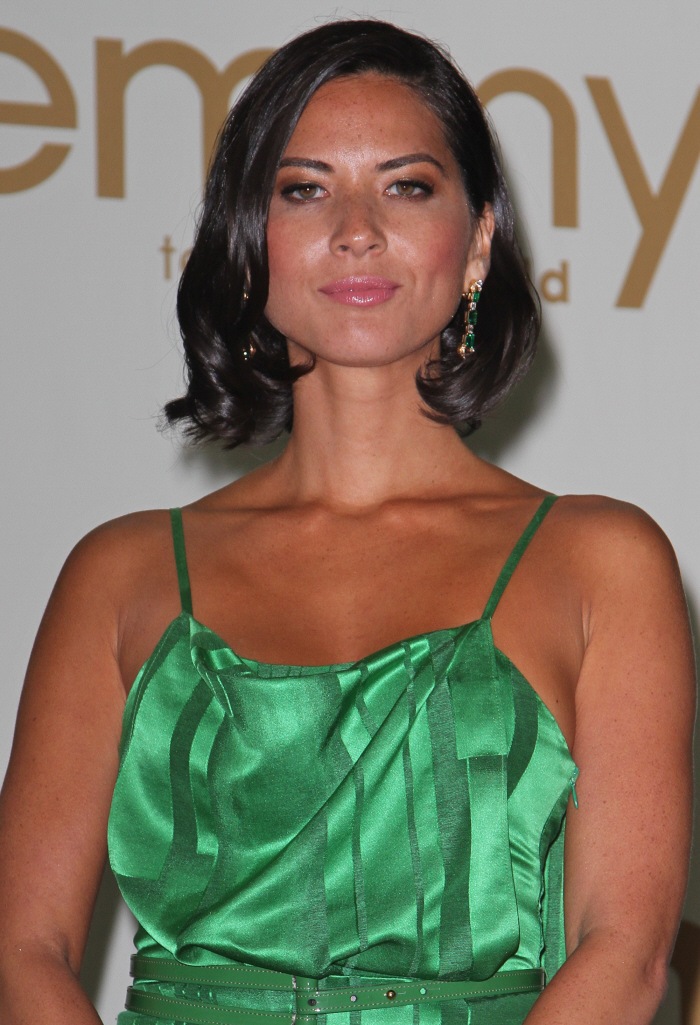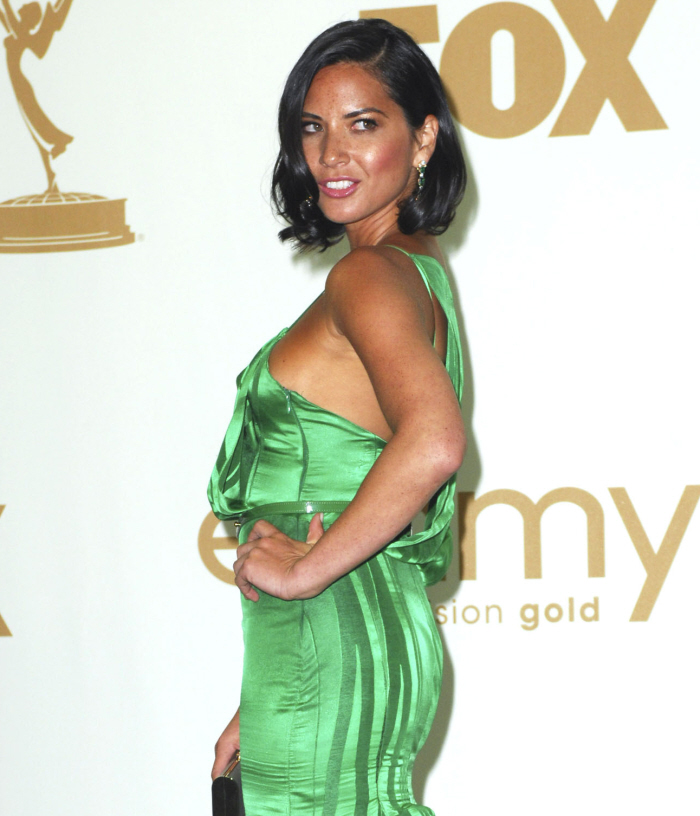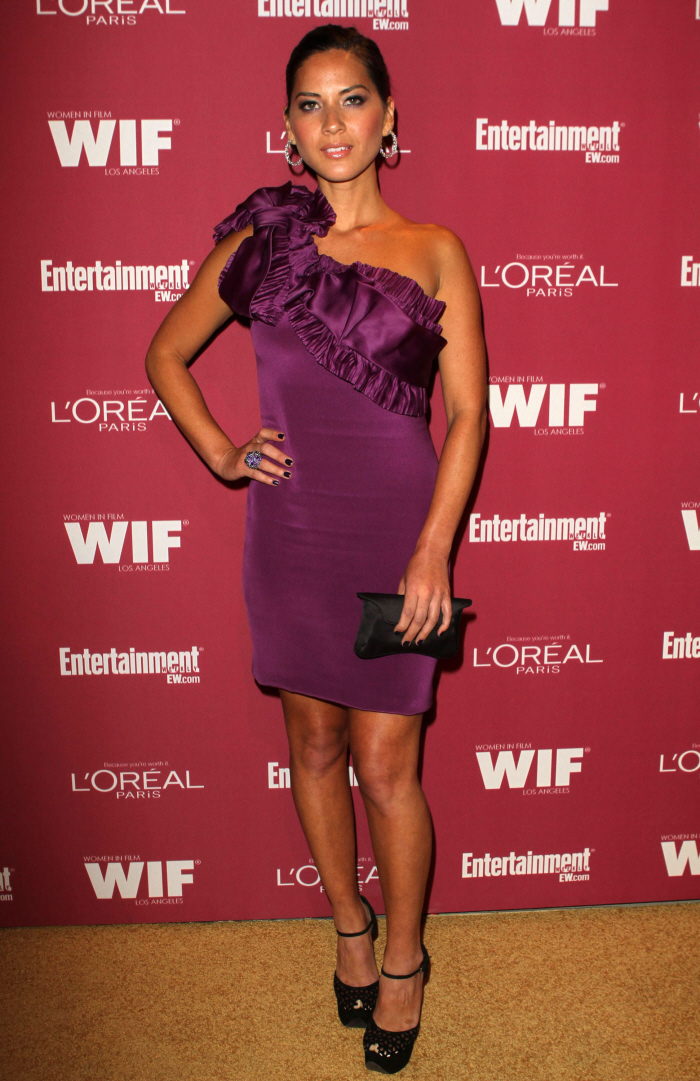 Photos courtesy of WENN.

Written by Kaiser

Posted in Olivia Munn

- Friends reunion on Ellen [Popsugar]
- Lindsey Vonn watches Tigers kids [Lainey Gossip]
- George Michael fell out of a car going 70mph [D-Listed]
- Real Housewives of Orange County recap [Reality Tea]
- New Man of Steel trailer [Pajiba]
- Jared Padalecki's hot bod [Buzzfeed]
- Doctors confirm Taylor Swift's new boobs [Evil Beet]
- Catherine Zeta-Jones finished treatment [CDAN]
- Anna Paquin hates the paps [Celebslam]
- Lance Armstrong is gross [The Blemish]
- What is Barbara Palvin wearing? [Moe Jackson]
- This is Petra Nemcova? [SVC]
78 Responses to "Olivia Munn defends herself: "You can be pretty, smart and funny!""