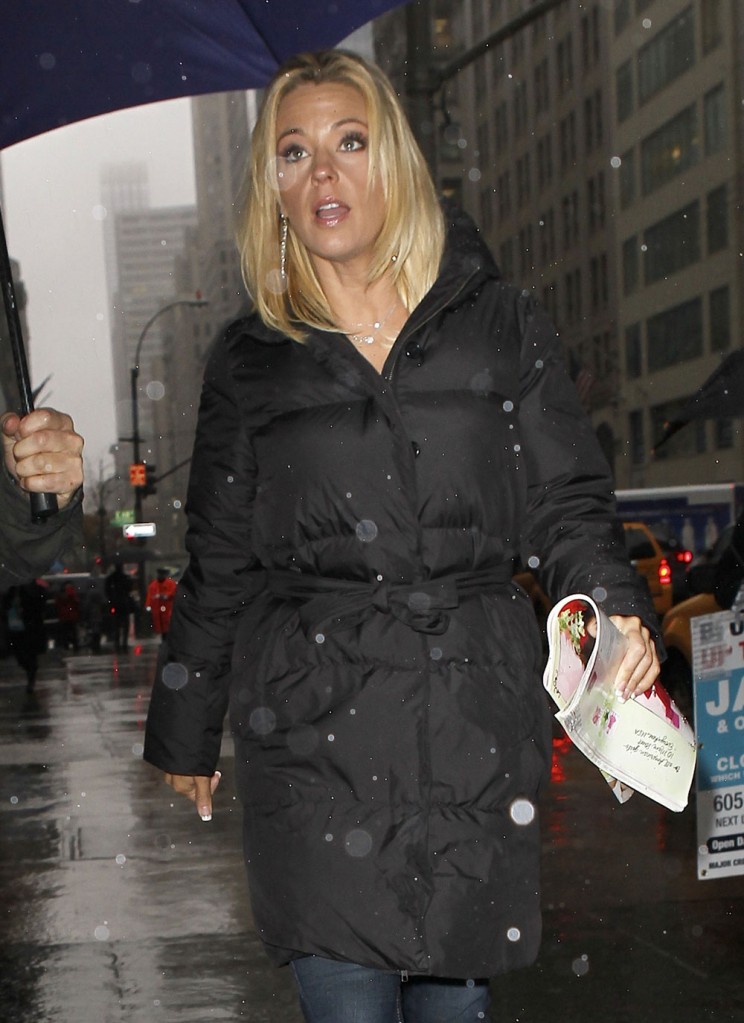 We've heard that Kate Gosselin was pitching a dating show after TLC cancelled her long-running family reality show, and that she's so overextended she's worried that she'll "end up on welfare." Kate has been on a form of welfare for the past six years, and is dependent on the public's good will to keep making obscene money for all expenses paid trips with her kids. Since she's managed to squander all of that with her attitude of entitlement, she's now scrambling to keep the cash and fame flowing. In an interview on the Today Show earlier this month, Kate confirmed that she hopes to stay on television. "I think at this point the best opportunity for all of us would be me continuing in TV as a way to provide for my kids." She also put down her ex husband Jon Gosselin's 9-5 job installing solar panels. "It's a situation where Jon may be accepting of mediocre for his kids and working a regular job and I want the best for my kids and the best opportunities, not unlike every parent." So, according to Kate, most of us live "mediocre" lives by working regular jobs to support our families. Given Kate's opinion, I'll take this opportunity to mock her for being unable to land a "non-mediocre" cush job on television ever again.
Although Kate Gosselin told me she would do whatever she had to in order to support her children following the cancellation of her fame-making show, the mom of eight is finding out that it's easier said than done. Gosselin, who told me that her first choice would be to stay in television, isn't getting the job response she had hoped for.

"She has approached many different networks, including pitching a travel show idea to her old network, TLC, but so far no one has said yes," an insider tells me. "She assumed that given her fame, producers and networks would be knocking her over with job offers and is, to say the least, very surprised that she hasn't received a single one."

TLC officially confirmed that "Kate Plus 8″ had been cancelled after its ratings continued to drop and the show became more and more expensive to produce when they added traveling the globe to the series. At the time, Gosselin told me she had never earned the amount of money people assumed she was receiving and made it very clear that she wasn't set for life.

"Like many reality stars Kate is in a very difficult position," a reality show casting director tells me. "Who wants to go back to a real day job after being paid to work three or four months a year. Everyone I have ever met on a reality show thinks it will never end. They quit their day jobs and assume they will become rich and famous. They do become infamous [but] — with the exception of Bethenny Frankel — they never become rich. Plus, who is going to hire them for a real job after they have made a fool out of themselves on TV?"
[From The Huffington Post]
Kate is going the way of Spencer Pratt and Heidi Montag, except she's old enough to have no excuse for not planning for this, and for assuming that the public would continue to support her outlandish lifestyle.
Does reality television help create these type of narcissistic famewhores, or are these just the people who are drawn to reality television? Kate has surely changed over the years due to her television show, but it's not like she would have been a nice, normal person without the cameras. She would have confined her nastiness to her family and community, and she would have had to make due with less resources. It looks like that's about to happen for her anyway, and she's going into it kicking and screaming.
Kate tweeted a response to this story, as reported on Radar, and wrote "NOT 1 stitch of truth in radar article, once again… & radar u can't even report my website properly! It's: kateplusmy8.com."
These photos are from 12/1/10. Credit: Fame