Henry Cavill explains lack of Superman underwear, was once called "Fat Cavill"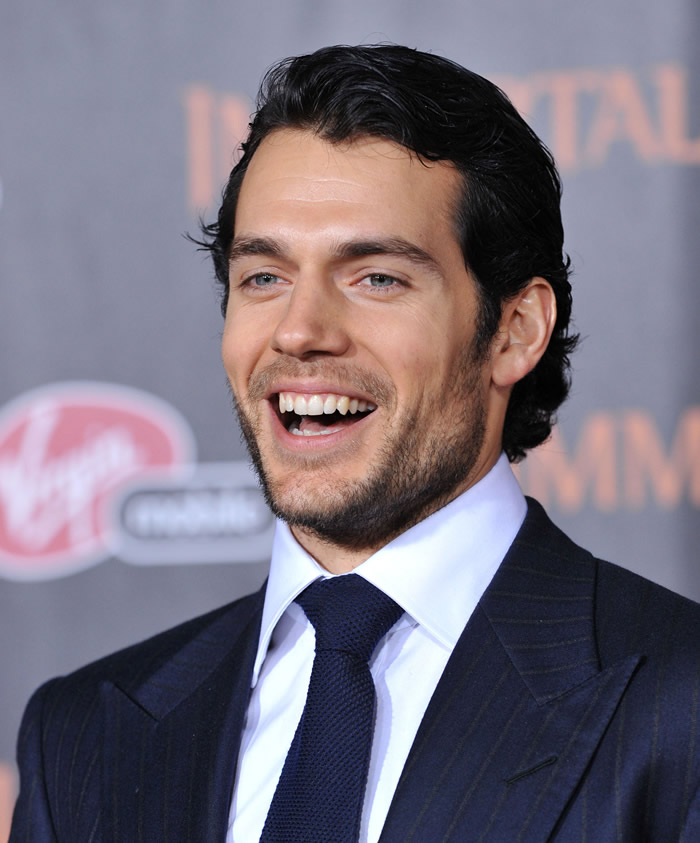 Kaiser already covered Freida Pinto at the Los Angeles premiere of The Immortals, and here's some delicious Henry Cavill for good measure. Admittedly, his hair is a bit too longish here, but it's a hell of a lot better than it looked for his recent Men's Health interview, during which he informed us all that those Superman abs are all natural and not some fake CGI business.
Here are some highlights from Cavill's appearance on Leno last night, where the saucy Brit speaks of a childhood encounter with Russell Crowe, who of course plays Superman's father in the upcoming movie. At one point, Cavill admits that he was edged out of the James Bond role by Daniel Craig and acknowledges that Stephenie Meyer "apparently was very keen on me playing Edward" in Twilight but that, ultimately, he was too old for the role Can you imagine the Cavill Sparkler? Also, check out Ellen Barkin during this interview — she totally wanted to forget her current 26-year-old hot piece and ride that:
On Bullying At Boarding School: "I was a chubby kid in school. 'Fat Cavill' was the nickname."

On Superman's New Outfit: "Why wear underpants when you can be far more revealing?"
Incidentally, here's a very blurry shot of the Superman crotch of which we are speaking. Indeed, the filmmakers have scrapped the red underwear. Thank goodness!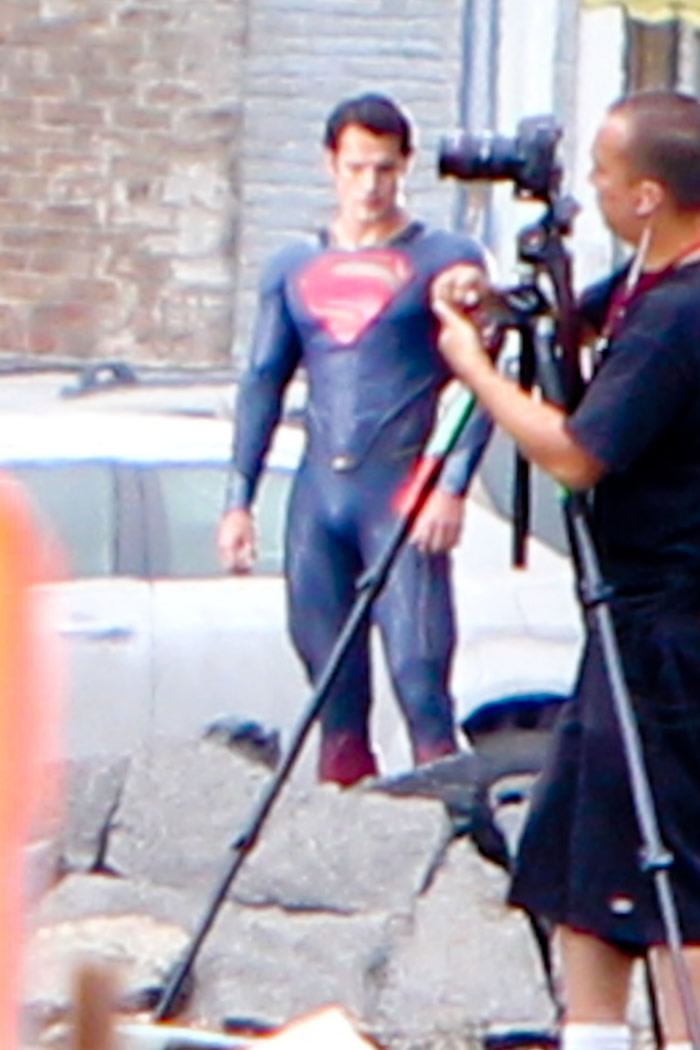 Since we're already on the subject, Cavill also recently talked with Collider; and although I'm skipping the portions about The Immortals (because seriously, who cares?), Cavill dishes about his experiences on Man of Steel:
As A Child, He Dressed Up As Superman "I think all of my brothers did at some stage. I've even got photos of my little nephews in Superman outfits. Apparently, they went to school when I first heard the news. One of them was wearing a little Superman outfit and the teacher sort of told them off and then spoke to my sister-in-law after, saying, 'I don't know what's going on with the boys. I don't know what you've been telling them. They've been lying to me, because they're telling me that their uncle is Superman and frankly it's ridiculous.' Which brought my sister-in-law out there and she said, 'Actually, it's not ridiculous; he is [Superman]. So you've got to let them wear their little outfits. Thank you very much.' [laughs]"

On His Response To Landing The Superman Role: "My smile was absolutely enormous. I was trying very, very hard to play it cool on the phone with Zack Snyder when he called me. I thought, 'Okay, play it cool. Not too cool, obviously. But, play it cool.' As soon as I hung up, I was leaping up and down and running up and down the stairs and roaring and shouting, and then trying to call everyone. No one picked up their phones believe it or not! Apart from my assistant. I eventually got through. I was trying to tell the news to everyone and no one was answering their phones!"

On How He Mentally Prepared As Superman: "I avoided watching anything which was someone else's interpretation of the source material. I didn't go back to the movies and watch them. I didn't go back to the TV series and watch them. I didn't want to take that and have that influence my interpretation and my performance of the character. Where the character truly belongs and where the character truly comes from is not from the movies or the TV shows; it's from the comic books. So I went straight to the comic books and had stacks of them and just read and read and read and read and read. I enjoyed so much learning about the character in such a dense manner. The comic books were my source of material' the TV shows and movies were someone else's interpretation and so I left that to them."
[From Collider]
C'mon, what little boy hasn't dressed up as Superman? And yet Cavill's parents can actually see their boy grow up to play the role. He seems really humble too — at least, so far. Hopefully, his ego won't outpace his soon-to-be exponential career growth.
Here's more of Henry with Luke Evans at the Immortals 3D premiere. Ugh, it's showing in 3D? Between that and the Kellan Lutzy Poseidon, that pretty much says it all about this movie: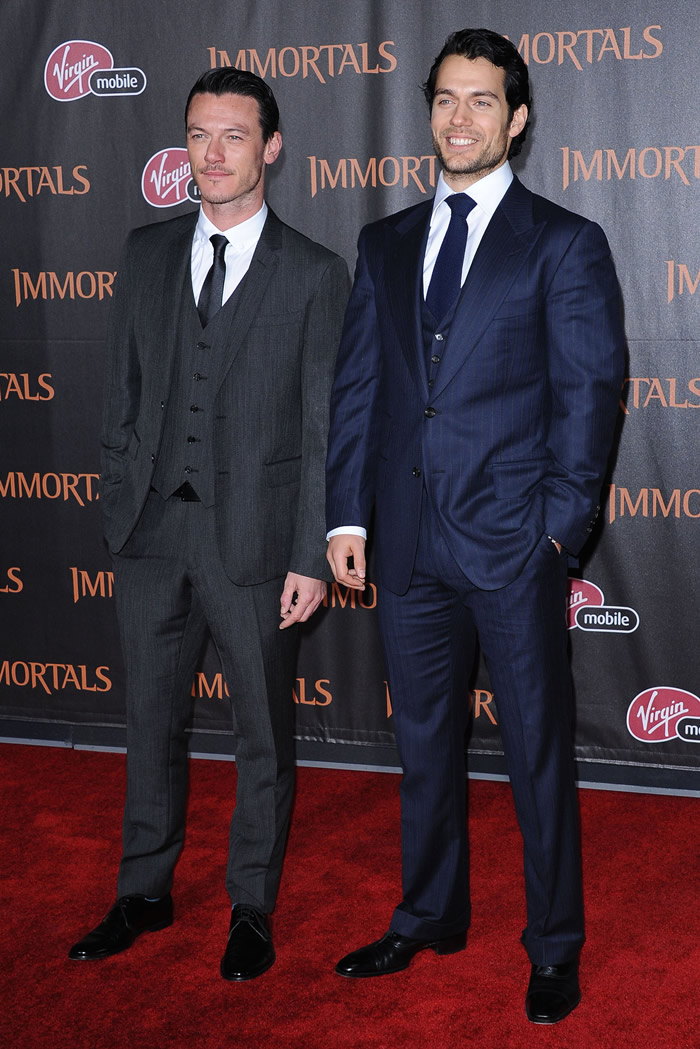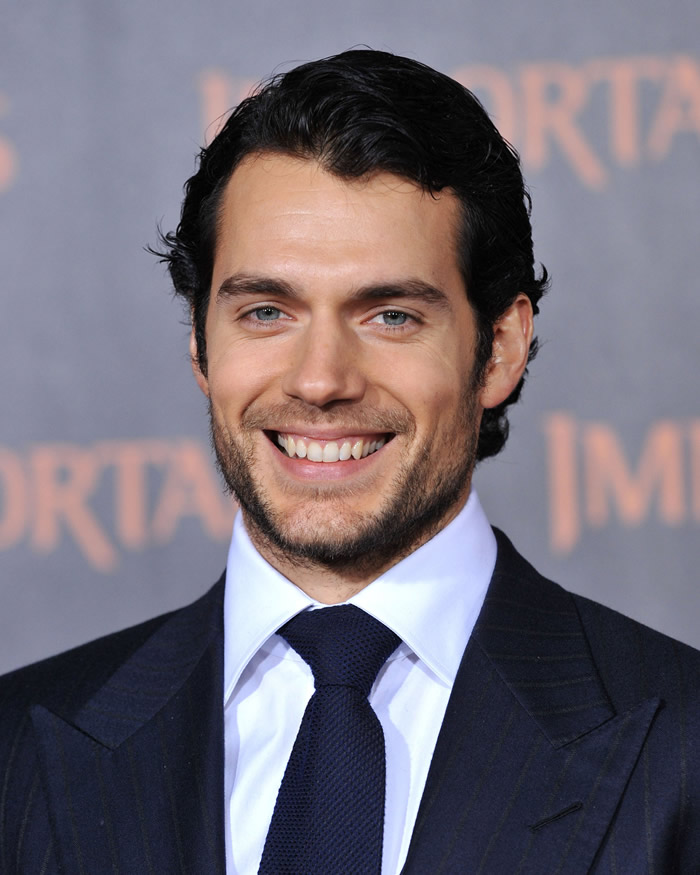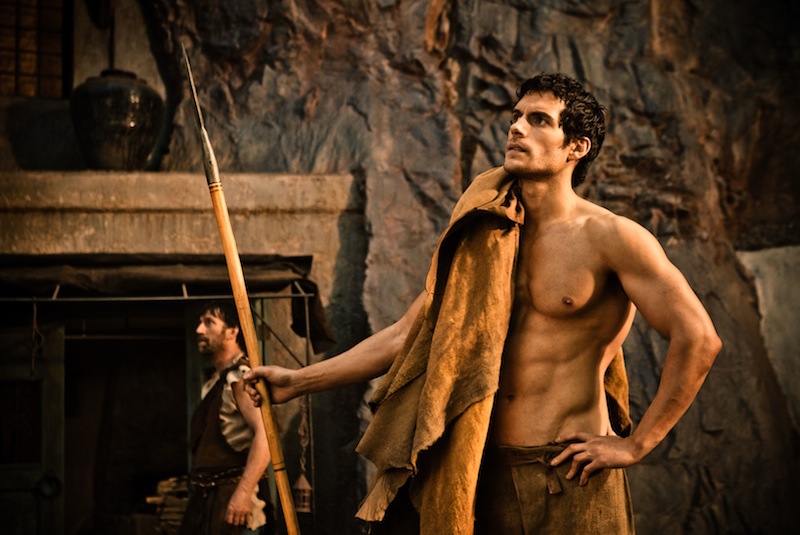 Photos courtesy of WENN, Fame, and AllMoviePhoto
Written by Bedhead

Posted in Ellen Barkin, Henry Cavill

- Who butchered the National Anthem? [D-Listed]
- Rob Lowe never ages [Lainey Gossip]
- What is Vanessa Hudgens wearing? [Go Fug Yourself]
- Summer guide to reality TV [Reality Tea]
- Game of Thrones recap [Pajiba]
- Tan Mom's music video [Buzzfeed]
- Amanda Knox is broke [Starcasm]
- Backstage at the Billboard Awards [Popsugar]
- Miley is still stuck in the 90s [Popoholic]
- Blind Items revealed: Adam Levine [CDAN]
- Hugh Hefner bought Crystal Harris a house [Celebslam]
- What happened to Aimee Teegarden? [The Blemish]
36 Responses to "Henry Cavill explains lack of Superman underwear, was once called "Fat Cavill""