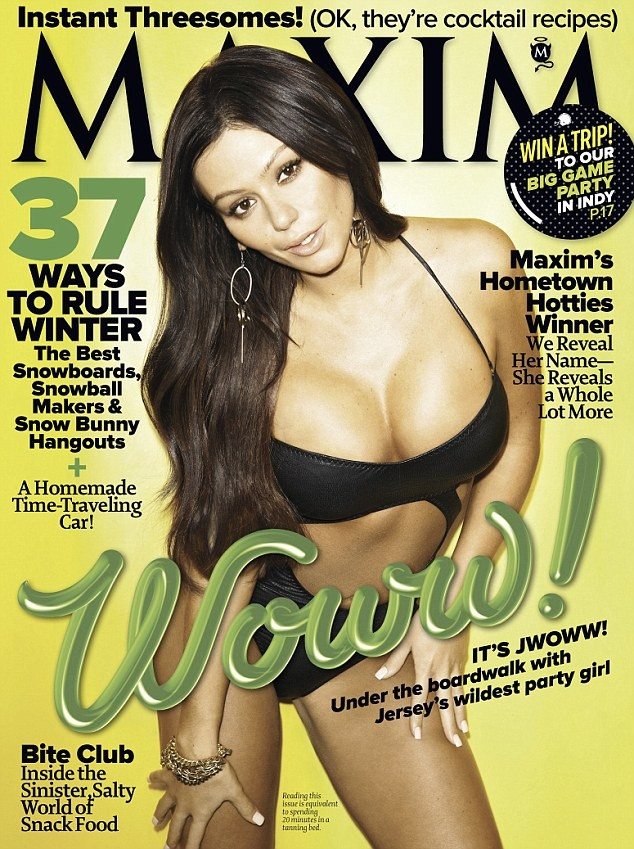 Jenni "J-Woww" Farley and her fake rack cover the January issue of Maxim. Remember though, J-Woww still insists that she hasn't had any plastic surgery on her face, and I mostly believe her, but she's probably had some fillers and doesn't really consider that to be surgery. As a laddie magazine, Maxim took their usual cheesecake route with the photoshoot but also made a vain attempt at an interview. J-Woww describes the isolation that she and the "Jersey Shore" cast felt in Italy and also describes herself as a bitch, which is funny because she's really not:
On Her First Maxim Cover: "I cried when I found out. I was jumping up and down and totally bugging out. This is probably my highest accomplishment. This is the most fun I've ever had on a shoot, because it was 'Jersey Shore' meets sexy Maxim. That's what I loved about it."

On Season 4 Isolation In Italia: "It was insane. As everyone got to see, it was very dramatic. I'm glad we're going back to the Shore now, because Italy was hard. We definitely had to rely on each other, which made our relationships stronger, but also made us more sick of each other. Temperatures were running high. People were fighting. Heads were hitting walls. Even rewatching it is pretty intense! It's very emotional, and I was there and lived it. But we're fine now, and that's the best thing about us. We watch it together and laugh at what we went through."

On Tanning In Italy: "It was whack! There was no tanning situation. I opened JWoww's Tanning Salon and was spraying everyone myself just to get by. When we got back to Jersey, we kind of OD'd on the tanning. We all burned our asses off pretty bad."

On Season 5 Drama: "A lot of the drama that came from Italy has to get finished. So you'll see that. We're back at the T-shirt store and living in the same house. We appreciate it more because Italy was so different. We jumped in headfirst."

On The Post-Season 2 J-Woww: "I was in a bad relationship during the first two seasons, so I took that out on people I shouldn't have. I was definitely more of a bitch."
[From Maxim]
As expected, there's not much substance in the interview because the primary goal was to get J-Woww in some provocative poses in a Seaside, carnival-like atmosphere. I keep thinking that the girl is better than this, but maybe I'm wrong. After all, J-Woww arrived at "Jersey Shore" with her implants in full force, and she fully embraces the party vibe even while falling into chaperone "mom" mode for her fellow castmates: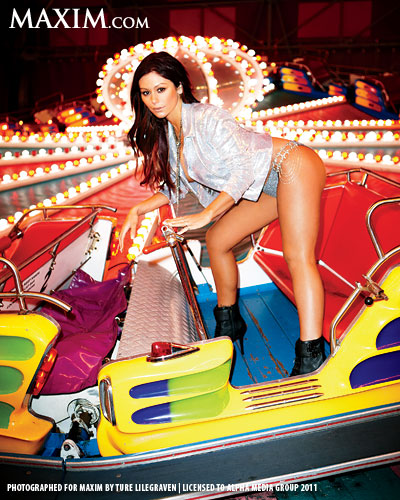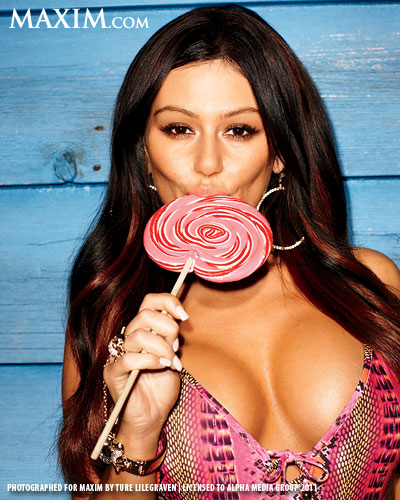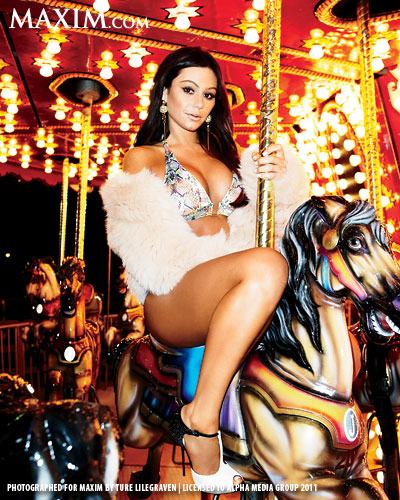 Still, J-Woww is correct about Season 4 taking the cast out of their usual element. Maybe it really was a lack of tanning that sent them into a tailspin and caused major loss of mojo. Luckily, the "Jersey Shore" Season 5 trailer has premiered and promises a return to the craziness for which the show is known and includes Mike "The Situation" Sorrentino gleefully announcing, "This is Hurricane Situation, and it's headed straight for Snooki Island." Oh, and Snooki pees on a porch. Good times:
[From Popwatch]
Season 5 will be the last drunken hurrah before MTV recasts the show with cheaper drunk tarts, so thank goodness they moved the cast back to Seaside Heights. Truly, Season 4 was a very dull affair except for the episode where The Situation smashed his head into a concrete (because he thought it would be hollow and make him look badass) and the "Three Men and a Snooki" episode with all of the Snooki and Gianni fallout. At first, I was somewhat bummed to learn that Season 5 includes Vinny fleeing the house, but I'm okay with that now. He can totally go off and be alone with his rapey rap lyrics.
Season 5 of "Jersey Shore" will premiere in January 2012.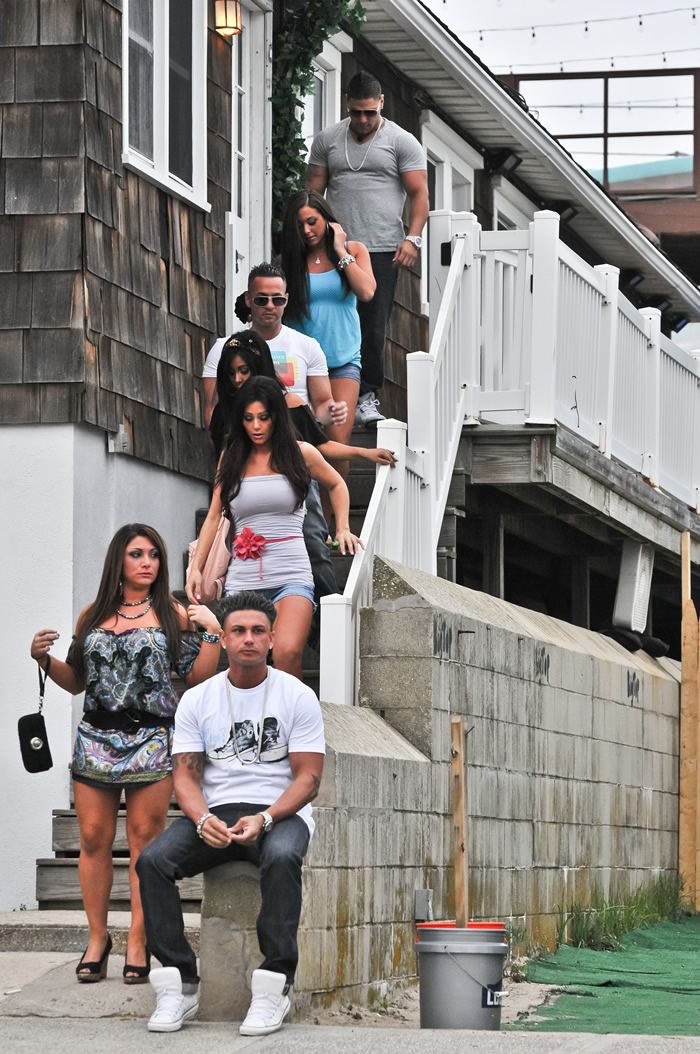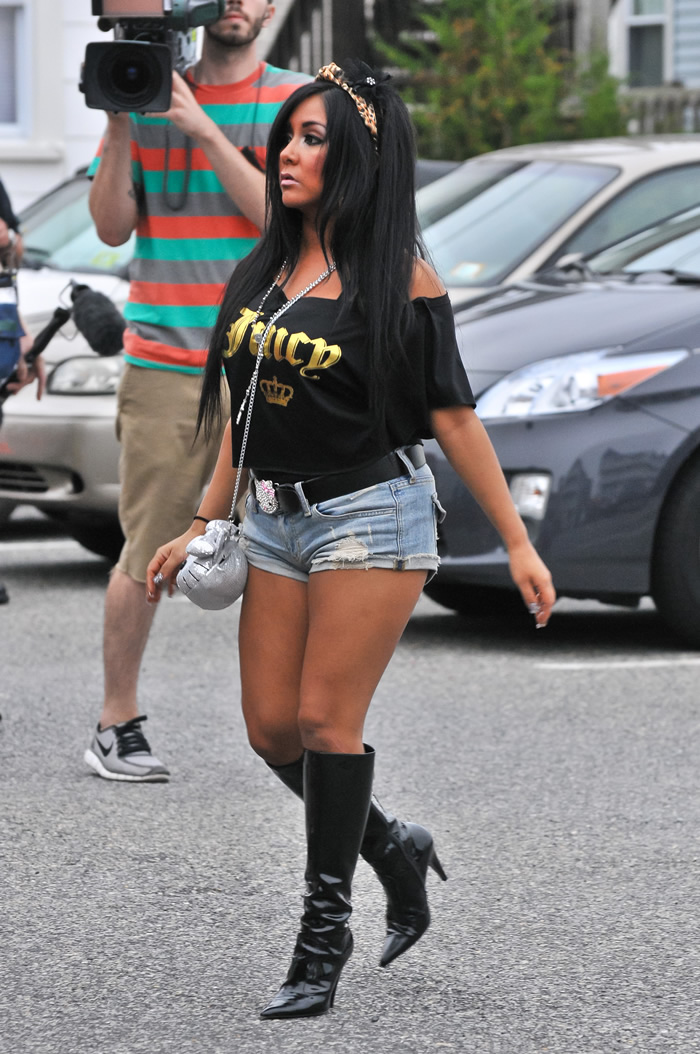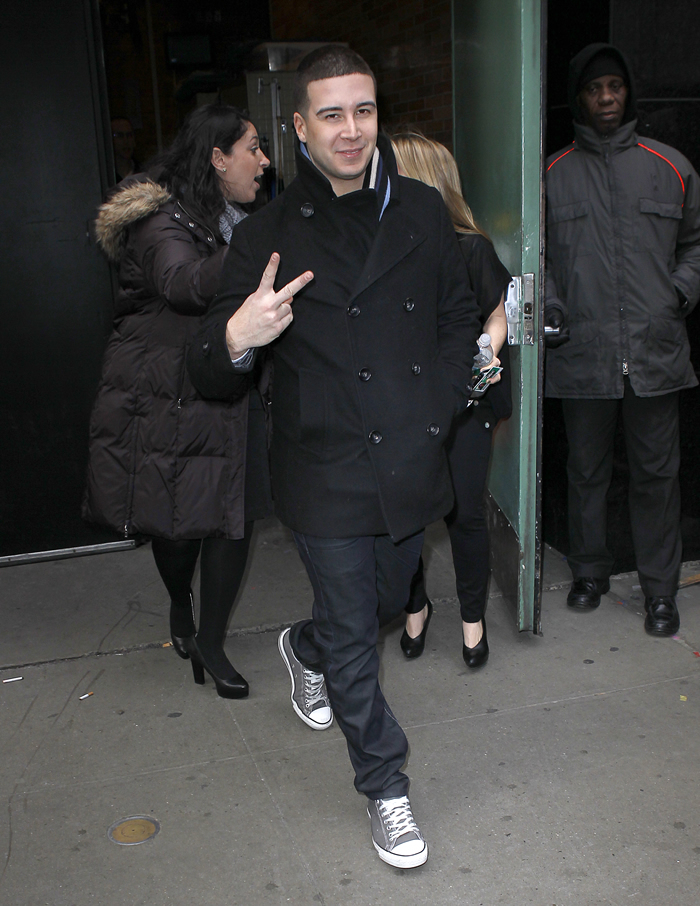 Photos courtesy of Maxim, Fame, and WENN