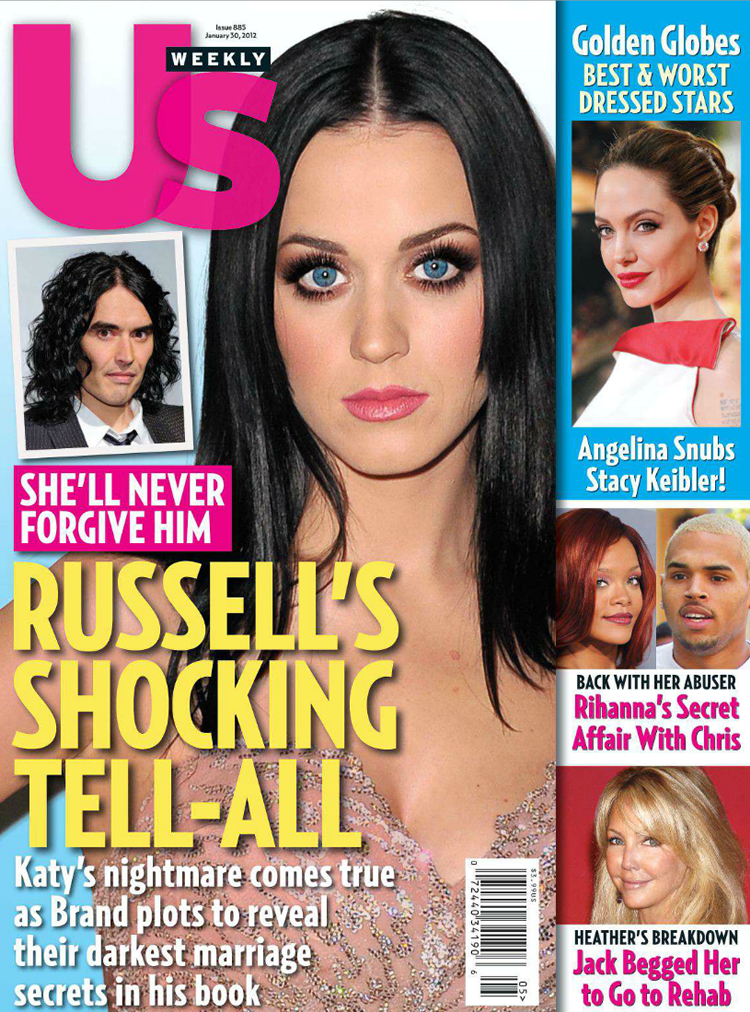 Katy Perry continues to keep a low profile in the wake of her divorce, but it won't stay that way for long. She's stepped out briefly with blue hair to film an Adidas commercial, and she's currently scheduled to make her first official post-split appearance by performing at an HDNet party hosted by Mark Cuban that'll go down in Indianapolis on Super Bowl eve. I wonder if eligible bachelor Tim Tebow will be in attendance? LMAO.
Behind the scenes, however, Katy is starting to freak out over potential fallout from her divorce. Us Weekly, which obviously got an inside scoop from the Perry camp on Russell's alleged crazy wheelchair pr0n fetish a few weeks ago, has a new story out about how Katy is frantic with worry over the possibility of Russell talking all about their marriage in his next Booky Wook installment. Katy is reportedly scared that he'll out her as a party monster, which won't come so much as news to the world but may upset her parents and should probably be the least of her concerns.
After all, Russell gave Katy a "(glowing) appearance" at the end of Booky Wook 2: This Time It's Personal, so it follows that she shouldn't be surprised if Russell talks about the really bad stuff too if and when he decides to write a third book. I haven't read the second Booky Wook, but I quite enjoyed the first one. It's obvious that (unlike most celebrity memoirs) Russell is the one actually writing the prose — he really has a way with words, and his level of candor is relatively unmatched. However, it would really be a d-ck move to run Katy through the wringer that way. Obviously, she should've known (if she even bothered to read his first book) that he's not much for privacy when she married him, but I still feel bad for anyone in her position that worries about an ex-spouse putting everything out there for the world to see. Anyway, here's some good exerpts from the Us Weekly story:
As staff at the Beverly Hills Hotel frantically catered to every need of its A-list guests in town for the Golden Globes January 15, one particular patron required special attention: newly single Katy Perry, who was holed up in her suite, watching the show. "She had a DO NOT DISTURB sign on the door and you could ear people laughing in there," says an insider, noting that a waiter with beer and champagne was headed toward her room. For the usually supersocial Perry, who had backed out of a scheduled appearance at the People's Choice Awards four days earlier, the private party was out of character. "She really did want to go out," a source tells Us of Perry, who live-tweeted about winners Downton Abbey, The Help's Octavia Spencer and Madonna, "but she was worried about running into Russell."

No wonder. Multiple sources tell Us that Brand, 36 — who had returned to L.A. from his native London two days earlier — is working on the third installment of his Booky Wook series. And he plans to reveal all the sordid details of his 14-month marriage to Perry. "He wants to tell his side of the story," says a pal of the British comic, who blindsided Perry with divorce papers Dec. 30. Adds another insider, "The book will cover his married life, the breakup and moving on. And I don't think he plans on keeping the breakdown of the marriage a secret. Pardon the pun, but Russell is an open book. He doesn't hide much." Which is precisely Perry's fear. Pals say the 27-year-old is panicking about just how much Brand will reveal. Says one source close to the couple, "there's definitely stuff she doesn't want out there."

Brand has been quietly collecting material for his third memoir for years. In 2010 he joked, "Every time I get into trouble or something happens to me, I think, 'That's a chapter!' I've alredy got three or four for Booky Wook 3' His impending divorce only pushed him to speed up the process. "In light of what happened," says a source at the book's publisher, HarperCollins, "Russell felt it was a good time to start putting material together." And according to a Brand insider, he has plenty to work with. "For the past few months, he's been recording audieo notes on his phone and documenting his feelings and experiences on video camera," says the source, adding that Brand even videotaped a phone conversation he had with Perry before Christmas — right around the time of the couple's expletive-filled final blowout that ended with them spending the holidays apart. (A rep denies Brand is in writing mode, telling Us, "Russell is not working another book and has no plans to do so anytime soon.")
[From Us Weekly, print edition, January 30, 2012]
Well, I can see why Katy is worried, and she probably should be worried about this at some point. However, I think Russell is very well occupied at present with getting his new FX late-night talk show launched. Then again, he has also revealed to People that he won't shy away from talking about his personal life in that venue either:
Barely two weeks after filing for divorce from Katy Perry, his wife of 14 months, Russell Brand appeared to back in the business of being amusing — promoting his new FX show "Strangely Uplifting" and sidestepping as best he could any questions about his personal life.

Asked how he's doing, Brand, speaking to TV writers in Pasadena, Calif., replied, "Quite well, thank you. Are you asking because of recent events? You are making the mistake of seeing time as linear. The brilliant American author Kurt Vonnegut, he'll tell you that if you imagine reality as experienced simultaneously, events become redundant."

Brand, 36, said the goal of "Strangely Uplifting," which is set to debut in April and consists of his discussing current events with a small audience, was to make people laugh and be happy.

Is he happy right now? With a smile, he said, "Yes, I am."

Will "Strangely Uplifting" reflect what's going on in Brand's personal life?

"There will be inevitable biographical elements, because you can't speak from anyone's perspective but your own. Unless you bizarrely adapt some sort of avatar," said the British comedian. "It's like I can't speak from the perspective of Angelica Huston. People would think I lack the appropriate authority if I said, 'Oh, I had a tumultuous relationship with Jack [Nicholson, Angelica's former beau] and my father [late director John Huston].' I am not qualified."

He continued, "So there will inevitable be my experiences, I will speak from own my perspective. I live in this extraordinary country of yours. I'm not from here. It's like the perspective of an alien trying to understand this peculiar time and this peculiar country. What I think, it's a bit like 'Mork and Mindy'."
[From People]
In other news, Russell has brought his "Lonely in London" routine to L.A. in recent days, but it's gotten really weird. The Mail has a story (and photos) about him having dinner alone at Boa Steak House, which is a really suspicious place to eat alone at since it's usually surrounded by paps. Also, he's a vegan. What the hell. I asked CB and Kaiser what they thought of these inconsistencies, and they just laughed. Kaiser says she doesn't know what he's trying to accomplish. At first, I thought Russell was merely trying to enjoy some solitude during his solo pap walks, but I have to admit that eating dinner alone at a paparazzi hot spot means he's definitely looking for attention.
Here's some more Lonely Russell photo updates, first featuring a walking cell phone chat in West Hollywood on 1/14: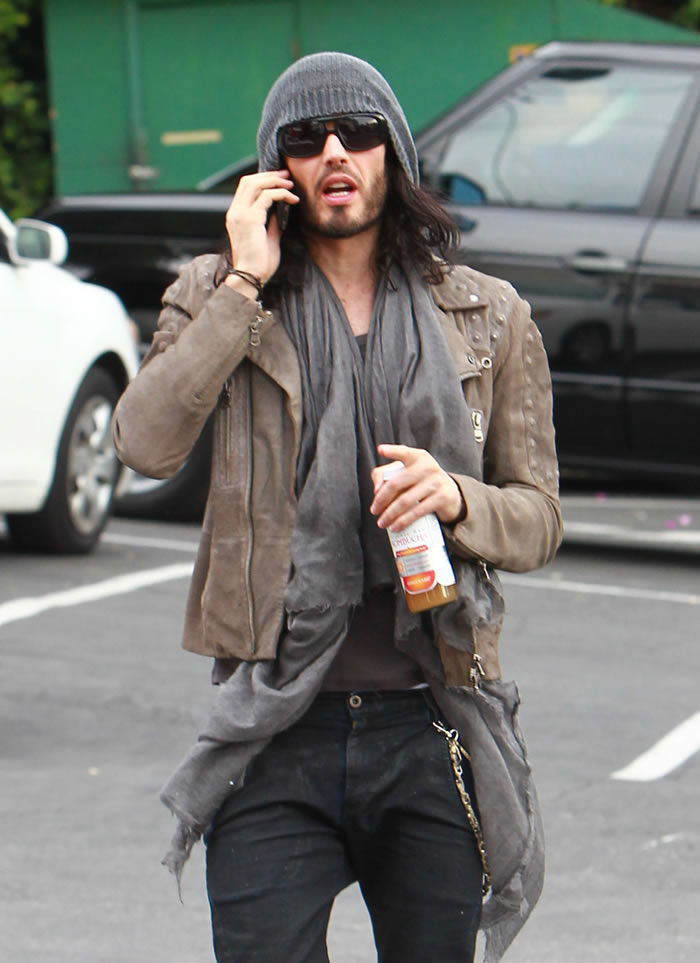 Then on 1/15, Russell was spotted at the Langham Huntington Spa in Pasadena: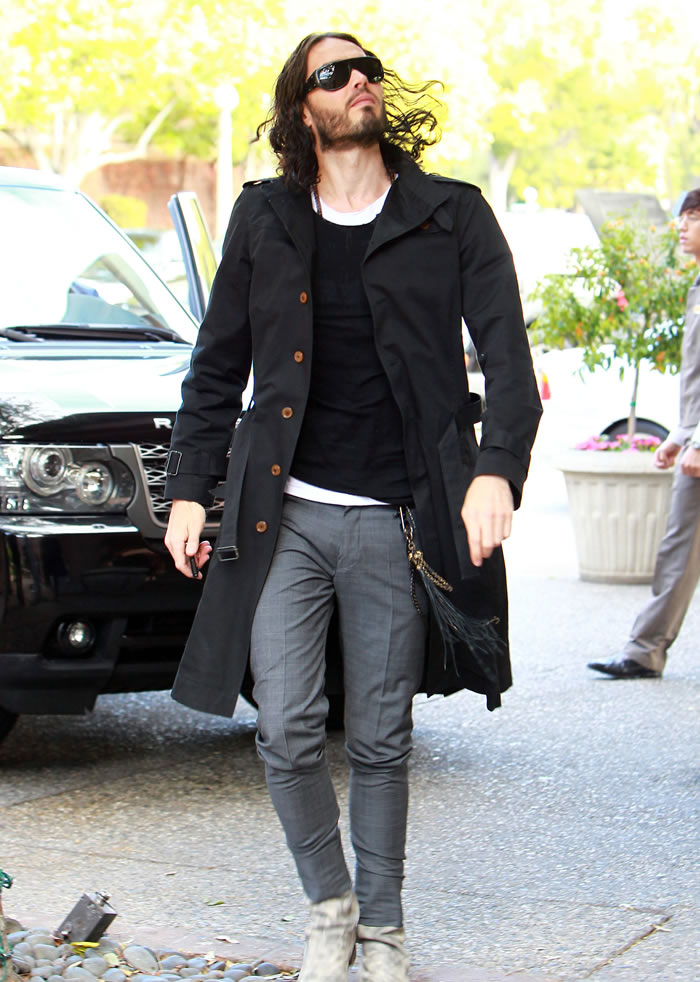 Finally, here's Russell outside a Los Angeles medical building (VD check?) on 1/16: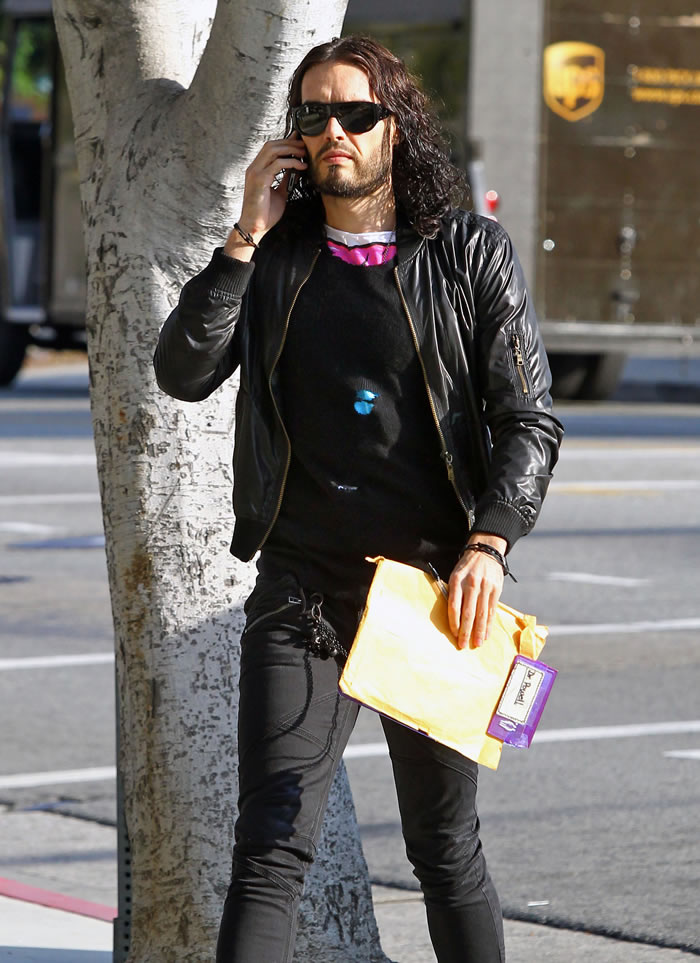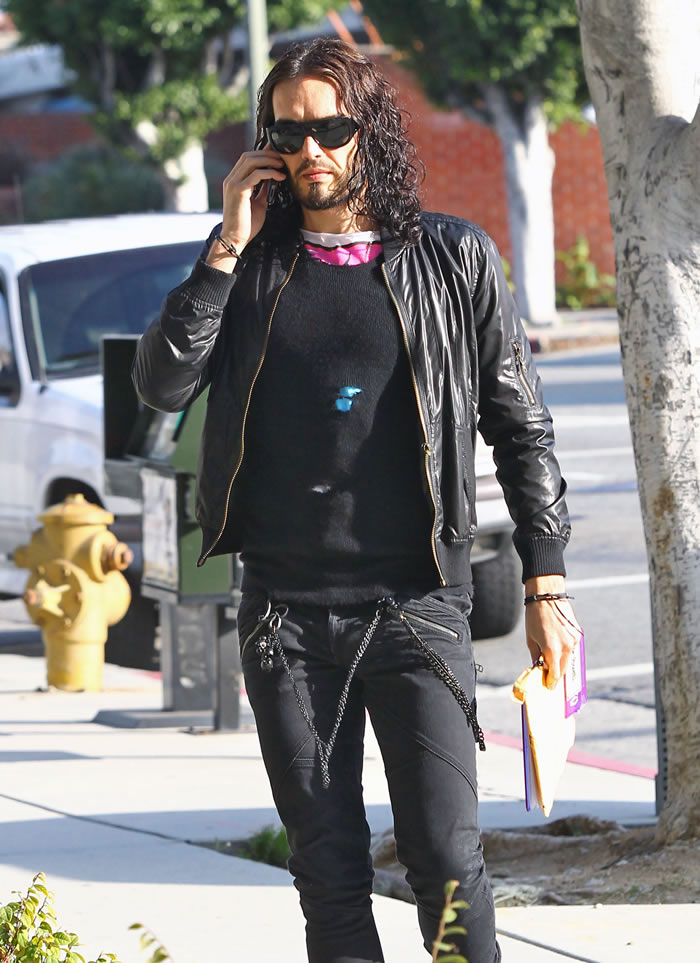 Photos courtesy of Fame/Flynet