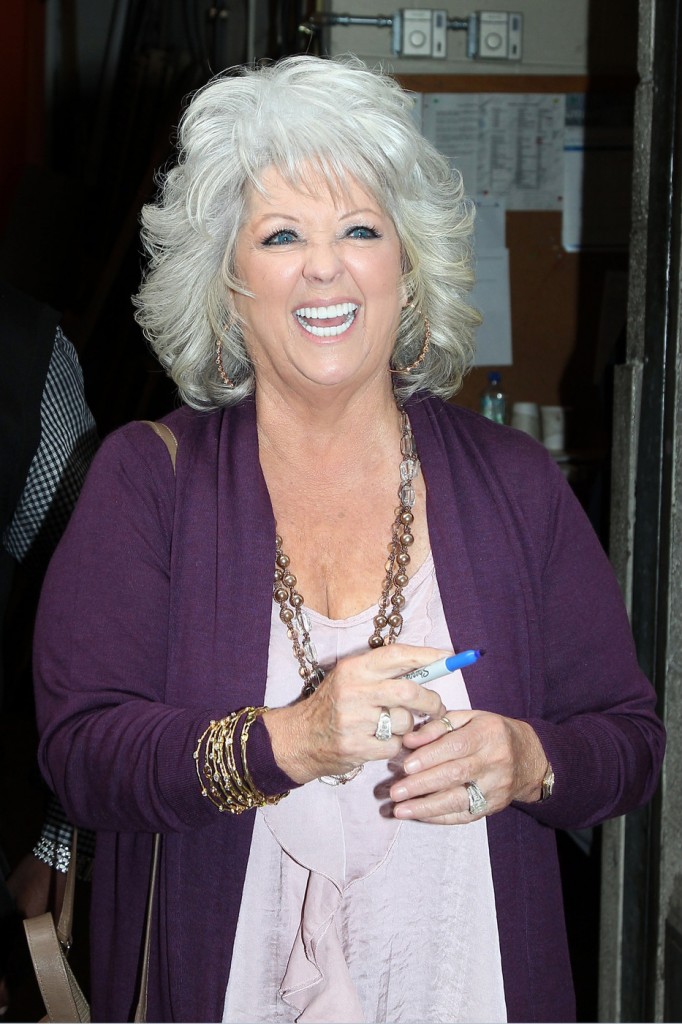 This is a minor story compared to so many other things going on today but I personally find it very interesting and wanted to cover it. We all know how ridiculous it looked when butter and sugar pusher Paula Deen, 65, made the dual announcement that she had diabetes and was a new spokesperson for a diabetes drug. Paula's longterm nemesis Anthony Bourdain may have summed it up best when he tweeted that he was "thinking of getting into the leg-breaking business, so I can profitably sell crutches later."
In her ensuing PR blitz, Paula barely acknowledged that her consumption of high fat calorific food, which she promotes on TV and through her magazine, contributed to her metabolic condition. Paula also barely acknowledged that the best treatment for diabetes is a healthy diet, not some pill, although she's also launching a new show (tada!) in which she finally tries to cook healthy versions of her favorite food. Paula's contract with drug giant Nova Nordisk is thought to be in the millions. Her long term publicist thought that was a very bad idea given Paula's previous image as a down-home promoter of food that's bad for us. Paula's publicist quit and made that statement that she "could not agree with the new business strategy going forward." That's a very nice way of saying that Paula very transparently cashed in on her diabetes.
Paula Deen's longtime powerhouse publicist, Nancy Assuncao, has quit after six years over the butter-loving chef's plan to plug a diabetes drug.

Assuncao faithfully stuck with Deen through years of hearty drama, including her battle with rival chef Anthony Bourdain, who called her "the most dangerous woman in America." But she quit as Deen's spokeswoman and chief marketer last month as Deen negotiated her deal to hawk the drug Victoza.

Deen, now under siege by diabetics, nutritionists and fellow chefs for keeping her own Type 2 diabetes secret for three years, even as she pushed recipes full of sugar and fat, probably could use Assuncao's help now. Deen only revealed her diagnosis last week.

A source said Assuncao "strongly disagreed with Deen's dramatic turnabout, after years of promoting fatty foods, to announcing she has a deal with a diabetes drug company [Novo Nordisk] and will be promoting lighter food and 'diabetes in a new light.'

"While Paula did tell some people at her live appearances about her diabetes, she certainly didn't talk about it on her show. Nancy disagreed with Paula's plan to be a drug-company spokesman and challenged her decision. But this wasn't a battle Nancy felt she was going to win. She couldn't be part of it."

Assuncao, whose past clients have included Ian Schrager, told us last night, "I'm very grateful for the six years that I worked with Paula in helping her build the Deen brand.

"Although we had a great deal of fun along the way, I could not agree with the new business strategy going forward. Nonetheless, I wish them continued success."

Deen's new rep could not be reached last night, with a staffer at her office telling us, "She is on the Paula Deen cruise." The chef's Web site said Celebrity Cruises' Eclipse would be a "tasty journey" in the Caribbean with a group buffet dinner, a cooking demo and a personal photo with Deen (one per family).
[From The NY Post]
At least people see this woman for what she is now. As I've mentioned I've barely thought of Paula Deen up until this point, but it's incredibly obvious that she'll stop at nothing to make a buck. How can you manage the image of a woman who is so money grubbing that she'll continue to promote unhealthy food for years until she has a drug endorsement deal lined up? You don't, you step down and say "screw it, the money's not worth it." Unless you're Paula Deen, then it's all about the money.
Update: After I wrote this, I saw this story on Entertainment Tonight (about 3/4 into the full episode available on their website) about the controversy over overweight celebrity chefs who cook unhealthy food. They said "Paula's shocking announcement… may change attitudes says 'The Doctor's' Travis Stork.
Dr. Stork said that "I would like to think that this is a wake up call. I don't think chefs realize their influence on America. I think they realize now that their actions can influence America by giving alternatives and healthy recipes."
They mention that Mario Batali has lost 35 pounds (I hope he didn't go on Goopy's expensive pill diet) and that Oprah's personal chef Art Smith has lost 120 pounds. Smith mentioned that he had a show in the works, and that he lost it "because they didn't like me 'skinny chef.' Lose the fat, lose the funny." Smith is cooking more healthy now and is opening a new restaurant, JoAnne, in New York, along with Lady Gaga's parents. That's an odd pairing.
It's nice to hear about a different celebrity chef getting healthy the right way, and it's also reassuring to know that people in Paula Deen's inner circle are calling her on her complete and utter bullsh*t.
Also, I need to use these photos of Paula Deen vs. the Fairy from Shrek again. (I put them together, and credit to Bodhi for coming up with it!)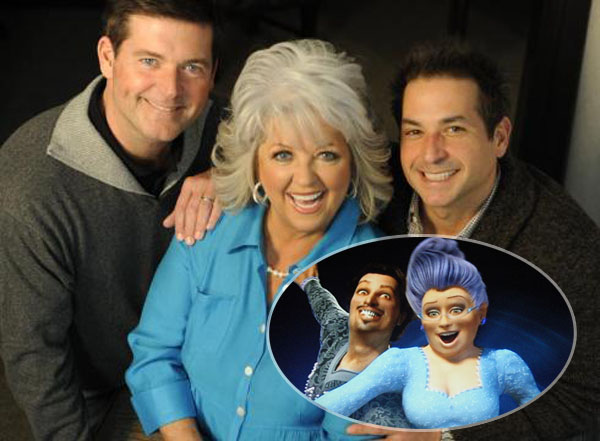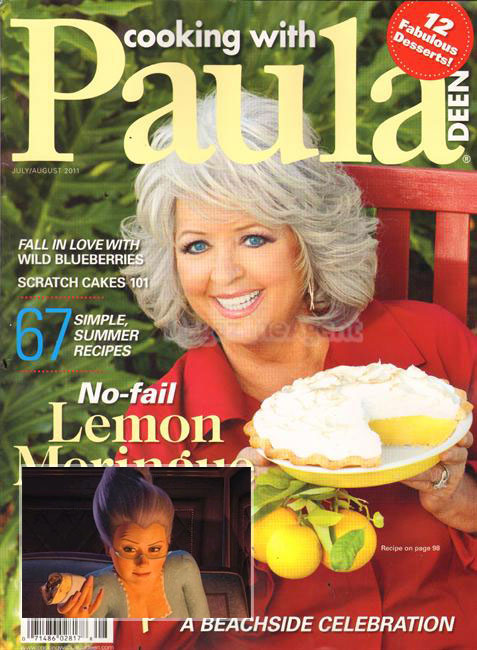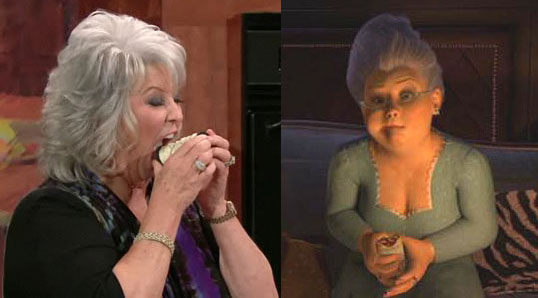 Header image is from 12-15-11, credit: PacificCoastNews.com